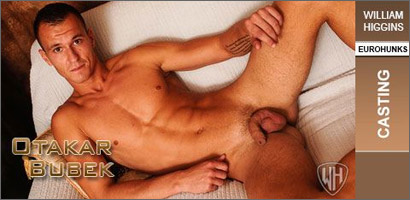 Studio: William Higgins Productions
Directed by: William Higgins & staff
Year of Production / Release: 2014
Country of Production: Czech Republic

CAST:
Otakar Bubek


INFORMATION FROM WILLIAM HIGGINS PRODUCTIONS:
Otakar Bubek is from Ostrava. What a very handsome guy he is. He gets naked and shows us that he has a great body as well, slim and beautifully defined. Otakar certainly knows how to pose and shows off that body very well. Kneeling on the sofa he shows us a very hot ass with a lovely tight hole. His cock also looks very good indeed. When he gets it hard, we see a beautiful curve to it as well being very large.
Home Town: Ostrava
Height: 187cm/6'1″
Weight: 80kg/176lb
Foot Size: EU45/US9.1/UK8.6
Penis Size: 17cm/6.69″
Profession/Student of: Unemployed
Hobbies: Sport
Favorite Sports: Football
Active Sports: Football
Movie/Music/Sport Stars: Emma Watson
Visited Coutries: Italy
Want to Visit Coutries: Greece
Dream of My Life: To be rich!
Zodiac Sign: Leo (July 23 – August 22)

WATCH / DOWNLOAD THE SCENES AND IMAGES AT:
WILLIAM HIGGINS PRODUCTIONS
Members can download the High Definition and other versions of this film. Extensive Photosets are always offered to members as well.

Hot or Not? Let us know.
[Total:

0

Average:

0

]
INFORMATION FROM WILLIAM HIGGINS PRODUCTIONS: Otakar Bubek is from Ostrava. What a very handsome guy he is. He gets naked and shows us that he has a great body...","image":{"@type":"ImageObject","url":"https:\/\/films.gayeroticarchives.com\/wp-content\/uploads\/2014\/08\/582505b.jpg","width":200,"height":200},"Review":{"@type":"Review","name":"CASTING: OTAKAR BUBEK","reviewBody":"Studio: William Higgins Productions\nDirected by: William Higgins & staff\nYear of Production \/ Release: 2014\nCountry of Production: Czech Republic\n\nCAST:\nOtakar Bubek\n\n\n\nINFORMATION FROM WILLIAM HIGGINS PRODUCTIONS:\nOtakar Bubek is from Ostrava. What a very handsome guy he is. He gets naked and shows us that he has a great body as well, slim and beautifully defined. Otakar certainly knows how to pose and shows off that body very well. Kneeling on the sofa he shows us a very hot ass with a lovely tight hole. His cock also looks very good indeed. When he gets it hard, we see a beautiful curve to it as well being very large.\nHome Town: Ostrava\nHeight: 187cm\/6'1″\nWeight: 80kg\/176lb\nFoot Size: EU45\/US9.1\/UK8.6\nPenis Size: 17cm\/6.69″\nProfession\/Student of: Unemployed\nHobbies: Sport\nFavorite Sports: Football\nActive Sports: Football\nMovie\/Music\/Sport Stars: Emma Watson\nVisited Coutries: Italy\nWant to Visit Coutries: Greece\nDream of My Life: To be rich!\nZodiac Sign: Leo (July 23 – August 22)\n\nWATCH \/ DOWNLOAD THE SCENES AND IMAGES AT:\nWILLIAM HIGGINS PRODUCTIONS\nMembers can download the High Definition and other versions of this film. Extensive Photosets are always offered to members as well.","author":{"@type":"Person","name":"smutjunkies"},"datePublished":"2014-08-03T16:31:42-07:00","dateModified":"2018-03-08T15:19:23-07:00","reviewRating":{"@type":"Rating","ratingValue":"3.8","bestRating":5,"worstRating":1},"publisher":{"@type":"Organization","name":"","logo":{"@type":"ImageObject","url":"","width":0,"height":0}}},"brand":"","sku":"","":""}