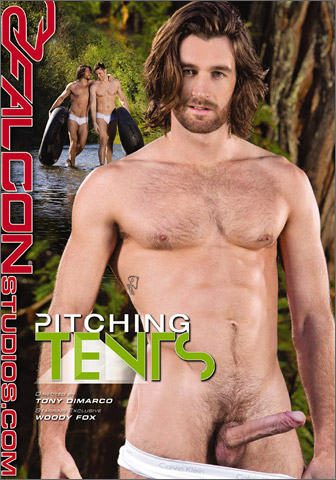 Studio: Falcon Studios
Directed by: Tony Dimarco
Year of Production / Release: 2016
Country of Production: U.S.A.

CAST:
Casey Everett
Woody Fox
JJ Knight
Jacob Peterson
Ryan Rose
Seth Santoro
Jeremy Spreadums
FROM FALCON STUDIOS:
When a bunch of gorgeous, horny men show up in the middle of the woods, you know that they're going to be 'PITCHING TENTS.' Tony Dimarco directs this prime group of beautiful Falcon studs as they rim, suck, and fuck their way to enormous cum shots in the middle of expansive natural splendor. Seth Santoro opens up to Woody Fox in the campground's outdoor showers, taking a heavy pounding and bringing both of them to huge cum shots. Jeremy Spreadums parts his spreadable ass cheeks for JJ Knight's supersized cock and gets a sweaty, cum-soaked ride. Jacob Pederson is the second lucky man to take Woody's cock on this camping adventure, moving through three different positions that lead to a cum-spurting climax. When Casey Everett has difficulty pitching his tent on the campsite, he gets an assist from Ryan Rose, but they get sidetracked by the tent in Ryan's shorts! When Woody heads out to the woodland cruising area, his hard cock and incredible abs get the attention of Jeremy Spreadums, and the two ripped studs suck each other off, with Jeremy taking Woody's load in the face and soaking the ground with his own. Grab your gear and head to the woods, where horny Falcon men are running wild and 'PITCHING TENTS.'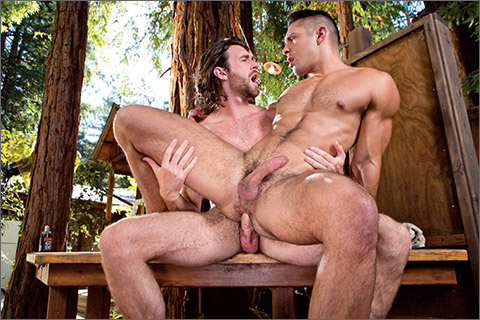 SCENE 1: Woody Fox & Seth Santoro
Muscle stud Woody Fox hits the outdoor showers at the campgrounds. Hidden beneath enormous redwoods, the area offers up some instant excitement when Woody spies Seth Santoro naked under the water. Slowly stripping down, Woody casts subtle glances towards Seth, and Seth looks over his shoulder to return eye contact. As Woody turns on the water in the next shower stall, he turns around to show off his swelling cock. Working the soap into a thick lather, Seth scrubs his muscular butt, then invites Woody to help wash his back. As Woody walks up from behind, his massive boner thrusts into Seth's ass cheeks. With the water running over their bulging muscles, Seth and Woody turn to each other and kiss passionately. Sinking to his knees, Seth inhales Woody's enormous uncut cock. The oral service works Woody up to the point where he's eager to get a taste of Seth's tight hole. Spreading Seth's meaty ass, Woody dives in tongue first for an epic rim job that has Seth eager for more. Moving to a nearby bench, Woody alternates between rimming Seth's ass and sucking his thick cock. Legs in the air, Seth eagerly awaits Woody's massive tool inside of him, and Woody delivers. With powerful thrusting, Woody dominates Seth's tight hole. Turning around and bracing himself against the shower wall, Seth takes Woody's cock doggy style. When Woody sits down on the bench, Seth lowers himself down on Woody's meat and uses his powerful legs to ride it up and down. Woody starts to thrust up from beneath Seth, which makes Seth's hard cock shoot a massive load! Kneeling down, Seth opens his mouth and catches Woody's load in his mouth.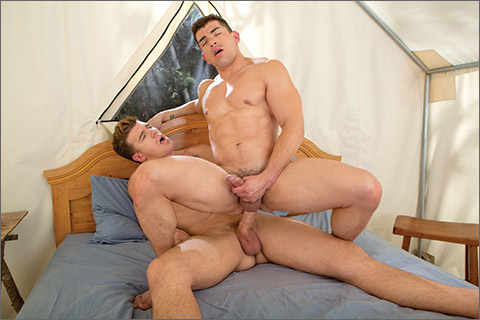 SCENE 2: JJ Knight & Jeremy Spreadums
After horsing around in the river, JJ Knight and Jeremy Spreadums strip off their wet clothes to their tight, white briefs. Their sexual chemistry is so intense, Jeremy can't resist dropping to his knees and sucking JJ's insanely huge cock in broad daylight. Retreating to their tent for more privacy, they make out on the bed and Jeremy deepthroats JJ's massive rod. Reaching down, JJ massages Jeremy's spreadable ass cheeks, then repositions himself behind Jeremy to get a taste. Using his tongue, JJ probes Jeremy's hole with slick spit. With Jeremy ready to receive, JJ pushes his enormous member into Jeremy's hole. Their doggy style fucking picks up speed as Jeremy pushes his ass into JJ's crotch, pushing JJ's cock ever deeper. Dismounting, JJ lies down on the bed and invites Jeremy to go for a ride. As Jeremy rides JJ's cock, his muscular legs and beefy torso flex and swell. JJ thrusts up from above, then moves to missionary position. Jeremy puts his left leg in the air and enjoys the feeling of JJ's massive meat stretching his hole. As JJ pummels Jeremy's sweet spot, the sensation builds until Jeremy explodes with gushers of cum that drench his torso. Pulling out, JJ strokes his load out into Jeremy's waiting mouth. Hot rivers of cum accumulate on Jeremy's chin as JJ empties his balls. When he's finished, JJ leans in for a kiss, and his cum smears across both their faces as they enter a passionate embrace.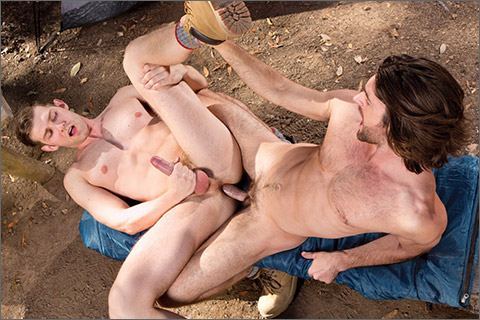 SCENE 3: Woody Fox & Jacob Peterson
When you have a fire to stay warm, who needs clothes? Clad only in their tight, white briefs, sexy Woody Fox and tall, lean Jacob Peterson kiss passionately. Their bulges grow larger with every second, and the briefs don't stay on for long. Getting down on his knees, Jacob whips out Woody's rod and crams it into his mouth. As Jacob works up his saliva into a thick lather, Woody raises his arms, showing off his hairy pits and flexing his incredible six pack. Trading places, Woody opens up his throat to accommodate Jacob's huge cock. With his mouth working the sensitive tip, he can still grasp the base with his hand. Spinning Jacob around, Woody dives in face first to taste Jacob's delicious ass. With his hole wet and willing, Jacob backs his ass into Woody's cock for a wild doggy-style ride. Picking up speed, Woody rams Jacob with athletic power. Laying down on their sleeping bag allows Jacob to straddle Woody, pushing Woody's cock deep into Jacob's ass. Flipping over and raising his legs, Jacob takes Woody in missionary position, and his rock-hard cock slaps against his stomach with each of Woody's thrusts. With Woody hitting all the right spots, Jacob jerks his cock until he spews his load all over his stomach. Standing up, Woody strokes himself until he nuts all over Jacob, adding jets of hot, white cum to the puddles already on Jacob's torso. Leaning forward, Jacob eats the last drops of cum hanging from the tip of Woody's cock before putting their lips together.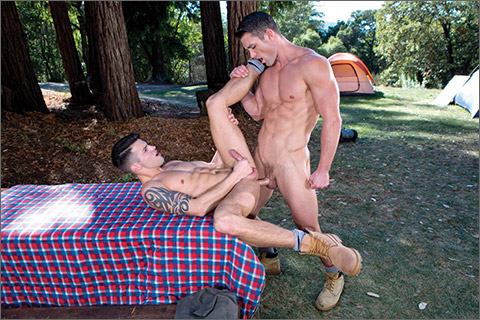 SCENE 4: Ryan Rose & Casey Everett
Underneath the tall redwoods, Casey Everett is struggling to pitch his camping tent. Ryan Rose watches his struggle with amusement, which Casey finds very irritating. "You think this is funny?" Ryan walks over to lend a hand, but before they can finish, Casey gets distracted by the tent Ryan is pitching in his shorts. Moving into the shade of the redwoods, Casey leans down and gets a mouth full of Ryan's hard cock. With deep, wet gulps, Casey uses his saliva to slick up Ryan's cock and deliver an intense blow job. Ryan moves to investigate Casey's firm ass, lubing his hole with spit and slipping a finger inside. Ryan follows that up with his tongue, munching on Casey's tight ass until Casey is eager to get fucked. Ryan pounds his cock into Casey's hole and fucks him with athletic vigor, making sure he feels every thrust. Ryan's ripped body pulses rhythmically as he delivers his dick to Casey's tight ass. Rolling on his back, with Casey riding his dick, Ryan thrusts up from below. Casey turns around for reverse cowboy, his cock whipping back and forth as he fucks himself on Ryan's meat. Ryan picks Casey up and sets him on a picnic table, the perfect height for full-throttle fucking. With Ryan inside him, Casey strokes his cock until his hot, white load sprays across his stomach. Ryan grabs his cock and bust his nut, delivering his thick semen right on to Casey's cock and balls. As the sun starts to set, they share a passionate kiss in the beautiful scenery.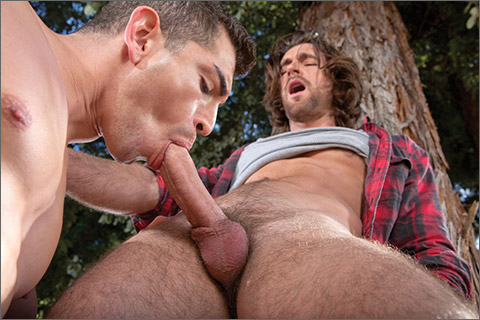 SCENE 5: Woody Fox & Jeremy Spreadums
Walking down a woodland path, handsome Woody Fox searches for some remote cruising grounds. Reaching into his shorts, he fondles his long, hard dick, waiting for a hot piece of ass to come his way. Along comes muscled jock Jeremy Spreadums. For a moment, Jeremy lingers in the brush, staring in awe at the beautiful man exposing himself out in the open. As Woody strokes his cock invitingly, Jeremy emerges from the brush and cops a feel. They strip as they make out, and Jeremy falls to his knees to service Woody's meat. With long strokes of his tongue, Jeremy spreads his thick spit up and down Woody's long, curved shaft. Strings of spit connect the tip of Woody's cock to Jeremy's lips every time he pauses to take a breath. With his hands guiding the back of Jeremy's head, Woody flexes his six-pack abs and thrusts his hips. While using his hand to rub the tip of Woody's cock, Jeremy uses his mouth to suck on Woody's heavy balls. Pulling down Jeremy's shorts, Woody falls to his knees and gulps down Jeremy's rod. As Woody's lips pass over the sensitive tip of Jeremy's cock, Jeremy's bulging pecs and rippling abs flex in the forest light. Trading places again, Jeremy strokes his cock while sucking Woody off faster and faster. Reaching down, Woody jerks his cock until it explodes with gushing jets of cum. His load drips off Jeremy's chin and down his chest, which sets him over the edge. As he strokes himself, Jeremy explodes streams of cum that splatter onto the hard-packed trail.

WATCH THE SCENES NOW AT:
FALCON STUDIOS
Falcon Members can watch scenes from this Release anytime online.
DVD Releases debut online prior to DVD Release.