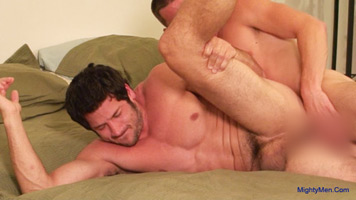 Studio: Mighty Men online
Directed by: Jon Royce
Year of Production / Release: 2008
Country of Production: U.S.A.

CAST:
Leo Giamani
Rusty Stevens
ADDITIONAL COMMENTS:
On-Line Only Presentation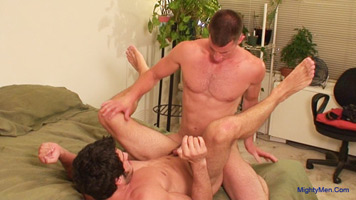 INFORMATION FROM MIGHTY MEN / JON ROYCE:
Leo Giamani gets fucked. Just for the record, shot June 24 2008, Leo claims it was his first time ever getting fucked by a guy. Leo Giamani is the "IT" porn boy of Summer 2008. If Leo plays his cards right, he could be a big star and I was fortunate enough to have him stop by MightyMen.Com at the beginning of his hopefully long career. I was fortunate enough have this hot Italian stud shoot a solo video in early June. When he was here I started prepping him to bottom for his first time. Leo (at the time) was a straight guy from Philadelphia and he had never been fucked.
   Like many straight guys getting into gay porn, he thought that taking a cock will be not much of a task until we started rehearsing with a small dildo. It was a lot of fun for me to lay him back and work that dildo in, but he screamed in pain. I explained to Leo you've got to be prepared to do a bottoming scene. We've all paid our dues, now its your turn. He took the dildos back to Philadelphia for 10 days and practiced.
   The night before he shot his bottoming scene with Rusty Stevens, he stayed with me and we worked in three different sizes. 
   I had considered about two dozen guys to be the first to fuck Leo. It had to be a hot and wild guy without a huge cock, but, of course, I wanted a hot guy with a nice sized dick. My buddy Howard recommended Rusty Stevens, a straight 22 y.o. from San Diego. After several phone interviews and photo submissions knew Rusty was the one. 
   Rusty has that energetic, carefree straight surfer boy attitude. He likes fucking girls. Has had plenty of girlfriends and breakups, and he was eager to take on the project, take Leo's big cock and teach Leo how to take one.
   Rusty took a red-eye from the west coast to the east, hadn't slept all night but had the energy to get right to work. When Leo woke up, Rusty and I were already shooting Rusty's promo shots. 
   Once Leo was ready we got right to work. I came up with a lame porn idea that the two were buddies and ran into each other on the street and Leo invites Rusty to come over and watch straight porn. There has to be some kind of story line. Oh well. So they start this chit chat about the girl they are watching taking it up the ass. 
   Leo pounds Rusty and Rusty actually shoots his cum load while Leo is still fucking him. But Rusty's boner stays hard and Leo pulls out and shoots all over Rusty. The guys decide to clean up and go to the gym. Rusty informs Leo that when they get back from the gym, its Leo's turn to bottom.
   Unexpectedly, the next scene features Rusty giving Leo the blow job of a lifetime. I hadn't planned on spending time shooting more cock sucking but the guys wanted to do it. Rusty just sucked away. 
   Rusty then leads Leo into his first on screen man-to-man kiss. Although it only lasted a brief moment before the guys decided they were too straight to kiss, it was hot. Very hot. Rusty then flips Leo onto his back and inserts his cock into Leo's tight straight boy ass. The moaning and screaming and sounds and look of pain are real. 
   Rusty continues to give instruction to Leo how to get fucked and Rusty tells Leo even though its his first time getting fucked, Rusty is going to go into over-drive and start fucking him faster. Next thing you know, Leo is on his side getting fucked then Rusty flips him onto his back for the home stretch. Rusty is pounding away and Leo keeps stroking. All of a sudden Leo has that look on his face and lays back and blow a huge load on himself while Rusty continue to fuck. Even after Leo cums, Rusty keeps pounding. Rusty pulls out and blasts his second load of the day on Leo. 
   It was fucking hot. The smell of summer heat, manly armpits, and hot healthy man jizz filled the room. I had to split the video into 3 segments for download file size purposes. I hope you enjoy the video. Jon Royce.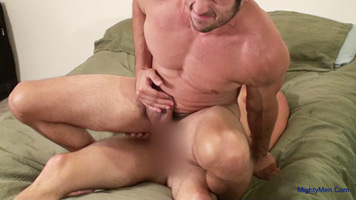 GO TO: MIGHTY MEN