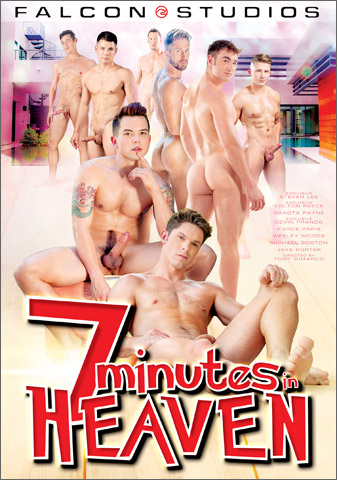 Studio: Falcon Studios
Directed by: Tony Dimarco
Year of Production / Release: 2019
Country of Production: U.S.A.

CAST:
Michael Boston
Devin Franco
Steven Lee
Pierce Paris
Dakota Payne
Jake Porter
Colton Reece
Wesley Woods
FROM FALCON STUDIOS:
Relationships are complicated and no two are alike. Award-winning director, Tony Dimarco, explores what happens when friends from all types of relationships –closed to open – get together to play a little sex game called '7 Minutes in Heaven'. When these eight hung and horny studs play the game, the tops put their names in a bowl and the bottoms draw to see who they hit it with. Anything can happen, couples are swapped and everyone finishes satisfied in this bareback feature from iconic Falcon Studios. Devin Franco gets Jake Porter alone in the bedroom where the two studs swap blowjobs before taking turns fucking each other raw, ending in a sweaty, creamy mess. Colton Reece and Michael Boston sneak off to a secluded bathroom where they blow each other until their balls are drained. Pierce Paris leads Michael Boston to the bedroom where Michael services Pierce's monster cock in every way possible until Michael's hole is covered with cum. Dakota Payne pulls Colton Reece's name on a piece of paper in the game '7 Minutes in Heaven', and the two naturally go off to fuck. Colton fucks Dakota bare until he shoots his load all over his ass. Colton tastes his own jizz before sharing it with Dakota then fucks him again until Dakota blasts his load. Wesley Woods is the next to play the game and pulls Steven Lee's name from the bowl. Before you know it, the studs are alone in the bedroom 69ing, then Steven slides deep into Wesley and pounds him raw until he fucks the cum out of Wesley. Will Wesley reconsider his monogamous relationship after playing the game? When the game is done, Dakota runs into Steven and Devin by the pool. The couple convinces Dakota to join them for some bareback fun and soon Dakota and Devin are taking turns getting pounded by Steven. After getting fucked, Dakota decides to switch it up when Dakota and Steven finish by taking turns on Devin, filling both his holes with cum and leaving him covered in jizz. After the game is finished, these spent studs will be grateful for their '7 Minutes in Heaven'.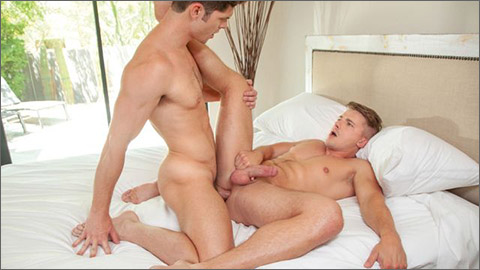 SCENE 1: Devin Franco & Jake Porter flip-fuck
Playing an adult version of '7 Minutes in Heaven' Devin Franco, who's in an open relationship, draws the name of the more reserved and monogamous, Jake Porter. They head off to be alone in the bedroom away from their group of friends, and Devin doesn't waste a second getting on his knees in front of the rock-hard stud. Devin sucks and slurps on Jake's pole until Jake notices that Devin's stiff dick is throbbing as well. Jake returns the favor and gives Devin a nice long blowjob then bends the hunk over to rim his smooth ass. Jake takes his time savoring Devin's eager hole, making sure that Devin is ready for his raw, thick dick to ram inside. Devin cant wait any longer for Jake's cock and offers up his ass for Jake to pound bareback as he pleases. After taking a steady pounding, Devin is ready to switch it up and hops on to ride Jake up and down. He takes the young stud's shaft all the way down to the base until he's ready to take charge. Devin flips Jake over and takes a taste of his succulent ass before the hunks flip-fuck as Devin slides his thick, bare pole deep into Jake, giving the stud exactly what he wants. Devin pumps away with his raw dick, getting himself to the brink as he pulls out and covers Jake's dick with cum. Jake is ready to cum as well and uses Devin's jizz as lube as he pounds one out while Devin fingers his hole. Jake shoots his load all over his ripped abs as a cum-hungry Devin licks up every last drop.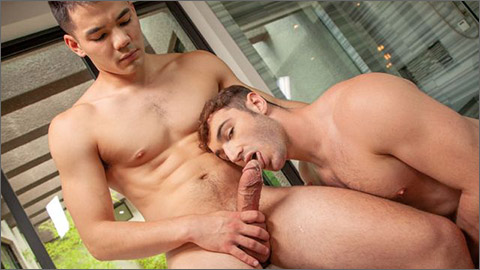 SCENE 2: Colton Reece & Michael Boston suck cock
Colton Reece and Michael Boston are a new couple, who can't keep their hands off each other. They wander off from their group of friends, who are playing '7 Minutes in Heaven' so they find a secluded bathroom and mess around before returning to the game. Michael is eager for cock and strips Colton's shorts down to wrap his wet lips around Colton's thick cock. With spit dripping from Michael's mouth, Colton grabs the back of his head and crams every inch of his meat down Michael's hungry throat. Colton is relentless with his cock and he shoves it down Michael's throat, making him gag and gasp for air. Returning the favor, Colton pulls down Michael's shorts to bury his face in Michael's insatiable bubble butt. Michael's ass is so plump, Colton has to spread Michael's ass cheeks wide to get his tongue in the hole. When Colton has had his fill of ass on his tongue, he turns Michael around to deepthroat his cock while Michael teases his nipples. Michael decides he wants one more taste of Colton's meat and gets down to take the monster cock down his throat again. Colton can't hold back any longer and paints Michael's face with a thick load. Making sure to lick up every drop, Michael stands up and dumps his load all over Colton's spent cock. Leaving now cum behind, Michael licks up his jizz from Colton's cock.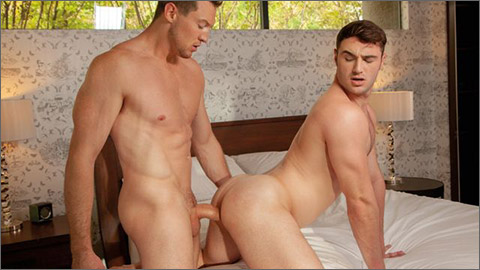 SCENE 3: Pierce Paris fucks Michael Boston
While playing '7 Minutes in Heaven', sexually open bottom, Michael Bolton, draws top Pierce Paris' name. Pierce, who is nervous about the game, because he no longer has sex with his husband, leads Michael Boston to the bedroom where Michael strips down to his undies and gets to work servicing Pierce's monster cock. It's a tight fit, but Michael takes it like a champ and gets the whole thick shaft down his throat. Pierce wants a taste of Michael's ass and bends the hunk over to lick his hole. Pierce gets Michael's giant ass nice and opened up before he takes the next step to give Michael the stretching he craves. Pierce slides his massive raw dick into Michael's tight ass, going slow at first to make sure the eager stud can take it all. When he's convinced that Michael can handle his entire bare pole, Pierce picks up the pace and loosens Michael up even more. Pierce can't get far enough into the young stud and rolls him over to fuck him bareback even harder. Keeping a steady pace, Pierce fucks the cum out of Michael, who blasts his load all over his panting stomach. Pierce wants to finish up his way, and he rolls Michael back onto his stomach where he pounds the stud until he finishes up all over his ass. A spent Pierce fucks the cum into Michael and caps their secret tryst with a kiss and a cuddle.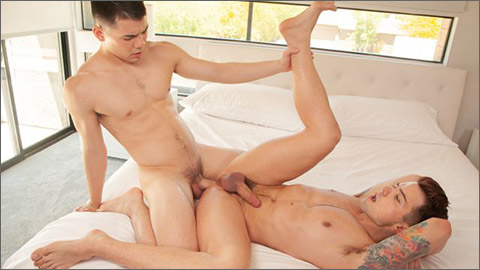 SCENE 4: Colton Reece fucks Dakota Payne
When a group of friends decides to play an adult version of '7 Minutes in Heaven', Dakota Payne pulls Colton Reece's name from the bowl of tops. Dakota is unsure if he's really into the game, but Colton quickly convinces him he'll enjoy it and takes him to the bedroom where the two of them strip down as Dakota drops to his knees. He can't wait to get Colton's girthy cock down his throat and eagerly sucks the stud until his thick dick is nice and hard. Colton returns the favor with a quick blowjob before bending Dakota over to open his ass with his tongue. When Colton senses that Dakota is ready for his dick, he slips inside the eager stud and pounds his ass hard and raw. Colton is relentless and doesn't let up the pace as he keeps giving Dakota all he can handle. Dakota wants to look Colton in the eyes as he pounds his ass and flips onto his back to watch Colton fuck him bareback. Dakota's hole feels amazing wrapped around Colton's cock and soon, Colton can no longer hold back. Colton lets loose and shoots his load on Dakota's used-up hole before taking a taste of his jizz and sharing it with the Dakota. Colton wants to see Dakota cum and fucks his jizz into the stud until he makes his buddy drop his load all over himself. The two studs share a kiss and collapse onto the bed after an amazing and liberating fuck.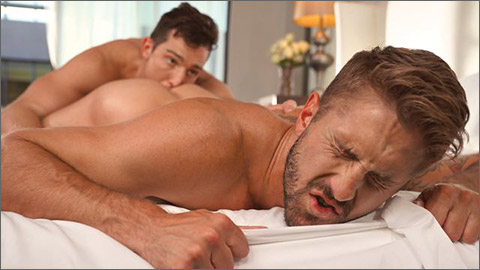 SCENE 5: Steven Lee fucks Wesley Woods
Wesley Woods, who's in a non-sexual marriage, reluctantly plays a game called '7 Minutes in Heaven' and ends up picking Steven Lee's name from a bowl. The two head off to a bedroom, where Steven helps Wesley unleash his pent-up sexual libido. They quickly get naked and hard. Wesley loves to suck cock and gets Steven's extra thick dick down his throat. Steven wants a mouthful of Wesley too, and the two 69 as Wesley continues sucking dick and Steven opens Wesley's hole with his tongue. Wesley can't hold off any longer and hops on Steven's massive raw dick to ride the stud bareback. Wesley takes it all the way to the base before Steven takes control and bends Wesley over. Steven slides back into the stud and picks up the pace to give Wesley the pounding of his life. Wesley wants to take it even deeper and rolls onto his back to let Steven pound his prostate. Steven doesn't stop and hits just the right spot to make Wesley blow his load while he's getting fucked. When Steven sees Wesley let go, he pulls out and covers the stud with cum. Will Wesley reconsider his monogamous relationship after '7 Minutes in Heaven' with Steven?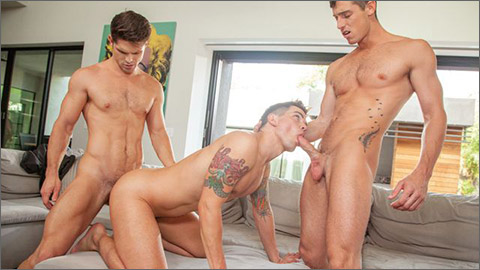 SCENE 6: Steven Lee fucks Devin Franco & Dakota Payne; Devin Franco fucks Dakota Payne
The game '7 Minutes in Heaven' has come to an end when Dakota Payne, who's boyfriend left the game because it made him jealous, runs into Devin Franco and Steven Lee who are naked in the living room. The couple convinces him to join them for some fun, and the three get out of their clothes and ready for some action. Devin and Dakota both want a taste of Steven and get between his legs to service his giant cock together. Steven is ready to pound some tight raw ass, and Dakota is the first to volunteer to help him out. Dakota hops on and bounces on the thick dick until Devin wants his turn. Devin mounts up and rides Steven's hard cock bareback while Dakota licks Steven's cock as it goes in and out of Devin's hole. Steven can't get enough of each stud and continues mixing it up by giving each horny guy some dick time. After sucking Devin and getting pounded by Steven, Dakota is ready to do some fucking of his own. Devin lies back with his legs spread and lets both his buddies have their way. Dakota and Steven take turns fucking Devin's face and ass until both his holes are filled with jizz and his body is covered with cum.

WATCH IT NOW AT:
FALCON STUDIOS
Falcon Members can watch scenes from this Release anytime online.
DVD Releases debut online prior to DVD Release.