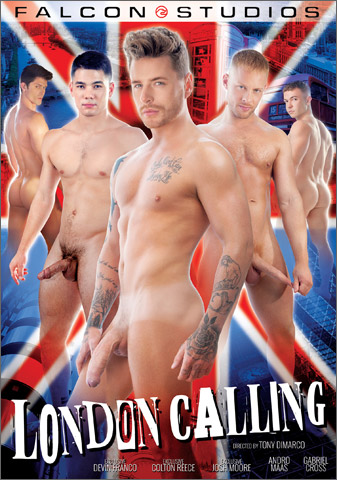 Studio: Falcon Studios
Directed by: Tony Dimarco
Year of Production / Release: 2019
Country of Production: U.S.A. / Great Britain

CAST:
Gabriel Cross
Devin Franco
Jeffrey Lloyd
Andro Maas
Jonathan Miranda
Josh Moore
Colton Reece
Austin Sugar
FROM FALCON STUDIOS:
Can you hear 'London Calling'? Pack your bags and jet off across the pond with eight hung hunks in Falcon Studios' scorching overseas sex fest. Award-winning director Tony Dimarco tells the tale of hot and horny studs letting loose in London and having hot, uninhibited fun across international borders. British native Josh Moore gets pinged on an app by Andro Mass who makes his way to Josh's flat for some fun. Andro hops on to ride Josh's hard, uncut dick until Andro's body and face are covered in cum. While roaming the busy streets of London, Colton Reece locks eyes with Austin Sugar, and the pair rush back to the flat so Colton can ream Austin's hole. Lost tourist Devin Franco turns to Priest Jonathan Miranda for some help with directions and ends up getting his ass stretched in the church before plowing the priest in an amazing flip fuck. Colton Reece links up with Gabriel Cross and ushers him back to his flat to give his British friend a hefty serving of his thick, American cock. Beats are bumping in the hottest club in London when Josh Moore and Devin Franco sneak off for some fun only to be caught by Jeffrey Lloyd resulting in a scorching three way in the club. Next time you hear 'London Calling', join these ripped and sexy hunks to satisfy your cravings for thick, international cock.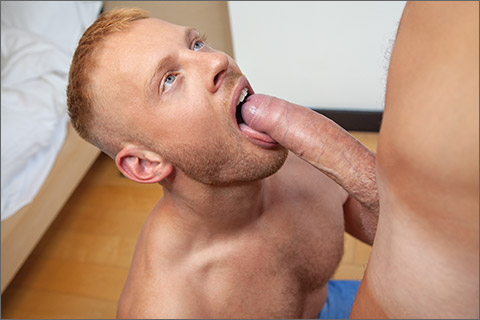 SCENE 1: Josh Moore fucks Andro Maas
Josh Moore gets a call from Colton Reece and Austin Sugar that they're in London and want to hang out. They make plans to meet up at Buckingham Palace in an hour, but a sexy ginger bottom named Andro Maas hits Josh up on an app right after he hangs up the phone. He's too sexy to pass up, so Josh invites Andro over for some quick fun before meeting his friends. The minute the door opens, their hands are all over each other and they start making out furiously. Andro is quick to drop to his knees and nurse on Josh's huge, uncut cock. Josh can't get enough of Andro's amazing mouth, but he craves more. They 69 each other, working each other's uncut cocks before Josh mounts Andro from behind as both studs work up a sweat. Andro rides Josh's hard cock, taking his pounding with joy. As Andro gets fucked, he enjoys the sensation of Josh's manhood stretching his hole and sliding in and out of him. The intensity of his pleasure crescendos as he shoots his hot cum with Josh's cock still plunging his ass. When Josh sees Andro unload, he pulls out and shoots his steaming load all over Andro's face.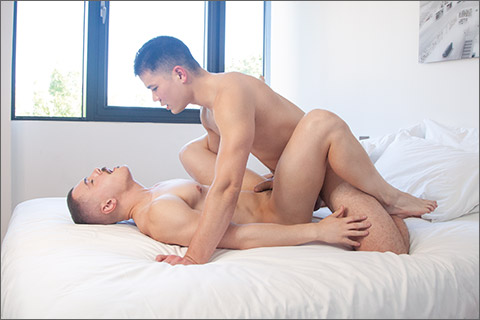 SCENE 2: Colton Reece fucks Austin Sugar
Colton Reece is walking the streets of London Town when Austin Sugar spots him hanging out on the sidewalk. Colton's eyes quickly light up as Austin flashes him a smile. Curious about this cruising stud, Colton needs to know more about this sexy stranger and they head off to find a more private spot. Back at the flat, the two waste no time getting undressed. Colton looks down as Austin slowly sinks to his knees and takes Colton's thick dick in his hungry mouth. While he's feeding Austin his cock, Colton gets eager to feel Austin's ass and works his fingers inside, priming the stud's tight hole. As he caresses Austin's ass, the anticipation building inside Colton is too much to handle. Austin can sense that Colton wants to be inside of him and hops on to ride Colton hard, taking every inch of his bulging meat. The two lock eyes as they fuck, enjoying the pleasures of each other's bodies. With each thrust, Colton is brought closer to orgasm. He holds back as long as he can, enjoying the feeling of Austin's ass clenched tightly around his cock, but it proves too much for him. He pulls his hard cock out and sprays his massive load all over Austin's ass. Who knows what sexy strangers you'll find walking the streets of London?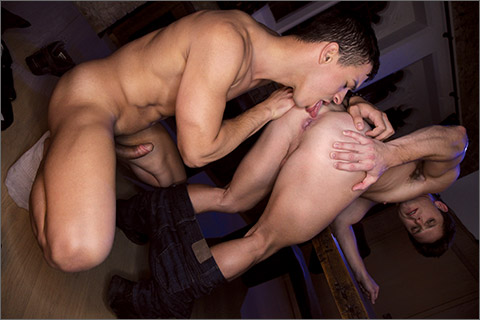 SCENE 3: Jonathan Miranda fucks Devin Franco
Devin Franco gets lost sightseeing in London when he meets the gaze of a friendly Priest named Jonathan Miranda. Devin nervously asks for directions and Jonathan leads him inside the church. Jonathan guides him up the old stone stairs to the roof where Devin bends over the ledge to check out the sights. Enticed by what he sees in front of him, Jonathan starts rubbing his growing cock through his black robes. Devin continues admiring the sights, oblivious to the Priest's subtle advances. Jonathan wants attention turned to him and whips out his hard cock to start jacking it out in the open. Devin finally notices the horny Priest and drops to his knees to profess his sins. Devin works Jonathan's holy pole in and out of his mouth until Jonathan leads them to another room where they can have some privacy and take it to the next level. Jonathan moves quickly and bends Devin over a table to slide his throbbing cock deep into the begging tourist. Jonathan's hips slowly grind at Devin's ass as Jonathan works his way deeper into Devin's hole doggie style. Jonathan keeps up the relentless pounding on Devin's tight ass until Devin flips the script and gets the priest on his knees to take some dick up his ass. Delivering a spiritual flip-flop moment, Devin drills Jonathan doggie. The Priest is in sexual heaven, but he isn't done with Devin yet. As any good priest would do, Jonathan, goes for missionary position, sliding his dick back in Devin's ass one last time until he pushes Devin over the edge. Devin let's out a gusher and Jonathan takes himself to the point of no return, pulling out and shooting his holy seed all over Devin's spent and panting body.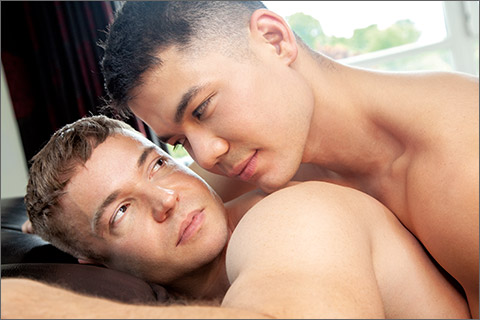 SCENE 4: Colton Reece fucks Gabriel Cross
Gabriel Cross sends Colton Reece a message, and the two plan to meet out and about in London. Colton makes his way through the busy streets, navigating the streams of people and cars to finally find Gabriel, smiling and waiting. The two meet up and head down the stairs into the tube station where they take the train back to a flat. When they walk through the door, the two are already hot and horny for each other. They quickly strip down, and Gabriel starts sucking on Colton's hard cock. The site of Gabriel's sexy bubble ass drives Colton insane as he licks and fingers Gabriel's smooth hole. Colton uses Gabriel's mouth to lube his fingers as he prepares Gabriel for his huge dick. Colton needs to feel Gabriel from the inside and pushes himself deep into his British friend from behind. Gabriel moans out with each thrust from Colton's thick dick, leaving both studs short of breath. Colton flips Gabriel around to let him ride the massive dick in his ass. 'Oh fuck yeah, ride that fuck!' Colton moans out as Gabriel works his asshole around Colton's hard dick. Finally, it's more than Gabriel can take and he lets loose to shoot his load all over Colton's tight chest and abs. Gabriel leans down to kiss Colton before he says 'my turn' and gets on his knees with his mouth open wide. Colton gives Gabriel what he desires by blasting his face and tongue with a massive load of jizz.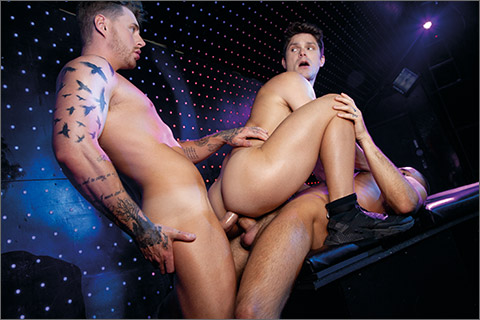 SCENE 5: Josh Moore & Jeffrey Lloyd DP Double-Penetration of Devin Franco
The neon lights are flashing and the music is pumping as Josh Moore and Devin Franco enjoy their last night out in London. Devin walks in, and immediately locks eyes with Josh, their pent-up attraction for each other can no longer be denied. The sparks fly and they look for a secluded spot to unleash their sexual tension. Josh pushes Devin up against a wall as they make out and get each other boned up. Josh is hard as a rock and wants a mouth around his throbbing dick. Devin is happy to oblige by getting on his knees and offering up his wet, drooling mouth to be used. While Devin is down on his knees, sexy club-goer Jeffrey Lloyd spots the two and starts rubbing his own cock to the hot and horny scene. Josh motions for Jeffrey to join in and Devin moves back and forth, servicing both cocks at the same time. Jeffrey needs more than just a mouth and bends Devin over to mount up and fuck his ass as Josh continues pounding Devin's face from the front. Taking a cock from both ends, Devin knows he's in spit roast heaven as his heartbeat matches the pumping music. As each man thrusts inside him from each end, Devin submits to his body's pleasure and takes everything they have to give. Josh and Jeffrey continue to fuck Devin with wild abandon, taking turns plugging his face and ass until they both cum all over the horny spent stud, coating his body with sticky, white cum.

WATCH IT NOW AT:
FALCON STUDIOS
Falcon Members can watch scenes from this Release anytime online.
DVD Releases debut online prior to DVD Release.