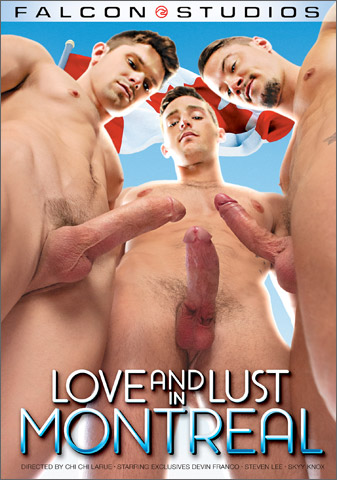 Studio: Falcon Studios
Directed by: Chi Chi LaRue
Year of Production / Release: 2019
Country of Production: U.S.A. / Canada

CAST:
Ethan Chase
Pierre Fitch
Devin Franco
Skyy Knox
Jack Kross
Steven Lee
Nikko Russo
Logan Styles
FROM FALCON STUDIOS:
Montreal is a vibrant city filled to the brim with beautiful scenery, amazing food, and gorgeous, hunky guys everywhere you look. Join award-winning director Chi Chi LaRue on a trip to Canada with eight hard and hung studs ready to find 'LOVE AND LUST IN MONTREAL'. When Logan Styles wakes up in bed next to Skyy Knox with a hard-on, Skyy takes matters into his mouth and deepthroats Logan's massive uncut dick before offering up his tight ass for Logan to conquer, leaving Skyy's body and mouth covered with cum. Nikko Russo is spotting Pierre Fitch lifting weights but when Pierre spots what's between Nikko's legs, he opens wide to let Nikko fuck his face and tight ass. Steven Lee walks in on Jack Kross jerking off and immediately joins in on the fun. After swapping blowjobs Steven slides his fat dick into Jack's tight hole and pounds the stud until Jack is wearing two loads of thick cum. When Skyy heads down to the strip bar, he finds Ethan Chase working the stage. Soon, both Ethan and Skyy are showcasing their skills with a different kind of pole as they flip-fuck and drain each other's balls. Devin Franco is disappointed that he hasn't got any Canadian dick on his trip to Montreal, so Skyy and Steven offer up their cocks and soon the three are fucking in a chain with Devin getting pleasure from both ends. Let all of your inhibitions go and join these studs on their quest to find 'LOVE AND LUST IN MONTREAL'.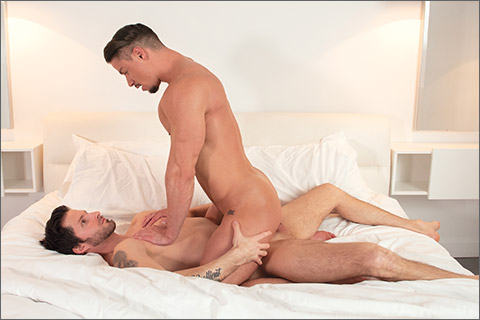 SCENE 1: Logan Styles fucks Skyy Knox
Skyy Knox and Logan Styles are lounging in bed when Logan pulls back the covers to reveal his raging hard-on that's bulging through his undies. Skyy's mouth begins to water and he can't wait to wrap his lips around Logan's big, uncut cock and slowly pulls it out. Skyy is eager to please and gets to work sucking and slurping as he deepthroats every inch that Logan feeds him. Skyy's talented mouth drives Logan wild and soon he needs to taste Skyy's growing bulge. Logan returns the favor until Skyy is ready to feel Logan's big dick deep inside of him. Skyy hops on top and rides Logan, making sure to go as deep as he possibly can. Skyy can't seem to get enough of Logan's pole plunging in and out of his hole, but Skyy wants it even deeper and rolls onto his side to let Logan work him in new angles. Logan pounds Skyy as his big balls slap against Skyy's ass with each thrust. Logan is about to blow and wants to see the ecstasy on Skyy's face as he brings him to climax. Skyy flips onto his back and lets loose to cover his own tight body with his cum. After watching Skyy finish off, Logan pulls out and rewards the spent stud with a thick load of jizz all over his tongue and lips. Skyy takes the load into his mouth and shares it with Logan in an intimate creamy kiss.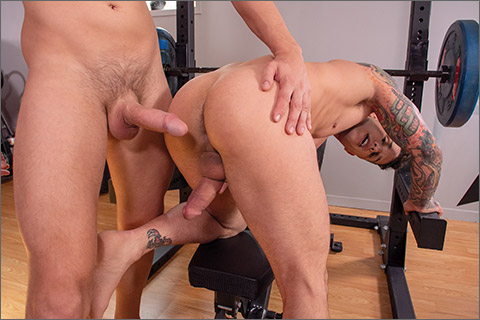 SCENE 2: Nikko Russo fucks Pierre Fitch
Pierre Fitch and Nikko Russo are working out together and when Nikko comes over to spot Pierre on the weights, Pierre spots something better between Nikko's legs. Nikko peels off his shorts to give Pierre access to his thick, uncut cock. With his hands still gripping the weights, Pierre opens his mouth wide to let Nikko fuck his face. There's nothing better than Nikko's cock sliding down Pierre's open throat, except possibly Nikko's thick dick in his ass. Pierre wants it bad and bends over the weight bench to let Nikko slip it in his hole. Nikko goes slow at first, giving Pierre the chance to open up and adjust to his massive member. Once Nikko knows that Pierre's hole is ready for fucking, Nikko pounds the moaning stud hard, going as deep as he possibly can. Pierre wants it even harder and rolls onto his back to give Nikko complete access to his prostate. Continuing to give Pierre what he wants, Nikko doesn't stop until he's ready to blow. Nikko pulls out and spills his cum all over Pierre's balls and bends down to lick it off. Nikko wants to share his taste with Pierre and gives him an intimate kiss as the two share Nikko's load. With the taste of Nikko still dripping from his mouth, Pierre stands over Nikko and finishes off with a massive load to the stud's hungry face.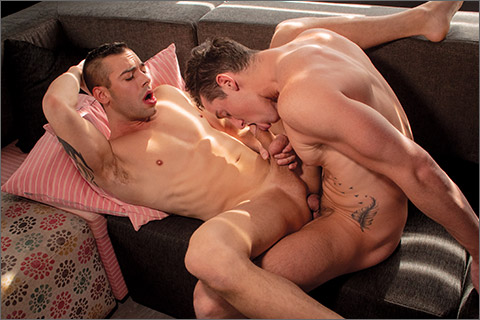 SCENE 3: Steven Lee fucks Jack Kross
Jack Kross is naked on the couch rubbing one out and fingering himself when Steven Lee walks in and catches him in the act. Steven isn't even surprised and immediately hops in to join the fun. Steven pulls off his underwear and gives them a sniff as the two lock eyes and jack off together. The anticipation of having Jack's dick in his mouth is more than Steven can handle and he gets down between Jack's legs to take the stud's big cock down his throat. He works it with ease until Jack is ready to take a try at fitting Steven's massive dick in his mouth. It's a tight fit but Jack sucks it down, working it up and down with his tongue and lips as it slips in and out of his hungry throat. Neither stud can get enough of the other and after tasting each other's smooth asses, Steven is ready for more. He slides his extra-large dick deep into Jack's tight hole and opens it up as he slowly slips all the way inside. Jack loves the feel of Steven stretching him out and wants it even deeper. Jack hops on to ride Steven's thick pole, going all the way to the balls as his own giant dick swings up and down with each bounce of his hungry hole. Both studs are on the edge of cumming when Steven flips Jack onto his back. As they stare each other down, Jack is the first to blow and erupts with a thick load that covers him with cum. When Steven sees Jack's big uncut cock oozing jizz, he pulls out shoots his own pent-up load all over the French-Canadian's muscled-up body.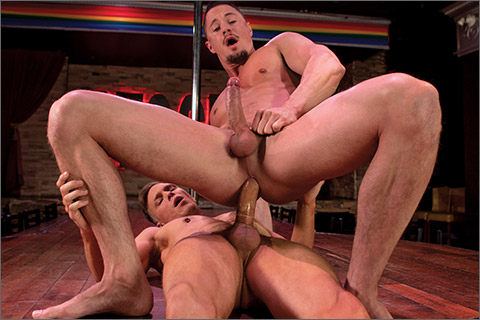 SCENE 4: Skyy Knox & Ethan Chase flip-fuck
Skyy Knox is alone in Montreal and heads down to Stock Bar to check out the dancers. He's happy to find Ethan Chase dancing with a hard-on and gets on stage to feed Ethan his money. After the performance, Ethan joins Skyy for some after-hours fun when Ethan gives Skyy the private show of his life. Ethan can't wait to show off his skills at working a different kind of pole and gets down to take Skyy's giant, uncut cock down his throat. Skyy face fucks the dancer until he can no longer hold off on his curiosity and sucks Ethan's big dick as the two 69. That's all it takes for Skyy to cave to his cravings and he hops on to ride Ethan. Ethan pounds hard, opening Skyy up with each thrust from his massive cock. Ethan loves fucking Skyy but now he wants his turn with feeling a nice dick inside him. He bends over to take every inch of Skyy as the hung stud plows his eager ass. The horny studs continue flip-fucking on the stripper stage, opening each other up and getting all the dick they can take. With Ethan still inside his ass, Skyy lets loose and blasts his load all over his ripped abs. Ethan is quick to follow and adds his thick ropes to the mix.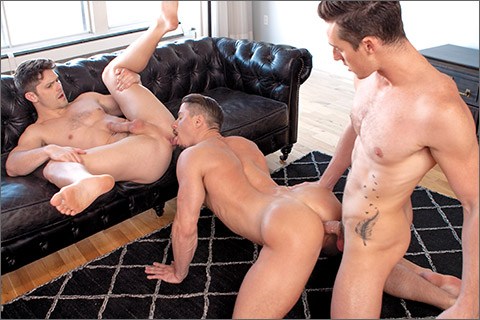 SCENE 5: Skyy Knox & Steven Lee tag-team & fist-fuck Devin Franco
Devin Franco complains to Skyy Knox and Steven Lee about how he didn't get any Canadian cock while on his trip to Montreal. As a consolation prize, Skyy and Steven offer their cocks up to Devin, who happily accepts the offering. Skyy pulls down his pants as Devin and Steven pounce on his hard dick to suck it simultaneously. Not to be left out, Steven pulls out his hard dick as the other two take turns taking it in their mouths. All the sucking fun gets the guys naked and before you know it, everyone has a dick or an ass in their mouth. Devin is ready for more and as he makes out with Skyy, he bends over to let Steven fuck his ass. With a mouth on his dick and a cock up his hole, Devin is in heaven as Steven pumps him from behind. The three studs can't get enough of each other as they switch it up to take turns on Devin's eager ass. Skyy wants in on getting fucked and bends over to let Devin plunge inside of him. As Devin drives in and out of Skyy, Steven takes his place behind Devin and the studs form a chain with Devin getting pleasure from both the front and the back. Devin is ready to burst and with both Skyy and Steven fingering his hole, he lets go and bursts into Steven's open mouth. After Skyy and Steven lick up the load, Skyy cums on Devin's ass and balls. As he gobbles up his own jizz, Steven stands above Devin and blasts his creamy load down Devin's throat.

WATCH IT NOW AT:
FALCON STUDIOS
Falcon Members can watch scenes from this Release anytime online.
DVD Releases debut online prior to DVD Release.