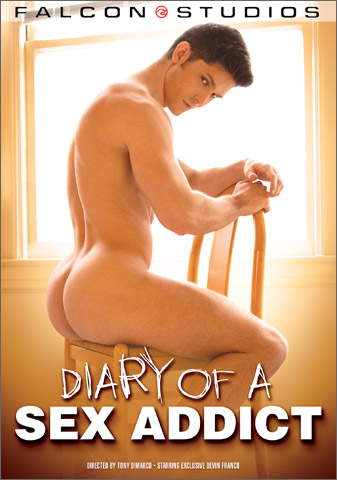 Studio: Falcon Studios
Directed by: Tony Dimarco
Year of Production / Release: 2019
Country of Production: U.S.A.

CAST:
Mateo Fernandez
Christian Finch
Devin Franco
Jack Hunter
Casey Jacks
Colton Reece
Hunter Smith
Kurtis Wolfe
FROM FALCON STUDIOS:
When you're addicted to sex, where and how you get it doesn't matter – in public restrooms, the sex club, or even at home with a stranger off the street. Sit back and let award-winning director, Tony Dimarco, weave a tale of sex and desire with eight horny hunks that paint a tantalizing picture in 'Diary of a Sex Addict'. When Devin Franco and Jack Hunter catch each other's eye at the urinal, they hit the bathroom stall where they suck each other until both Devin's face and the floor next to the toilet get covered with jizz, only to find themselves sitting across from each other at a Sex Addicts Anonymous meeting with Colton Reece. Connecting on the street, Colton Reece and Casey Jacks can't contain their lust for each other and head up to Casey's apartment, where Casey's ass goes in the air and Colton accepts the invitation to fuck. Once Casey's hole is filled with a thick load, Colton eats his cum out of Casey and finishes the session off with a cum-filled kiss. Devin Franco leaves work to look at apartments with real estate agent, Mateo Fernandez. Devin makes his move, and soon Mateo's massive uncut cock is stretching Devin's ass. Hunter Smith can't keep his eyes off bartender Kurtis Wolfe and ends up taking his bare cock in the back of the bar. After his romp with the bartender, Hunter Smith leaves with Colton Reece and gets on his knees to service his massive dick before he bends over to let the stud stretch his ass. Later, Devin hits the local sex club and puts his ass in the air for any stranger to come by and plow him. Christian Finch and Colton Reece take turns on Devin's face and ass until they fuck him in an epic double penetration session. Crack open this seductive diary full of uninhibited desires and seedy hookups. It will have you wanting to write your own, 'Diary of A Sex Addict'.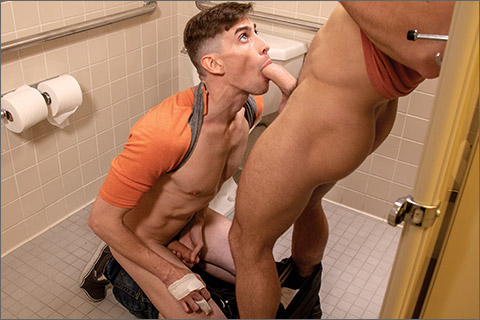 SCENE 1: Jack Hunter & Devin Franco suck dick
When Devin Franco enters a public restroom, he chances upon hung Jack Hunter using the urinal. All it takes is one quick glance between the two studs for their mutual understanding and sexual instincts to kick in. They quickly move to the stall where Jack gets on his knees to take Devin's big cock down his throat. Jack opens wide and lets Devin fuck his face with a fast-paced plunging that leave Jack's eyes watering and his gag reflexes strained. Devin wants Jack's tongue up his eager ass and bends over to continue jerking off as Jack opens the stud up with his probing tongue. Devin wants a taste of his new bathroom buddy and shoves Jack against the wall of the stall. With his mouth and throat open and ready to receive, Devin gets what he desires when jack fucks his face all the way to the base. Devin's expert mouth feels amazing and it's not long before his big wet dick is drenching and filling Devin's face with a giant load of jizz. Once Jack lets loose, Devin jacks himself to climax and drops his own load all over the floor.

SCENE 2: Colton Reece fucks Casey Jacks
Colton Reece is walking down the street looking for a man to satisfy his sexual hunger when he meets Casey Jacks who's entering his building. The two share a moment before Casey invites Colton up to his place. The studs don't mince words and don't waste a second getting naked once inside. As their clothes hit the floor, they make their way to the bedroom and Casey's ass goes in the air so Colton can open it up with his tongue. Once Casey is revved up, he knows it's time to get Colton's dick rock-hard. Casey offers up his mouth to let Colton fuck his face and takes the big dick in and out of his mouth until Colton is ready to slide it in his ass. Colton bends Casey over and pumps his ass with his extra thick dick. Pounding away hard, Casey screams out with each thrust from Colton's hips. Colton wants to see the look on Casey's face as he gets pounded and flips the stud over to keep his rhythm going. Colton fucks Casey until his cock is ready to explode. He pulls out and blasts Casey's sore hole with a thick load before shoving his cock back inside to push the cum in all the way. Feeling his hole filled with Colton's cum makes Casey blow his own load all over himself. When he's finished up, Colton goes back down on Casey's ass and licks his own cum out before giving Casey a jizz-filled kiss to thank him for the fun.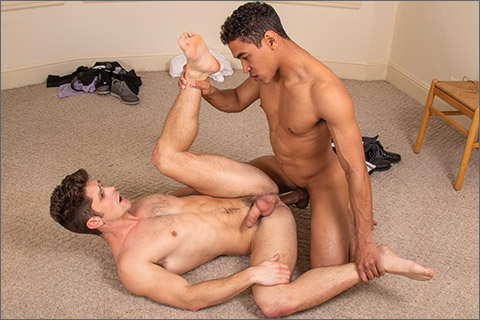 SCENE 3: Mateo Fernandez fucks Devin Franco
Devin Franco is horned up at the office and looking at porn. Instead of rubbing one out, he takes matters into his own hands and decides to go hunting for an apartment with real estate agent, Mateo Fernandez. While on the tour, Devin makes a move on the hunky agent and reaches out to touch his bulge. Mateo rolls with the advance and soon the two are locked in a kiss that quickly leads to Devin's knees hitting the floor. Devin wraps his lips around Mateo's massive, uncut cock and works it to the base, opening up his throat and getting both of their cocks hard. Devin is ready and bends over to let the agent open his ass with his tongue. When Mateo is convinced that Devin can handle his massive dick, he stands up behind his client and slides his meat deep inside. Pounding away on Devin's hungry hole, Mateo grunts with each thrust as Devin's hole gets used. Devin wants it even deeper and rolls onto his back to let Mateo finish up. Mateo pumps even harder and pulls out as his cum rolls from the tip of his throbbing cock, down his shaft, and into Devin's open hole. With his ass filled with jizz, Devin lets loose and covers himself with cum.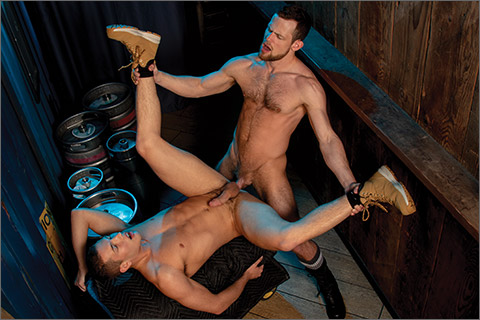 SCENE 4: Kurtis Wolfe fucks Hunter Smith
After eyeing each other, bartender Kurtis Wolfe rushes Hunter Smith to the employee's only section of the bar for some fun. They instantly lock lips, and it's not long before Hunter is on his knees choking down Kurtis' fat dick. Voyeur Colton Reece covertly watches the two hunks getting down on each other next to the kegs. Once Hunter has had his fair share of dick down his throat, Kurtis pulls Hunter's jeans down to expose his smooth bubble ass. Intrigued by the tight hole in his face, Kurtis plants his tongue deep into Hunter's crack. With Hunter's ass lubed with spit, Kurtis sticks in a few fingers in between laps from his tongue. As Colton continues to watch, Kurtis mounts Hunter from behind with his thick bare rod. An eager bottom, Hunter slams his ass back onto Kurtis' meat as he gets drilled from behind. Hunter gets on his back to give Kurtis total access to his prostate. Hunter's hole is too tight for Kurtis to hold back any longer, so he pulls out his cock to coat Hunter's hole with a fresh load. Kurtis shoves his spent cock back into Hunter before he jacks out thick ropes that land all over his abs. After they finish, Hunter runs into Colton where he lets Hunter know he saw everything, and that he wants his tasty ass too.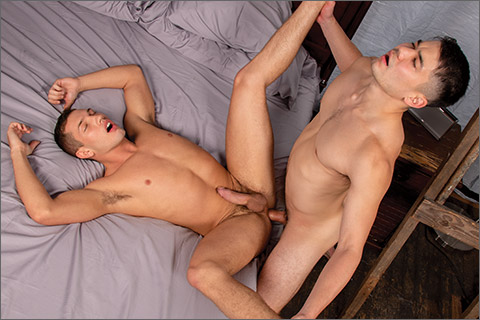 SCENE 5: Colton Reece fucks Hunter Smith
After leaving the bar together, Colton Reece and Hunter Smith can hardly keep their hands off each other when Colton pulls out his dick for Hunter to suck. Hunter eagerly gets the giant cock in his mouth and takes it in and out of his throat until Colton is hard and ready to fuck. The hunks move it to the bed where Hunter bends over and offers up his ass for Colton to use. Before Colton slides his cock inside, he wants a taste of the stud's smooth hole and gets in deep to tongue-fuck his crack. It's obvious that Hunter is ready for some more, so the two hunks stand up and Colton slips his thick dick deep into Hunter's tight ass. After plowing Hunter standing against a ladder, Colton throws Hunter onto the bed where he keeps up his relentless fuck by pounding Hunter's hole from behind. The studs switch it up one last time with Hunter on his back receiving all of Colton buried in his ass. With Colton pumping hard, Hunter covers himself with thick ropes of cum. Colton loves the sight of all that cum and pulls out to cover Hunter's face with a giant load of jizz.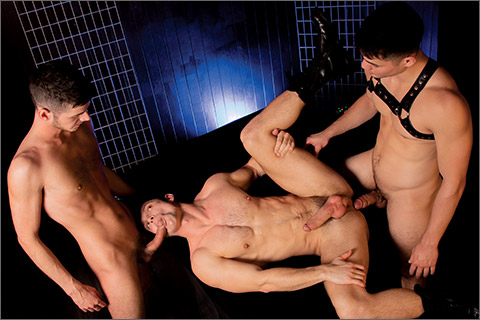 SCENE 6: Colton Reece Christian Finch DP Double-Penetration Devin Franco
After a fucked-up day at work, Devin Franco heads to a sex club where he puts his ass in the air for any stranger to come along and pound his problems away. Christian Finch is the lucky man who discovers Devin face-down-ass-up and bends down to rim out his eager hole. As Christian is eating out Devin, Colton Reece joins the action with his massive hard-on and takes his place in front of Devin to fill his mouth with dick. Christian is ready to fuck and stands up to shove his dick into Devin's tight hole. Devin takes a stud from each end as he gets his ass and mouth pummeled at the same time. It's everything Devin thinks he wants until Colton decides it's time for him to enter Devin's ass. Colton and Christian change places with the studs taking their positions to keep both of Devin's holes filled at the same time. The horny hunks continue switching it up to give Devin the maximum amount of dick in every hole. Devin wants everything at once so Colton and Christian mount the stud at the same time to give him an epic double-penetration that leaves Devin gaping and begging for even more. Giving Devin what he desires is all that Colton and Christian have in mind and they take turns fucking the horny stud until they fill his mouth and ass with their loads. With his body writhing and his holes filled with cum, Devin erupts with his own load and covers himself with warm, thick jizz.

WATCH IT NOW AT:
FALCON STUDIOS
Falcon Members can watch scenes from this Release anytime online.
DVD Releases debut online prior to DVD Release.