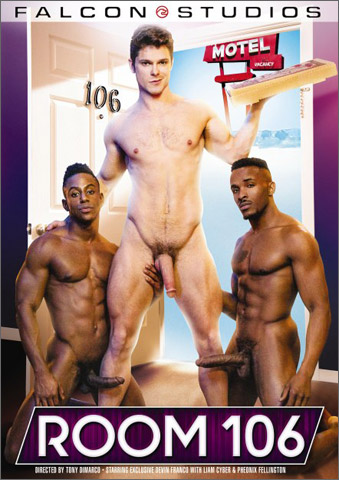 Studio: Falcon Studios
Directed by: Tony Dimarco
Year of Production / Release: 2019
Country of Production: U.S.A.

CAST:
Liam Cyber
Jay Dymel
Phoenix Fellington
Devin Franco
Cazden Hunter
Jack Hunter
Zander Lane
Justin Matthews
Pierce Paris
Nic Sahara
Roman Todd
FROM FALCON STUDIOS:
Have you ever wondered what happens in a hotel room before you check-in? If the walls of your hotel room could talk, what sordid stories would they tell? When 11 horny studs arrive in 'Room 106', a seemingly random hotel room off the beaten path, they find themselves breeding holes raw and sucking huge cock. Join award-winning director Tony Dimarco and his all-star cast of men who pass through this otherwise plain hotel room, but leave having had unique, mind-blowing, intensely sexual experiences. Strangers Jay Dymel and Pierce Paris are forced to share a room when their flights are canceled, which results in Jay taking Pierce's massive cock bareback. After a long day at work, Nic Sahara and Roman Todd get some relief by barebacking each other in the room all night. Cazden Hunter sets up an anonymous hookup in his lodging where Jack Hunter stops in to fuck his smooth ass raw. Mormon Elders Zander Lane and Justin Matthews explore the curiosities of their impure thoughts resulting in the ultimate sin. When Pheonix Fellington and Liam Cyber don't have enough money to tip pizza boy Devin Franco, the duo decide to slide their bare tips into his hole instead. Stop in and take a visit in 'Room 106'. If the walls could talk, imagine all the stories they would tell.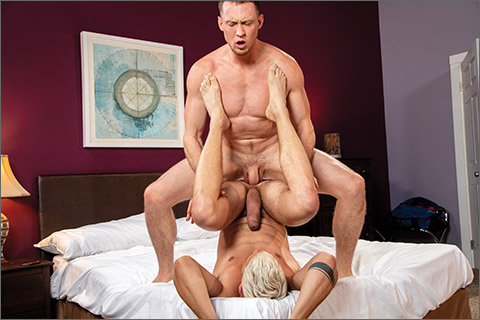 SCENE 1: Pierce Paris fucks Jay Dymel
When the airlines abruptly cancel Pierce Paris and Jay Dymel's flights, the two are forced to share a hotel room together for the night. After they get settled, Pierce goes thru Jay's bag seeking body wash when a massive manrammer falls out. Pierce quickly wraps the toy back up and hops in the shower before Jay notices. Pierce comes out of the shower and sees Jay rubbing lotion on his hard body in the mirror. Jay asks Pierce to rub some lotion on his back, and Pierce nervously agrees. When Jay is all moisturized, he turns to Pierce and says "my turn", and grabs a handful of Pierce's meat. The two lock lips and Jay quickly sinks to his knees to gulp down his new roommates swollen cock. Pierce is relentless with his rod and grabs the back of Jay's head to push it to the base. Continuing to assert his dominance, Pierce yanks Jay from the floor, throws him onto the bed and rips his underwear off. With Jay's inviting hole in his face, Pierce dives in and works his tongue in and out of Jay's warm crack. Now that Jay is wet and slicked up, Pierce slides his massive, 9-inch dick into Jay and pounds him deep. Unforgiving with each thrust, Jay can't get enough of Pierce slamming his ass bareback. Pierce wants one more go at Jay's mouth and face fucks the blond stud one more time, but Jay really wants Pierce inside his ass again. Pierce gives Jay a series of powerful pumps and pulls out to coat the studs hole with a fresh load. To finish Jay off, Pierce shoves his bare cock back in and fucks the hunk while Jay beats thick ropes of jizz out of his own swollen cock and onto his abs.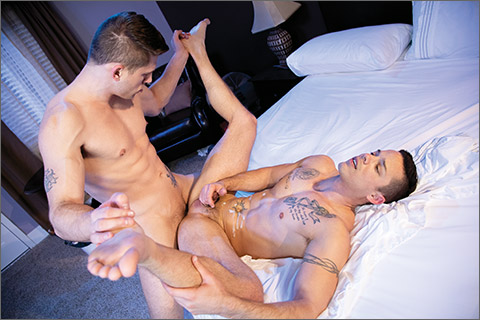 SCENE 2: Nic Sahara & Roman Todd flip-fuck
Roman Todd and Nic Sahara are getting back late to their room after a long day working. Exhausted and drained, Roman decides to hop in the shower to recharge, tossing his underwear to the other side of the room. Nic quickly snatches them up to inhale Roman's all-day man-scent. In middle of the night, Nic takes out Roman's dirty underwear and begins to rub his hard cock while deeply inhaling Roman's scent. Roman wakes up and catches Nic beating off. Sensing that he can get Nic to help him with his own cum-filled balls, Roman tells Nic a story of how he let a guy suck his dick. Interested and sheets tented, Roman invites Nic to his bed to swallow his cock. Nic's loving every inch of the initiation and takes Roman's thick dick down his throat and to the balls. After Nic is done deepthroating Roman's cock, he feeds his meat to Roman's face. Making sure he doesn't miss out, Roman slurps down Nic's uncut cock. For a hot 69, Nic gets on top of Roman, and sucks Roman's dick again while Roman rims Nic. It's not long before Nic's hole is ready, and he's bending over the bed to take his co-workers thick, bareback cock. Roman eases into Nic and quickly starts pounding the stud doggy-style. After Nic has had his ass slammed by Roman, they go for an intense flip-fuck, with Nic plowing into Roman and drilling the tatted hunk with his uncut, bare rod. They switch it up one last time with Roman pounding Nic to finish him off. Seeing Nic stroke a load out onto his abs sends Roman over the edge, so he pulls out and adds his own load to the mix, leaving Nic a wet, sticky mess. Roman slides his spent cock back into Nic's hole one last time and says, "you need to give me my underwear back."

SCENE 3: Jack Hunter fucks Cazden Hunter
Traveling solo, Cazden Hunter checks into his hotel room finding himself horned-up with nowhere to go. Cazden take out a dildo, pops on a porno to help satisfy his needs. After a few attempts to get himself off, Cazden decides he wants more, he wants the real thing. A big hot thick cock to fill his hole. He arranges for an anonymous hookup in his room. When his NSA fuck-buddy Jack Hunter arrives, he finds Cazden face down, ass up on the bed in a jock. Jack helps himself and gets on his knees to rim Cazden hard. After burying his face in deep, Jack smacks Cazden's ass cheeks with his thick, throbbing cock. Slick with spit, Jack slides his massive dick straight into Cazden's bare hole. Cazden sits up and looks back at the anonymous trick as he pumps in and out of his ass. Cazden wants a taste of Jack's monster cock and turns around to swallow it whole. After getting his throat stretched, Cazden hops on top to take Jack's dick to new depths. He bounces up and down, taking every inch of the girthy cock probing his hole. Jack puts Cazden on his back with his legs high in the air to pound him deep. Jack can't hold off any longer and pulls his bare cock out of Cazden's ass to drench his cock with a fresh load. He shoves it back in just in time for Cazden to grab ahold of his dick and stroke a thick load out on his abs. After satisfying himself and his anonymous partner, Jack gets dressed and leaves Cazden on the bed a wet and sticky mess.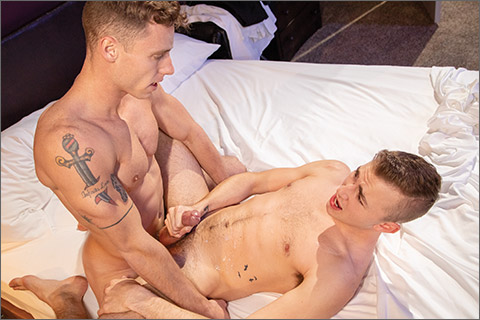 SCENE 4: Justin Matthews fucks Zander Lane
Mormon Missionaries Justin Matthews and Zander Lane head back to their room after a long day of door-to-door preaching. Eager to wash the day away, Justin gets in the shower to clean up. While Justin is in the shower, Zander discovers a gay porn magazine under the bed, opening his eyes to a new world of gay sex and lust. With his body and mind swirling with new sensations, Justin almost catches Zander and comments on how strange he is acting. During the night, neither can sleep because the neighbors are fucking loud in the next room. When Justin asks Zander if he ever has sinful thoughts, Zander is quick to deny. Justin then pulls out the magazine teasing Zander about it. Zander jumps on Justin trying to wrestle the magazine from his hands but soon they end up locking lips on the bed. As the two Elder's strip down, Justin brings his mouth down to Zander's cock. Zander explores his impure curiosities and returns the favor. He gets on his back with his head over the bed to receive Justin's long cock down his throat. Justin fucks Zander's throat, then bends him over to tongue-fuck his hairy hole. After Justin has lubed up Zander's ass, he slides his girthy rod into Zander. Zander takes every powerful thrust from Justin as he pounds the sinful stud bareback from behind. They switch it up with Zander on his back taking swift pumps from Justin's dick. As Justin fucks his ass, Zander strokes a load out onto his fuzzy torso. Justin pulls out to blast his load all over Zander. Both Missionaries are spent, and sexually satisfied with their sin.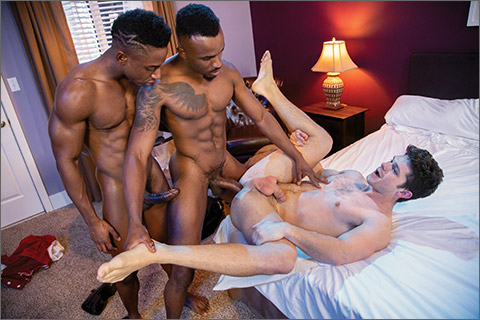 SCENE 5: Liam Cyber & Pheonix Fellington fuck Devin Franco
When Pheonix Fellington answers Liam Cyber's knock at the door, he wastes no time pulling him inside and making out. After they rip each other's clothes off, Liam gets down to wrap his lips around Pheonix's gigantic cock. Pheonix teases Liam's ass leaving Liam begging to get fucked when there's a knock at the door. Pizza boy Devin Franco shows up to make a delivery. Pheonix answers the door but finds he doesn't have enough money for a tip. Pheonix apologies for not being able to give him a tip, but unexpectedly Devin grabs Pheonix's hard cock wanting for more than just the tip. Devin sucks on Liam's thick cock while Pheonix rims his hole from behind. When Devin's hole is nice and lubed up, Pheonix slides his thick cock in to the eager pizza boy. He pumps away with powerful thrusts while Devin keeps his mouth full of Liam's rod. Pheonix and Liam takes turns going at Devin's hole raw until Pheonix fucks Liam's ass while his cock is still inside of Devin, creating a steamy fuck train. With a cock in his ass and his dick drilling Devin, Liam is unable to hold back any longer and he sprays a load on Devin's used hole and shoves his cock back in. Pheonix takes one last go at Devin's hole and glazes the delivery boy with his seed before shoving it back in to fuck Devin's load out of him, leaving the pizza boy drenched in cum.

SCENE 6: Pierce Paris & Devin Franco suck dick

WATCH IT NOW AT:
FALCON STUDIOS
Falcon Members can watch scenes from this Release anytime online.
DVD Releases debut online prior to DVD Release.