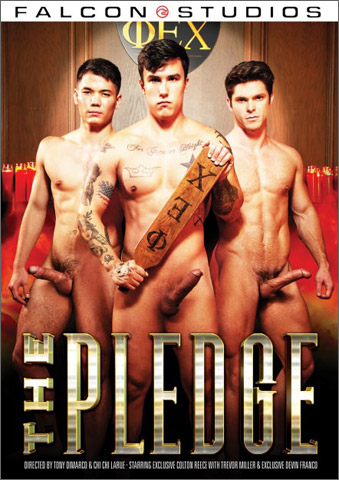 Studio: Falcon Studios
Directed by: Chi Chi LaRue & Tony Dimarco
Year of Production / Release: 2019
Country of Production: U.S.A.

CAST:
Zak Bishop
Devin Franco
Tristan Hunter
Steven Lee
Trevor Miller
Colton Reece
Tyson Rush
Nic Sahara
Brandon Wilde
FROM FALCON STUDIOS:
In the tradition of the iconic 'PLEDGE MASTER' franchise, which includes 'THE PLEDGE MASTERS', 'NEW PLEDGEMASTER' and 'PLEDGEMASTER – THE HAZING'; Falcon Studios invites you to experience 'The Pledge'!
The college freshmen in 'THE PLEDGE' are willing to do anything to get a coveted spot in the hottest fraternity on campus. Their quest for validation and acceptance from their potential frat brothers becomes a lusty tale of intrigue, desire and deception that always leads to steamy bareback encounters. Join award-winning co-directors Chi Chi LaRue and Tony Dimarco as they deliver a blockbuster collegiate adventure featuring nine horny frat studs looking for all the raw college dick and ass they can grab. Brandon Wilde sits for his pledge interview with Trevor Miller and Tyson Rush. To prove that he has what it takes to join the brotherhood, Brandon bends over to let Tyson and Trevor tag team him bareback until both his mouth and ass are filled with their cum. Nic Sahara wants Zak Bishop to sponsor his pledge to the fraternity. Zak sees an opportunity and gets Nic out of his jeans. After sucking the college freshman's big uncut dick, Zak bends over to take every bare inch Nic can give him. Will a load in Zak's ass be enough for Nic to get his pledge? Steven Lee and Tristan Hunter get invited to visit the fraternity. When they arrive, Trevor Miller teaches them all about what being a frat brother means. The duo does everything Trevor commands including sucking cock and fucking raw as Trevor looks on with his dick in his hand. Will the show of loyalty and bonding gain them enough favor to get 'THE PLEDGE'? Colton Reece blindfolds Devin Franco to drive him to an undisclosed location. Once there, Colton fucks the sight-deprived stud aggressively, stretching his hole to the limits until Devin is drenched with cum. It's a sudden turn of events at the final hazing ceremony when Devin Franco takes charge to put Trevor Miller in a submissive position at the fraternity initiation orgy. Blowjobs break out around the room and soon Colton Reece, Nic Sahara, Zak Bishop, and Brandon Wilde are all lined up to plug both of Trevor's holes for his betrayals. After all five hunks in the room have a go at Trevor's ass, they each blast their loads and cover the disgraced brother with jizz. Will Trevor be allowed to stay in the fraternity? Go balls deep in brotherhood with 'THE PLEDGE' and see if you have what it takes to swear a lifetime of secrecy to the fraternity!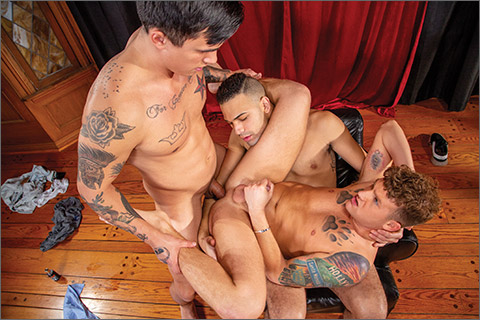 SCENE 1: Tyson Rush & Trevor Miller fuck Brandon Wilde
College pledge Brandon Wilde sits down for his initial fraternity interview with Trevor Miller and Tyson Rush. Trevor makes it clear that joining means always helping a fellow brother out no matter what. To make his point, Trevor instructs Tyson to pull out his dick before ordering Brandon to prove his worth by helping his future frat brother with a blowjob. Brandon wants to show that he's loyal and opens his mouth wide to take Tyson thick meat down his throat. As Brandon gags on Tyson's throbbing cock, Trevor gets naked and commands Brandon over to suck his cock as well. The pledge is eager to please, so Brandon gets between Trevor's legs and does as he's told. After getting his future brothers hard and ready to fuck, Brandon bends over for Tyson to enter his ass. Tyson doesn't waste any time and shoves his long, raw cock deep into the pledge's hole. He pumps away at Brandon's ass until Trevor takes his place behind the college freshman to do the same. Brandon's ass feels amazing and soon Trevor's cock is ready to explode. Trevor pulls out and blasts his load all over Brandon's freshly fucked hole before getting down and eating his cum from Brandon's ass. Seeing Trevor eating his own load is all it takes for Tyson to erupt with his own thick ropes of cum into Brandon's mouth. Loaded up in both holes, Brandon lets loose on the floor as Trevor and Tyson leave to decide Brandon's fate. Did the pledge prove his worth to the fraternity?

SCENE 2: Nic Sahara fucks Zak Bishop
Nic Sahara wants Zak Bishop to sponsor him to the fraternity, but Zak isn't willing to do so without some favors in return. Zak clearly has the upper hand with Nic and is going to take advantage of the pledge's offer to do anything it takes to get Zak's help. Having Nic's cock fill every hole bareback is Zak's sole desire. Nic quickly obliges by pulling it out, and Zak drops to the floor and takes Nic's big, uncut dick in his mouth. Zak works the big cock with his mouth and tongue getting the college stud hard as a rock before hopping on Nic's dick to ride it raw. Zak's love of cock kicks in even harder when he decides to let Nic have complete control and rolls over onto his side. Nic slides his bare cock into Zak once again and pounds the young frat guy's ass hard, making Zak yell out with each thrust from his thick, raw cock. Nic keeps drilling Zak's prostate and flips him onto his hands and knees to continue the relentless pounding. Nic doesn't stop until he's ready to blow and pulls out to blast his load on Zak's balls. Nic sticks his spent dick back into Zak's used hole and fucks the cum out of Zak, leaving the hunk covered. Will the hardcore fuck and a load up Zak's ass be enough for Nic to win his pledge?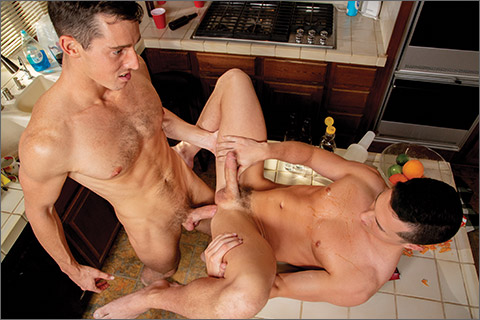 SCENE 3: Steven Lee fucks Tristan Hunter
Steven Lee and Tristan Hunter get their official invitations to the fraternity, and when they arrive, Trevor Miller is there to teach them what being a frat brother truly means. Trevor gets off on watching his pledges do exactly as he says. After commanding Steven to pour syrup on Tristan's ripped body and go down on Tristan's extra thick dick, Trevor reaches into his pants and grabs himself. Steven likes to please and does everything he's told to do by the frat leader. Not only is Steven pleasing himself and Tristan, he's gaining the favor of Trevor, who can get him everything he wants. Steven is craving more and bends Tristan over the kitchen counter to open his ass up with his tongue. When he can sense that Tristan is ready for his big dick, Steven slides inside his fellow pledge and pumps away with his raging raw hard-on, stretching Tristan wide. With Trevor still watching and beating off next to them, Steven picks up the pace and pounds a panting Tristan even harder. Steven hits just the right spot with his frenzied fucking and makes Tristan blow his load all over his own toned stomach. When Steven sees Tristan's thick jizz everywhere, he pulls out and adds to the mix with a massive load of his own all over Tristan's already dripping-wet body. Will their display of obedience be enough to convince Trevor to allow them into the brotherhood?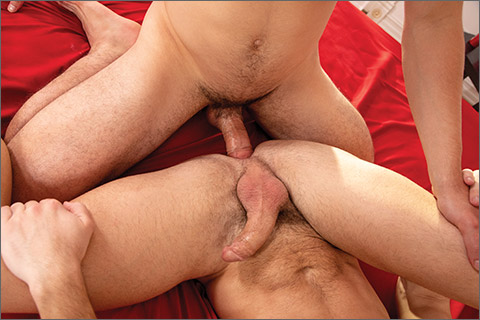 SCENE 4: Colton Reece fucks Devin Franco
Colton Reece blindfolds Devin Franco and drives him to an undisclosed location to use him as Colton sees fit. When they arrive, Colton keeps the blindfold on Devin and cuts right to the chase, bending the sight-deprived Devin over a bed to rim his vulnerable ass. The taste of Devin's hole gets Colton rock hard and when Devin begs for the hunk to enter him bareback, Colton can't resist and slides his fat raw cock in deep. He pounds away on Devin, making him moan out as Colton hits the perfect spot. Colton wants to see what Devin can handle and rolls the stud onto his back to continue the hardcore pounding. Colton gets more and more aggressive the harder he plunges into Devin's stretched hole, even pile driving Devin from above before aggressively finger fucking his loose ass. The frat brother decides to remove the blindfold, so Devin can enjoy the view of himself getting pounded. After a long hot session, Colton can no longer contain himself and pulls out to ooze his load on to Devin's bubble butt. Devin is still horny and goes ass-to-mouth on Colton's dick, sucking out any remaining jizz before he rolls over and lets Colton pound the cum out of him. After the two spent studs are finished, Devin confides in Colton with a huge secret about the fraternity.

SCENE 5 – GANG-BANG: Devin Franco, Colton Reece, Nic Sahara, Trevor Miller, Zak Bishop, and Brandon Wilde
On the night of the Final hazing ceremony at the fraternity, 'The Pledge' has been made. Whoever gets through the ceremony will be initiated into the brotherhood. The ceremony starts after Devin Franco reveals the ultimate betrayal from one of the brothers that puts Trevor Miller into a submissive position. The rest of the fraternity goes along with the turn of events, and soon the group is naked and going wild with blowjobs shared all around the room. As the initiation continues, the cock sucking quickly turns into rimming and bareback fucking. Devin is the first to make his move and rams his dick deep into Trevor's ass. The entire brotherhood lines up to teach Trevor a well-deserved lesson and every single dick in the room ends up in one of Trevor's holes. After Devin has his way, Colton gets to have his turn on Trevor's hole as Zak Bishop jumps in to suck more cock. Brandon Wilde is up next and jumps in to get his dick wet before surrendering to Nic Sahara's desires to be the next in line. After all five frat studs have their way inside Trevor's tight body, the guys are ready to finish the hazing. Colton is the first to blow his load all over Trevor's face and chest. One-by-one, each of the guys cover Trevor with jizz as Devin keeps pounding a raw rhythm to his ass. After all the guys blow their loads, Devin pulls out to deliver the last shot, leaving Trevor dripping with cum. After the humiliating power play by Devin, will Trevor be allowed to stay in the fraternity, or will the renewed bonding of a frat orgy be enough to save his position in the brotherhood?

WATCH IT NOW AT:
FALCON STUDIOS
Falcon Members can watch scenes from this Release anytime online.
DVD Releases debut online prior to DVD Release.