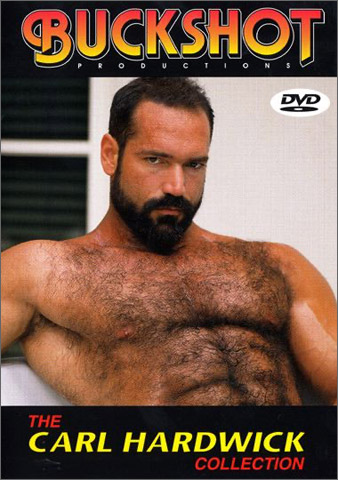 Studio: COLT Studio / Buckshot Productions
Directed by: Rip Colt / Various
Year of Production / Release: 2000
Country of Production: U.S.A.

CAST:
Carl Hardwick
FILMS IN THIS COMPLIATION:

RAWHIDE LOAD
Our final, ahem, trick is a cowboy sort with bodybuilder thang going on (beefy cover model Carl Hardwick in RAWHIDE LOAD) who wears chaps while he wanks away. It's simple, it's manly (except for the ass waving thing) and it's gonna result in juice. Included is some recently shot bonus footage of Carl taking a shower.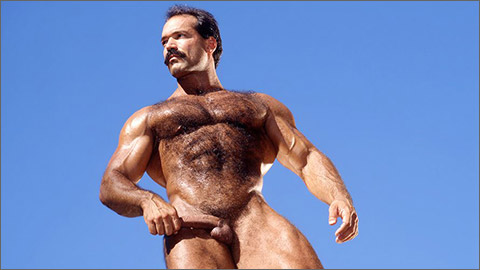 A DAY IN THE LIFE OF CARL HARDWICK
Often we're asked what are models really like. Of course they're all different but since there's such overwhelming interest in Carl we thought he might be a good example to answer the question – and so this new video came into being. The show is in several sections illustrating his various at home activities.
You'll see him shooting some hoops, pruning some trees, doing stretching exercises and practicing his contest poses, etc. All everyday goings-on, with one big difference: when you're a massive, powerful, muscular, hairy hunk like Carl is, anything you do is awesome (especially if you're nearly naked).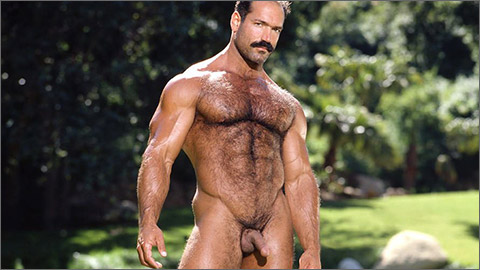 SELF SERVICE
Our furry star begins this video by checking under the hood of his old van for a problem he's been having. It's boring. What he'd rather be doing is stripping off all his clothes and turning an audience on (he does that very well). And so, in his imagination, that's what he does.
   There's little left to the imagination by the end of this show. But wait. What if a male stripper had the kind of physique CARL has, wouldn't he want to show that off too? You bet! So our CARL wraps it up with the kind of nude posing routine you ain't neva gonna see on a contest stage. No siree!
Carl Hardwick is an auto-mechanic who knows what to do to keep his engine running smoothly. A SELF SERVICE tune up every once in a while to flush out excess fluids and clear the hoses is part of regular maintenance. Same goes for his well serviced cock. A little SELF SERVICE is needed to keep things running smoothly. After a day of working under the hood of his car, Carl checks under his own hood to give himself a oil check. A little crank and lube gets things working nicely. Once all his fluid levels are back to normal Carl takes his well oiled muscles out for a test-spin with a sexy workout and posing routine in the mid-day sun!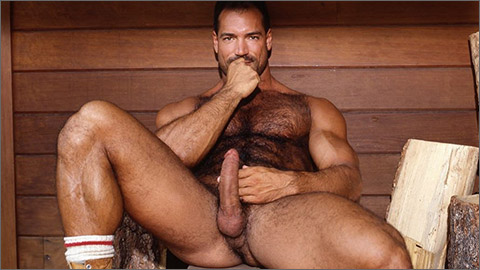 BEAR IN THE WOODS
Carl Hardwick is no stranger to the great outdoors and today he's ready to get dirty and break a sweat. Showing up in his pick-up truck, ax in hand, Carl heads into the woods to collect some lumber. He strips off his shirt, revealing a pelt of hot muscled man-fur. He dons his gloves and gets to work chopping wood. His thick arms, powerful legs and muscular back all get fully worked as the woodchips fly. A glistening layer of sweat breaks out and Carl, alone in the woods decides to strip off his shorts. He takes a break to enjoy the hot sun all over his naked body and finds the perfect spot to flex and pose in nature. With his work done and his muscles well pumped, Carl heads back to the homestead. There he strips down again and takes a long and sudsy outdoor shower, getting all the fur and muscle squeaky clean.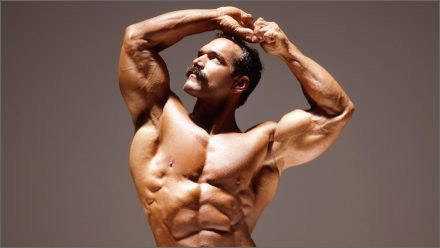 PERFECTION REVEALED
From head to toe Carl Hardwick has an impressive layer of thick manly fur, covering his equally impressive bodybuilder's physique. Sporting only a jockstrap, Carl takes the clippers to his fur, and strips it all the way off. Slowly, erotically, Carl pays close attention to detail, slowly revealing his highly defined muscles. Stripping away his jockstrap he gets to work on the final touches. Taking a straight razor he gives himself a final pass before applying a nice layer of oil, bringing out each and every muscle in stark relief. Carl shows off his new look in a routine of powerful muscle poses, giving his rock hard muscles a full pump. Like a statue that has been worked to perfection, Carl displays his hard muscled body in all its glory. And for a final treat, we join Carl for a nude dip in the pool, his wet body floating like a mirage on the surface of the water.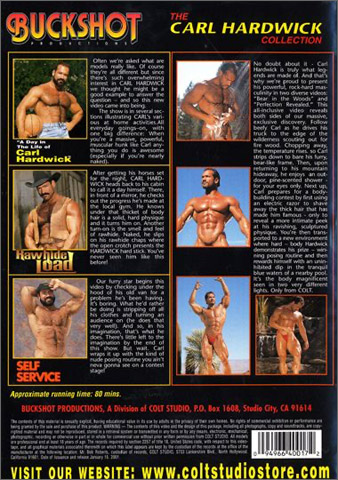 MORE INFORMATION / WATCH IT / DOWNLOAD IT :
COLT STUDIO
COLT Studio members can watch this presentation online.
Extensive Photo Archives are available for download on all Classic Colt and Newer Colt Studio Productions.
BUY IT / DOWNLOAD IT :
COLT STUDIO STORE
Many of the Classic Colt and Newer Colt Studio Productions are still avaialbe for purchase in enhanced editions.