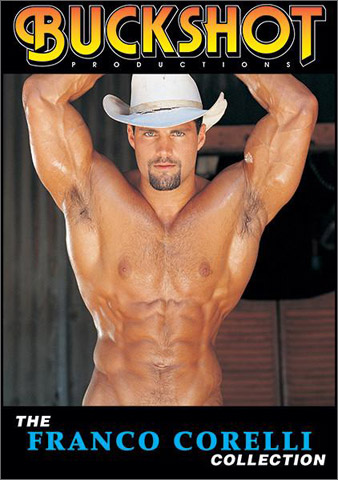 Studio: COLT Studio / Buckshot Productions
Directed by: Rip Colt / Various
Year of Production / Release: 2000
Country of Production: U.S.A.

CAST:
Franco Corelli
Say hello to Franco Corelli. He's huge, he's beefy, and his ass is pure, rock hard muscle. If watching a hulking behemoth worship himself puts your boxers in a bunch, you're gonna love this one.
Three short films in one (a total of only 50 minutes!), The Franco Corelli Collection is narcissism at its finest. Over the course of the three scenes, Mr. Corelli shows how much he really enjoys his own company by bringing himself to climax in his backyard, in a tent and alongside a koi pond. Excellent production and camerawork let you see every inch of his tan, rippling Herculean form.
The one thing that's not huge about Corelli is his love muscle. That's not to say it's miniscule either – it just gets dwarfed by all the flesh around it. The shvantz in question also has a jaunty upwards curve which gives it the appearance of a flesh colored banana. Though he sports a hairy chest pelt in the first scene, he appears to have hit the blade in the other two scenes, resulting in an areola-baring smoothness.
FILMS IN THIS COMPLIATION: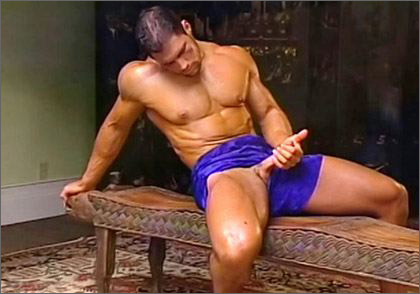 ON HIS OWN
Franco agrees to look after a large estate while the owners are away. Part of his daily routine is a run on the grounds. He works up a sweat and returns to the main residence to cool down and relax with a chilled drink. But the jogging has fired him up, and even when a brisk shower doesn't reduce the inner heat he decides to take matters in hand. So will you!
As Franco's first film for Buckshot, we've pulled out all the stops. One of Hollywood's most talented composers was commissioned and delivered an extraordinary score adding a haunting texture to the video's visual impact.
It's rare for Rip Colt to comment on his own line, so when he says "this is one of the best we've ever done…art and eroticism are seamlessly joined" – that's saying a lot!"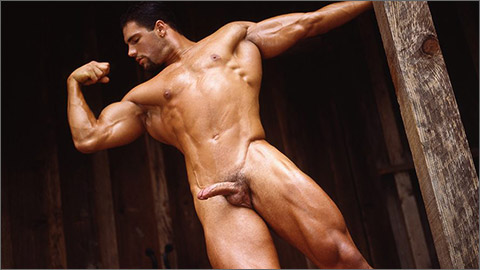 RELIEF
Coming down from checking the heifers in the north forty, whatever that means…. Franco stops for a drink at the base of the water tower. He's been having some problems with a pulled muscle in his back and he takes the occasion to do some stretching movements to try and work out the discomfort. He gets rid of that problem but there are other pressures that rise and in his line-tent nearby he moves to take care of those. As the leather chaps and boots come off he begins to feel better. Then he feels better and better and better. Damn! It gets hot in that tent! Or anywhere else you happen to see his video.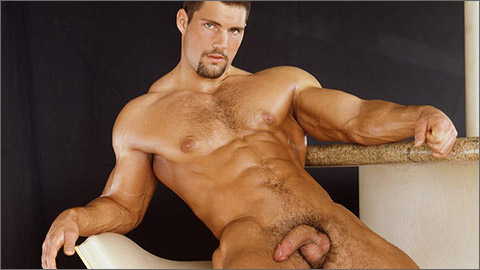 EXHIBITION
Coming home from a workout at the gym, Franco goes through the day's mail. One hand-addressed letter is intriguing and brings a knowing smile to his lips. Setting it aside he takes a shower, dries off outside then spreads a towel, oils up and does some stretching exercises. The warm sun, the sensuous oil, the feel of his hard muscles, it all begins to build. Soon his dick gives him a loaded signal it's time to get some relief, and our guy does just that. He puts on quite an exhibition, thanks to that letter!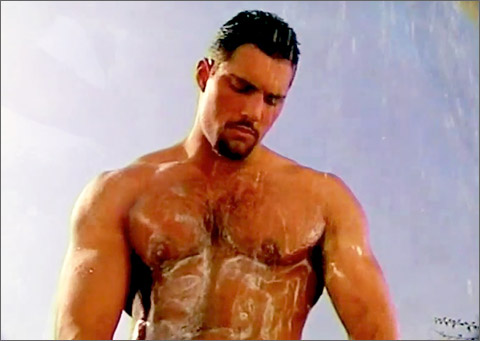 LEGENDARY BODIES – SERIES: FRANCO CORELLI
Realizing its a perfect day outside, Franco decides to make his poolside patio an impromptu gym. From his indoor weight room he hauls out the basics; a bench, a barbell and some heavy dumbbells, as he gets ready to pump some serious iron. Wearing nothing but a posing strap, every inch of every muscle can be observed as it flexes and strains against the heavy weight. He makes it look easy as the heavy weights fly. When all his muscles get sufficiently pumped, Franco tops off the workout with a powerful display of muscle posing. And when the workout and posing routine are over, its time for a reward. How does a long and sensual outdoor shower sound? It sure sounds hot, and getting to watch – even hotter! We get an eyeful as we watch Franco lather up and rinse from head to toe.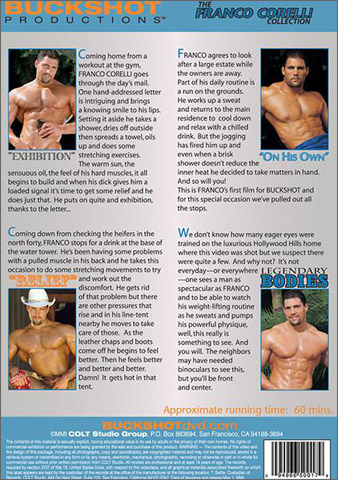 MORE INFORMATION / WATCH IT / DOWNLOAD IT :
COLT STUDIO
COLT Studio members can watch this presentation online.
Extensive Photo Archives are available for download on all Classic Colt and Newer Colt Studio Productions.
BUY IT / DOWNLOAD IT :
COLT STUDIO STORE
Many of the Classic Colt and Newer Colt Studio Productions are still avaialbe for purchase in enhanced editions.