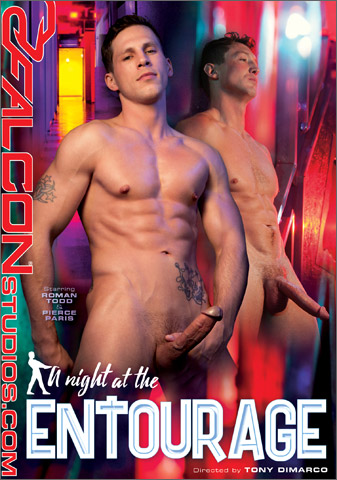 Studio: Falcon Studios
Directed by: Tony Dimarco
Year of Production / Release: 2018
Country of Production: U.S.A.

CAST:
Brent Corrigan
Gabriel Cross
Brett Dylan
JJ Knight
Skyy Knox
Sean Maygers
Pierce Paris
Tyler Roberts
Roman Todd
FROM FALCON STUDIOS:
Falcon Studios takes you to the bathhouse on a quest to find the hottest bodies to satisfy your deepest desires. Dim lights, anonymous men, and unlimited places to suck a dick or fuck an ass is all in 'A NIGHT AT THE ENTOURAGE'. Watch nine hung and horny studs make your night a whole lot sexier when they meet up for random sex and unleash all the cum you can handle. Sean Maygers is horny as hell cruising the men at the club when he spots Brett Dylan and pulls him into a private playroom. Brett celebrates his luck by sucking on Sean's massive dick and then offering up his perky bubble butt for Sean to claim as his own. Gabriel Cross is jacking off to porn when Tyler Roberts walks by to lend a helping hand. Soon they're sucking and fucking until they both blow their loads with Tyler licking his own cum from Gabriel's freshly fucked ass. Pierce Paris is in the shower when Skyy Knox walks by and gives him a suggestive glance. Pierce follows the ripped stud down the hall and soon Pierce's massive dick is plunging in and out of Skyy's tight, smooth ass. Brett Dylan cruises Brent Corrigan in the hall of the club and gets on his knees in front of the hung hunk. Brett works Brent with his mouth until he gets a cummy reward on his lips and polishes the floor with his own massive load. Roman Todd hops in the hot tub looking for some hot action. JJ Knight approaches him, and after taking turns sucking all the dick they can get, Roman bends over and lets JJ go deep with his extra thick hard-on. After seeing these hunks in action, you'll wish you were out for 'A NIGHT AT THE ENTOURAGE'.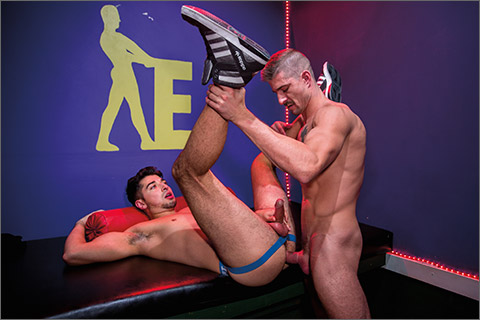 SCENE 1: Sean Maygers fucks Brett Dylan
Sean Maygers is horny as hell at the bathhouse cruising guys who check out his bulging biceps as they pass by. Sean is being picky tonight as he waits for just the right guy to come along. When Brett Dylan passes him in the hallway, Sean claims his prize and pulls Brett into a private playroom. Brett celebrates his luck by getting on his knees to service Sean's extra large member. Brett is hungry for as much dick as he can get and opens up wide to get Sean all the way down his deep throat. When Sean is as hard as he can possibly be, he bends his new young stud over and eats his irresistible bubble butt to get it nice and loosened up. Sean can't take the anticipation of getting inside Brett any longer and slides his fully erect cock deep into Brett's eager ass. The two studs pant and moan as Sean keeps a steady pace giving Brett a hard pounding. After stretching out Brett's hole, the studs switch up their positions for maximum penetration and end with a grand finale, Brett bent over and Sean fucking him from behind. Sean drills down onto Brett's g-spot with his throbbing hard-on and fucks the cum right out him. After giving all he can, Sean pulls out and sprays a massive load all over Brett's hot and spent ass.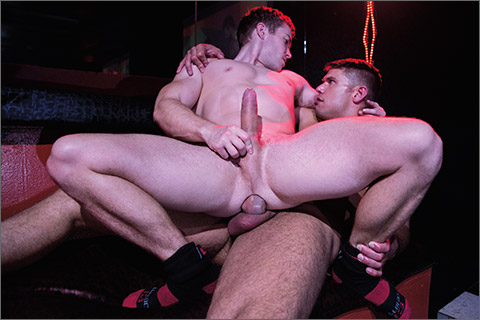 SCENE 2: Tyler Roberts fucks Gabriel Cross
Gabriel Cross is jacking his thick, uncut pole watching porn at the sex club when Tyler Roberts walks by to lend a helping hand. Without words, Tyler pops a finger into Gabriel's tight hole and opens his pants to show Gabriel what he's about to receive. Tyler is already fully hard and Gabriel can't wait to wrap his lips around the massive dick. After giving Tyler a sopping wet hummer, Tyler flips Gabriel around so the two hung studs can 69. After both guys get their throats fucked, Tyler takes the action to a new level by bending Gabriel over to open his ass with his mouth. When Gabriel is lubed up and ready, Tyler bends the hunk over and sinks his fat cock inside as Gabriel moans out with delight. Tyler goes slow at first to let Gabriel get accustomed to his dick, then all bets are off. Tyler's rhythm speeds up and soon he's pounding Gabriel with all 8.5" of rock hard cock. Gabriel wants to watch Tyler fuck him as he cums and rolls onto his back to continue taking the pile drive from the big dick. With Tyler plunging in and out of him, Gabriel blows a massive load that gets Tyler ready to burst. Tyler pulls out and drops his load all over Gabriel's ass that he promptly licks up with his tongue.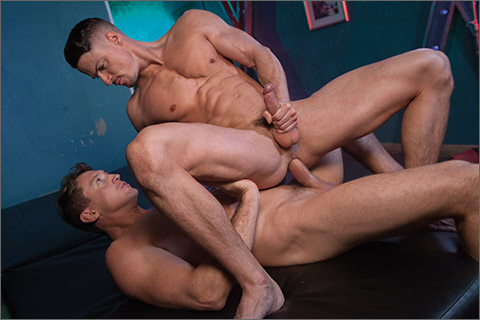 SCENE 3: Pierce Paris fucks Skyy Knox
Pierce Paris is in the bathhouse shower when Skyy Knox walks by and gives him a suggestive glance before walking away. Pierce knows a good thing when he sees it and cuts his shower short to follow the ripped stud down the hall. Pierce finds Skyy bent over with his ass in the air just begging to be rimmed. Pierce can't wait to eat Skyy out and gets down to plunge his tongue deep inside the hunk's ass. He fingers and licks Skyy's smooth hole until Skyy is ready to take a taste of Pierce's giant pole. He gets down to deep throat the monster cock and takes the whole thing down his throat with ease. With tears in his eyes and spit dripping from his chin, Skyy fights to swallow Pierce's cock down to the base. Pierce can tell that Skyy is more than ready to get plowed and bends him over to slide his dick inside. After taking it deep, Skyy instructs Pierce to lie back and let him do the work. Skyy sits on the giant dick and bounces up and down, putting himself in control as his own uncut cock flops up and down with each plunge into his ass. The studs try everything they can and switch up their positions until Skyy shoots his load all over his own ripped abs. The sight of Skyy in such pleasure is all it takes for Pierce to let go. He straddles Skyy's hungry face and shoots his load all over the hunky stud's awaiting mouth.

SCENE 4: Brent Corrigan & Brett Dylan (all oral)
Brett Dylan is cruising the halls of the sex club when he happens to walk by Brent Corrigan. There's no question that Brent is ready for some fun, so Brett drops to his knees to take Brent's hard dick in his mouth. The dick tastes so good that Brett can hardly control himself as he continues to work the shaft and head up and down. Brett makes sure to give special attention to Brent's balls as well. Brent is so horny that he needs a taste of Brett's delicious bubble butt. He spreads the cheeks apart to get in deep with his tongue. With each lick, both studs grow hornier and soon, Brent decides to taste what Brett's front side has to offer. Brent sucks on Brett's throbbing cock, taking it deep as he jacks his own rod. Brett loves the feeling of Brent's lips tightly wrapped around his swollen dick, but he's not going to leave without the one thing he craves most. Brett gets back down in front of the hung stud to finish what he started. He keeps a bobbing up and down until he gets the cum reward he craves the most in his cock-hungry mouth. Brent's load on his lips puts Brett over the edge and he polishes the floor with his own thick ropes of cum.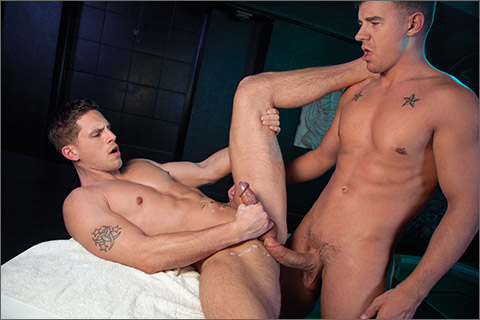 SCENE 5: JJ Knight fucks Roman Todd
When Roman Todd hops in the hot tub, he knows he wants some action, and he's in luck when JJ Knight joins him for a soak. The two lock in an embrace with a kiss as JJ jacks Roman under the water. When Roman is nice and hard, he gets out of the tub and lets JJ satisfy his curiosities by offing up his hard dick. JJ takes it in his mouth and savors every inch as Roman moans out in ecstasy. Roman has his own cravings to satisfy and gets down between JJ's legs to take a taste of the massive 10" JJ has between his legs. He loves what's he's getting and can't wait to have it deep inside his ass. JJ can see that Roman wants his meat and opens the stud's ass to lube it up with his mouth. Both studs are ready to fuck and to Roman's delight, JJ is eager to please. JJ bends Roman over by the side of the hot tub and rams his massive rod deep into the tight stud. The horny studs switch positions a few more times for maximum penetration until Roman blasts a creamy load as JJ keeps pounding away. When JJ sees Roman's cum running down his ripped body, he pulls out and shoots a thick load all over Roman. With Roman covered in cum and still catching his breath from getting fucked, JJ pulls him close and kisses him as a final thank you for the hot and steamy fun.

WATCH IT NOW AT:
FALCON STUDIOS
Falcon Members can watch scenes from this Release anytime online.
DVD Releases debut online prior to DVD Release.