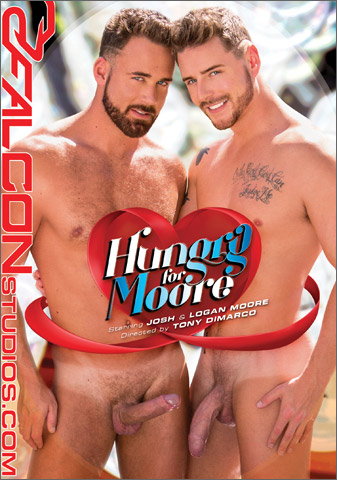 Studio: Falcon Studios
Directed by: Tony Dimarco
Year of Production / Release: 2018
Country of Production: U.S.A.

CAST:
Brent Corrigan
Gabriel Cross
Josh Moore
Logan Moore
Tyler Roberts
Samuel Stone
Jason Vario
Wesley Woods
FROM FALCON STUDIOS:
Two Moore's are better than one. Logan Moore and Josh Moore are mega-hot studs, desired by many, who all love to help them fulfill their needs. It's time for Logan and Josh to open up and give the guys who are 'HUNGRY FOR MOORE' everything they've ever wanted and 'Moore'. Josh Moore is lounging poolside in a daybed when Wesley Woods wakes him up for some hot, passionate fucking. After an impromptu wresting match in bed, Josh Moore mounts up and stretches Logan Moore's tight ass. Logan and Josh switch it up and flip fuck several times before Logan ends his time covered with a giant facial from Josh. Logan joins some new action when he finds Brent Corrigan sucking Samuel Stone's dick. Samuel opens up and gets fucked by Brent and Logan until Logan assumes his position under the studs, and they tag team Logan to the finish line. When Gabriel Cross comes knocking on Logan's door, Logan knows just what the young stud needs. Without wasting time, Logan offers up his hard dick and lets Gabriel savor every inch until both studs erupt in a flood of cum that leaves Gabriel licking his lips. Tyler Roberts and Samuel Stone are enjoying a romantic evening with champagne and strawberries. Tyler gets creative with the food before he slides his extra-wide dick into Samuel's tight hole and pumps him until he erupts on Samuel's parted lips. Logan's in the kitchen whipping up a surprise desert for Jason Vario who has just gotten home from work. Jason thanks Logan with a kiss and soon has his dick planted firmly in Logan's tight ass. The studs fuck long and deep until they both get the release they deserve by drenching Logan's body with cum. Logan and Josh are always ready for 'Moore' men and it seems the guys can't get enough of them either. The studs are practically lining up for Logan as they satisfy their cravings of being 'HUNGRY FOR MOORE'.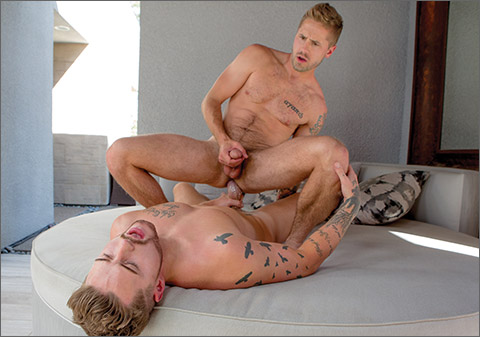 SCENE 1: Josh Moore fucks Wesley Woods
Josh Moore is lounging on a day bed when Wesley Woods sneaks up on him for some passionate making out and playful wrestling. With both studs bulging from their briefs, Josh slips Wesley's undies off first and wraps his lips around Wesley's swollen cock. Wesley groans in ecstasy as Josh deepthroats the fat cock to the base. Wesley wants a taste of Josh's uncut cock, so Josh drops his briefs and feeds Wesley his cock. After face-fucking Wesley, Josh immediately goes straight for the hole and mounts Wesley on his back. The two keep their lips tightly locked as Josh keeps a steady pace stretching Wesley's hole. Wesley wants to show Josh how much he loves getting fucked and climbs on top of Josh to take his pole as deep as it can possibly go. Wesley bounces hard on the fat cock in his ass while jerking his cock until he unleashes a thick load all over Josh's washboard abs. Covered in cum, Josh gets over Wesley once more to give him a creamy oral facial that Wesley makes sure to lick up.

SCENE 2: Josh Moore & Logan Moore flip-fuck
Josh Moore seems to have the upper hand over Logan Moore in an impromptu wrestling match in bed. The fun is just beginning for the lucky studs and as the wrestling subsides, they lock eyes and Logan relents to start exploring Josh's hard, ripped body. It's not long before Logan finds his way to Josh's fat, uncut dick and goes to work making it extra hard. Josh is eager to taste what Logan has to offer and returns the favor with a nice long suck session of his own. That's not enough for Josh though, who gets Logan's legs in the air and goes down on his ass to lube him up with his tongue. Logan is ready for everything that Josh has to offer and opens wide to let the muscle hunk slip his cock deep inside. Josh humps away on Logan's tight hole, making the stud grunt with every plunge from his rock-hard dick. After getting his hole worked hard, Logan is ready to switch it up and give Josh a stretching. Logan mounts up and fucks Josh with a steady pace. As the fucking continues, the studs keep flip-fucking, taking turns getting their dicks wet and their asses worked. After all the fun, Logan is the first to cave and squirts his load all over his tight, heaving abs. All the jizz is more than Josh can take and he pulls out to give Logan a massive facial.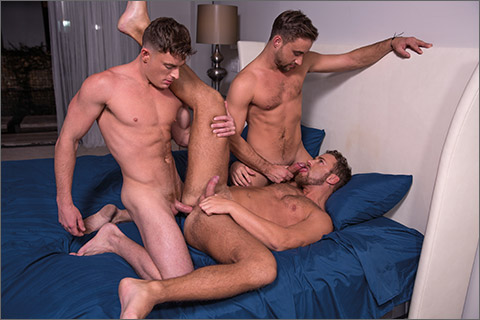 SCENE 3: Brent Corrigan, Logan Moore & Samuel Stone fuck one another
Brent Corrigan is busy sucking Samuel Stone's stiff dick when Logan Moore joins the mix. The three studs kiss as their raging boners rub against each other until Brent decides to break off from the trio and get behind Logan to take a taste of his ass. Brent's tongue feels amazing in Logan's hole and as the rimming continues, the guys form a chain to continue sucking dick and licking ass. Nothing is off limits for these three studs and as the fun continues, Samuel slowly becomes the center of attention to take all the dick he can get. Logan is the first to enter the young stud and pounds away on Samuel's ass until Brent wants a feel of his own. Brent takes his turn behind Samuel and fucks him deep when Logan decides he wants his hole stretched too. He lies back on the bed and lets Samuel slide his dick deep in. Samuel keeps pumping Logan before he lets up and gives Brent his turn with Logan. Brent brings up the rear while Samuel shoves his dick in Logan's face. With cock in both holes, Logan lets go and blasts a creamy load all over his body. Brent has held off as long as he can and when he sees Logan climax, he pulls out to add to the mix. Samuel is the last to go and when the three studs are done with their fuck session, Logan is a sticky mess of cum.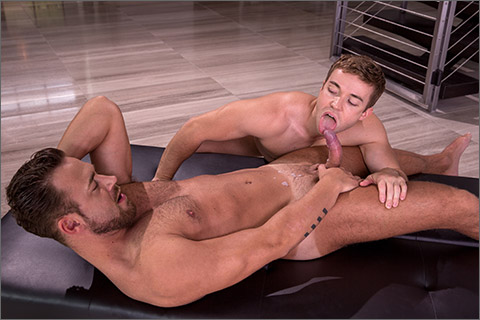 SCENE 4: Logan Moore & Gabriel Cross (all oral)
When Gabriel Cross comes knocking on Logan Moore's door, Logan has no doubts about why Gabriel is there. Logan doesn't waste time with small talk and gets Gabriel out of his shirt and on his knees as quickly as possible. Gabriel is more than willing to wrap his lips around Logan's thick, uncut dick and takes it all the way down his throat. Logan loves watching the young stud take his dick and wants Gabriel to have full access to everything he can lick. Logan peels off his pants and lies back on a bench. Logan opens wide and sucks Gabriel's big, uncut dick, going slowly to savor and enjoy every inch between his legs. Gabriel wants more of Logan's cock and crawls on top of the hungry stud to offer up his insatiable bubble butt. Gabriel continues sucking as Logan licks Gabriel's tight little hole. Gabriel's mouth feels amazing wrapped around Logan's dick and he can't hold off any longer. With a final moan, he declares that he's about to cum and lets loose to cover his stomach with jizz. Gabriel eats it up and with the taste of Logan on his lips and tongue, finishes off all over Logan's muscled-up, furry chest.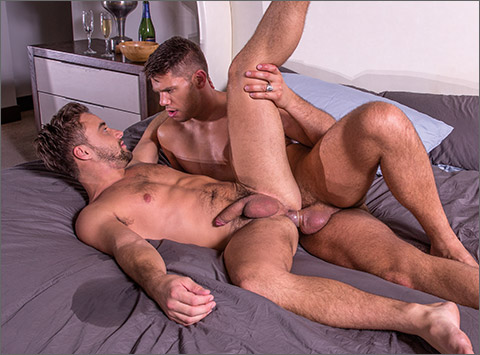 SCENE 5: Tyler Roberts fucks Samuel Stone
It's a beautiful night by the crystal blue water of the pool to share a romantic glass of champagne. Tyler Roberts pops the cork and leans over to kiss Samuel Stone as Samuel's hands reach down to cup what lies beneath the fabric of Tyler's bulging pants. When Samuel gets a handful of Tyler's massive cock, Tyler eagerly slides his dick between Samuel's parted lips to let the horny stud suck him. Samuel is good at what he does and soon Tyler is hard as a rock. Tyler bends the hunk over the bed and after opening Samuel's hole with his tongue, inserts a strawberry just to see how it feels to eat out of Samuel's throbbing hole. When Tyler has had his fun with foreplay, he decides it's time to stop teasing Samuel. Tyler slips his thick cock deep into Samuel's ass and pumps hard, making Samuel moan out with delight. After fucking him from behind, Tyler wants to look Samuel in the eyes. He sinks deeper into Samuel's ass and flips the stud around. As they maintain eye contact, Tyler keeps sliding in and out of Samuel as he shoots his load all over his ripped abs. The sight of Samuel covered in his own makes Tyler lets loose a river of cum that runs down into Samuel's gaping mouth and down his chin.

SCENE 6: Jason Vario fucks Logan Moore
Logan Moore is whipping up a surprise dessert in the kitchen when Jason Vario comes home from a long day at work. Jason loves that Logan is so thoughtful and gives him a kiss that quickly leads to Jason unbuttoning his shirt and pants. Logan can see that Jason is ready for action and gets down to his knees to help Jason relax from a long day at work. Jason wants a taste of Logan's succulent ass so he bends Logan over the kitchen counter. Jason takes some of Logan's dessert and spreads it on Logan's hole. Logan loves the sensation of Jason's tongue eating his sweet hole. Logan is ready for Jason's swollen dick and takes off the rest of his clothes to invite Jason inside him. Jason slips easily into Logan's willing hole and pumps him deep, giving the horny stud exactly what he wants and needs. Logan is loving every thrust from Jason's big cock and turns over on his back to give Jason full leverage on his prostate. That's all it takes for Logan to get his relief and with Jason still inside of him, he unloads thick ropes on his own panting body. Jason is about to bust and pulls out to spill his load onto Logan. With Logan covered in cum, Jason bends down to seal their union with a kiss.

WATCH IT NOW AT:
FALCON STUDIOS
Falcon Members can watch scenes from this Release anytime online.
DVD Releases debut online prior to DVD Release.