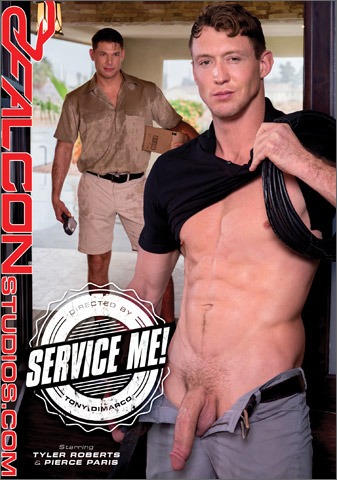 Studio: Falcon Studios
Directed by: Tony Dimarco
Year of Production / Release: 2018
Country of Production: U.S.A.

CAST:
Brett Dylan
Casey Jacks
JJ Knight
Skyy Knox
Sean Maygers
Alex Mecum
Pierce Paris
Tyler Roberts
Johnny V
Wesley Woods
FROM FALCON STUDIOS:
Sometimes we need a hot, sexy man to provide a little extra assistance putting that new shelf together or to give us some help getting off! Director Tony Dimarco films ten horny hunks who offer support and sexual abandon in 'SERVICE ME!' These studs go the extra mile to get the job done. When Brett Dylan needs an extra hand assembling his new furniture, he calls on muscly handyman Alex Mecum to help him out. The two ditch building the shelf to fuck hard on the living room floor instead. Casey Jack's dildo is clogging the dishwasher so plumber JJ Knight comes by to help fix the issue and give Casey something a little bigger deep in his hole. Johnny V gets a packaged delivered but wants the package in Tyler Roberts' pants instead. Brett Dylan helps Pierce Paris apply some lotion for the tanning bed and they both end up with a mouthful of each other's cum. Skyy Knox's new pool boy Sean Maygers is enjoying his first day on the job when Skyy greets him and shows him how he likes things to go around his place and his ass. Wesley Woods is clueless when it comes to setting up his massive new TV so he calls on Pierce Paris to help out. Wesley gets distracted by Pierce's massive bulge and goes for a ride on his cock, ending with a mouthful of Pierce's load. Whether you need a handyman or just a man to swing by and man-handle you, you can always count on the studs of 'SERVICE ME!' to deliver.

SCENE 1: Alex Mecum fucks Brett Dylan
Brett Dylan is frustrated trying to assemble his new furniture so he calls hunky handyman Alex Mecum to come over and help. Brett is doing his best to help but keeps getting distracted by Alex's stunning looks and impressive assets. Alex notices the glances and goes for it, locking lips with Brett as they feel each other up. Brett rips Alex's clothes off and sinks to his knees to service the fat cock in front of him. Alex feeds the hungry hunk his cock until he decides his own taste of Brett's tight hole. Licked and lubed from end to end, Brett begs for Alex to stuff him with his thick rod. Alex gives Brett what he wants and eases his massive dick into Brett's welcoming hole. Brett takes a hard pounding doggy style before moving to his back to give Alex full access to drilling his prostate. Alex keeps pumping hard until Brett nuts all over his own abs leaving Alex to blow his load on Brett's chest.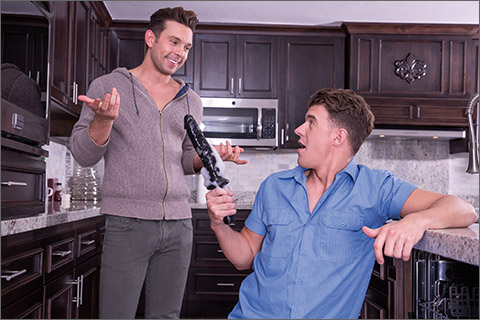 SCENE 2: JJ Knight fucks Casey Jacks
Homeowner Casey Jacks calls over plumber JJ Knight to fix a leak with his dishwasher. JJ identifies the problem as a giant manrammer stuck in the appliance. JJ Knight comments how big the dildo is and wants to offer Casey the real thing. Casey doesn't resist so JJ whips out his 10-inch cock and Casey gets to work taking it down his throat. Casey makes sure to cover every inch of JJ's huge dick, but wants more. He hikes his leg up on the kitchen counter so JJ can have complete access to rim his crack. JJ warms Casey up a little more switching from his tongue and his fingers to get the stud ready for the giant cock he's about to receive. When JJ feels Casey is lubed up and ready, he stuffs his rod deep into Casey's hole. Casey wants it even deeper and gets on the counter top on all fours to let JJ pound away from behind. Craving even more, Casey gets on his back and strokes his cock while JJ thrusts away. With JJ's cock deep inside of him, Casey oozes his load onto his smooth abs. The sight of Casey below covered in cum makes JJ blast his jizz all over the studs face.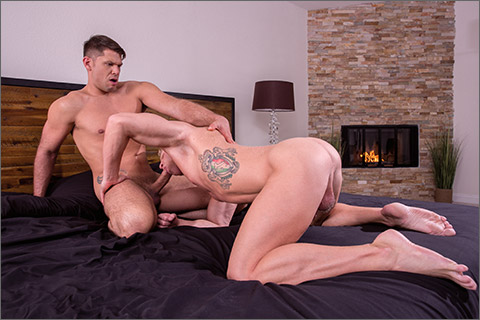 SCENE 3: Tyler Roberts fucks Johnny V
Tyler Roberts rings the doorbell to deliver a package to Johnny V's house. It's been raining and Johnny invites Tyler in to dry off. Johnny asks, "is that package for me?" and reaches for Tyler's bulge in his shorts. It's not long before Johnny has Tyler's shorts around his ankles and sucking his thick cock down to his balls. Tyler likes the service Johnny is performing on him and moves him to the bedroom for more oral action. With the taste of Tyler's cock on his lips, Johnny bends over and lets Tyler lick his way in and around Johnny's hairless hole. Tyler can tell he likes it and brings things up with a couple fingers in Johnny's ass. Tyler wants that ass and positions himself behind Johnny and drills him deep. Johnny takes it from behind before getting on his back to take a prostate pounding so hard it makes him shoot thick ropes of cum onto his ripped abs. When it's Tyler's turn to release, he delivers one last gift of cum into Johnny's open mouth.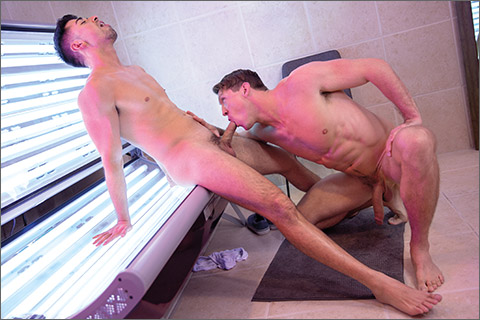 SCENE 4: Pierce Paris & Brett Dylan (all oral)
Pierce Paris comes to the tanning salon to get a little darker. Attendant Brett Dylan accidently walks in as Pierce is applying some tanning lotion. Since he's already there, Pierce asks Brett to get his back with some lotion. Brett's hands wander from Pierce's strong back, across his abs and down to his dick. Pierce lets the horny stud keep exploring, and soon Brett is on his knees slurping on Pierce's giant cock. Pierce returns the favor and gets Brett out of his uniform to showcase his own cocksucking skills on Brett. Pierce keeps working his mouth up and down Brett's shaft until Brett unloads thick ropes of cum on Pierce's face. With Brett's load dripping from his face, Pierce stands up and jerks his cock until he busts in Brett's open mouth.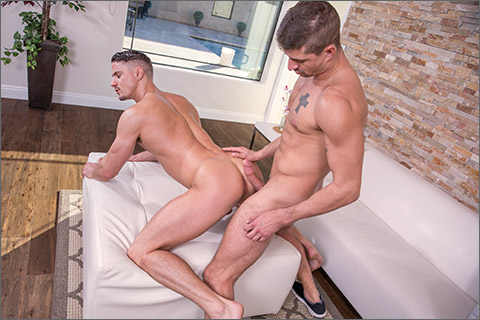 SCENE 5: Sean Maygers fucks Skyy Knox
Pool boy Sean Maygers is skimming the pool for leaves when homeowner Skyy Knox comes out to offer him a fresh glass of tea. Skyy disrobes and quickly shows Sean how things work around his place when he reaches for his cock. They both strip naked poolside before taking things inside. Skyy is first to get on his knees and forces his face down to the base of Sean's swollen dick. Cupping the balls and dripping with spit, Skyy uses his mouth to show he appreciates the pool boy's efforts. Sean wants to show he appreciates the job and plants his tongue dead center into Skyy's tight hole. With Skyy lubed up and ready, Sean stuffs his cock into Skyy and drills hard and deep. Skyy takes every thrust like a champ with ease until he wants to be in control. Sean gets on his back to let Skyy climb aboard his cock and rides it relentlessly. Skyy keeps grinding away until he can't hold it any longer and shoots off a hot load onto Sean's abs. The studs switch it up one last time with Skyy on the floor taking it deep from Sean. Wearing Skyy's load, Sean puts Skyy on his back and coats his abs in jizz then scoops it up to feed to Skyy before they share a cum filled kiss.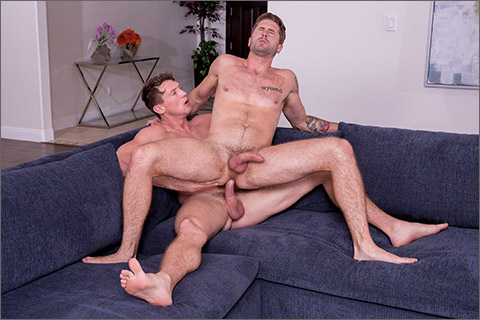 SCENE 6: Pierce Paris fucks Wesley Woods
Wesley Woods is enjoying a glass of wine and techy stud Pierce Paris shows up to set up Wesley's TV. Once Pierce has shown Wesley how to use his new entertainment system, Wesley notices Pierce's boner bulging in his pants. Without any hesitation, Wesley pulls Pierce's pants to his ankles and gets to work servicing the hung studs meat. Pierce is excited to return the favor so he rips Wesley's clothes down and throws him on his back to lick his hole. With a quick spit for lube on Wesley's hole, Pierce drives his tongue deep into the studs scruffy crevice. Wanting to feel Wesley's ass from the inside, Pierce pushes his cock deep into the homeowner. Taking it first on his back and then doggy style, Wesley shows Piece he appreciates his cock inside of him. Wesley gives Pierce a break and climbs on top of him until he blows a massive load all over Pierce's washboard abs. Seeing Pierce covered in cum makes Wesley hungry for more and strokes Pierce's cock until he gets blasted in the mouth with thick ropes of cum.

WATCH IT NOW AT:
FALCON STUDIOS
Falcon Members can watch scenes from this Release anytime online.
DVD Releases debut online prior to DVD Release.