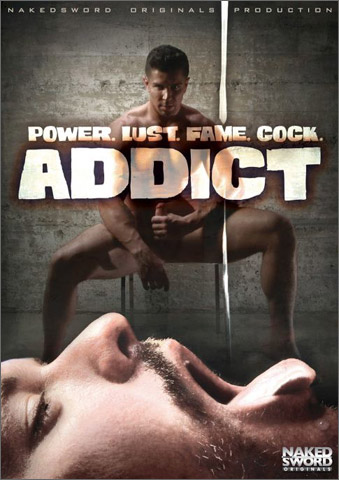 Studio: NakedSword Originals
Directed by: mr. Pam
Year of Production / Release: 2014
Country of Production: U.S.A.

CAST:
Max Cameron
Trenton Ducati
Jimmy Durano
Leo Forte
Connor Kline
Drew Sebastian
Trelino
Christian Wilde


[jwplayer mediaid="64063″]

INFORMATION FROM NAKEDSWORD:
What's it like to truly lose control? To give in fully to physical obsession? In NakedSword's ADDICT, urge goes into overdrive as four sets of men push the line between attraction and addiction. With vivid visual cues and a groundbreaking experimental aesthetic, ADDICT is a sexual dreamscape, elevating porn's hottest bodies into works of art. The sex is aggressive and untamed as stars like Christian Wilde, Leo Forte, Jimmy Durano, and Trenton Ducati are given free reign to indulge addictions to power, fame, cock, and porn stardom. NakedSword's ADDICT is unlike anything you've seen before, and like nothing you'll ever forget. But be careful: when the sex is this powerful, it only takes a taste to get hooked.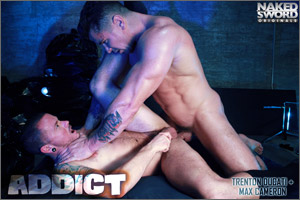 SCENE 1 – ADDICTED TO POWER: Trenton Ducati & Max Cameron flip-fuck
Sex is hot, but power is even hotter. In the debut scene from NakedSword's ADDICT, power top Trenton Ducati tries to let go, only to find that control is the one thing he can't give up. In this edgy exploration of desire, Trenton starts off bound and gagged, unable to move more than an eyeball. This time, it's Max Cameron who holds all the cards. The hungry bottom teases Trenton without restraint, getting him hard, letting him have just a taste of his incredible body. Cocky with his newfound power, Max straddles Trenton, and rides him like a toy. But does he go too far? Because isn't long before Trenton breaks free and gives Max a taste of his own medicine. A stunning scene that turns notions of top and bottom on their head, and will have you aching for another hit.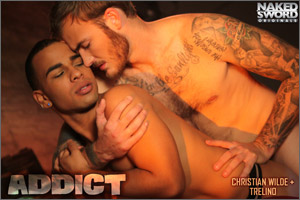 SCENE 2 – ADDICTED TO LUST: Christian Wilde fucks Trelino
What's it take to turn fantasy into reality? In the second episode of NakedSword's Addict, star-fetishist Trelino is about to find out. Bubble-butted Trelino has been fantasizing about porn star Christian Wilde for years, and lately, it's become compulsive. His apartment is a multimedia shrine to Wilde worship, and tonight, wearing only a jock-strap, Trelino is about to have his wish granted. While pawing at a photo, and by sheer force of desire, Christian appears, and Trelino wastes no time. He grabs at Christian's large cock, chocking it down like water after a workout. But if Trelino thinks he's in control, he's mistaken. Before long Christian whips Trelino around, and starts a deep pounding that nearly breaks him. But when loads are blown and eyes opened, Wilde's gone ó a fantasy once more. And was he ever there to begin with?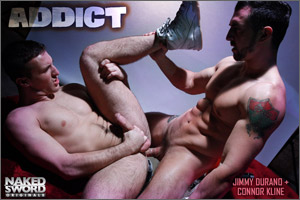 SCENE 3 – ADDICTED TO FAME: Jimmy Durano fucks Connor Kline
Even a lifelong addict has to quit sometime. In one of his last scenes before leaving the industry, fame addict Connor Kline filmed this attention grabbing scene with Jimmy Durano. The stunning boys — ripped, hung, god-like — pose for selfies, obsessed with their own obvious perfection. But when they finally notice each other, it's on. Connor dives down on Jimmy, pushing the thick dick down his throat like it's a paparazzo after a shot. Jimmy returns the favor, then spreads open Connor's sweet, pink hole. A lick of the tongue is followed by the slam of his dick. In multiple positions and multiple angles, Jimmy proves that sex is the real fame monster. And if anyone can break Connor of his addiction, it's Jimmy. But before he does, there's a load to blow — and one final shot left.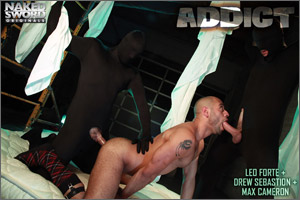 SCENE 4 – ADDICTED TO COCK: Anonymous Zenti suit cocks (Max Cameron & Drew Sebastian) fuck/DP Leo Forte
To get to the root of your addiction, you have to hit bottom. And in the final episode of NakedSwordís ADDICT, Leo Forte hits bottom twice. In a brooding scene that allows him to explore his need for anonymous cock, Leoís fantasy is stripped down to its essential element ó the dick. Alone on a dirty mattress under a dark scaffold, Leo awaits his dealer. Two men, covered entirely futuristic, identity masking fabric, reach down from the scaffold to draw Leo up. Once Leo discovers their hard cocks, thereís little they can do to keep him away. He rips the fabric open at the crotch, keeping their anonymity, unconcerned with anything but their fat cocks. Because when the meat is this good, who needs to know the butcher? With Leo focused solely on his addiction, the men spit roast him ó first fucking him in the face, then slamming him in the ass in an incredible double-penetration. This maybe Leoís first attempt to break his dependence, but we suspect it wonít be his last.

WATCH THIS AND A HOST OF OTHER FILMS AT:
NAKEDSWORD
On-Line Presentation, exclusive to NAKEDSWORD
Members can watch this with a host of other films in the NakedSword Library.