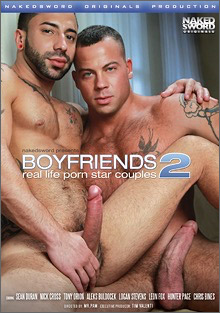 Studio: NakedSword Originals
Directed by: mr. Pam
Year of Production / Release: 2014
Country of Production: U.S.A.

CAST:
Chris Bines
Aleks Buldocek
Nick Cross
Sean Duran
Leon Fox
Tony Orion
Hunter Page
Logan Stevens


INFORMATION FROM NAKEDSWORD: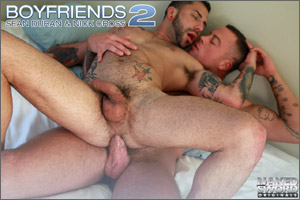 EPISODE 1 – CRAZY FOR YOU: Sean Duran & Nick Cross flip-fuck
If you can't stand the heat, get out of the bedroom! Nick Cross is a fiery Cuban whose passion for easygoing boyfriend Sean Duran could be overwhelming. Luckily, it also happens to make for incredibly hot sex. Maybe that's how this real-life couple has made the relationship work. In the debut scene from NakedSword's Boyfriends 2, the boys show that the best relationships feature a give and take — in this case, an intense flip-flop fuck with big-dicked Nick taking the lead. But all's fair in love and war, and Sean gets more than a few strokes in Nick's hot ass, before being flipped (again!) and fucked till he comes. Will these two burn each other out, or is this an eternal flame?

EPISODE 2 – PUPPY LOVE: Aleks Buldocek fucks Tony Orion
Tony Orion and Aleks Buldocek aren't your conventional couple but there's nothing unconventional about their love. Well, except maybe that both are pups in a threeway relationship with a man referred to only as Daddy. In NakedSword's Boyfriends 2, Tony and Aleks show that beneath their tattooed exteriors and locked collars lie two of the sweetest, most affectionate boys we've ever seen. In their home life, it's Daddy who does all the fucking. But here, it's just the two of them and Aleks takes charge. It's a session that's both romantic and ruff — and so good that the pups have a hard time NOT coming. And when they do, it's a massive, sweaty load that leaves them both panting. Now that's a good boy! Oh yes you are!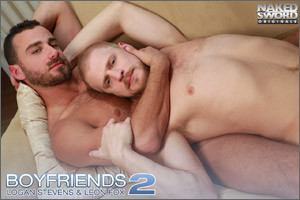 EPISODE 3 – SPREAD THE LOVE: Leon Fox & Logan Stevens flip-fuck
There's free love, and then there are Logan and Leon. Logan Stevens and Leon Fox met at a Faerie gathering in the woods of Tennessee, but in NakedSword's Boyfriends 2, Logan and Leon show that an open relationship doesn't mean you're bored with each other. In fact, it's just the opposite. Sort of. After fooling around with the crew on-set (off-screen), the boys get down to business with each other. Leon fucks Logan, and then they switch, and Logan fucks Leon. Could there be anything more mind-blowing and limitless than when two like minds lock ó and let their bodies roam? Sometimes the love is too good not to spread …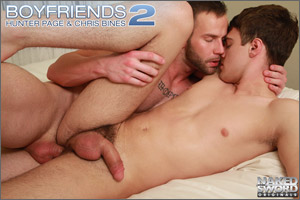 EPISODE 4 – PART TIME LOVERS: Chris Bines fucks Hunter Page
When the bodies are this hot, who needs love? Hunter Page and Chris Bines aren't committed, or even interested in having much of a conversation. But when these two porn stars are in the same city ó or heck, even the same airport ó they can't stay away. In the final scene from NakedSword's Boyfriends 2, we leave behind the free spirits, fiery passions and locked-down collars and get down to the sex. Hunter and Page are fuckbuddies, and nothing more. Does Hunter know Chris' favorite food? Or what he was wearing the first time they met? Not on your life. But he does know that he wants to sit on his cock, and he knows that after it's over he can kick him out of bed. And for all our high-minded talk of love and husbands, that might just make him the best type of boyfriend of all.

WATCH THIS AND A HOST OF OTHER FILMS AT:
NAKEDSWORD
On-Line Presentation, exclusive to NAKEDSWORD
Members can watch this with a host of other films in the NakedSword Library.

Hot or Not? Let us know.
[Total:

0

Average:

0

]