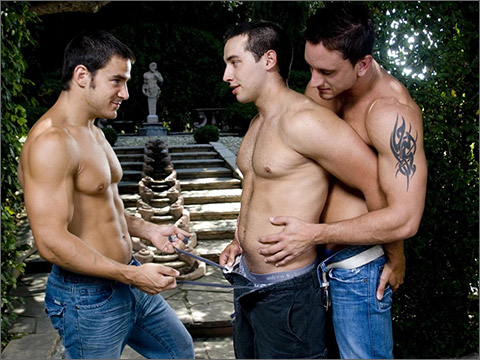 Studio: Randy Blue
Directed by: Randy Blue
Year of Production / Release: 2006
Country of Production: U.S.A.

CAST:
Alex Eden
Dakota Rivers
Chris Rockway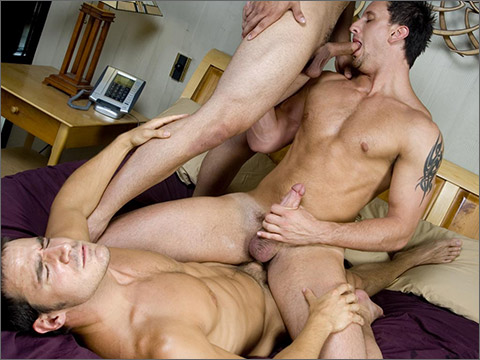 REMASTERED ON THE NEW RANDY BLUE PLATFORM:
I like to mix things up from time to time. Sometimes I like to take some time to interview the guys and make the video very fun and comfortable, sometimes I like to throw in props and costumes so it will be very dramatic, but once in a while I just love to throw three hot guys together and let the chips fall where they may. We recently had an event in LA where a bunch of the guys were dancing and having a great time. I noticed that during the evening Alex Eden and Chris Rockway were being very chummy. They had done a scene a while ago and it was nice to see that the friendship they had developed was still going strong. Dakota Rivers showed up later on during the evening and at one point I saw Alex and Chris on either side of him, grinding their hips up against his tall, muscular body (the guy is so tall and so well built- he doesn't have a 6-pack, he's got an 8-pack!). I was getting into it and noticed the crowd was also, and the scene unfolded right there in my mind. I was going to put the three of them together and let their natural attraction and sexual heat do it's thing. They loved the idea so when it came time to shoot I just turned on the camera and sat back. Dakota had never bottomed before (well, not on camera anyway) and I thought it would be a good idea for Chris and Alex to be the ones to pop his on-screen cherry. This scene is hot. It came out better than I even imagined it and you guys are gonna love it. The three of them are so good together and their bodies all look amazing. Alex has obviously hitting the gym keeping his muscles in great shape. I just love that trail of stars tattooed down his back. And what can I say about Chris. He never disappoints. He's so playful and fun, you can tell that he really loves doing what he does. They both gave Dakota an experience he will never forget (well, maybe until the next three-way or circle jerk video he's in). And I don't want to spoil the surprise but someone in this video has a cumshot that made us have to wipe down the walls (and watch the reaction of the other two when it hits, it's priceless).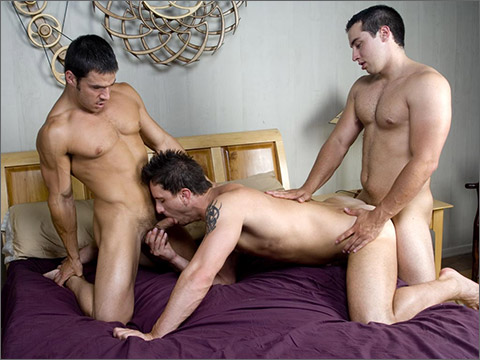 WATCH IT / DOWNLOAD IT NOW AT:
RANDY BLUE
Download or Streaming On-Line Presentations.
Extensive High Quality Photoshoots with each release.
Live Performances and Private Online Shows of your favorite performers.