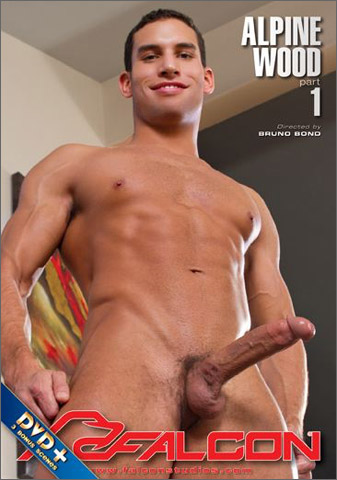 Studio: Falcon Studios
Directed by: Tony Dimarco
Year of Production / Release: 2014
Country of Production: U.S.A.

CAST:
Chris Bines
Landon Conrad
Ricky Decker
Jimmy Durano
Luke Milan
Angel Rock
Ryan Rose
Liam Santiago [Liam Soto]
Nick Sterling


[jwplayer mediaid="67276″]

FROM FALCON STUDIOS:
The hottest studs around sport ALPINE WOOD in Falcon's Two-Part Spring Blockbuster when they share a house in the mountains for a weekend of fun. Leading Director Bruno Bond shows you how a rugged good time gets even better when these scruffy-faced Falcon men hook up all over the house in spontaneous manly action. If home is where the hard on is, these studs feel right at home in this mountain cabin where the air smells like sex. Being late for breakfast leaves Landon Conrad with nothing to eat except Ricky Decker, whose cock and hole are raring to go. Ricky cums likes there's no tomorrow. A hot bath is a perfect antidote to a cold hike for Nick Sterling and Angel Rock. Nick's humpy body makes Angel's cock swell to new heights. The steamy vapors of the hot tub mesmerize Jimmy Durano, Luke Milan and Angel Rock into an oral frenzy. Luke's exuberant sucking triggers carnal abandon and hungry cum eating. The noise made by Ryan Rose and Kayden Fleming in an upstairs bedroom has everyone's cock twitching. Watch as Ryan's mouth and hole offer twin temptations for Kayden's lust. Jimmy Durano and Chris Bines know when to come in out of the snow, and how to warm up fast. Jimmy's torso is ripped, and Chris can handle it. This mountain retreat filled with raging hormones will have you longing for a getaway in the woods where they can share some impulsive, exciting sex just like the studs in ALPINE WOOD – PART 1.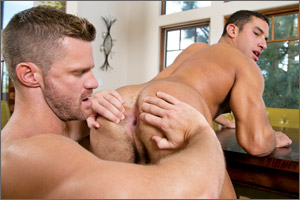 SCENE 1: Landon Conrad fucks Ricky Decker
Being last to leave the breakfast table pays off for Ricky Decker. When Landon Conrad comes in, looking for something good to eat, he finds Ricky's tan, muscular buns perfect. With a squeeze and a slap, Landon yanks Ricky's sweatpants down and drives his tongue into the hole. Ricky rocks like he's about to scud across the table, if it weren't for Landon's firm grasp on his balls. Ricky's already has his breakfast, but he's happy to choke down a bonus serving of hard cock sausage. All naked, and skin-to-skin, these hunks would make anyone salivate. Landon's hairy pecs have never looked more hard or pumped, and Ricky's smooth, meaty ass practically dares Landon to fuck it. One long, smooth stroke and Ricky is fully impaled! The aromas of breakfast give way to the pungency of sweat and passion. Cries of "oh, fuck" and "oh my god" permeate the air. Landon jumps onto a bench and pile-drives Ricky's ass like a jackhammer, then he flips him over and drills him on his back. Ricky's belly is slick with lube and pre-cum. They separate, grabbing their cocks and dousing themselves with cum.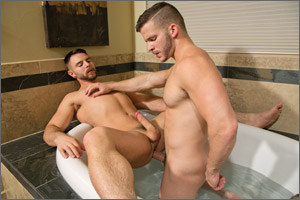 SCENE 2: Angel Rock fucks Nick Sterling
After a hike in the brisk mountain air, Angel Rock and Nick Sterling get warm in the bathtub. They have matching chin beards, beefy bodies and torsos sprinkled with dark hair. While they kiss, Angel's fat cock, fully erect, beats its demands against Nick's flesh. It dominates the scene. Nick responds with an open mouth, engulfing Angel's column; his throat expands and constricts as he swallows and releases, and swallows again. Angel twists Nick's nipples as if they were dials to turn up the heat, then he spins Nicks around to get at his buns, licking and probing them until they're dripping with saliva. Nick gasps when Angel stands and plunges his cock into him, and they surrender to a splashy, two-position fuck. On the verge of orgasm, Angel collapses on the edge of the tub. He expels gobs of cum that drip down Nick's lips and chin and which he smears all over Nick's face with his cock as Nick erupts onto his stomach. They share a kiss that's wet with Angel's spooge.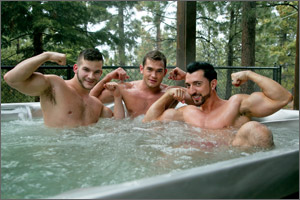 SCENE 3: Jimmy Durano, Luke Milan & Angel Rock
Rub-a-dub-dub, three men in a hot tub: Jimmy Durano, Luke Milan and Angel Rock. Steam and roiling waters conceal everything but their heads and muscular shoulders as the horny studs cluster in a tight triangle to make out and explore each other's hard bodies. Exiting the balmy waters, they wrap white towels around themselves, but their roaring hard ons cause the towels to fall to the floor. Lips gravitate to cocks; hips swivel and grind. When Luke seals his lips around a cock and applies deep suction, his cheeks grow hollow. He drops to his knees and stuffs two cocks in his mouth at once. Luke and Jimmy put their mouths together around Angels cock, then Angel grab's Luke's untended meat and feeds it to Jimmy, getting it fed right back to him. Hands double the stimulation. Everyone's face is dripping with saliva and precum. Jimmy and Angel bathe Luke's face in a deluge of jism. Luke grabs his balls, squeezes violently and shoots his load onto his abs.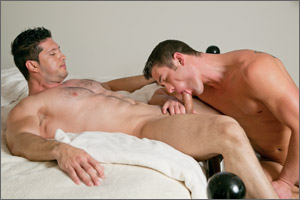 SCENE 4: Kayden Fleming fucks Ryan Rose
The groans of Ryan Rose and Kayden Fleming reverberate through the house. A blow job is under way. Kayden is flat on his back getting his cock, balls and foreskin worked over. If Ryan's head and neck swiveled any faster, he'd give himself whiplash. A bead of precum emerges from Kayden's cock and Ryan slurps it up like a bee gathering nectar. Kayden is brawny and pale, with a wash of dark hairs from his Adam's apple to his pubes. Ryan is smooth and tan, without an ounce of body fat. Ryan bends over the bed, his buns flaring in anticipation of being drilled by Kayden's advancing cock. Muscles ripple as they slam their pelvises together. Ryan flips onto his back and spreads his long legs, his body shuddering with Kayden's pneumatic thrusts. Kayden pulls his cock out of Ryan's blistering hole, cum spraying in all directions, and Ryan climaxes at the same time, shooting long-distance arcs of jism past his shoulder.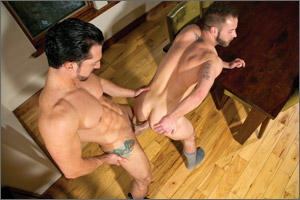 SCENE 5: Jimmy Durano fucks Chris Bines
An overnight snowstorm has left drifts everywhere. Jimmy Durano and Chris Bines wrestle and have a snowball fight, then seek the warmth of each other's body indoors. When Jimmy's hard, he's big! His one-piece long johns are unbuttoned to the waist and tented by a raging erection that's way more than a handful for Chris. Chris attaches his lips to Jimmy's torso and covers every square inch on sculpted flesh with licks, nips and kisses. When he arrives at Jimmy's cock, he employs a combination of spit, mouth and hand to stimulate it from tip to base. Jimmy tumbles him onto a table and runs his tongue along the hair-lined crack of his ass, eliciting deep moans. Chris reaches back to spread his buns, making way for the huge cock that's about to rivet him. When Chris flips onto his back, he shows hard, convex pecs lined with faint dark hair. Jimmy pins Chris's ankles together and increases his speed and intensity, until Chris's cries echo through the room. A fast turnabout and Jimmy fucks Chris's face until his blood vessels throb and cum flies like the blizzard outside the window.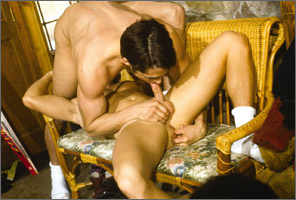 DVD BONUS SCENE 6: Danny Somers and Hal Rockland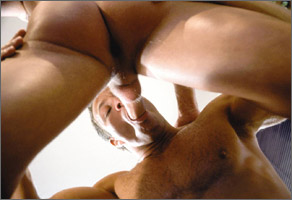 DVD BONUS SCENE 7: Jake Andrews and Ken Ryker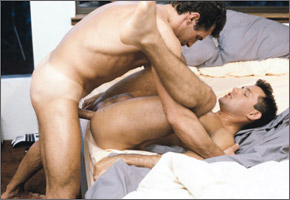 DVD BONUS SCENE 8: Kurt Marshall, Tony Bravo, and…

WATCH IT OR GET IT NOW AT:
FALCON STUDIOS
Falcon Members can watch scenes from this Release anytime online.
DVD Releases debut online prior to DVD Release.
Falcon Members get discounts on all DVD / Falcon Store purchases.