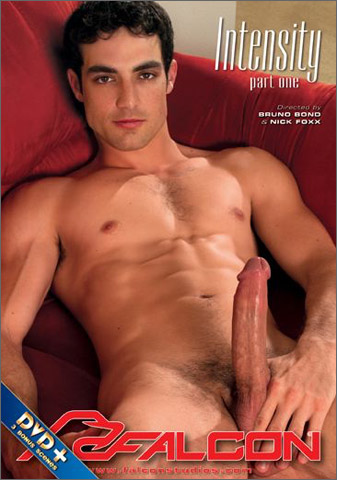 Studio: Falcon Studios
Directed by: Bruno Bond & Nick Foxx
Year of Production / Release: 2014
Country of Production: U.S.A.

CAST:
Adrian Hart
Chris Bines
Landon Conrad
Darius Ferdynand
Jack King
Rylan Knox
Connor Maguire
Andrew Stark


[jwplayer mediaid="67272″]

FROM FALCON STUDIOS:
INTENSITY builds. It swells, it overcomes, it makes hot studs surrender to relentless compulsions, seeking out passionate, manly sex. Falcon directors Bruno Bond and Nick Foxx treat you to eight men who hold nothing back when it comes to getting off, doing it on the stairs, in the bedroom, the bathtub, even on the pool table. Jack King and Darius Ferdynand only make it halfway up the stairs before they're all over each other. Landon Conrad and Rylan Knox trade blowjobs, but their connection is so strong they take it to the bedroom for a second round of explosive fucking. Connor Maguire and Adrian Hart use the pool table as the platform for a wild session of sucking, rimming, and fucking. Andrew Stark and Chris Bines take it back to the stairwell for a powerful, uninhibited finale that has both men working themselves into an erotic frenzy and shooting gigantic loads. Can you feel the 'Intensity'? These eight studs lay it all on the line and take sex to a whole new level.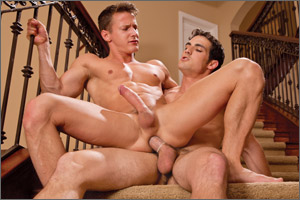 SCENE 1: Jack King fucks Darius Ferdynand
Jack King and Darius Ferdynand kiss on the staircase as their twin hard ons reveal mutual lust. Jack is tall, dark, and horny, with a swinging pair of low hangers. Darius is smooth and seductive with an ass that begs for exploration and lips that seal tightly around Jack's thick cock. Placing a hand under one of Darius' thighs, Jack lifts and turns him, lowering him onto his throbbing erection. Cries of ecstasy echo in the cavernous stairwell as their fucking gains momentum. Jack stands and grips Darius' abs and shoulders while thrusting faster and faster until cum flies through the air.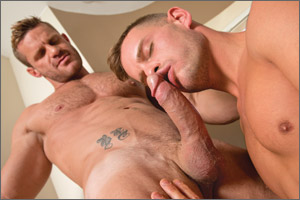 SCENE 2: Landon Conrad & Rylan Knox
Landon Conrad and Rylan Knox are standing in a whirlpool tub, kissing and stroking each other's cocks. The contrast of Rylan's taut swimmer's physique versus Landon's hairy chest and awesome musculature adds a cock teasing daddy-boy vibe. Landon's thick endowment fills Rylan's face, his lips creating a perfect seal as he bobs his head to work the entire shaft. They swap places. Rylan has a dick that measures two handfuls, and Landon's mouth takes charge. Another flip; Rylan expertly deep throats Landon's girthy cock. Landon shoots his load and expels long ropes of cum that streak across the tub, saving the last shots for Rylan's face. Rylan jerks and pumps out a well-earned load as his nuts churn the water's surface.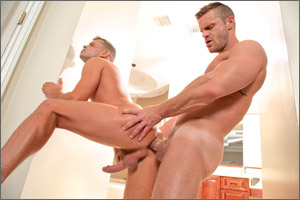 SCENE 3: Landon Conrad fucks Rylan Knox
Rylan Knox can't even make it to the bed before Landon Conrad starts thrusting inside him. Rylan steadies himself in the doorway and arches his back to take full advantage of Landon's impressive endowment. Equally impressive: Landon's massive pecs and bulging biceps as he towers behind Rylan.
   Landon's bumping and grinding elicits plenty of satisfied grunts and moans, inspiring them to abandon the doorway for the bed. Their lips connect in a passionate kiss, and then Landon positions Rylan over his face to receive a passionate rimming. Landon's tongue reached deep into Rylan's freshly fucked hole. With Rylan's sexual energy higher than ever, he slides down and lands on Landon's cock, riding it as their eyes lock in deep, focused desire. Landon flips Rylan over and works his hole in all the right ways until Rylan's load covers the ridges of his torso. Landon unloads onto Rylan's ecstatic face, a fitting release for their intimate cravings.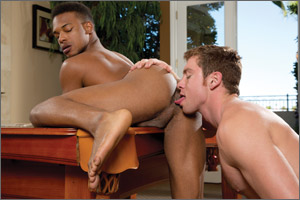 SCENE 4: Connor Maguire fucks Adrian Hart
The naked bodies of Connor Maguire and Adrian Hart are on full display, Connor is sitting on the pool table as Adrian hungrily swallows his cock. Adrian's body maneuvers to apply pressure with his hand, lips and tongue from different angles. Connor reaches around to spread Adrian's ass, then bends him over the pool table for an unrestrained rimming session. While he's enjoying Adrian's smooth ass, Connor reserves some of his spit to lube up his cock as he's jerking off. After teasing Adrian's ass for a while, Connor buries his cock inside that tight hole. Adrian flips over and exposes his dick; they take turns stroking it until a shower of white cum coats his entire torso. As cum dripping to the floor, Adrian leans forward to catch Connor's load in his mouth.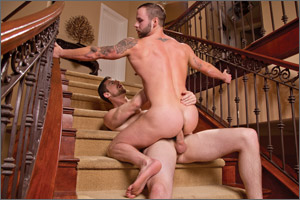 SCENE 5: Andrew Stark fucks Chris Bines
Andrew Stark kneels on the stairwell and grasps at Chris Bines' entire body as the kiss with serious passion. They make out and rub their beards together in an urgent expression of manly desire. Then they exchange blow jobs, each man tasting himself via his partner. Andrew reaches to fondle Chris' hole and slides in a teasing finger. Chris grasps the bannisters on either side as he lowers himself down on Andrew's eager tongue for a deep rimming. Then he slides down and lands on Andrew's thick, rock hard cock. Their bodies intertwine as they both experience the rush of unrestrained erotic energy. Chris leans over the railing for support and shoots multiple huge spurts of cum while Andrew fucks him from behind. Andrew pulls himself at the brink of orgasm and shoots his own giant load onto Chris' ass. They make eye contact, dazed and exhilarated, and kiss one last time in a passionate display of erotic intensity.

WATCH IT NOW AT:
FALCON STUDIOS
Falcon Members can watch scenes from this Release anytime online.
DVD Releases debut online prior to DVD Release.