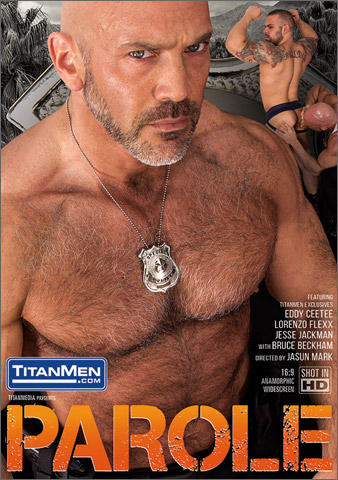 Studio: Titan Media
Directed by: Jasun Mark
Year of Production / Release: 2016
Country of Production: U.S.A.

CAST:
Bennett Anthony
Bruce Beckham
Eddy Ceetee
Lorenzo Flexx
Jesse Jackman
Anthony London
FROM TITAN MEDIA WEB SITE:
Hands up. Against the wall. Spread 'em. When Parole officers have to check in with ex-cons desperate to stay out of the slammer, the action quickly escalates with loaded guns. Watch as TitanMen exclusives Eddy Ceetee, Lorenzo Flexx and Jesse Jackman bust more than just the bad guys. Caught with drugs, former convict Bennett Anthony will do anything to escape prison—quickly offering his holes for parole officer Anthony London's pleasure. Officers Bruce Beckham and Eddy Ceetee use some free time to practice their frisking technique—the two soon getting a taste of what each other is packing. A broken monitoring device puts Lorenzo Flexx into a panic, but parole office Jesse Jackman offers a way out—shoving the desperate bad boy to his knees before getting him on all fours.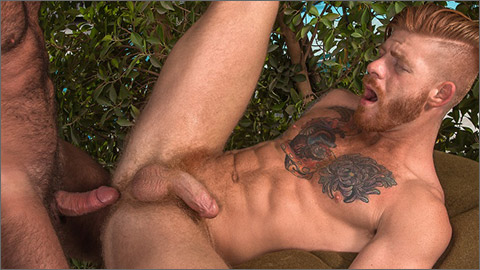 SCENE 1: Officer Anthony London strong arms parolee Bennett Anthony
Pool boy parolee Bennett Anthony gets a surprise when parole officer Anthony London sneaks up behind him: "You know the routine. Up against the wall!" Anthony frisks the tattooed bad boy, finding some paraphernalia in his pocket. "Can we work out a deal like we did last time?" begs the bearded Bennett. "Sure," answers Anthony. "But this time it's gonna cost you some ass as well." He guides the busted stud to his knees, demanding "Suck that dick!" as he whips out his uncut meat. Bennett buries his nose in Anthony's bush, choking as he deep throats him. Bennett gasps for air, spit strands stuck to his mouth. Anthony sucks the thick-dicked ginger back, tickling his furry sac. Bennett offers his ass for eating before the top pounds him doggie style, his pubes slamming the bottom's fuzzy butt. Bennett gets on his back, his slab stroked by the top as he fucks away: "Work that fucking hole! Yeah daddy…fuck it out of me!" Bennett squirts, Anthony bending down to lick up the load before kissing him—then squirts on him and does it again.

SCENE 2: Officers Bruce Beckham & Eddy Ceetee take frisking to a whole new level!
Parole officers search for their man, who is nowhere to be found. With two hours to kill, they decide to practice their frisking technique on each other. Bruce Beckham gets up against the wall, but laughs at partner Eddy Ceetee's skills: "You gotta be more thorough than that! Really get in there…make sure you get in the crotch area, too." Eddy wants to see what Bruce is hiding, and is soon stroking the stud's massive meat. They embrace, their buff bods rubbing against each other. Eddy licks down Bruce's tight frame and engulfs his beast, slurping up the veiny shaft as a spit strand connects his beard. Spit drips from Bruce's shaft to the ground as the "Good cocksucker!" smiles up at him. Bruce sucks him back before getting his smooth hole tongued, then begs Eddy to go "Faster!" as he's pressed against the wall for a hard fuck. Bruce fucks him back, kissing Eddy's hairy leg and licking his leather boot as he slams his hole—the two soon squirting.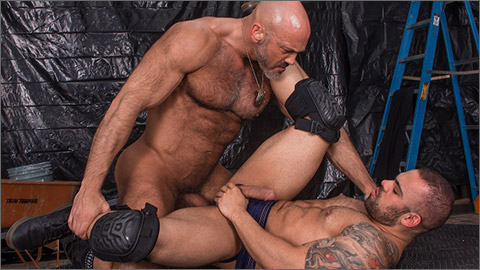 SCENE 3: Officer Jesse Jackman pounds the ass of parolee Lorenzo Flexx
Checking in on former convict Lorenzo Flexx, officer Jesse Jackman finds the painter at work—and is tempted by the muscle man's jockstrap, peeking out above his ass. He frisks him and checks his monitoring device—which has a broken seal. "It was a mistake!" pleads Lorenzo. "I can't go back to prison!" Sensing the opportunity, Jesse advises "It's all about give and take" as he rubs Lorenzo's ass. "Take it," he replies. "It's yours." Jesse fingers the jock, then spits on his hole. He turns the sub around and shoves him to his knees, unleashing his massive dick. Lorenzo sucks him deep, coughing as he reaches the base as spit drops cling to Jesse's groin. Jesse rams Lorenzo from behind, slowly grinding in deep. The top spits down on his own dick as he fucks, then turns the bottom over. Lorenzo strokes his big cock as he gets pounded, releasing a white hot wad—Jesse's massive muscles and abs then clenching as he squirts on him.

MORE INFO, PREVIEW OR WATCH RIGHT NOW:
TITAN MEDIA
Scenes Premier online prior to DVD release and are available to view anytime in the Member"s Area.
Members can watch scenes from almost all Titan Media releases anytime online.