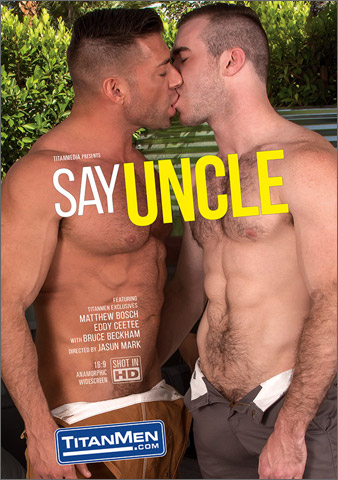 Studio: Titan Media
Directed by: Jasun Mark
Year of Production / Release: 2016
Country of Production: U.S.A.

CAST:
Luke Adams
Bruce Beckham
Matthew Bosch
Eddy Ceetee
Tex Davidson
Anthony London
FROM TITAN MEDIA WEB SITE:
On all fours at the request of your boss. Pinned to the ground by a wrestling buddy. Face to face with a lifelong crush. Can you handle the heat? When two best friends exchange favors, everyone will Say Uncle before it's all over. Join TitanMen exclusives Matthew Bosch and Eddy Ceetee for a steamy display of submission. Serving as an assistant to his best friend's uncle, Luke Adams inspects more than one unit when Anthony London whips out his dick—soon buried deep inside both of the jock's holes. Returning the favor, Matthew Bosch gets some on-the-job training from Luke's uncle, boyhood crush Bruce Beckham. After deep-throating each other's beasts, the versatile hunks flip fuck. Matthew Bosch gets grappled to the ground by former high school wrestling bud Eddy Ceetee, who quickly discovers how much Matthew's sucking and fucking skills have improved. Back at the job, Luke Adams can't help himself when he spots blue collar handyman Tex Davidson with his big dick out, swallowing it deep up both of his smooth holes. SCENE # 1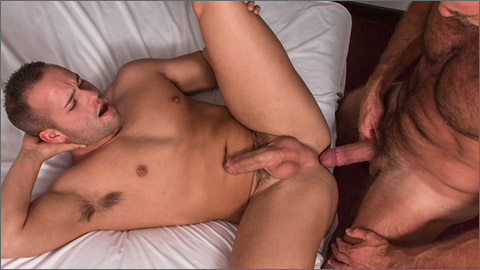 SCENE 1: Luke Adams gets Uncle Anthony London's cock up his ass!
Arriving to help his best friend's handyman uncle on the job, Luke Adams gets on all fours to inspect a unit. "Tell me what you see," says Anthony London, chest bursting out of his wife beater. Luke turns around, wide eyed: "I see you still have that big dick from last summer!" Luke deep throats the tan and hairy stud, reaching up to grip Anthony's pec. The daddy spreads Luke's smooth ass with his big man hands, fingering him before polishing the jock's thick knob. Anthony eats and fucks Luke from behind, the bottom then on his back. Luke's pecs shake as he gets rammed, two HUGE loads coating him—Anthony then licking the bottom's cum-soaked fingers.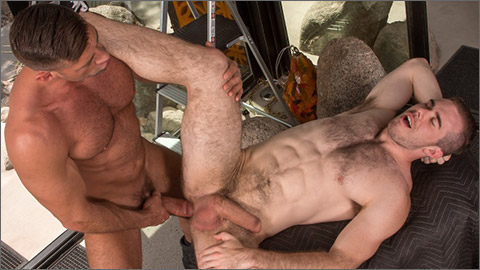 SCENE 2: Uncle Bruce Beckham shows Matthew Bosch how to flip fuck!
Luke returns the favor to Matthew Bosch, who arrives to work with his best friend's uncle Bruce Beckham. As the older handyman loosens his overalls on the job, Matthew can't help but marvel as the muscle man's body. "I used to jerk off thinking about you," confesses Matthew, who soon has Bruce's massive dick buried deep in his mouth. Bruce sucks the hairy hunk back, tugging on Matthew's nuts as he worships the big uncut cock—Bruce's own beast bouncing up and down as he sucks. The two eat each other out, Matthew's steel abs then tightening as he rams his crush. Bruce then slides inside him, fucking a huge load out of the bottom that coats his furry chest.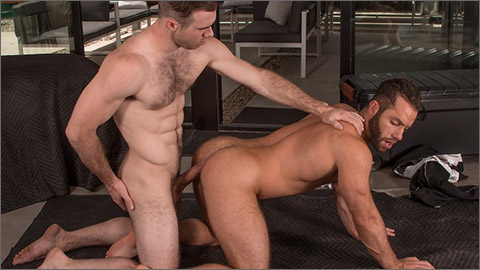 SCENE 3: High school wrestling pals Matthew Bosch & Eddy Ceetee wrestle for top!
Back at the job site, Matthew runs into former high school wrestling teammate Eddy Ceetee. "You've definitely beefed up since high school," admires Matthew—who is soon pinned to the ground as Eddy shows off his skills. "See what you did to me?" says Eddy, the bulge growing in his pants. "You did give the best blowjobs." Matthew smiles back: "I've gotten better." The two kiss, Matthew swallowing Eddy's rock-hard cock. Eddy sucks him back, rubbing Matthew's flat stomach. Their bushy groins then slam together as Matthew fucks the moaning bottom deep.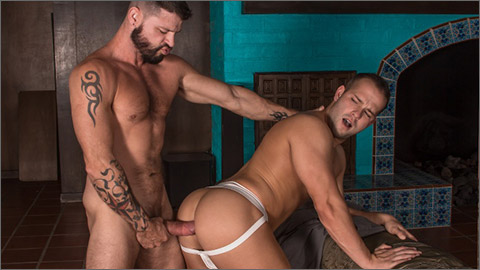 SCENE 4: Uncle Tex Davidson plows Luke Adams' bubblebutt with his huge cock
Back at work, Luke Adams spots Bruce's business partner pissing into a bucket. "Damn! You've got a big dick…want me to suck yours?" Tex Davidson smiles, sliding the bucket away with his foot to clear the path for the sub. Luke drops to his knees and worships Tex's monster, beating it on his face. Tex eats out Luke's jockstrapped ass, burying his beard inside. Tex fucks him from behind, Luke arching back for a kiss as their arms wrap around each other. Luke sits on the huge shaft, the two taking turns doing the work as Tex's pole disappears in a memorable sequence. They squirt, Tex beating his throbber on Luke's groin—then feeding him cum off his fingers.

MORE INFO, PREVIEW OR WATCH RIGHT NOW:
TITAN MEDIA
Scenes Premier online prior to DVD release and are available to view anytime in the Member"s Area.
Members can watch scenes from almost all Titan Media releases anytime online.