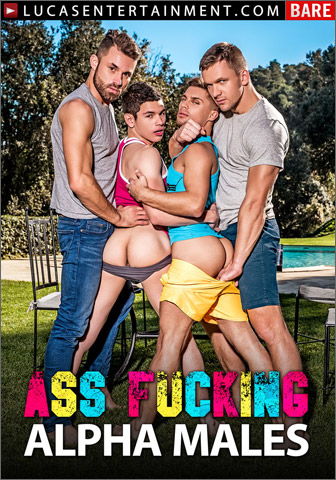 Studio: Lucas Entertainment
Directed by: Michael Lucas
Year of Production / Release: 2017
Country of Production: U.S.A.

CAST:
Jon Bae
Bulrog
James Castle
Ace Era
Bogdan Gromov
Klim Gromov
Dylan James
Sergeant Miles
Michael Roman
Ricky Verez
Andrey Vic
INFORMATION FROM LUCAS ENTERTAINMENT:
Are you ready to learn a lesson in submission from Lucas Entertainment's "Ass-Fucking Alpha Males"? Dylan James and James Castle take turns using Bogdan Gromov's throat and ass. Bulrog and Michael Roman breed Ace Era. Andrey Vic and James Castle rough up the asses of Ricky Verez and Klim Gromov. And Jon Bae hands over his pink little fuck-hole to Sergeant Miles for some extreme anal penetration!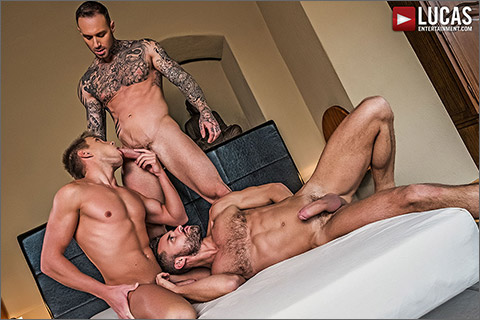 SCENE 1: James Castle and Dylan James Own Bogdan Gromov's Ass
James Castle snuggles up with his young lover, Bogdan Gromov, in bed watching television. James is fresh from the shower with only a towel covers his always stunning body. What Bogdan doesn't know is James invited over alpha-male Dylan James to shake things up and give them both a taste of some masculine dominance. Dylan shows up in a tank top and jeans and jerks his dick while James and Bogdan fool around. But before long Dylan James strips down (showing off his sexy-as-hell tattoos) and gets his hard raw cock wet in both James Castle and Bogdan Gromov.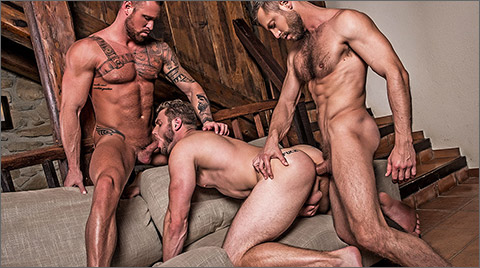 SCENE 2: Bulrog Takes Command of Ace Era and Michael Roman
Bulrog is a French alpha-male top that likes bossing around guys who are strong muscular men in the streets, but total bitches in the sheets. Michael Roman and Ace Era are his servants in this bareback sex encounter, and he orders them to play with each other before they both begin sharing and working on his uncut cock. You might think a pair of two hulking guys like this is too much for any top to handle, but not Bulrog. He's man enough for both of them and has no problem staying in total control from beginning to end.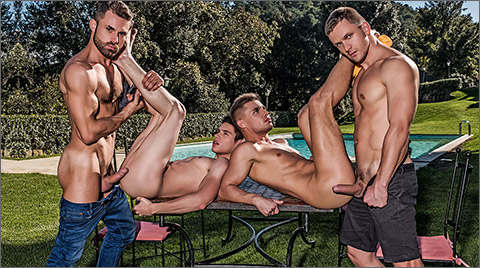 SCENE 3: Klim Gromov and Ricky Verez Bottom for James Castle and Andrey Vic
Blue-eyed Russian twink Klim Gromov and sexy Latin twink Ricky Verez are two wild bottoms who need a firm hand to keep them in line and teach them how to be good receptacles for raw cock and cum. James Castle and Andrey Vic both have the skill and patience to show Klim and Ricky how to properly service the rock-hard cocks of no-bullshit alpha males. Ricky Verez and Klim Gromov both enter into the sexual encounter cocky and full of themselves, but when they wind up getting their asses pounded without mercy by James Castle and Andrey Vic, their attitudes change and they learn their place as submissive bottoms.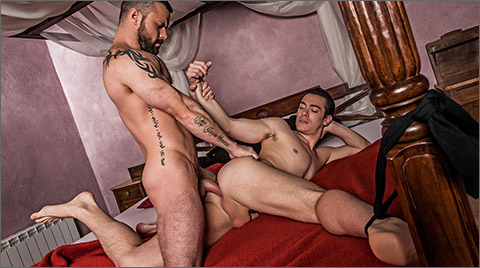 SCENE 4: Sergeant Miles Dominates Jon Bae
Sometimes a guy needs a firm hand to learn how to properly service a true man, and Sergeant Miles takes the time to teach this lesson to Jon Bae. At the onset he's being led around by a belt tied around his neck and wears only briefs. This is Jon's uniform while Sergeant teaches him what he demands to have is alpha-male needs met. Sergeant takes his time eating Jon's pretty little boy-hole, which leads up to him tying Jon's hands behind his back. Why' Because Sergeant Miles likes teaching submissive bottoms how to give hands-free blowjobs. What follows is a mercilessly deep ass fucking Jon Bae can barely handle. But if you're going to get involved with an alpha-male like Sergeant Miles, it's something you must be prepared for.

SEE THIS NOW / MORE INFO:
LUCAS ENTERTAINMENT
Scenes Premier online prior to DVD release and are available to view anytime in the Members Area.
Members can watch scenes from all Lucas Entertainment releases anytime online.