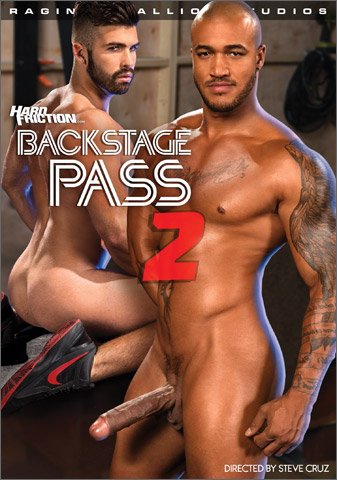 Studio: Raging Stallion / Hard Friction
Directed by: Steve Cruz
Year of Production / Release: 2016
Country of Production: U.S.A.

CAST:
Bruno Bernal
Dorian Ferro
Jonah Fontana
Chris Harder
Damien Michaels
Rocco Steele
Johnny V
Jason Vario
INFORMATION FROM RAGING STALLION:
Get the VIP treatment and get an up-close and personal look at the hole-stretching, throat-gagging, cum-spurting action of Hard Friction studios with 'BACKSTAGE PASS 2!' Director Steve Cruz delivers intense, hardcore, connected sex between horny studs who can't get enough of each other and you get an all-access view into their world filled with passionate fucking! Tattooed muscle man Rocco Steele wields his impressively enormous cock on power bottom Johnny V, pushing both hunks to shoot massive loads. Bruno Bernal gives oral service to Jason Vario before taking Jason's cock in a high-energy pounding, and Jason lets loose with an epic cum shot that you have to see to believe! Lean, hairy studs Chris Harder and Damien Michaels share a passionate, connected flip fuck, rubbing their fur together and showing off their sexy bodies. Dorian Ferro tops Jonah Fontana with power and intensity until Jonah can't help shooting his load; after having his way with Jonah's ass, Dorian then dumps his load right on Jonah's balls. For an all-access look at the sex lives of horny, erotically-charged men, pick up 'BACKSTAGE PASS 2', and get ready for a wild ride!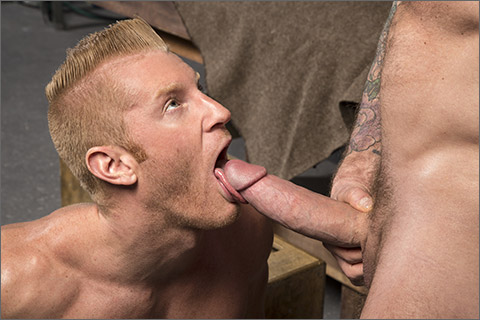 SCENE 1: Rocco Steele fucks Johnny V
Tattooed muscle man Rocco Steele locks lips with ginger-blond hunk Johnny V. Johnny strokes Rocco's massive cock, then sinks to his knees to perform oral worship. Few men could manage Rocco's enormous girth and length, but Johnny shows off just how good he is. As saliva drips from Johnny's mouth, Rocco grunts approvingly, shoving his meat even deeper down Johnny's throat. Johnny bends over and Rocco dives in face first. With his fingers, Rocco spreads saliva along the rim of Johnny's hole and pushes it deep inside. Reclining on his back, Rocco points his meat straight up in the air, and Johnny lowers himself down. It's no easy task, but Johnny keeps at it until he takes Rocco's entire cock in his hole. Standing up, Johnny takes Rocco's cock doggy style, and Rocco unleashes the full power of his intense thrusting. Johnny grits his teeth and squeezes his eyes closed as his hard cock swings back and forth in rhythm with Rocco's intense fucking. Rocco pulls all the way out, then thrusts all the way back in, over and over, stretching Johnny's ass wide every time. Moving to missionary position, Johnny throws a leg over Rocco's shoulder for maximum penetration. Sweat glistens on Rocco's shoulders and Johnny's chest as their intense, connected fucking picks up speed. Jerking his cock, with Rocco still inside him, Johnny explodes with an epic load that spurts across his washboard abs. Reaching for his own cock, Rocco strokes himself until he bursts forth with a hot, white load that drips across Johnny's cock and balls.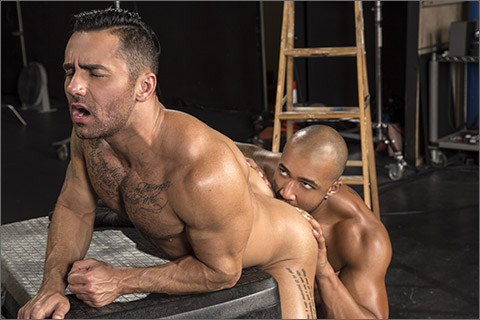 SCENE 2: Jason Vario fucks Bruno Bernal
Tattooed Brazilian hunk Bruno Bernal strokes Jason Vario's massive, uncut cock. Slick precum appears on the tip of Jason's cock, and Bruno smears it across Jason's sensitive head. Sinking to his knees, Bruno takes Jason's massive member in his mouth and sucks passionately. Cupping Jason's balls, Bruno drenches Jason's meat with slick saliva. With Jason's sexual energy running wild, he bends Bruno over, slips his tongue between Bruno's ass cheeks, and presses deep into Bruno's tasty hole, lubing it up in preparation for fucking. Jason's cock twitches as he rims Bruno's ass. When Jason slides in, Bruno gasps at the intense pleasure of Jason's huge meat. Sweat glistens on their bodies as their high-energy fucking leads them both to a state of intimate connectedness. Throwing Bruno on his back, Jason pounds Bruno in missionary position, and Bruno's high-top sneakers press against Jason's sweaty chest. When he's ready to cum, Jason jerks his cock and loose with an enormous blast of cum that arcs through the air and hits Bruno in the face. Opening his mouth, Bruno catches a few drops, then licks up the cum that landed on Jason's leg. Standing up, Bruno jerks himself off as Jason sucks on Bruno's nipples. Bruno's load explodes and mingles with the massive load that Jason shot. They taste each other's cum and make out in erotic pleasure.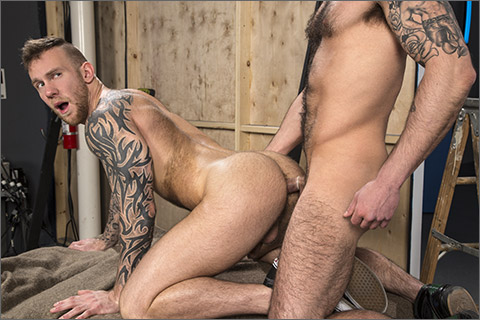 SCENE 3: Chris Harder & Damien Michaels flip-fuck
With passionate kissing, bearded studs Chris Harder and Damien Michaels explore each other's bodies. Chris gets things going by sucking on Damien's fat cock. Their lean, ripped torsos ripple under a thick coating of hair: Chris' is dark brown, and Damien's is light blond. Standing above Damien, Chris presents his hard meat for oral worship. Damien takes Chris' cock and sucks with intense passion, pressing his face deep into Chris' groin. Damien presents his furry ass for Chris to rim, and Chris presses his bearded chin deep against Damien's crack. With lots of spit, Chris lubes up Damien's furry hole, then presses his thumb deep inside. By the time Chris is ready to fuck Damien, the hair on Damien's ass is slick with spit. In doggy style position, Chris mounts Damien and pounds him with ferocious intensity. Pulling all the way out, then thrusting all the way back in, Chris wields his cock to deliver a pounding that leaves Damien breathless. Turning the tables, Chris flip flops and gets on his back to take Damien's dick deep and hard. As Chris jerks his cock, Damien holds Chris' legs in the air to achieve serious deep prostate stimulation. The intense, connected sex triggers Chris to shoot his load as Damien is fucking him: thick, white cum covers Chris' hairy torso as he erupts with a massive load. This sends Damien over the edge, and he releases a blast of white spunk.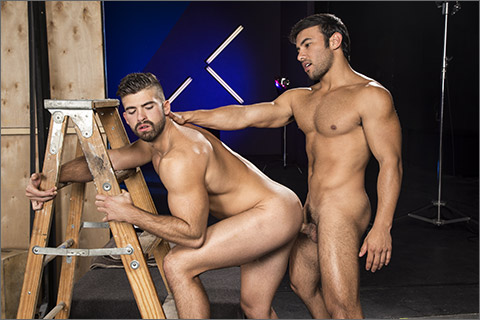 SCENE 4: Dorian Ferro fucks Jonah Fontana
Jonah Fontana makes out with Dorian Ferro, rubbing his hands along Dorian's gorgeous ass. Dorian gently strokes Jonah's cock and caresses Jonah's chest. Jonah goes down on Dorian, worshiping Dorian's cock with his thick lips and copious spit. Dorian enhances the pleasure by playing with his own nipples. After sucking Dorian's cock, Jonah moves on to rim Dorian's ass. He parts Dorian's furry, firm ass cheeks and pushes his bearded chin deep in Dorian's crack. Jonah's perfect ass is on display, and Dorian is eager to fuck it. He thrusts into Jonah doggy style as Jonah braces himself on a ladder. As he's getting fucked, Jonah strokes his meaty cock, and the action is so intense, Jonah blows a white, creamy load! But Dorian's not done yet. Moving to missionary position, Jonah throws his left leg over Dorian's right shoulder, bringing Dorian's cock even deeper into Jonah's fuckable hole. Jonah's beefy pecs ripple with the impact of Dorian's intense thrusting. Reaching the point of no return, Dorian jerks out a massive load that lands right on Jonah's ball sack, coating it with sticky, white cum.

WATCH THE SCENES AT:
RAGING STALLION'S MEMBERS SITE
Members at RAGING STALLION"S MEMBERS SITE can watch these scenes and download extensive Photo Content from this production and get discounted pricing on all DVD and Print purchases.