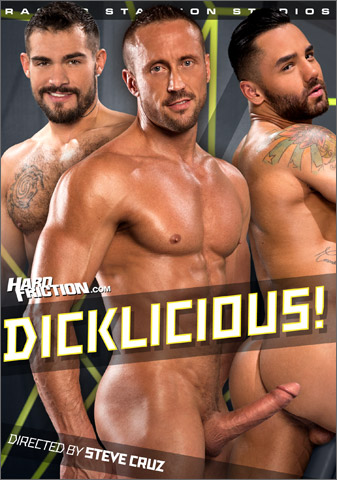 Studio: Raging Stallion / Hard Friction
Directed by: Steve Cruz
Year of Production / Release: 2016
Country of Production: U.S.A.

CAST:
Aarin Asker
Bruce Beckham
Bruno Bernal
Brian Bonds
Bravo Delta
Derek Deluca
Myles Landon
Rafael Lords
Tegan Zayne
INFORMATION FROM RAGING STALLION:
This action is 'DICKLICIOUS.' Get your taste of nine 'DICKLICIOUS' men with big, mouthwatering cocks and tasty holes that need filling! Director Steve Cruz pairs together the most irresistible dicks and fuckable asses, and the chemistry is off the charts. Bravo Delta wields his XXL cock to fill Aarin Asker's hairy hole, and the intense sexual connection leads them to a cummy climax. Tegan Zayne and Derek Deluca take turns getting spit roasted when take-charge top Bruce Beckam orchestrates a wild and raunchy three-way fuck. Muscle-man Myles Landon uses his massive tool to dominate hunky Bruno Bernal's ass. Blond muscle stud Brian Bonds feeds his cock to Rafael Lords in a sweaty, energetic fuck session. When you get a taste of these 'DICKLICIOUS' men filling holes with their massive cocks, your sexual appetite will be satisfied!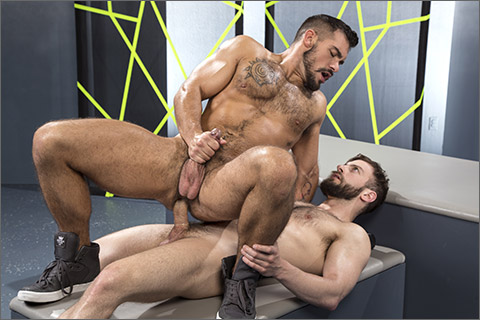 SCENE 1: Bravo Delta fucks Aarin Asker
The craving for cock brings hairy Bravo Delta face to face with tall, tan Aarin Asker. Bravo's thick beard, dark body hair, and massive cock are all prominently on display. Aarin's firm ass, plump nipples, and hairy chest are irresistible, and Bravo rubs his hands along Aarin's muscled body. They kiss, beards rubbing together, tongues touching, and then Aarin goes down to get a taste of Bravo's mouthwatering meat. Spit drips down Aarin's furry pecs as he uses his saliva to lube up Bravo's tasty cock. Bravo leans back and invites Aarin to sit on his face, pushing his tongue deep into Aaron's hairy crack. With his hole lubed, Aarin sits on Bravo's throbbing boner. Thrusting from below, Bravo drives his girthy shaft deep in Aarin's fuckhole. Jerking his cock, Aarin flexes his muscular legs and slams his ass down on Bravo's schlong. They switch to missionary, Aarin throwing a leg up over Bravo's shoulder for maximum penetration, his hole stretching as wide as it can to accommodate Bravo's thick dick. The hair on Aarin's ass clings to Bravo's cock every time he pulls out. The pressure on Aarin's prostate pushes him over the edge, shooting his cum across his furry legs and stomach. Bravo strokes himself until he explodes with a giant load that drenches Aarin's cock with thick spunk.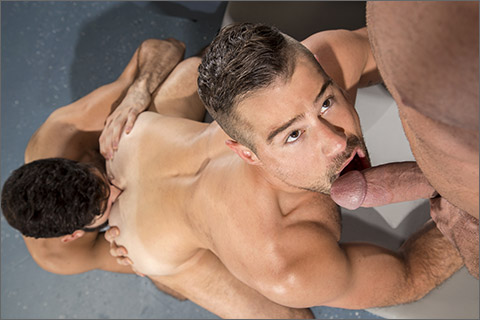 SCENE 2: Bruce Beckham fucks Tegan Zayne & Derek Deluca
Derek Deluca trades blowjobs with hairy otter Tegan Zayne. Bruce Beckham joins in, feeding his hard cock to Derek's mouth. Tegan rims Derek's ass, using his tongue and his fingers to fill Derek's hole with spit. Obediently, Derek sucks on Bruce's cock, stretching his lips around Bruce's impressive girth. Tegan and Derek trade places; as Tegan services Bruce's cock, Derek stretches Tegan's hole so wide you can almost see inside him. Bruce's bodybuilder physique captivates Derek and Tegan, and they both orally worship Bruce's manhood, sucking his hard cock and licking his balls. Lying on his back, Bruce invites Tegan to sit on his face as Derek continues to suck Bruce's rod. Tegan's hairy ass is irresistible, and Bruce shows his enthusiasm by burying his face deep between Tegan's fuzzy cheeks. Standing up, Bruce drives his hot cock into Derek's ass as Derek slobbers on Tegan's cock. Tegan gets spitroasted next, as Bruce pounds Tegan's hole while Derek facefucks Tegan's beardy mouth. Spit rolls down Tegan's cheeks as he struggles to swallow Derek's cock. All three men recline and jerk their cocks as they reach the final stretch. First Bruce blows his load on his stomach, followed by Derek. Bruce gives Derek a taste of their loads as Tegan builds up steam. As his furry stomach flexes, Tegan shoots high in the air, glazing his hairy body with spunk.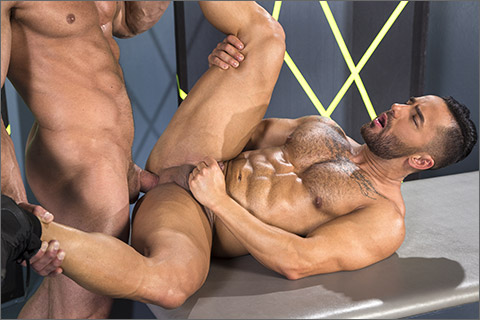 SCENE 3: Myles Landon fucks Bruno Bernal
Tattooed Bruno Bernal lifts his chin to kiss towering Myles Landon. A light dusting of hair stretches across Bruno's bulging pecs, and his abs ripple as he kneels. Myles is a smooth, muscled bodybuilder; his nips are erect and his massive cock twitches with anticipation. Long streams of spit form as Bruno gives Myles a slobbering, slurping blowjob. Myles uses a hand on the back of Bruno's neck to guide his throat down on that massive dick. Taking charge of Bruno's ass, Myles spreads Bruno's cheeks and lubes up Bruno's hole with a rim job. Bruno sits down on Myles' enormous monster cock, struggling to accommodate the girth, but finally sliding it all the way in. With Bruno's cock bouncing, Myles pummels Bruno's ass with all his might. Lying on his side, Bruno raises a leg up in the air and Myles pushes his cock into Bruno's stretched hole missionary style. Sinking to his knees once again, Bruno orally services Myles' cock while stroking his own meat. Myles blasts his cum in Bruno's face, and Bruno sprays his load on Myles' dick.

SCENE 4: Brian Bonds fucks Rafael Lords
Blond muscle stud Brian Bonds is tongue to tongue and dick to dick with Rafael Lords. Their chiseled bodies ripple as they fondle each other's hard cocks. Brian tongues the tip of Rafael's foreskin, and Rafael's hips buck reflexively. Turning around, Rafael offers his ass up to Brian's expert rimming. The round, firm cheeks of Rafael's bubble butt flex as Brian works his tongue deep into Rafael's hole. Turning around, Rafael swallows Brian's cock, working the sensitive tip with his lips. Brian feeds his cock to Rafael in an upside-down face fuck, and Rafael strokes his thick uncut tool. Sitting down, Brian invites Rafael for a ride on his cock, and Rafael uses his muscular legs to raise and lower himself on Brian's meat. Brian thrusts up into Rafael's ass, making Rafael's cock slice through the air. Sweat glistens on their shoulders. Rafael rotates so that he can face Brian and they kiss passionately as they both approach their climax. As the vigorous fucking goes faster and faster, Brian's entire back drips with salty sweat. Rearing up on his knees, Rafael blasts off an enormous load as he's getting fucked. Right behind him, Brian unleashes thick ropes of cum that blast across Rafael's leg.

WATCH THE SCENES AT:
RAGING STALLION'S MEMBERS SITE
Members at RAGING STALLION"S MEMBERS SITE can watch these scenes and download extensive Photo Content from this production and get discounted pricing on all DVD and Print purchases.