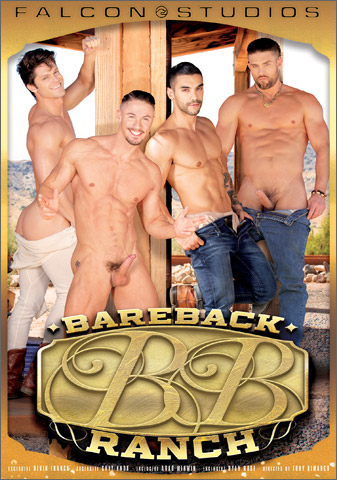 Studio: Falcon Studios
Directed by: Tony Dimarco
Year of Production / Release: 2019
Country of Production: U.S.A.

CAST:
Brian Adams
Logan Cross
Nick Fitt
Devin Franco
Caleb Jaxon
Skyy Knox
Dalton Riley
Ryan Rose
Zario Travezz
Arad Winwin
FROM FALCON STUDIOS:
Somewhere hidden in the southwestern desert is a secret pleasure oasis known as the 'BAREBACK RANCH', the ultimate destination for sensual and sexy men who like wild action in the great outdoors. Join award-winning director Tony Dimarco and his cast of bareback cowboys, ranch hands, truckers and hitchhikers alike that his this spot for raw cocks rampaging eager, hungry holes and filling them with jizz under the sizzling badlands sun. First up at the ranch are horse-hung Brian Adams and eager bottom Devin Franco in blue jeans and boots, sucking cock out in the desert before they wend their way over to the ranch and take care of their needs on a big leather sofa that isn't the only thing to be overstuffed. Next Arad Winwin and Skyy Knox come clean outside for an al fresco blowjob swap and outdoor shower power-fuck. Logan Cross and Brian Adams get an eagle's eye view of the rustic surroundings as they rise to the rafters of the ranch house for a high noon rooftop romp on a private patio under the big blue sky. After a little roughhousing on the trail, Zario Travezz scoops up Nick Fitt and carries him back to his mancave at the ranch for beer-soaked, cum guzzling cock sucking and bareback butt fucking. Meanwhile, Logan Cross is alone and horny on the scorching highway, hitchhiking and hunting for trouble, which he finds when sexy trucker Ryan Rose picks him up on the side of the road and takes him home to the primal pleasures of the ranch. Rounding out the roster of big dicked roughnecks, Dalton Riley and Caleb Jaxon wrestle in the dirt until Dalton takes Caleb back for some old-fashioned, good ol' boy corn-holin' on the couch. This is no country for straight men and there will be plenty of buds bustin' their nuts in each other's butts down at the 'BAREBACK RANCH'!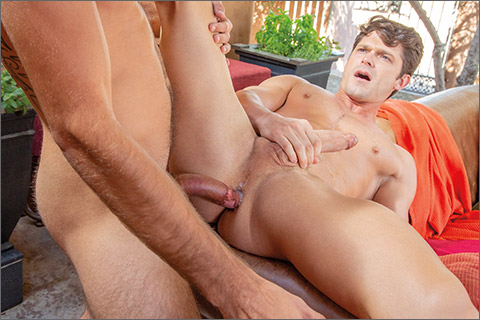 SCENE 1: Brian Adams fucks Devin Franco
Soaring over the rocky terrain below like a falcon in the wild, we land on Devin Franco and Brian Adams out on the trail with no one around, so they're goin' for it. Leaning against a rock in the sunshine with their work shirts open, pants around their ankles and their thick meat dangling, the pals feed their big ol' horse-cocks to each other with expert deep throat action before heading back to 'Bareback Ranch' for some real fun. There they strip down to their boots and get down to business, with Brian bending Devin over the arm of an overstuffed sofa and drilling him bareback. Devin can't get enough of Brian's dappled dick and backs into it with an eager unbridled power-bottom display that sends them both over the edge in a cum splattering climax.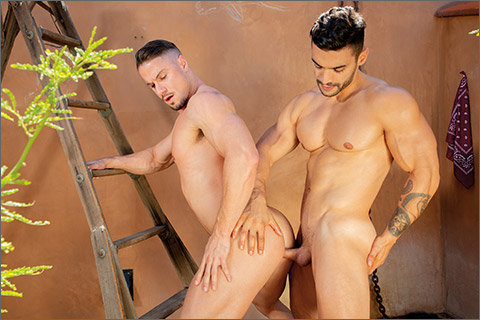 SCENE 2: Arad Winwin fucks Skyy Knox
Back at the hacienda, hunky Arad Winwin goes to the side yard to the ample outdoor shower and hops in to rinse off the dust and dirt of the day. Muscle-stud Skyy Knox is heading for the tool shed when he spots Arad rinsing off. He doesn't wait for an invitation and strips down to join his buddy in the shower — naked, rock hard and ready. With serious cock worship on the menu, the two waste no time, taking turns to kneel and devour each other's throbbing dong's between deep passionate kisses. Making handy use of a nearby ladder, Arad bends Skyy over and buries his face into his perfect smooth ass, teasing and tonguing the tight winking hole and priming it till Skyy starts begging for raw cock, and Arad agrees. With every inch of Arad's thick fuck-stick, Skyy matches him thrust for thrust and takes a wild bareback pounding. Finding some creative positions on the ladder, Skyy gets pummeled, hanging on for the banging of his life till finally Arad greases his guts with a huge gushing geyser of jizz, then shoves it back in and fucks him again while coaxing a load out of Skyy's full heavy balls.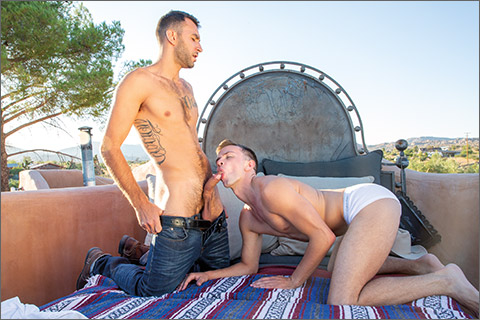 SCENE 3: Logan Cross sucks Brian Adams cock
When the morning sun gets too hot for doing chores, Logan Cross and Brian Adams find the perfect opportunity to head up to the private rooftop patio and sprawl out on a daybed under a bright blue sky. Making out with a passionate intensity, the two horny studs slowly make their way out of their clothes, as Brian takes the upper hand and dominates Logan with a confident swagger. Hung stud Brian whips out his thick and lengthy horsemeat for a hungry Logan, who takes his time with the impressive tool savoring a long, relaxed blowjob and nurses a humongous load out of Brian's swollen low hangers before blowing his creamy jizz in the afterglow of a sex-filled siesta.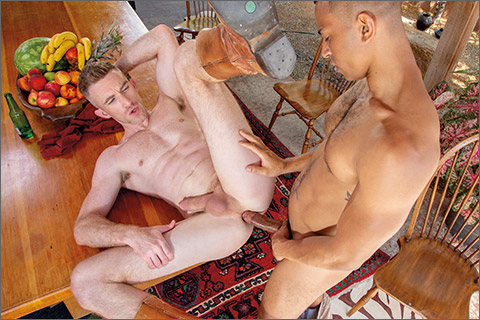 SCENE 4: Zario Travezz fucks Nick Fitt
The road to 'Bareback Ranch' is a happy trail, with Nick Fitt and Zario Travezz goofing off with a bit of innocent horseplay in the desert sunshine. Before long Zario's shirt comes off and he manhandles Nick, slinging him over his shoulder like a sack of potatoes and carrying home his prize. Back at the ranch, some ice-cold bottles await these two horny wranglers, who break open the brewsky to beat the blazing heat. Zario lets a gulp of beer trickle cool and damp down his pumped chest and rippling abs onto his raging boner, as Nick kneels and slurps up every drop. It doesn't take long till Zario is getting Nick's hole wet and ready for his unforgiving cock, then riding him raw and rough.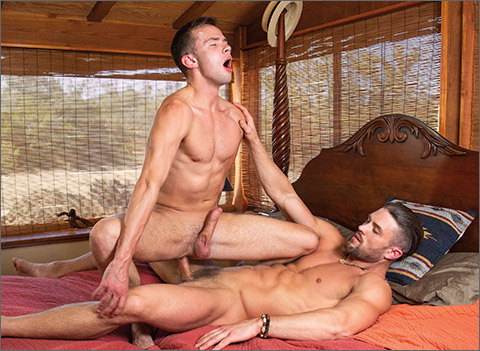 SCENE 5: Ryan Rose fucks Logan Cross
Hitchhiker Logan Cross is thumbing his way down the highway looking for more than just a ride. Lucky for him, built stud Ryan Rose happens along in his pick-up truck on his way home from work and picks Logan up at the side of the road. Proving the old trucker saying "There's no such thing as a free ride — passengers better give up ass, gas or grass" — Logan shows his gratitude by nosediving into Ryan's lap right there in the truck while they're driving. Ryan sees he's got a live one on his hands and takes Logan to 'Bareback Ranch', where he pounds the living daylights out of the wandering stranger with his massive hard dick spraying a giant load on (and in) his ass.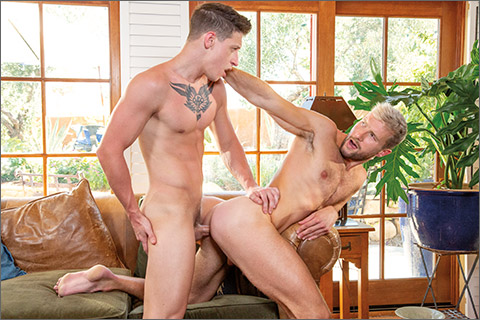 SCENE 6: Dalton Riley fucks Caleb Jaxon
Dalton Riley and Caleb Jaxon are hiking through the desert when they start to wrestle and get down and dirty in the middle of the dusty road. Dalton's tight jeans come down to reveal his fat, throbbing dick and heavy swinging balls, and Caleb helps himself to a greedy mouthful before they head back to the spread and Caleb spreads his legs for a relentless bareback drilling up his cum-sloppy ass. Dalton delivers a hole-stretching fuck and fills Caleb with spunk before the well-plowed bottom blasts his own impressive load.

WATCH IT NOW AT:
FALCON STUDIOS
Falcon Members can watch scenes from this Release anytime online.
DVD Releases debut online prior to DVD Release.