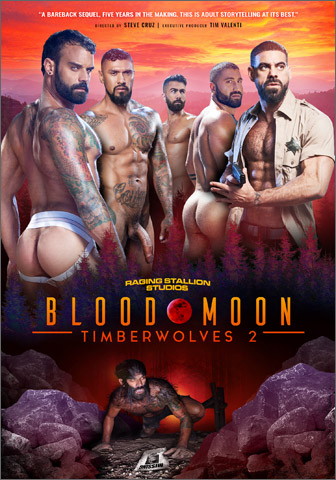 Studio: Raging Stallion
Directed by: Steve Cruz
Year of Production / Release: 2019
Country of Production: U.S.A.

CAST:
Boomer Banks
Brian Bonds
Ricky Larkin
Drake Masters
Alex Mecum
Riley Mitchel
Jake Morgan
Adam Ramzi
Drew Sebastian
Sharok
Logan Stevens
INFORMATION FROM RAGING STALLION:
Sexual animals with primal inhibitions still walk among us in 'Blood Moon: Timberwolves 2', a supernatural sequel to the wildly successful Timberwolves from 2013. Join award-winning director Steve Cruz as he takes you on this hair-raising XXX action thriller featuring 11 bareback all-stars. The stakes are higher, and the sex is hotter as furry studs tear into each other in a rapacious and raw fuck-fest. Wolf brothers, Drake Masters and Sharok, are living quietly among the mortals in this sleepy mountain town, but it's Drake who can't seem to control his primal impulses to feed, which threatens to expose the pack. 'Blood Moon' picks up with Adam Ramzi returning and seeking answers to a friend's disappearance in the local woods just five years earlier. Sheriff Ricky Larkin finds him irresistible. Adam tells himself he's looking for his missing friend, but as the case grows cold, he learns he's just being used for sweaty man sex. Unable to face the truth about his own actions, Adam has a huge fight with Ricky. Ricky seeks advice from his horse-hung besties Boomer Banks, Jake Morgan and Logan Stevens, and leaves them to finish their thirsty game of flip-fuck strip poker. Drunk on whiskey, Adam stumbles into the woods under a 'Blood Moon' and becomes prey for Drake's uncontrollable appetite. Drake denies his crime to his brother, Sharok, who turns to Alex Mecum's massive cock for comfort. Meanwhile, the rift between wolf brothers and the locals rips wide open when they find Adam's ravaged body. Taking the law into their own hands, they ambush the wolf brothers. Violence gets out of hand and Drake is forced to reveal his true wolf nature to help his brother escape. Drake and a wounded Sharok race through the badlands, where Drake blows married straight dude Brian Bonds for gas money. Desperate and lost, Drake wanders the desert where he meets lone wolf, Drew Sebastian who teaches him how to own his true nature and survive; Drake thanks him by riding his ten-inch dick. Back home, Deputy Riley Mitchel gets his beefy ass impaled by Sheriff Ricky. Alight with the fury of vengeance, Drake returns home to reckon with his tormentors. How will it end? Who lives and who lives again? 'Blood Moon: Timberwolves 2' will leave you howling for more.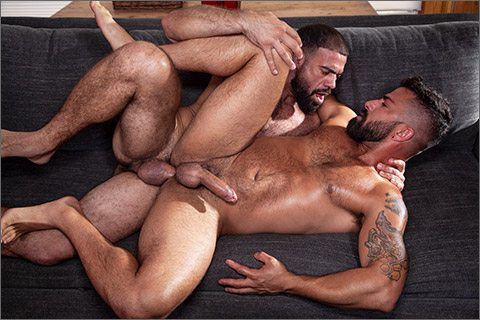 SCENE 1: Ricky Larkin fucks Adam Ramzi
Rugged Adam Ramzi arrives in the woods and immediately texts his secret bareback fuck-bud, beefy and hung Sheriff Ricky Larkin, who replies that he's on his way. Inside the cabin, Adam strips down for a hot shower after the long car ride. Meanwhile, Sheriff Ricky arrives and lets himself in, shucking his uniform in horny anticipation. Entering in a towel, Adam finds him buck naked and half hard. Playful and passionate, the bearded men kiss and grope in a charged reunion, with the Sheriff showing more than the Long Arm of the Law. Ricky kneels first to devour Adam's uncut cock. Switching places to swap spit and blowjobs, Adam chows down on Ricky's thick cut meat. Over a table, Adam gets a reach-around and has his hole munched till he pleads softly and simply: "God, I want that dick in me! Fuck." Sworn to keep the peace, the Sheriff obliges with a solid deep dicking, his veiny monster and heavy sack pounding Adam's eager hole. On the sofa, Ricky pins Adam down for more raw drilling. Ricky makes Adam moan till the Sheriff fucks a load out of him and makes his eyes roll back in delight, then slurps up the jizz and spits it back on Adam's hole to fuck him again, till Ricky blows his own unlawful load all over Adam's furry crotch and hairy pucker. He shoves it back in and they collapse in a spent, sweaty, satisfied heap.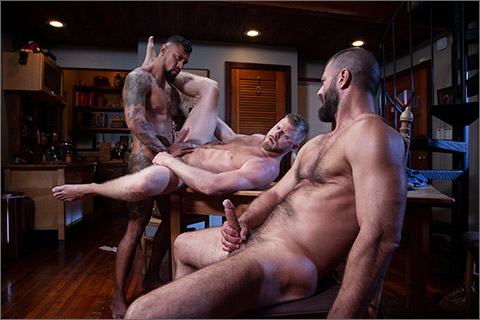 SCENE 2: Logan Stevens & Boomer Banks flip-fuck with Jake Morgan watching
Sheriff Ricky Larkin catches up on local gossip with his hung townie friends Logan Stevens, Boomer Banks and Jake Morgan over a friendly game of strip poker. Boomer is the first to lose, whipping out his XL uncut cock and slapping it on the table. Unimpressed, the Sheriff leaves with a stern warning, and Logan asks bluntly: "So … since we're already naked, wanna fuck?" Jake says it reminds him of a porno and wants to watch. Boomer kicks back on the kitchen table for a lingering blowjob from Logan, who chokes down as much of the giant tool as he can before standing up and bending Boomer over. The brawny blond stud slowly works his own meaty uncut cock into Boomer's ass and has him whimpering with every bareback thrust. Jake pulls up a chair for a closer look, stroking his thick dick and egging them on. Boomer falls to his knees to suck Logan, then returns the favor shoving his massive rod up Logan's fuzzy blond ass. The intense raw fuck in front of him makes Jake pop first, creaming all over his hand as he milks out every drop. Logan lasts as long as he can till Boomer pumps his ass and the jizz starts flying, which sends Boomer over the edge and he unloads on and in his buddy Logan's well-stretched hole.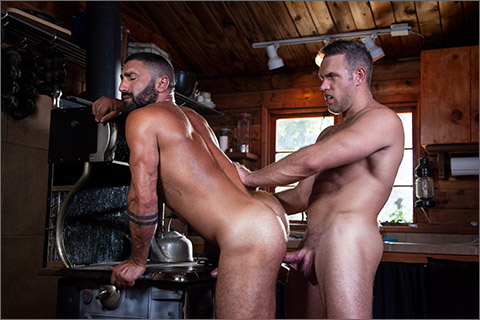 SCENE 3: Alex Mecum fucks Sharok
Back at their cabin, Alex Mecum and Sharok await Drake Masters, who stinks of sex and something else. They try to deal with this maverick lone wolf threatening to expose the pack with his reckless behavior. Sharok is flustered and frustrated by the cocky punk, but Alex knows how to distract and comfort him: with the girthy giant straining the pouch on his long john thermals. Alex pulls Sharok into a passionate hug for some deep kissing as they grope their way out of their clothes. Sharok's furry crack outlined by his jockstrap finds Alex's wandering hand, just as the muscle-stud drops down to take Alex's huge boner into his wet mouth and give him a greedy cock gobbling blowjob. Alex is hungry for Sharok's big dick too and sucks him till they're both rock hard and tearing off their pants. Sharok gets on all fours and offers up his perfect ass and hairy hole "It's all yours, babe," which Alex eagerly takes, first with a long rim job and then a hard, raw, bareback fuck. Sharok can't get enough and fucks back with abandon, then goes ass to mouth to taste his own hole on Alex's fuck stick. Sharok gets piggy eating Alex's butt before getting plowed again: bent over the stove, standing up and then sitting all the way down upon Alex's rod on the couch, riding and bouncing and milking out massive loads of jizz.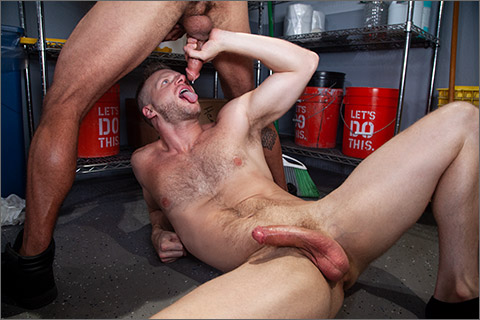 SCENE 4: Brian Bonds & Drake Masters (all oral)
Desperate and on the run, Drake Masters and Sharok are driving through the desert and in need of gas and money. Pulling into a rest stop, Drake gets out and goes into the men's room, where he finds Brian Bonds, a hot and hung straight dude taking a piss while his wife is in the car. Drake locks the door and wastes no time servicing Brian's thick pole with an expert blowjob against the urinal. Lost in the aroma of crotch and butthole, Drake works Brian over. "Yeah, smell that man musk!" he says getting his balls and ass sloppy and wet. Brian gets so turned on he offers to reciprocate, but Drake demands cash, or he'll tell the wife. A crisp $100 later and this so-called straight guy is on the filthy bathroom floor devouring Drake's cock balls deep, eating his hot furry asshole and getting face-fucked till Drake blows his sweet tasty jizz all over Brian's handsome grin. Gulping every bit he can get, Brian blasts his own load on his belly and Drake goes on his way.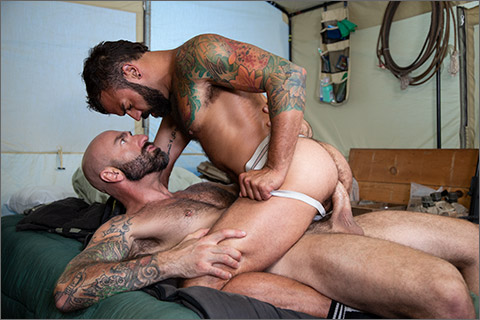 SCENE 5: Drew Sebastian fucks Drake Masters
Drake is forced to face his actions, in exile in the desert. He thinks he's alone, but the wind carries his scent to a nearby campsite where Drew Sebastian is polishing his big gun. Drew finds Drake and takes him back to his tent, where the older, wiser wolf daddy educates the pup in more ways than one, starting by aggressively rimming Drake's fine jockstrapped ass. Opening his hole with his tongue and thumbs, Drew prepares Drake to take his ginormous cock in a hardcore bareback ass pounding. Drew totally owns and dominates Drake's fuck-hole "Stay there! Good Pup," and uses the jock waistband as a handle to maneuver a grunting Drake onto his titanic tool. Going ass to mouth, Drake tries to deepthroat Drew's unforgiving cock and gets throat-fucked, till Drew finally lies down and Drake hops on top, riding the bearded stud with all the secret tricks his hungry muscle-butt knows. Deep drilling finally forces a load out of Drake, who feeds his seed to his wolf daddy. Drew laps up every drop and blows his own orgasm, then Drake nurses his spent cock and they sleep.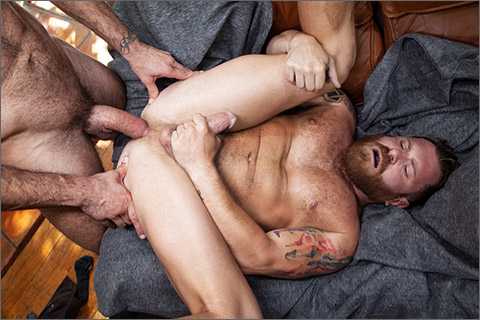 SCENE 6: Ricky Larkin fucks Riley Mitchel
Sheriff Ricky Larkin paces the living room at his cabin while Deputy Riley Mitchell tries to talk him down. Ricky wants to avenge his friend and fuck-bud Adam Ramzi's murder, but he is not himself. Overcome with animal lust and an uncontrollable hunger for raw fucking, he bends his Deputy over the back of the couch and rips his pants down, burying his face in Riley's beefy butt and motorboating the bearded muscle bear's ass cheeks till he is primed for a raw bareback drilling. Ricky takes his time working his humongous dong into Riley's willing hole "Yes! This is what I needed," and works up a steady rhythm that gets Riley moaning. Balls slapping, Ricky pile-drives his buddy and stuffs his thick cock deep. Riley can taste his own ass as he deepthroats the Sheriff, getting Ricky's already throbbing rod even harder if possible. Moving to the big sofa, Ricky pins and mounts Riley and pummels his hole with a punishing deep dick barebacking, face down on his belly and then upside down. The unrelenting power fuck makes Riley and Ricky both squirt at the same time, drenching the Deputy in two creamy loads of hot jizz. They rest, but the wolves are on the loose!

WATCH THE SCENES AT:
RAGING STALLION'S MEMBERS SITE
Members at RAGING STALLION"S MEMBERS SITE can watch these scenes and download extensive Photo Content from this production and get discounted pricing on all DVD and Print purchases.