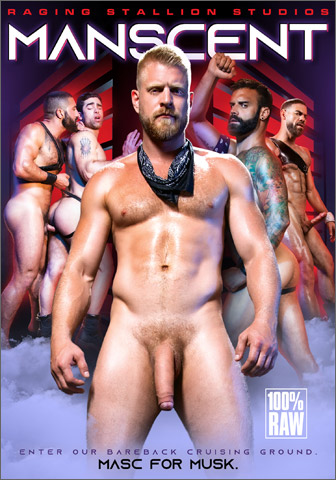 Studio: Raging Stallion
Directed by: Steve Cruz
Year of Production / Release: 2019
Country of Production: U.S.A.

CAST:
Donnie Argento
Brian Bonds
Ricky Larkin
Mason Lear
Lucas Leon
Drake Masters
Jaxx Maxim
Sharok
Logan Stevens
INFORMATION FROM RAGING STALLION:
Let the intoxicating musk of masculinity and cum awake you sexual urges in 'MANSCENT'. Award-winning director Steve Cruz takes viewers on a wild ride with nine all-natural men living in the moment and sniffing out the hottest zero-attachment, no-holds-barred, bareback sex. After linking up at the glory hole, Drake Masters, Logan Stevens and Brian Bonds have a hot and sweaty threesome that leaves them drenched and tasting each other's cum. Sharok finds Lucas Leon cruising, then fucks his hairy hole raw until he covers him in cum. Mason Lear walks in on Ricky Larkin rubbing one out when he decides to service Ricky's cock and hole until they are both left with cum in their beards. Donnie Argento and Jaxx Maxim fuck in multiple positions until Donnie is left covered in both hunks loads. After Drake Masters sees Brian Bonds getting fucked in a sling, the two sneak off to flip-fuck each other's hairy holes. Ricky Larkin finds Donnie Argento and Mason Lear behind bars and releases them to have his way with each of their asses. Inhale deeply, let go of all your inhibitions and follow the intense 'MANSCENT' that drives carnal studs to hardcore, raw fucking.

SCENE 1: Drake Masters, Brian Bonds & Logan Stevens all fuck around
Down in the cruising grounds, Brian Bonds and Logan Stevens slide their hard cocks thru a glory hole, prompting Drake Masters to get down on his knees and begin servicing the two swollen dicks. After Drake has had his fill of cock in his mouth, Logan and Brian join him face to face to return the favor. Brian takes the front, feed Drake his cock, while Logan takes the back end, tongue-fucking Drake's hairy hole. After rimming Drake's crack, Logan stands up to mount Drake raw from behind. It's a musky spit-roast and Drake can't get enough. Logan alternates between plunging his bare cock in and out of Drake's ass and kneeling down to lick Drake's sweaty fuck-hole. Brian and Logan trade places and Drake offers his sore hole up to Brian's tongue and his mouth to Logan's uncut pole. When Brian slides it in, Drake lets out a deep moan with Logan's cock down his throat. Drake wants to be in charge now, so Logan bends over to swallow Brian's cock while Drake fucks his hole from the other side. Logan takes each raw pump from their cocks with a smile on his face, opting to receive both of their rods in his hole. Drake spreads apart Logan's ass while Brian keeps hammering Logan's prostate. When Drake goes in to fuck Logan again, Brian gets into position and mounts Drake while he's still inside Logan. The fuck-train continues until Logan gets on his back to take some more pounding from Brian's cock. Brian keeps drilling Logan before emptying his balls onto Logan's and shoving his cummy cock back inside. Logan takes that as his cue to stroke his own load out onto his scruffy abs which Brian licks up and shares with both Drake and Logan.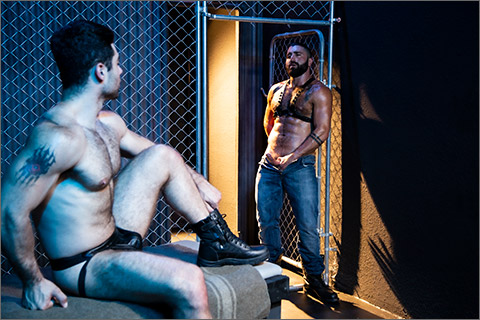 SCENE 2: Sharok fucks Lucas Leon
Lucas Leon is sitting and flexing, admiring his own physique and 'Manscent' when Sharok stumbles upon him and starts rubbing his bulge thru his jeans. Lucas is curious and invites Sharok over for a closer look. They lock lips before Sharok takes his infatuation with Lucas to his knees when he turns him around to get a taste of Lucas' hairy hole. After getting tongue and finger-fucked by Sharok, Lucas gets down to release Sharok's hairy cock from his denim and into his mouth. After a sopping wet hummer, Lucas hops on top of Sharok to ride his raw cock deep. Lucas holds tightly onto Sharok's harness as he bounces up and down on his girthy cock. Going ass to mouth, Lucas climbs off and back down to his knees to suck the thick cock that was just up his ass, taking big sniffs of Sharok's musky cock in between slurps. When Sharok wants more of Lucas' tight hole, he moves him up against a wall and pummel's his bare cock into the moaning stud hard and fast. Sharok holds onto Lucas' jock while Lucas braces himself on the wall from Sharok's powerful thrusts. Sharok gets Lucas down on his back one last time to stretch out his hairy hole. Lucas moans load while Sharok keeps fucking him hard and spitting on the muscle-bottom. Seeing Lucas take his raw cock so well sends Sharok over the edge, and he dumps his load all over Lucas. Pushed to his limits, a few huffs of Sharok's sweaty pits is all it takes for Lucas to dump his thick load out onto the floor.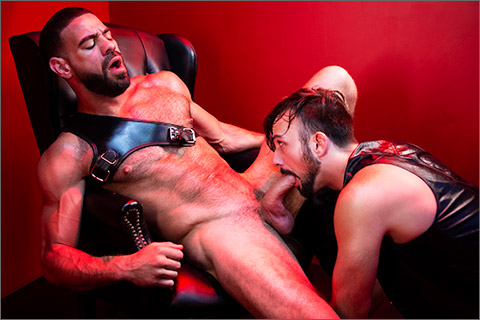 SCENE 3: Ricky Larkin & Mason Lear suck cock
Mason Lear is walking around stroking his huge cock as he hears moans off in the distance. He spots Ricky Larkin jacking off in a leather chair and decides to join him. Ricky invites Mason in to get on his knees and start servicing his massive dick. Mason starts at the balls, making sure to breathe in every smell and savor every taste of Ricky's meat before sliding it in his mouth. Mason grabs hold of his own throbbing cock while he continues to gag on Ricky's. Ricky wants to see just how orally talented Mason is, so he holds his legs up to give Mason complete access to his hairy hole. Ricky keeps stroking hard on his dick and tight balls while Mason keeps his face planted in Ricky's crack. Each sniff and lick from Mason moves Ricky closer and closer to dropping his load. As his eyes roll into the back of his head, Ricky strokes out thick ropes that land on his hairy abs for Mason to lick up and taste. After cumming all over himself, Ricky drops to his knees to polish Mason's rock-hard cock until Mason dumps his load into Ricky's open mouth. With cum all over his face, Ricky decides to stroke out one more load feeding it to Mason, who eagerly swallows it all.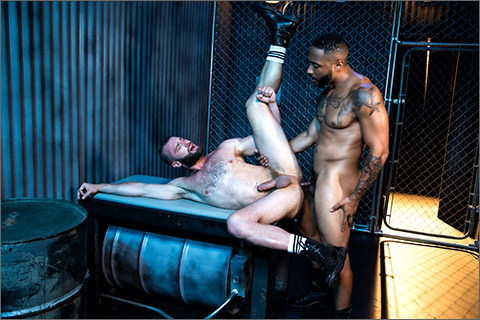 SCENE 4: Jaxx Maxim fucks Donnie Argento
Tatted stud Jaxx Maxim and his hairy bud Donnie Argento inhale each other's 'Manscent' and have a quick make out sesh before Jaxx gets on his knees and starts deep-throating Donnie's hairy cock. Donnie grabs the back of Jaxx's head to make sure he goes all the way down to Donnie's sack with his mouth. When it's Donnie's turn, he stares up at his tatted bud while he works his lips up and down Jaxx's shaft. Jaxx reasserts his dominance when he bends Donnie over to lick his crack. The feeling of Jaxx's bearded face in between his fuzzy cheeks has Donnie's eyes rolling. When Donnie is ready for a bareback pounding, he bends over and Jaxx fits his thick cock into Donnie's eager ass. He grabs Donnie by the hips to make sure his meat is reaching the maximum depths inside his hole. Switching positions, Donnie takes a few quick sniffs of Jaxx's pits before getting on his back and holding a leg up to continue taking his raw drilling. While Jaxx keeps stretching his hole, Donnie grabs onto his thick cock and strokes it until it erupts with a fountain of cum that drenches his abs. Seeing Donnie unload is all it takes for Jaxx to pull his cock out and coat Donnie's taint with his own thick load before sliding his dripping cock back into Donnie.

SCENE 5: Brian Bonds & Drake Masters flip-fuck
Drake is on the hunt for cock when he sees Brian Bonds in a sex-sling getting fucked. Drake whips out his cock and enjoys the show. Brian notices and winks at Drake as he jerks his meat. Drake wanders off, where Brian finds him to have some more fun. Taunting Brian with his hard dick, Drake bends Brian over to stick his cock into Brian's freshly fucked ass. Drake wipes the sweat dripping from his face as he continues to fuck Brian's used asshole. Drake wants a taste of Brian's insatiable ass and sinks to his knees to rim Brian's open hole. He turns Brian around to suck and gag on his thick pole. Brian proves he's ready for more when Drake lays back with his legs in the air to let Brian tongue-fuck his hairy hole. Brian laps his tongue in and around Drake's hole before sliding his bare cock deep into Drake's crack. Brian keeps switching between rimming and fucking Drake's hole, keeping Drake panting and moaning. Brian can't resist any longer, so he pulls his cock out of Drake's deep hole and paints Drake's balls with his thick load. When Brian slides his cock in one last time, Drake dumps his load out onto his thigh. Brian wipes every last drop with his tongue.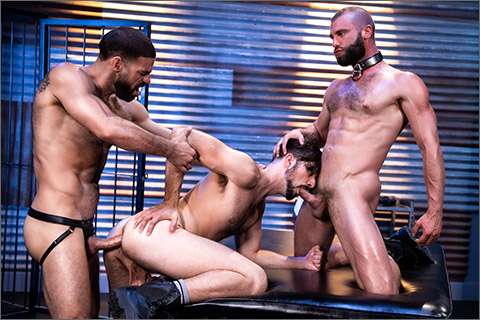 SCENE 6: Ricky Larkin fucks Mason Lear & Donnie Argento
Mason Lear is stroking behind bars and Donnie Argento is masked and locked in a steel cell. Ricky Larking discovers the guys ready to fuck and slides his cock thru the bars on Mason's end. Donnie watches from the other end of the room as Mason fits his head between to bars to get to Ricky's meat. Not wanting to leave Donnie out, Ricky unlocks his cage and attaches a metal leash to Donnie and leads him on top of a table on all fours. Teasing and taunting the masked stud, Ricky sacks and sniffs Donnie's fuzzy hole as Mason watches with his cock in his hand. Donnie submits to every sniff, lick and probe Ricky is throwing his way. He rolls Donnie around onto his back and shoves his raw cock in and Mason tries to fight his urges from behind the bars. Mason has had all the waiting around he can take and joins Ricky and Donnie, feeding Donnie his thick rod while Ricky keeps fucking his ass. When Donnie wants a break from getting spit-roasted, Mason takes his place to let Donnie fuck his bare ass while sucking down Ricky's member. Donnie and Ricky take turns plugging Mason's ass before Donnie becomes the bareback bottom again, getting pile-drived by Ricky. Mason wants one more stretching and lays back to receive Donnie's cock in his hole. He keeps pounding until both Donnie and Ricky paint Mason's hairy hole with their warm loads. Making sure not to forget about Mason, Donnie shoves his cock back inside him as Ricky rims Donnie's hole. Mason strokes his cock until it lets out his creamy load.

WATCH THE SCENES AT:
RAGING STALLION'S MEMBERS SITE
Members at RAGING STALLION"S MEMBERS SITE can watch these scenes and download extensive Photo Content from this production and get discounted pricing on all DVD and Print purchases.