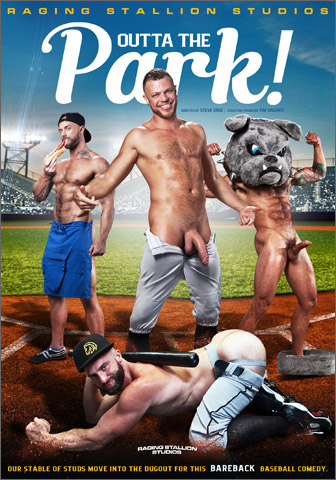 Studio: Raging Stallion
Directed by: Steve Cruz
Year of Production / Release: 2019
Country of Production: U.S.A.

CAST:
Donnie Argento
Jessie Colter
Anthoni Hardie
Ricky Larkin
Lucas Leon
Nigel March
Rooney Marx
Drake Masters
Sharok
Papi Suave
Wade Wolfgar
INFORMATION FROM RAGING STALLION:
America's favorite pastime is baseball and the Stallions are the hottest team in the league! With more hard hunks than any other team, these bareback hunks know how to knock it 'OUTTA' THE PARK!'. Join award-winning director Steve Cruz as he coaches 11 horny studs on and around the diamond leaving no balls left undrained. When star players Ricky Larkin and Wade Wolfgar step out of the showers, they find bat boy Sharok cleaning up the locker room. Sharok knows the guys need to blow off steam and offers up his hole for them to use in an epic, switch-hitting three way, until Ricky and Sharok spray jizz all over Wade's tight hairy body. Opposing team mascot, Drake Masters, harasses concession vendor, Jessie Colter. When Jessie tries to get Drake to leave, Jessie finds out that Drake's sausage tastes better than the wieners he sells. Jessie pounds the mascot until he fucks the cum out of Drake and pumps his load deep into Drake's hairy hole. Donnie Argentino and Wade Wolfgar are training for the playoffs when Donnie pulls out his dick for Wade to gobble up, and the two take turns sucking cock until Drake drenches Donnie's ass with jizz and takes Donnie's load on his tongue. When Ricky Larkin orders up a 'nice big juicy wiener' from the concession stand, Lucas Leon takes his cue and sucks Ricky's cock before getting his legs in the air so Ricky can fuck the ass in front of him until his cock erupts with cum. Superfan Papi Suave runs into his favorite player, Rooney Marx, at the gym and offers up his ass so Rooney can get balls deep inside the muscle hunk. Rooney fucks the jizz out of Papi and then pumps his load on Papi's hole to fuck back inside. During a Stallions game, Anthoni Hardie slips into the locker room to perv out and sniff the team's dirty, used jocks. Ball players Nigel March and Donnie Argentino catch the culprit in the act and offer up the fresh, sweaty jocks for the perverted fan to sniff while they use Anthoni's holes. Nigel pulls a double play and fucks both Donnie and Anthoni until everyone gets their bases loaded. When the players from this league show up at bat, you better be ready because in this game there are no foul balls, no strike-outs, the bases are always loaded, and the hung jocks are all waiting to hit it 'OUTTA' THE PARK!".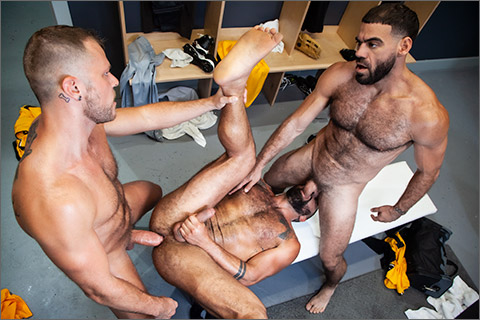 SCENE 1: Ricky Larkin, Sharok & Wade Wolfgar fuck around
Bat boy, Sharok, is cleaning up the locker room when players Ricky Larkin and Wade Wolfgar enter from the showers after losing a game. They pick on Sharok for being their bat boy but Sharok knows that they really need to blow off some steam after their loss. Sharok gets on his knees and opens his mouth wide for Ricky and Wade to take turns fucking his eager face. Sharok gets the guys rock hard and bends over to let them get a taste of his hairy hole. Wade is the first to suck on Sharok's hairy crack and gets him nice and opened up for his buddy, Ricky, to fill up with his big raw bat. Ricky slides inside and pounds away as Wade fills Sharok's face with his thick cock. Wade wants his bareback turn now inside Sharok's dugout and takes up the rear with his fat bat. It's almost too big to fit in Sharok's hole but Sharok is determined to take it balls deep and rolls onto his back with his legs in the air. Wade stretches the hole in front of him as Ricky fucks Sharok's face. The guys take turns railing both of Sharok's holes from each end until Wade wants his turn as the catcher. As a last-minute pinch-hitter, Wade goes from pitcher to catcher and lies back to let Ricky pound his ass. Ricky plunges Wade's open hole until he pulls out and sprays Wade's hairy balls with thick jizz. Next up, Sharok steps off deck and up to the plate to fuck Wade until both spent studs blast all over Wade's furry body.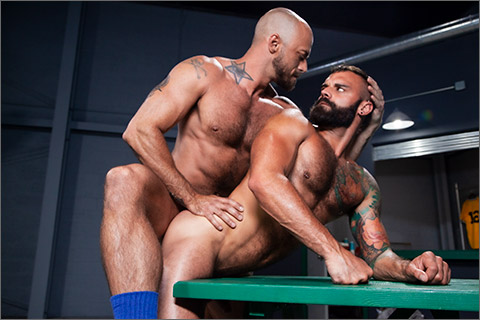 SCENE 2: Jessie Colter fucks Drake Masters
Opposing team mascot, Drake Masters, starts harassing concession vendor, Jessie Colter, by trashing his stand and throwing things around. When Jessie comes around the counter to get rid of Drake, the mascot pulls his pants down to show off his thick dick. Jessie tries in vain to get Drake to pull his pants up but ends up finding out that Drake's sausage tastes better than the wieners he sells. Jessie gobbles up Drake's growing cock and gets his own dick rock-hard. When Drake sees Jessie's hard-on, he can't resist getting it in his mouth. He takes off his costume and gets to work sucking on Jessie, taking it all the way to the base as he gags and spits. Drake wants that dick bad and bends over to let Jessie have a taste of his hairy hole to prepare it for a deep bareback fucking. When Jessie senses that Drake's ass is nice and opened up, he steps up to the plate and slides his cock into the strike zone. He fucks the dirty mascot hard, keeping a steady pace with his plump, raw cock. The horny hunks throw a change-up a few more times until Jessie is ready to drop his load. With Drake on his back and his legs in the air, Jessie fucks the cum out of Drake's cock before dumping his own load and fucking it back into Drake's busted hole.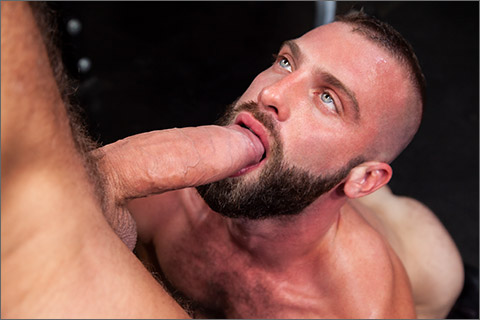 SCENE 3: Wade Wolfgar fucks Donnie Argentino
Teammates Donnie Argentino and Wade Wolfgar are training hard at the gym for this year's playoffs. As Donnie spots Wade doing bench presses, Donnie whips out his dick and lets it flop on Wade's forehead to distract him. Wade takes the bait and promptly gets on his knees to suck the dick that was just slapped on his face. Donnie is cock-hungry too and eagerly opens his mouth to suck all the dick he can cram down his throat. Wade's extra thick stick barely fits in Donnie's mouth, but Donnie is determined to get it all in and he does. There are no foul balls on this field as Donnie works Wade's meaty sack and sucks on his big nuts. The guys are both eager to suck cock and continue switching it up fucking each other's throats until Wade wants a taste of Donnie's ass. He gets down between Donnie's cheeks and eats him out. That's all it takes for Wade to get close and he stands up to spray his creamy load all over Donnie's waiting ass. He slaps his sticky, dripping cock on Donnie's hole then gets on his knees to take his teammate's load all over his hungry tongue.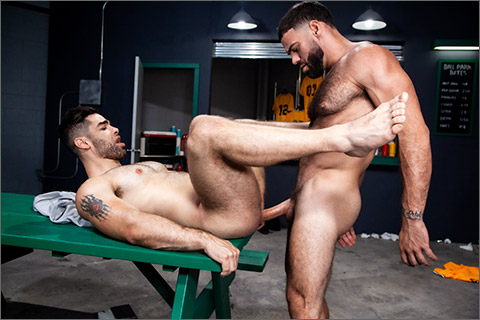 SCENE 4: Ricky Larkin fucks Lucas Leon
Baseball player Ricky Larkin is trying to buy food at the concession stand from worker, Lucas Leon. When Ricky orders up a 'nice big juicy wiener', Lucas takes the hint and gets on his knees in front of the concession stand to service the star player's big hairy cock. Lucas' mouth gets Ricky revved up and soon Lucas is naked and bent over a picnic table with Ricky's face planted firmly in his scruffy ass. Ricky eats Lucas until neither stud can take the anticipation any longer. Ricky stands up and slowly slides his big raw dick, deep inside Lucas, stretching his hole to the limits as he picks up the pace and fucks the wiener-slinger harder. Ricky wants maximum, bareback penetration and gets Lucas on the floor to pile-drive the horny hunk. It feels amazing for both guys, but Ricky wants to see the look on Lucas' face as hiss extra-thick dick stretches Lucas out. Ricky gets Lucas onto his back and fucks him hard until he blasts his creamy load all over Lucas' spent ass. Ricky fucks his jizz deep into Lucas' hole and keeps pumping until Lucas lets loose and covers himself with his load.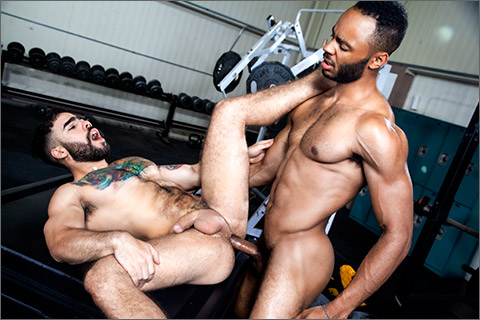 SCENE 5: Rooney Marx fucks Papi Suave
Baseball player Rooney Marx is working out at the gym when baseball fan, Papi Suave, asks for a selfie. The selfie takes a turn when Papi offers up his ass and Rooney happily takes the bait. Rooney could spend all day eating Papi's succulent hole out but gives into Papi's demand for his thick, raw dick. Papi gives a nice, long, sloppy blowjob to the pro ball player, going balls deep on the thick, veiny cock. Slobber and spit run off of Papi's beard and onto his bare chest as he continues giving the best head he's ever given. Rooney needs to feel Papi's ass with his bare dick and slides deep into the muscle stud to fuck him bareback from behind. Rooney's giant cock opens Papi up as he screams out for more. Rooney keeps pounding hard and deep until Papi flips onto his back for a better view of Rooney pumping away over him. Rooney keeps fucking until Papi blasts his load all over his own ripped abs. Rooney pulls out and delivers his own load all over Papi's well-worked hole before sliding it back in to fuck Papi with his jizz.

SCENE 6: Nigel March, Anthoni Hardie & Donnie Argentino fuck around
During the Stallions game Anthoni Hardie slips into the locker room to sniff the team's dirty jocks. He hits the mother lode when he finds a laundry bin stuffed to the brim with old smelly jocks. Ball players Nigel March and Donnie Argentino catch the culprit in the act. When Anthoni asks for a couple to take home, Nigel offers up his own sweaty sack for Anthoni to sniff. Anthoni gets on his knees between the two hung baseball players and goes back and forth sucking each of their musky dicks. Donnie wants in on the ball action and moves past first base to get Nigel's thick cock down his throat. The hunks form a rim train with Anthoni in the middle, both sucking ass and getting eaten out. All the ass eating gets Donnie in the mood to fuck bareback and he moves to the scoring position with his ass in the air. Nigel steps up to the plate and drills Donnie hard, sinking his cock deep into his teammate's open, raw ass. Anthoni feels left out and bends over under Donnie to give Nigel all-access to two tight holes. Nigel plugs both studs hard alternating holes until Anthoni flips over to watch his aggressor fuck him deep. Nigel hits just the right spot and makes Anthoni cum while he's getting fucked. When Nigel sees Anthoni's mess, he pulls out and blasts a load all over Anthoni's thick, black pubes. Nigel finishes and goes directly in for a double play when he slides his cock back into Donnie and fucks his buddy until Donnie slathers himself with his creamy white cum.

WATCH THE SCENES AT:
RAGING STALLION'S MEMBERS SITE
Members at RAGING STALLION"S MEMBERS SITE can watch these scenes and download extensive Photo Content from this production and get discounted pricing on all DVD and Print purchases.