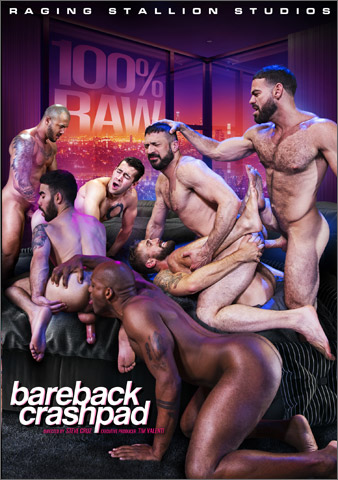 Studio: Raging Stallion
Directed by: Steve Cruz
Year of Production / Release: 2019
Country of Production: U.S.A.

CAST:
Osiris Blade
Brian Bonds
Dante Colle
Ricky Larkin
Marco Napoli
Franco Nunez
Nicholas Ryder
Sharok
Papi Suave
Zario Travezz
Jason Vario
Wesley Woods
INFORMATION FROM RAGING STALLION:
When you're in the mood for some unsheathed action, stay a night at the 'BAREBACK CRASHPAD'. Award-winning director, Steve Cruz, takes you on a wild ride where 12 hung and horny studs are waiting – and ready – to get all the raw dick and bare ass they can handle. Ricky Larkin ditches the video games to join Wesley Woods and Marco Napoli in a bareback threeway, mixed with some hot foot job action mixed in. Papi Suave takes Osiris Blade's monster cock down his throat before he bends over to let the stud open his tight hole with his tongue and cock until both studs finish up on Papi's panting body. Brian Bonds finds Zario Travezz in the kitchen with a rock-hard cock, so Brain sucks the horny stud until Zario bends him over and breeds his hole. Zario Travezz opens Franco Nunez up with a nice long rim job before he slides his raw monster cock inside the stud using only spit for lube. Nicholas Ryder needs a blowjob and after getting extra stiff from sucking on Sharok's hairy hole, he offers up his cock to the eager stud. Sharok works Nicholas's throbbing dick until Nicholas blasts his load all over Sharok's face. When Jason Vario notices Dante Colle working his pole as he lifts weights, he offers a hand, but Dante prefers more. When Jason is rock-hard, he bends Dante over and reams his ass until he fucks the cum out of the voyeuristic stud. When you stop in for a visit to the 'BAREBACK CRASHPAD', you'll enter a realm packed full of horny studs eager for bareback action and ready to leave you with your balls drained and a giant smile on your face.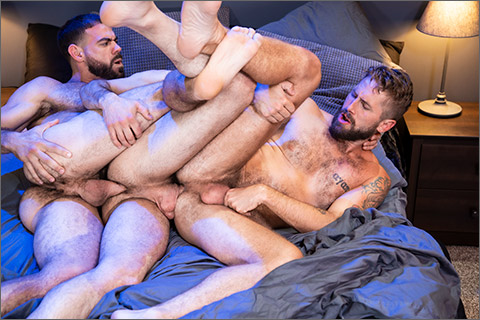 SCENE 1: Ricky Larkin, Wesley Woods & Marco Napoli fuck around
Marco Napoli and Wesley Woods are getting down and dirty behind naked Ricky Larkin as he plays a video game on the floor. Wesley reaches out with his foot to coax Ricky into a threesome and when Ricky loses his game, he joins Wesley and Marco. The studs form a cock sucking chain and switch up the action so that everyone gets to taste each other's cock. Ricky sucks all the dick he wants until he's ready for some foot action and lies on the floor with one pair of feet on his face and another pair jacking his cock. All the feet worshiping his chiseled body make Ricky rock-hard, and soon, he's seeking a hole to fill. Marco happily offers up his hairy ass and takes Ricky's bare cock balls deep. Marco wants to sample both dicks and gives Wesley a chance to fuck his ass too. Wesley slides his raw cock inside for some sloppy seconds as he pumps Marco's hole full of thick dick. The studs spit-roast Marco before they switch it up again with Marco in the middle stretching Wesley's ass as he takes Ricky's monster cock bareback. The studs can't get enough of each other's giant cocks and stretched holes as they rotate into position after position making sure that everyone gets what they want. Ricky is the first to let himself blow and he pulls out of Wesley's ass to bust a load all over both Marco and Wesley's hairy holes. With Ricky's warm jizz still dripping from his hole, Marco lets loose and paints Wesley's beard white with cum. The second Marco's cum hits his lips, Wesley pops his own load as the three spent studs finish off with cum-filled threeway kiss.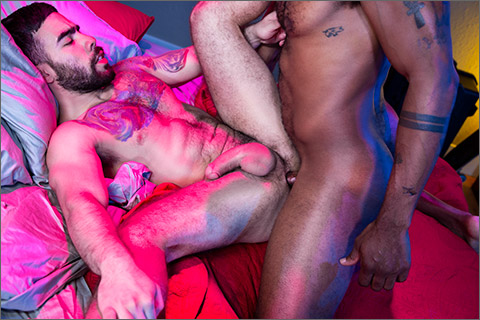 SCENE 2: Osiris Blade fucks Papi Suave
Papi Suave can't wait to get Osiris Blade's monster cock in his mouth as he drops to his knees and opens wide. The massive member barely fits in Papi's mouth but he's eager to please and crams all he can down his open throat. Osiris wants a taste of the other giant cock in the room and gets under Papi to have a sample of what's dangling between his legs. Both studs are throbbing hard and ready to fuck when Papi gets on all fours to let Osiris open up his ass with his tongue. Osiris rims Papi until he's sure the horny stud can take every bare inch that he can cram into Papi's tight hole. Osiris gets behind Papi and shoves his raw cock deep inside, going slow at first then picking up the pace to pound the tatted hunk bareback and hard. It's a tight fit but Osiris makes it work as Papi moans out with each thrust from Osiris and his massive meat. Papi wants it even deeper and rolls onto his back to watch Osiris use his hole however he likes. Osiris pounds Papi relentlessly until he pulls out and the sight of his massive wet meat makes Papi jizz all over his hairy abs. Osiris is soon to follow and blasts Papi with another load, leaving the spent stud drenched in cum.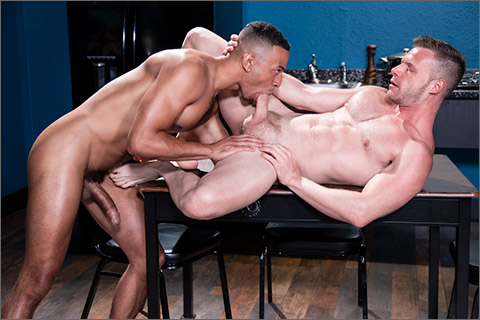 SCENE 3: Brian Bonds & Zario Travezz (all oral)
Brian Bonds wakes up in the morning to find Zario Travezz in the kitchen with a hard-on. Brian doesn't waste a second getting what he wants when he drops to his knees to service the hung stud for breakfast. There's a lot to choke down and Brian gags and coughs as Zario fucks the eager stud's face. Brian wants his hole worked and lies back on the kitchen table with his legs in the air so Zario can get to work. Zario opens the stud up with a nice long rim session until Brian's ass is begging for more. Zario wants Brian's dick in his mouth and gets to work slurping and sucking as he continues fingering the horned-up stud. Brian loves the double sensation of getting his dick and hole worked at the same time and soon his cock is oozing jizz onto his rock-hard abs. Brian licks up his own cum as Zario goes back down to lick his ass. The taste of Brian one last time is all it takes for Zario to cum as he drops his creamy load in Brian's hole. Zario still can't get enough and laps up the jizz from Brian's ass before the two studs kiss the cum away.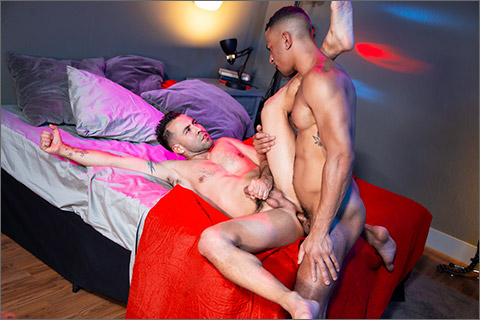 SCENE 4: Zario Travezz fucks Franco Nunez
Zario Travezz gets Franco Nunez onto the bed and opens his ass with a nice long rim job. Zario sucks away, making Franco moan out loud as he opens the horny stud up with his mouth and tongue. When Zario is sure that Franco can take his giant dick, he stands up behind the stud, and using only spit for lube, slides his massive raw cock deep into Franco's hole. Zario picks up the pace and pounds Franco hard until Franco decides he wants to ride Zario's massive cock. Franco hops on and takes the monster pole bareback and balls deep as his hole gets stretched to the limits. Franco loves the feeling of Zario's raw meat going in and out of his hole, plunging deeper with every thrust against his prostate. The sweating studs switch positions a few more times to give Franco the full effect of Zario's powerful fucking. Zario hits just the right spot and with his cock still planted deep inside Franco's ass, Franco blows his load all over his stomach. When Zario sees Franco's mess, he pulls out and adds his jizz to the mix before he shoves his cum deep into Franco's used-up hole.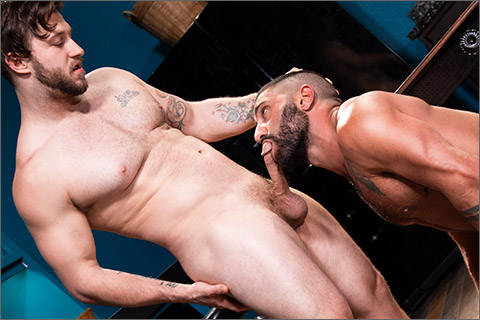 SCENE 5: Nicholas Ryder & Sharok (all oral)
Nicholas Ryder is eager to get a taste of Sharok's hairy hole and bends the stud over the kitchen table to eat his ass. Having all that ass in his mouth makes Nicholas hard as a rock and when Sharok sees Nicholas' raging boner, he needs to get it in his mouth. Sharok sinks to his knees in front of the horny stud and works his magic sucking on the thick dick, taking every inch he can cram down his eager throat. Sharok can't get enough cock in his mouth and works the tip and shaft before Nicholas fucks his face. Sharok loves the feeling of Nicholas' cock gliding in and out of his mouth and gives it that extra little something as he pays special attention to Nicholas' big full sack. Sharok's tongue feels amazing tickling Nicholas' balls and soon Nicholas can't hold off any longer. Nicholas drops his load all over Sharok's face, and with the cum still dripping from his beard, Sharok lets go and covers the floor with jizz.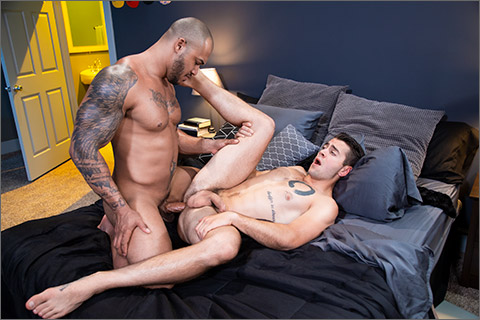 SCENE 6: Jason Vario fucks Dante Colle
Dante Colle is lying in bed jacking off with his laptop as Jason Vario lifts some weights in front of him. When Jason notices Dante's hard-on, Jason offers a hand, but Dante prefers to offer up his mouth instead. Dante gets on his hands and knees on the bed and takes Jason's giant dick down his throat. He works the massive tool, sucking and gagging until Jason decides he wants to eat Dante's tasty ass. Dante bends over to let the stud do his thing as Jason uses his talented tongue to open Dante up for the reaming he's about to receive. Jason can no longer take the anticipation and stands up behind the hairy hole in front of him to stretch Dante with his massive raw cock. Jason pumps away, getting faster as Dante moans out with each thrust from the thick pole inside him. It's no easy feat taking a relentless pounding from Jason's bare cock, but Dante revels in getting a bareback drilling. Jason flips Dante onto his back and keeps up the pace until he fucks the cum out of Dante, who blasts his seed all over. Jason can no longer hold off and pulls out to blast his load as Dante looks on in awe. It's a giant geyser of jizz that leaves Dante a sticky wet mess.

WATCH THE SCENES AT:
RAGING STALLION'S MEMBERS SITE
Members at RAGING STALLION"S MEMBERS SITE can watch these scenes and download extensive Photo Content from this production and get discounted pricing on all DVD and Print purchases.