Studio: Raging Stallion
Directed by: Steve Cruz
Year of Production / Release: 2017
Country of Production: U.S.A.

CAST:
Aarin Asker
Tex Davidson
Fernando del Rio
Ryan Finch
Michael Roman
Manuel Skye
Daymin Voss
Hoytt Walker
Rikk York
INFORMATION FROM RAGING STALLION:
Enter a fetishistic fantasy realm where the men are natural, the sex is instinctual, and the hairy cocks are throbbing hard. All the best assets of real men are shown off with their 'Beards, Bulges & Ballsacks' as they get fucked and sucked in intense exchanges. Director Steve Cruz brings together nine muscled up, hunky studs and highlights their bushy beards, big bulges, and swinging, meaty ballsacks. Leather daddy, Michael Roman, takes on Fernando Del Rio and Daymin Voss. The threesome eats ass, sucks cock, and fucks hard until all three paint the floor white. Aarin Asker walks up to Hoytt Walker as he's pissing in a trough. Aarin worships Hoytt's big balls and sucks his massive pole before Aarin bends over to take it up the ass. Rikk York is in nothing but a leather vest and big black boots when muscle daddy, Manuel Skye, catches his eye. Manuel pounds Rikk's ass and blasts his massive load in both of their beards. Tex Davidson and Michael Roman belly up to the double glory hole when Ryan Finch and Hoytt Walker join the fun to do their duty and service the hung muscle studs. Ryan and Hoytt suck cock like pros before everyone gangs up and takes turns on Michael's throbbing pole. Michael grabs Hoytt for himself and takes him to a bench where Hoytt finishes off the work and each stud gets a massive, wet facial to taste and cherish. Tex and Ryan don't like to waste time when it comes to getting laid. Tex bends Ryan over and has a nice long rim session as he savors the flavor of Ryan's ass, then stretches Ryan's hole until both throbbing poles drain their balls all over Ryan's dark, thick pubes and big, fuzzy balls. 'Beards, Bulges & Ballsacks!' is a high energy fuck fest highlighting the sexiest of all manly attributes. The beards are bushier, the bulges are bulgier, and the ballsacks are bouncing hard and busting free!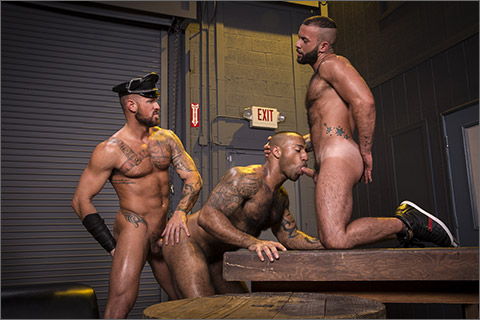 SCENE 1: Michael Roman fucks Fernando Del Rio & Daymin Voss
Leather daddy Michael Roman, pig Fernando Del Rio, and Daymin Voss are tatted muscle studs looking to get dirty in their jockstraps. Fernando bends over and offers up his hairy, sweaty hole for the other two muscle hunks to share. Michael and Daymin get Fernando's ass lubed and opened up with their prying tongues and lots of spit while they prime him for what's about to come. Fernando's big fuzzy sack dangles down between his legs as he gets his taint and balls worked along with his hole. Fernando bends over to get spit roasted with Michael stretching out his ass and Daymin reaming his throat with his thick, hairy, huge dick. Michael wants a turn on Fernando's tight hole and the sweaty studs switch positions with the leather daddy fucking Fernando's face as Daymin mans the helm from behind. Daymin pulls out of Fernando and lies down on the table to let Michael ram his big hard cock in his fuzzy crack. Daymin gets his butt hole pounded deep as he sucks on Fernando's hairy dick and rims his used-up ass. Pulling out Michael drops a load of jizz all over Daymin's tasty bubble butt. The sight of it all makes Fernando blast a geyser of his own as the cum shoots out of his throbbing, thick, uncut cock and onto the floor. Daymin is the last to go and moans out hard with his thick, creamy white semen rolling out of the tip of his cock. Nothing gets in the way of these studs living out their fantasies and getting all the hairy cock and ass they can get.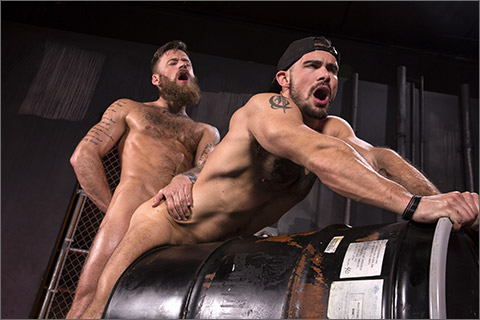 SCENE 2: Hoytt Walker fucks Aarin Asker
Hoytt Walker is pissing in a trough and as he shakes off his dick, Aarin Asker walks up in his jockstrap. The muscle studs lock gazes and run their eyes up and down each other's ripped, hairy bodies. Hoytt gets hard in his own hand watching Aarin rub his muscles and cup his cock and balls. The guys join together and kiss hard before Aarin gets on his knees to service Hoytt's massive meat. He takes it all the way down his throat as Hoytt's big, full, low hanging balls slap against Aarin's beard and chin. Aarin bends over and opens his hairy crack for Hoytt to work with his tongue. Hoytt's thick, bushy beard feels great rubbing in Aarin's ass and Aarin moans out as Hoytt does his thing. When Aarin is sticky wet, the bearded muscle hunk bends him over a barrel and slips his big hard cock balls deep inside Aarin's tight hairy hole. Both sets of balls from the horny studs swing and slap against each other as Hoytt goes deeper and faster with his pounding. Aarin gets on his back and begs for Hoytt to go further inside his stretched out hole. The horny stud obliges and reams his asshole until Aarin drains his balls all over his own hairy stomach. Hoytt follows immediately and sprays Aarin's thick black pubes with squirt after squirt of gooey, hot juice. The spent hunks kiss again while Aarin plays with Hoytt's long, full beard.

SCENE 3: Manuel Skye fucks Rikk York
Rikk York is smoking a cigarette next to a barrel fire in a seedy alleyway. He isn't wearing anything but a leather vest and big black boots. Dirty muscle daddy, Manuel Skye, approaches the hung stud and rubs his cock through his jockstrap as he gives Rikk a peek at his giant, meaty sack. The two muscled up hunks start making out and rubbing beards until Rikk squats down and takes Manuel's big boner down his open throat. Manuel's low hanging balls swing between his legs as he face fucks Rikk's greedy mouth. Rikk needs his hairy asshole serviced and spreads his cheeks to let the daddy get all the way into the pink with his fingers and long, experienced tongue. Leaning back, Manuel savors Rikk sitting on his throbbing pole. Manuel takes over and pounds the stud's hairy bubble butt, stretching him to the limits. Rikk bounces and grunts as every last inch of the monster cock goes in and out of his tight body. Spreading his legs as far as they'll go, Rikk lies back as Manuel stands above him and keeps a relentless steady pace of thrusting his pelvis deep into the hairy hunk. After all the ass reaming, the guys jack their cocks together. Manuel is the first to let loose and shoots a whooper of a load that hits his own face and sticks in Rikk's big, black beard. They kiss and share Manuel's load as Rikk's dick oozes thick, white cum into his hand and all over his fuzzy crotch. Manuel rubs the sticky jizz into Rikk's hairy chest and they continue kissing and swapping cum as they rub their drenched bodies together.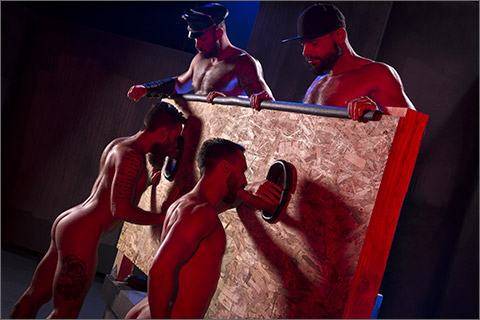 SCENE 4: Tex Davidson, Michael Roman, Ryan Finch & Hoytt Walker
Tatted leather daddy, Michael Roman, and bearded muscle hunk, Tex Davidson, stick their big hard cocks through a double glory hole. They don't have to wait a second before Ryan Finch and Hoytt Walker come in and offer up their hungry mouths to suck them off. Hoytt takes on Michael, and Ryan gets Tex's massive curved cock. The horny studs both suck dick like it's the last one they'll ever see. They gag and spit as they get their faces fucked and their throats stretched. Hoytt walks over to give Ryan a helping hand with Tex's tasty meat. They take turns sucking him off and give him a double blowjob with a slobbery, wet mouth on each side of his big sweaty cock. Tex thrusts his pole between their mouths until Michael steps in to offer up a third mouth. Tex pounds Michael's mouth through the glory hole until the guys pair up again. Snagging Hoytt away to a bench, Michael sits down to let the bearded stud suck his cock one more time. Hoytt's big balls hit the floor as he bobs up and down on the tatted daddy's cock. Hoytt tickles Michael's big hairy sack with his tongue and begs for cum in his face. Michael lets go and slathers Hoytt's bushy beard and wide-open mouth with a massive load of jizz. Hoytt gobbles up every last drop and sucks what didn't land on his face off the tip of Michael's still throbbing cock. Michael returns the favor to the bearded stud. He sucks him off and tugs his nuts until Hoytt blasts his own load on Michael's face, beard, chest, and in his mouth. The studs rub beards and swap cum as they catch their breath from the eye watering, thirst quenching, cock sucking marathon.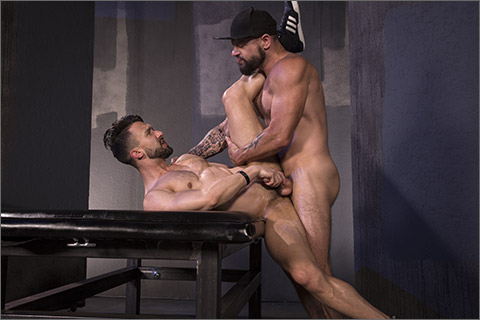 SCENE 5: Tex Davidson fucks Ryan Finch
Tex Davidson and Ryan Finch don't fuck around when it comes to getting dirty. The hairy, rugged studs kiss and rub beards for a hot second before Ryan lies back with his legs in the air and offers up his fuzzy asshole. Tex gets in deep with his tongue and fingers to get the tight, pink hole dripping wet with spit. Tex loves sucking on a nice asshole and he takes his time, savoring every lick he can get from Ryan's ready hole. Ryan can't wait for Tex to stretch him out even more with his giant cock and hops on to ride the tatted stud's thick dick, taking it all the way down to Tex's big, tight balls. Ryan's wet, hairy dick and loose sack flop with every thrust from Tex. The hunky muscle studs grunt and groan as they fuck and work their way to the final round of hairy man love. The more Ryan gets his hole plunged, the harder his big cock gets. He jacks the throbbing shaft up and down and massages his lubed-up head before the guys change up the fun. Ryan submits and gets on his back for Tex to take charge and fuck his hole the way Tex likes it. The aggressive top pounds Ryan harder than he's ever been fucked before and keeps up the relentless reaming until he fucks the cum right out of Ryan's big pole. Ryan sprays his own hairy crotch and then begs for Tex to do the same. Tex pulls his giant slab of meat out of Ryan's stretched out asshole and slathers Ryan's spent balls with every last drop of cum he can muster. Ryan is a sticky mess of jizz, sweat, and spit by the time Tex is done having his way.

WATCH THE SCENES AT:
RAGING STALLION'S MEMBERS SITE
Members at RAGING STALLION"S MEMBERS SITE can watch these scenes and download extensive Photo Content from this production and get discounted pricing on all DVD and Print purchases.