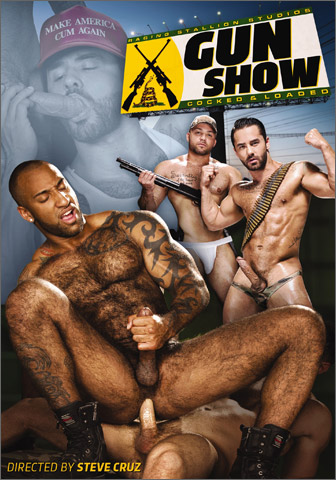 Studio: Raging Stallion
Directed by: Steve Cruz
Year of Production / Release: 2017
Country of Production: U.S.A.

CAST:
Bruno Bernal
Sean Duran
Tristan Jaxx
Julian Knowles
Pierce Paris
Michael Roman
Daymin Voss
Jaxton Wheeler
Rikk York
INFORMATION FROM RAGING STALLION:
When you visit the 'Gun Show', you'll get your fill of patriots, good ol' boys, Second Amendment activists, and plenty of concealed weapons hidden deep inside camouflaged pants. With a ton of testosterone-filled studs who want to shoot things, you're in for a wild ride complete with pumped up country boys wanting to unload their pistols with every gun-totin' stud they see. Steve Cruz directs this deliciously witty spoof of American firearm culture where the men are men, and their guns are cocked and loaded! Michael Roman and Pierce Paris don't trust the looks of Bruno Bernal and start bullying him by chanting "build the wall". The two rednecks take Bruno to a back room where he sucks their dicks and gets fucked up the ass. He gets the last laugh, though, when he steals the hunks' clothes and tells them to fuck off before he disappears. Daymin Voss has a gun booth that's about to close for the day when Tristan Jaxx comes looking to buy. He gets more than he bargains for when he gets the gun dealer ass up on the table and goes balls deep to complete the purchase. Gun lovers Jaxton Wheeler and Sean Duran, pull up to the show with raging hard-ons, turned on by all the firearms. Rather than get arrested in the parking lot jacking off, the buddies decide to find a quiet utility closet inside. The meat pounding turns to cock sucking when Sean tells Jaxton that he's taking too long. The studs take turns slurping cock to get each other off faster so they can get to the show. Sean slips into the show to hand out Second Amendment rights literature when he stumbles on Rikk York. Rikk likes what he sees in the corn-fed hunk and bends over to let Sean stretch his asshole. After Sean does a pump and dump on Rikk's hot ass, Rikk returns the favor by emptying his chamber all over Sean's tatted face. The 'Gun Show' is winding down and Julian Knowles is packing up his booth when he catches Jaxton Wheeler beating off to a rack of his semi-automatic rifles and pistols. Julian sucks Jaxton to get a nice taste before Jaxton shoves his stiffy firmly up Julian's ass to cap off another successful show. 'Gun Show' will have you cleaning your rifle alongside all the hot studs who just want to suck and fuck their way to making America great again!

SCENE 1: Pierce Paris fucks Michael Roman & Bruno Bernal
Michael Roman and Pierce Paris are right-wing Americans at the 'Gun Show'. They run into Bruno Bernal who doesn't quite fit into Michael and Pierce's idea of what an American should look and act like. After chanting "build the wall" to Bruno's protests, the two country boys take him to a back room and throw him to the ground as they unzip their pants and whip out their big thick cocks. Bruno loves the idea of getting the two hicks' dicks down his throat and he opens his mouth for Michael and Pierce to stuff his face. Bruno complies with every one of the demands from Pierce and Michael and even sucks on their hairy, sweaty assholes to make the guys think they're dominating everything he does. Bruno is having the last word by getting his face used like a hole for the two hot studs to double fuck his mouth at the same time. It's a tight squeeze fitting all that meat in his face at once, but Bruno manages to get the job done. The rednecks want to take their fun to the next level and shove Bruno into a utility closet. Michael needs Bruno's tight hole wrapped around his massive cock and he bends him over a table to stuff his asshole balls deep while Pierce takes control of the front to complete the spit roast. With all of Michael's raves about Bruno's tight ass, it's time for Pierce to get a feel and he slips his massive rod deep inside Bruno's well-worked butt. With all the big cock and ass fucking action, Michael wants to see what all the fuss is about and offers up his own ass for Pierce to destroy. Bruno sits on the gun toter's face while Pierce works his buddy from behind. Michael moans out for Pierce to fuck him harder and Pierce takes the challenge. He pounds as hard as he can until his big stick finally puts Michael over the edge and he blows a massive load all over his own hairy abs. Once Pierce sees that he's done the job of getting his buddy off, he pulls out and dumps his own load all over to mix with Michael's pure white jizz. Bruno finishes off in Michael's mouth then grabs their clothes, flips them off, calls them "fucking assholes" and leaves the two rednecks alone and naked to "make America great again" on their own in the closet.

SCENE 2: Tristan Jaxx fucks Daymin Voss
Gay gun seller Daymin Voss is running a booth at the gun show when Tristan Jaxx shows up just as Daymin's stand is closing for the day. Tristan is looking to buy something for self-defense but doesn't know much about owning a gun. Daymin shows him how to hold it and when Tristan is holding the weapon up, Daymin comes up behind him. The touch of Daymin's big manly hand on his side makes Tristan get a stir in his pants and the two studs start to make out. Daymin gets the stranger out of his shirt before peeling off his own. The scent of Daymin's manhood is almost more than Tristan can handle and he goes in to worship Daymin's ripe sweaty pits. The session drives Tristan wild and he gets on his knees to take Daymin's big cock in his mouth. Daymin loves dick and can't wait to taste what Tristan has pressing against the fabric of his pants. Daymin removes Tristan's pants and gets dirty by sucking his cock. Daymin loves every inch of it in his mouth and tells his new friend that he's going to open his ass for him. Tristan is more than willing to honor the request and bends Daymin over the gun table to eat him out. Tristan takes his time with the fresh meat and gets as far inside Daymin's butt as he can get with his fingers and tongue. When Tristan is convinced that Daymin is good and opened up, he stands and slips his hard cock deep inside. He gives Daymin a pounding that the stud won't soon forget and stretches him even further with each thrust. Daymin begs for Tristan to go deeper and grunts harder the further in Tristan gets. Tristan's pelvis slaps against Daymin's bubble butt as skin hits skin. The two studs switch it up more than once and finally settle with the gun dealer on his back getting plowed. Tristan increases his intensity to get himself closer and plugs away as Daymin begs for him not to stop. Daymin yells out: "Dude, you're so fucking deep!" as his cock explodes and varnishes his hairy body with a thick layer of cum. Tristan is happy to have given so much pleasure and pulls his cock out of Daymin's tight hole to blast his own load of cream. It's a real gusher, and it covers Daymin's bush and stomach with a seemingly never-ending barrage of squirts. Daymin can't believe his eyes and feels lucky to be covered in so much jizz!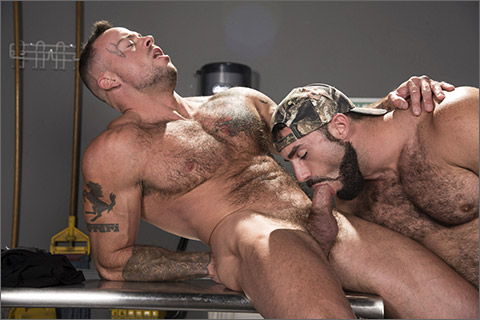 SCENE 3: Jaxton Wheeler & Sean Duran suck cock
Good ol' boy gun lovers Jaxton Wheeler and Sean Duran, pull up to the gun show and park in the parking lot. Sean is excited to head in to see all the automatic and semi-automatic weapons but Jaxton is a little reluctant saying he'll catch up with Sean later. Sean discovers that Jaxton has a boner and needs to take care of it before they can head into the show. Sean reveals that he's got a hard-on too, so to avoid getting arrested for beating off in the car, the two head into the building to find a private spot to rub one out. This 'Gun Show' has the studs so turned on that they enter a storage room and take to their own corners to jack their raging boners. Sean keeps edging closer to Jaxton, who protests with every step closer that Sean takes. Sean won't shut up and wants to finish as fast as possible so they can head in to see the gun demonstrations. "Dude, you take too fucking long,'" Sean says as he gets on his knees to service his buddy. Jaxton is reluctant at first and responds with: "What the fuck are you doing, ya faggot?". But once he feels Sean's lips wrapped around his thick cock, Jaxton relents and lets the tatted hick take his cock down his throat. Jaxton fucks Sean's face as Sean jacks his own big hairy cock. After sucking Jaxton's dick for what seems like forever, he stands up and once again tells Jaxton that he's taking too long. "It's your turn now," Sean declares. After a bit of protest from Jaxton on account of not knowing how to suck a dick, Jaxton finally agrees to give it a try. It's a rocky start on Sean's pulsing shaft, but Jaxton gets the hang of it and is able to service his buddy without another hitch. It's almost as if Jaxton was born to suck cock. He doesn't miss and inch and even gets in to suck on Sean's big low hanging balls and fuzzy taint. When Sean is close, he pulls out and paints Jaxton's black hairy beard white. With all of Sean's sticky jizz clinging to his face, Jaxton returns the favor and sprays his muscled-up buddy with his own brand of relief. Once they're done, the party is over and they immediately search for a cum rag to wipe down and clean up before they head back out the door to join the masses of gun-loving patriots.

SCENE 4: Sean Duran fucks Rikk York
Second Amendment activist Sean Duran is handing out right wing literature at the 'Gun Show' and sets his sights on Rikk York. Sean tries explaining to Rikk that "cry-baby liberals are gonna take away all our guns!" Rikk likes what he sees in Sean and offers to talk about Sean's concerns in a more private setting. The minute they get alone, Rikk makes his moves on the tatted stud and goes in to give him a kiss. Sean protests at first, not understanding what the hell is going on. Rikk calms Sean's little conservative brain by telling him to relax and by reaching into his bulging camouflage pants to rub his growing chub. It only takes a second for Sean to whip out his dick and peel off his Ted Nugent vintage Tee. Rikk isn't quiet about sucking on Sean's hot rod and gags and spits as he slobbers all over it. The guys are within ear shot of the gun booth owner who keeps turning around to see if what he's hearing is real. He sneaks over to get a better listen as Rikk bends over and gets his asshole eaten out by Republican Sean and his not-so-conservative ass licking tongue. When Sean is sure he could fit the barrel of a Glock 17 firmly all the way up Rikk's butt, he splays the muscle jock over a container with his legs in the air and inserts his weapon of choice. It's a beautiful thing to see two horny studs fucking in front of a rack of guns at a public show, and both hung dudes are getting off to the idea. All the guns surrounding them and the sensation of Rikk's tight ass enveloping his giant cock is all that Sean can handle. He pulls his meat out and dumps his load all over Rikk's hot ass. After all the action, Sean is thirsty and needs to taste what's inside Rikk's loaded pistol. He gets under Rikk's big hairy dick and opens his mouth to get every drop that Rikk has in his emptied-out chamber.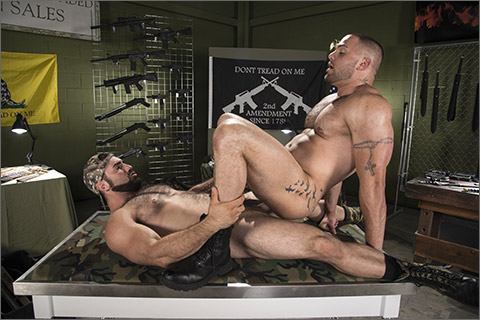 SCENE 5: Jaxton Wheeler fucks Julian Knowles
The 'Gun Show' is winding down from a long and successful weekend of gun sales. Julian Knowles is packing up his booth when he hears something unusual. He walks over to investigate and finds Jaxton Wheeler jacking off to a rack of semi-automatic rifles and pistols. When Julian questions Jaxton about what's going on, he commands Jaxton to put his hands on his head. Jaxton explains that guns turn him on and when Julian sees how excited Jaxton is, he walks over to lend his mouth to the action. Julian sucks on Jaxton's thick knob and forces him to keep his hands on his head every time he tries to lower his arms. The cock sucking puts Julian in the mood to have his bubble butt serviced and he tells Jaxton that he wants him to eat and fuck his ass. To avoid any problems, Jaxton obliges and gets down to munch on Julian's crack and big balls. He slips his fingers inside the tight pink hole to loosen it up before he slams his cock all the way in. His big pole makes Julian sweat as it goes in and out before Julian gives his ass a slap and has his new butt buddy hop on to take a ride. Jaxton gives the ass a jackhammer pounding and gives the go ahead for Julian to let loose. Julian does as he's told and within seconds of seeing him pump his cum all over himself, Jaxton allows himself the pleasure of doing the same. He covers Julian's fuzzy crotch with gun-inspired load and scrambles out the door as Julian tells him to get the fuck out.

WATCH THE SCENES AT:
RAGING STALLION'S MEMBERS SITE
Members at RAGING STALLION"S MEMBERS SITE can watch these scenes and download extensive Photo Content from this production and get discounted pricing on all DVD and Print purchases.