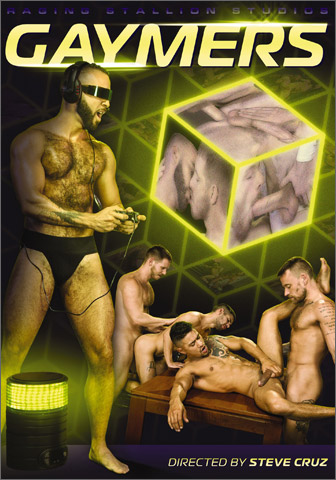 Studio: Raging Stallion
Directed by: Steve Cruz
Year of Production / Release: 2017
Country of Production: U.S.A.

CAST:
Eddy Ceetee
Fernando del Rio
Xavier Hux
Ty Mitchell
Buck Richards
Daymin Voss
Hoytt Walker
Eddie West
Spencer Whitman
Rikk York
INFORMATION FROM RAGING STALLION:
Welcome to the world of 'GAYMERS', where games, role play and virtual reality all come together to blur the lines of real-life interactions and online and electronic fantasy. 'GAYMERS' keeps you guessing whether the steamy action is happening face-to-face or mind-to-mind, but it's always balls out, intense and energized. Director Steve Cruz guides a cast of 10 hung and horny 'GAYMERS' through his alternate plane where they play out their hottest sexual dreams in video games, fantasy board games, and go balls deep into the world of virtual reality. Every game they play brings each of them closer together with enough cock sucking and hole plunging action to keep them all occupied for hours. After Rikk York beats his online opponent while 'gayming', Fernando Del Rio enters the room feeling a little left out. Rikk shows his love for Fernando by sharing a super-charged flip fuck session until they both blow their massive loads all over each other. Daymin Voss and Eddy Ceetee are characters in a video game. After Daymin gets his ass handed to him in defeat, Eddy helps him off the floor and the two fuck away any hard feelings they may still harbor from the game. Spencer Whitman, Hoytt Walker, Xavier Huxx and Ty Mitchel are playing a fantasy board game when all the talk of big swords and conquering quests takes over. The four studs take turns fucking with double penetration and plenty of cock sucking action to go around for everyone. Buck Richards and Eddie West are the objects of a virtual reality fantasy being watched by Spencer Whitman. The two muscle studs take turns fucking for Spencer's viewing pleasure until they both cum all over Buck's sweaty, hairy body. When Spencer finishes watching Buck and Eddie fuck, he gets a dirty video text from Fernando Del Rio. After watching Fernando jack off, Spencer puts his headset back on and meets up with a virtual Fernando. The two studs suck each other off before they both get a nice thick facial. 'GAYMERS' never know who they'll hook up with or when, but when they do, they take it to the next level and sometimes real life is hard to distinguish from that of the virtual world of hardcore sex.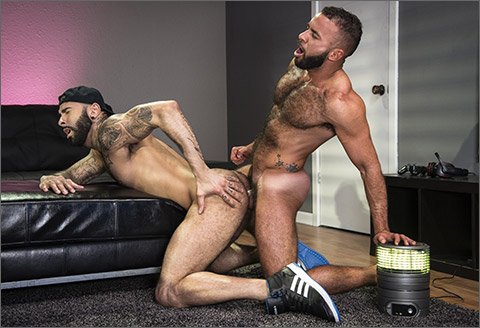 SCENE 1: Fernando Del Rio & Rikk York flip-fuck
Rikk York has just beat his sexy online gayming opponent, Spencer Whitman, when Fernando Del Rio comes in the room. Fernando is a bit jealous of Rikk's online counterpart and Rikk does everything he can to appease Fernando. To help the situation, Rikk starts with a long, passionate session of making out with lots of heavy petting. Fernando needs a dick in his mouth and pulls Rikk's thick throbbing cock out and immediately gets it down his throat. He sucks the big uncut dick, spitting and slobbering as he goes until Rikk is rock hard. Fernando loves the taste of a nice hairy asshole and bends Rikk over to get what he needs. Fernando takes his time with the wet hole and enjoys every second of the long and deep rim job. The taste of Rikk's hairy ass makes Fernando rock hard and soon he's enjoying the inside of Rikk when he plunges his thick staff balls deep into the stud. "Fuck me harder," Rikk begs as Fernando builds to a steady ass-slapping rhythm. After getting his butt stretched wide open, Rikk wants in on the action and the two hunks switch it up when Fernando bends over to let Rikk inside. Fernando's ass feels amazing and Rikk can no longer hold off. He pulls out and sprays his load all over Fernando's back and hairy crack. After his release, Rikk wants to make sure Fernando gets his happy ending and immediately gets down on his knees to finish his buddy off. Fernando lets loose and slathers Rikk's panting face with jizz before they kiss the cum away.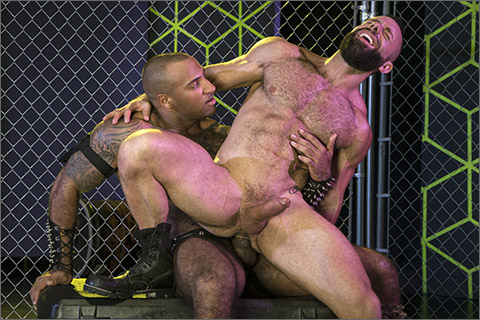 SCENE 2: Daymin Voss & Eddy Ceetee flip-fuck
Daymin Voss and Eddy Ceetee are characters in a video game. After getting clobbered and coming to a full stop game over ending, Eddy approaches Daymin who is splayed out on the ground in the losing position. In a show of solidarity and to make amends, Eddy grabs Daymin's hand and helps him to stand up. The electric attraction is evident immediately and the two cyber-hunks start making out as Daymin reaches for Eddy's bulging crotch. Daymin wants to show his appreciation for helping him off the ground and gets on his knees to service Eddy's big veiny cock. Eddy fucks his face as his big full balls slap on Daymin's chin. After getting his fill of cock in his mouth, Daymin bends Eddy over to eat his hairy ass. He tongue fucks his cyber-opponent until his hole is open and ready for a deeper penetration. Daymin stands up and gives Eddy a special treat when his slides his hard cock deep into the begging stud. Daymin pounds Eddy into submission until Eddy decides that he wants a go at Daymin's tight hunky ass. Daymin lies back and spreads his legs as wide as they'll go. His hole is ready and he can't wait for Eddy to fill him up. Eddy gives Daymin exactly what he needs and fucks the living hell out of Daymin's back door making Daymin explode all over his own fuzzy stomach. When Eddy sees all the cream from Daymin, he pulls out and blows a massive sticky load all over Daymin's pool of jizz.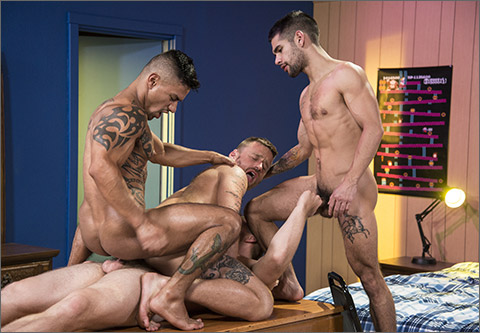 SCENE 3: Spencer Whitman & Xavier Huxx DP Hoytt Walker; Ty Mitchell gets fucked as well
Xavier Huxx, Spencer Whitman and Hoytt Walker are in the middle of playing a fantasy board game when Ty Mitchell joins a little late. The game quickly turns sexual when all the talk of swords and conquering take a turn and Ty starts sucking on Spencer's giant rod. Xavier takes his cue and gets to work licking Ty's extra hairy hole. Hoytt sees all his buddies sucking cock and ass and scrapes the board game off the table to stand next to Spencer for Ty take turns on both of their raging hard-ons. The guys realize they need some fucking action and pair off when Hoytt mounts Xavier and Spencer rams his cock inside Ty's lean asshole. The studs go at it until Hoytt decides he wants his asshole stretched to the absolute human limits. He sits on Spencer's giant dick and just when he thinks he's completely filled up, Xavier opens him up even further by sliding his hard cock inside the stud to double penetrate his hole. Ty doesn't want to be left out of the action and sticks his hairy cock inside the only open hole that Hoytt has left. Hoytt happily accepts the third dick and gets face fucked as the other two studs continue relentlessly DP'ing his asshole. No cock, dick, or ass goes without attention as the guys continue to switch it up so that everyone can have a little bit of everything. In the end, Ty becomes the party favor when each of the guys takes turns filling his ass and face with dick. As Ty continues to get fucked, Xavier looks on with amazement and blasts his load all over Ty's tight body. As Ty continues to get plowed, he's the next to blow. It's a giant load and once they see all the jizz, Spencer and Hoytt follow along and leave Ty a giant sticky mess covered in the cum of four sweating, bulging studs.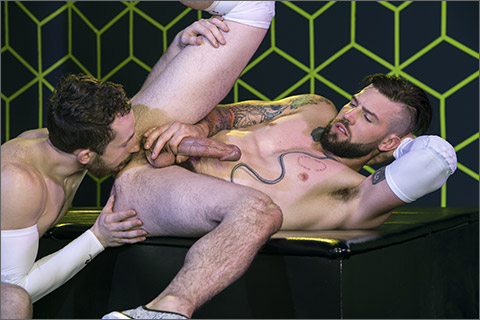 SCENE 4: Buck Richards & Eddie West flip-fuck
Buck Richards and Eddie West are the objects of a virtual reality fantasy, never knowing who's watching them as they live out the desires of the voyeurs who spy on them. This time, Spencer Whitman looks on and jacks his rod as the two studs live out their horny desires. They take their time getting to know each other's muscled up bodies before Eddie gets on his knees to take Buck's big hairy cock into his eager mouth. Eddie gets the big meaty shaft all lubed up with his spit and slobber as he deepthroats the massive cock and services Buck's low hanging balls. Buck is ready to fuck and bends Eddie over to open his asshole up. He works Eddie's furry hole with his tongue and beard and when he's convinced Eddie is ready for his dick, Buck says "I'm going to fucking destroy it". Buck's cock finds its home and slides into Eddie's ass. He goes slow at first because Eddie is still a bit tight but as Eddie opens up, Buck takes the lead and picks up the pace to slam the hunk as deep as he can go. After a nice long fucking, Buck wants to switch it up and have Eddie plow his hole. Eddie happily obliges the hung stud. Eddie eats Buck out before he gives Buck the fucking of his life. "Fuck me," Buck begs while Eddie picks up the pace and slams the tatted hunk until Buck drains his balls all over his own hairy pubes. When Eddie knows that he's done his job, he pulls out and drenches Buck's big sack with his own massive load. The two spent studs' cum mixes on Buck's sweaty, hairy body as they kiss and come down from a well-deserved fucking frenzy.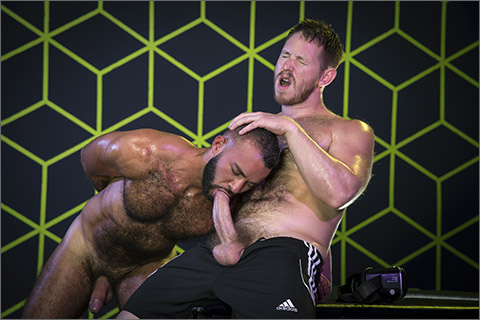 SCENE 5: Spencer Whitman & Fernando Del Rio suck dick
As Spencer Whitman takes off his virtual reality headset and recovers from watching Buck and Eddie fuck, he gets a text from Fernando Del Rio with a video of him jacking off. After watching Fernando cum, Spencer puts his headset back on and meets up with Fernando in his own special virtual reality world. As Spencer beats off, Fernando enters and immediately gets on his knees to suck on Spencer's big hairy cock. It's everything that Spencer has been dreaming about and Fernando doesn't disappoint as he worships every inch of the stud's thick dick and dangling, full balls. Fernando is eager to please and drools all over the floor as he gags on Spencer's big pole. All the sucking has made Fernando hard as a rock and he stands up to offer Spencer his own uncut rod. Spencer takes the challenge and gets down to service the hairy, tatted stud all the way down his throat. Spencer's mouth is more than Fernando can take and as Spencer licks his fuzzy balls, Fernando drops a load of cream all over the horny cocksucker's face. The studs kiss away Fernando's tasty load before Fernando gets back on his knees to take what Spencer has to offer. Spencer moans out and jacks his thick dick until it explodes all over Fernando's dark beard and satisfied face.

WATCH THE SCENES AT:
RAGING STALLION'S MEMBERS SITE
Members at RAGING STALLION"S MEMBERS SITE can watch these scenes and download extensive Photo Content from this production and get discounted pricing on all DVD and Print purchases.