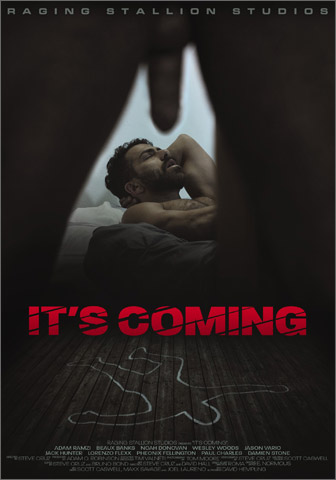 Studio: Raging Stallion
Directed by: Steve Cruz
Year of Production / Release: 2017
Country of Production: U.S.A.

CAST:
Beaux Banks
Noah Donovan
Phoenix Fellington
Lorenzo Flexx
Jack Hunter
Adam Ramzi
Damien Stone
Jason Vario
Wesley Woods
INFORMATION FROM RAGING STALLION:
'IT'S COMING' and you better be ready for thrilling, intense, hardcore action. Sometimes when bad things happen, that darkness rips a hole from this world into the next blurring the lines of reality. After unsolved murders occur in an old house, a group of friends dare each other to spend the night there. The curse of the murder house continues as the body count piles up. Even a slick makeover from a daring real estate agent isn't enough to break the curse. Jason Vario, Lorenzo Flexx, Jack Hunter and Damien Stone break into the house to spend the night. Jack and Damien are forced to share a sleeping bag. Damien convinces Jack that he will be less scared with a dick in his mouth then he takes it to the next level and pounds the hell out of Jack's tight ass. Jason and Lorenzo get down to business when Lorenzo bends over to take Jason's massive cock up his ass. Who will make it through the night and win the bet? Some time later, real estate agent Wesley Woods invites his online trick, Pheonix Fellington, over to fuck in the newly renovated property before an open house. Wesley plows the hung, ripped stud right there in the living room. Adam Ramzi shows up and purchases the house for a steal despite Wesley's confession of foul play. Moving day for Adam arrives and his boyfriend, Beaux Banks helps him to get settled. Are they really in the house alone? After they unload the truck, Adam unloads on the young jock in the new master bedroom. Beaux refuses to spend the night in the creepy house. Adam falls asleep in a pill-induced stupor to be awakened by a spiritual force (Noah Donovan). Is Adam dreaming? Why is Adam so turned on? Is this really happening? Watch 'IT'S COMING' now to get all the answers, because it will have you cumming again and again.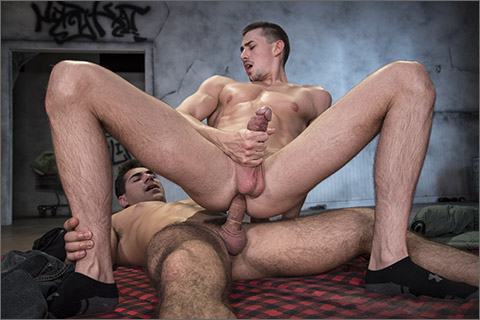 SCENE 1: Damien Stone fucks Jack Hunter
When a group of four hot jocks breaks into a dilapidated house to spend the night, they know that it was once the scene of a horrific crime. Daring each other to spend the whole night there, the four guys hunker down. When the sleeping bags get unrolled, there aren't enough to go around and Jack Hunter and Damien Stone have to share. When Damien pops a boner, he begs Jack to touch it. Jack reluctantly reaches down to give his buddy a hand job. Not wanting to wake their friends, Jack quietly takes it to the next level when he pulls back the sleeping bag and opens wide to suck Damien off. Damien's nice big uncut cock slides down Jack's throat with ease and as his moans get louder, their buddies wake up. As they watch the darkened silhouettes of Jack bobbing up and down on Damien's crotch, their friends get busy with each other and get to work sucking each other off. Not noticing that there's another blowjob happening in the dark across the room, Damien decides it's time to conquer Jack's ass when he commands the toned jock to sit on his dick. Jack hops on and rides it as his own hard cock flops up and down with each bounce on Damien's glistening pole. Damien wants to get a different vantage point into Jacks ass and flips his friend on his side. Damien reams the tight hole in front of him until he's ready to blow and pulls out to cover Jack's meaty balls with squirt after squirt of creamy jizz. The feel of Damien's warm load hitting his nuts and ass is all it takes for Jack to follow along and bust a nut all over his hand and leg. Just as the guys finish up, a ghoulish shadow appears in the window and the two satisfied studs flee the room. Little do they know that their nightmare is just about to begin.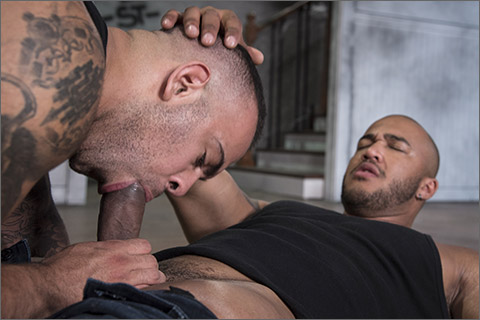 SCENE 2: Jason Vario fucks Lorenzo Flexx
Jason Vario and Lorenzo Flexx enter the room just after their buddies, Jack and Damien, have fled after seeing a devilish figure in the widow. Jason and Lorenzo are laughing about their buddies having run away because it means they'll win the bet of spending the entire night. As they share in their delight, their eyes meet and they start to make out. Without wasting a minute of time, Lorenzo gets down to business and opens his hole for Jason to slip inside. It's a big cock and Lorenzo isn't used to something that large inside his ass. There's lots of grunting as Jason picks up the pace and pounds Lorenzo's ass faster and harder with every thrust of his massive dick. Lorenzo likes to get fucked on his back and Jason will do anything to please his friend and get his dick wet at the same time. Lorenzo lies back and spreads his legs wide as Jason once again enters his buddy and stretches his hole even further. Lorenzo's ass feels amazing enveloping Jason's throbbing dick and he pulls out to blast Lorenzo with his load of love. Jason has been ridden hard and lets his cock splash with an extra white and creamy load of thick jizz. After blowing his giant load, Jason wants to leave because he's convinced he and Lorenzo already won the bet, but Lorenzo wants to stay the rest of the night and gets back into his sleeping bag. Jason turns around to take a piss still trying to convince Lorenzo to go home, when a shadowy figure sucks the life out of Lorenzo behind Jason's back. Jason is shocked and can't believe his eyes when he turns back around. What he finds will leave you gasping for air!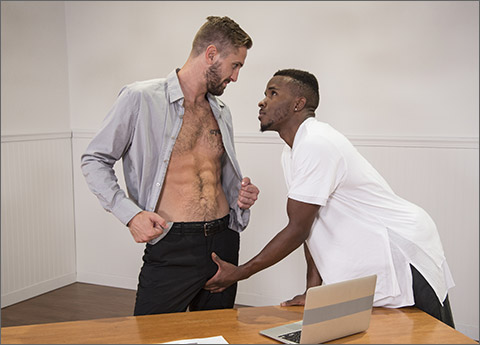 SCENE 3: Wesley Woods fucks Pheonix Fellington
Wesley Woods is a hot real estate agent who is putting the famous murder house back on the market after a slick makeover. When Phoenix Fellington arrives at the open house, Wesley realizes that Phoenix isn't a potential buyer, but an online date that he invited to the empty house to have some sex. Without much conversation, the two muscle studs get naked, make out, and lick each other's ripped bodies. Wesley needs to have Phoenix in his mouth and gets on his knees to service his new boytoy. Wesley slurps and sucks and gags on Phoenix's big thick cock as it grows bigger and harder in his mouth. It's so large that Wesley can hardly take the whole thing down his open throat. Everything about Phoenix makes Wesley horned up and to move things along, Wesley bends Phoenix over the table and plants his tongue and face inside his ass. He works the tight hole, getting it nice and opened up, and when Wesley has had his fill, he stands up and slips his big hard dick inside Phoenix. Wesley pummels his new fuck buddy in a few different positions before he settles on Phoenix on his back with his legs splayed wide. That hits the spot for Wesley and he pulls out to spray his load all over Phoenix's leg and balls. Wesley isn't done yet and begs for Phoenix to bust in his mouth. Phoenix is a giver and grants Wesley's wish by filling his mouth with cream. Both studs are satisfied and they kiss the cum away as they make out and start putting on their clothes. When Phoenix discovers he's just fucked in the famous murder house, he bounces fast and he's soon replaced by the future new owner of the murder house.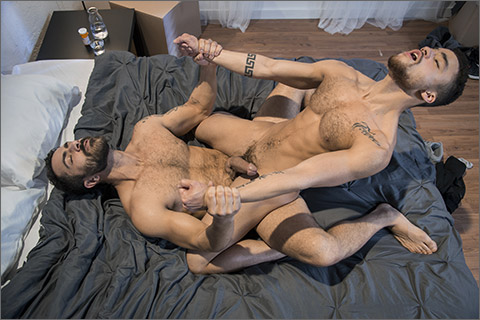 SCENE 4: Adam Ramzi fucks Beaux Banks
Adam Ramzi is the proud new owner of the infamous murder house. Beaux Banks is helping him move in and as they discuss what they're doing for the evening, Beaux expresses his reluctance to spend the night. Adam convinces him to stay over and unbeknown to the two of them, the security cameras pick up a shadowy figure walking though the hallway. Later that night, Adam and Beaux are in bed. They hear a noise but ignore it so that they can be alone with each other. They continue to kiss as Beaux pulls down his pants and takes Adam's big hairy cock in his mouth. Beaux's mouth feels amazing as Adam face fucks his hungry mouth. All the sucking gets Adam throbbing hard and ready to fuck. To get Beaux lubed and opened up, he plants his face beard deep inside the perfectly toned ass. It's time to go all the way and Adam tells Beaux to climb on and take it. Beaux is happy to do exactly that and rides Adam's amazing cock as deep as it will possibly go inside his ass. Beaux takes Adam's rock hard cock every way he can until Adam pulls out and explodes on Beaux's dark hairy pubes. All the cum splashing all over him makes Beaux deliver his own load that pops out and mixes with Adam's creamy juice. Beaux still isn't convinced he wants to spend the night and the two have an argument as the shadow figure looks on. Beaux leaves in a huff but soon realizes he's forgotten his phone. Beaux should have left well enough alone because going back to find it is the last he'll ever do on this Earth.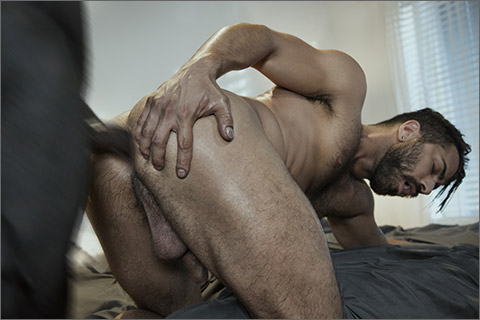 SCENE 5: Noah Donovan fucks Adam Ramzi
Adam Ramzi wakes up to discover Beaux Banks' lifeless body in his living room. Adam is distraught and takes a few sleeping pills to relax and then has an ominous dream about the shadowy figure that took Beaux's life. When Adam wakes up with an erection from the disturbing yet erotic dream, he starts jacking his thick, uncut rod. He writhes on the bed, feeling his own body when he looks up to see the shadow (Noah Donovan) watching him. Adam challenges Noah saying that if he wants him, he has to come and get him. Noah accepts Adam's offer and walks over to the bed to stroke Adam's hard cock. Noah can sense the immense pleasure that Adam is feeling and takes the thick dick in his mouth. He licks every inch of Adam's throbbing cock and hairy balls to give Adam the ultimate supernatural experience. Adam needs Noah's gigantic cock inside him and bends over to let the shadow man claim his ass as his own. Adam's asshole is stretched to capacity as the big dick pumps his hole. After watching countless sexual experiences in the murder house, Noah's experience with the flesh is everything he's been fantasizing about. He takes his time with Adam's ass and then when the time is right, he blasts his ethereal load all over Adam's bubble butt and and muscled up back. Noah fades off into the spirit realm once again and as Adam contemplates his sexual brush with the supernatural, he realizes that something has changed. The physical and the spiritual worlds aren't meant to interact and there are consequences to such an abomination against nature. Adam will never be the same. He will now and forever belong to the infamous house that takes who it wants when it wants. Next up, 'IT'S COMING' for you!

WATCH THE SCENES AT:
RAGING STALLION'S MEMBERS SITE
Members at RAGING STALLION"S MEMBERS SITE can watch these scenes and download extensive Photo Content from this production and get discounted pricing on all DVD and Print purchases.


Hot or Not? Let us know.
[Total:

1

Average:

4

]