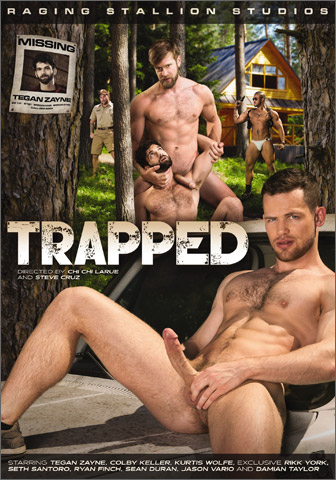 Studio: Raging Stallion
Directed by: Chi Chi LaRue and Steve Cruz
Year of Production / Release: 2017
Country of Production: U.S.A.

CAST:
Sean Duran
Ryan Finch
Colby Keller
Seth Santoro
Damian Taylor
Jason Vario
Kurtis Wolfe
Rikk York
Tegan Zayne
INFORMATION FROM RAGING STALLION:
Is it love? Is it lust? Either way, Tegan Zayne is 'TRAPPED' in this exciting sexual journey. Will he discover the answers? Will he escape his captors and all the unanswered questions? Award-winning co-Directors Chi Chi LaRue and Steve Cruz lead the way as nine hot studs fuck their way through the latest sexual mystery. Kurtis Wolfe and Tegan Zayne are fucking on the couch. After taking each other's massive loads in their mouths, Kurtis proposes to Tegan. Tegan is unsure and decides to take a soul-searching trip to the woods to sort things out. After arriving at his destination, Tegan finds a local watering hole. All is well until he meets a handsome stranger and soon finds himself as a prisoner in a secluded cabin in the woods. Meanwhile, Seth Santoro and Ryan finch are back at the bar. Seth sucks Ryan's dick before he gets his own hairy hole serviced by Ryan's expert tongue on the pool table. Officer Sean Duran and Detective Jason Vario are working Tegan's missing persons case. When they disagree on how to proceed, the only way to remedy the situation is for Jason to prove that he has the bigger dick and then fuck the cum right out of Officer Sean. After being held by Colby Keller for almost two weeks, Tegan is ready for some action. He seduces his captor with a nice long blowjob before Colby rams his big cock deep inside his prisoner. Is Tegan falling for Colby or is it a classic case of Stockholm Syndrome? Damian Taylor, Rikk York, and Seth Santoro are camping in the woods. After the guys take turns stretching each other's holes and gobbling up all the cum they can get, Seth and Rikk get lost on a hike. One of the strangers in the woods who helps them on their way looks familiar. Can Seth figure it out before it's too late? When Kurtis gets a tip from Detective Jason on where Tegan is staying, he shows up at the cabin. Tegan is unable to choose between Kurtis and Colby so Kurtis suggests that they all love each other. After Colby fucks both hung studs, the cum flies and the aftermath begins. Will the three new lovers make their new arrangement work or is Tegan 'TRAPPED' again in an entirely new complicated situation. See it all unfold in 'TRAPPED' and let your inhibitions loose.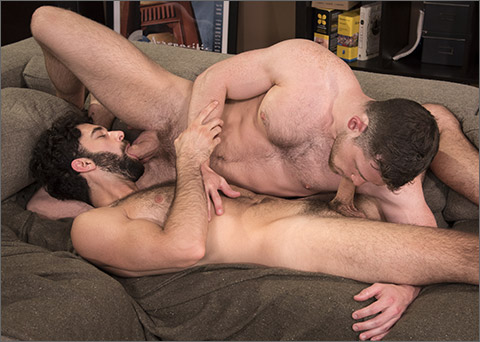 SCENE 1: Kurtis Wolfe fucks Tegan Zayne
Kurtis Wolfe is plowing Tegan Zayne's hairy hole on the couch for a nice long fuck session in the living room. Tegan loves every inch that Kurtis offers and spreads his legs wide to take as much of Kurtis as he can get. "Pound that ass!" Tegan moans out as Kurtis picks up the pace to give Tegan what he needs. With a mix of gentle pleasure and rough pounding, Tegan and Kurtis kiss each before Tegan takes control and throws Kurtis down to ride his big hard cock. Tegan spreads his cheeks wide for maximum penetration. Kurtis loves the sensation of Tegan's tight butt and smiles as Tegan enjoys the plunging. Kurtis wants a taste of Tegan's hairy hole and bends him over with his ass in the air. Tegan can't get enough of Kurtis' tongue and fingers inside him as Kurtis takes care to cover every hairy bit from Tegan's throbbing ass, to his fuzzy taint and balls. Both studs are primed and ready to blow as they move into 69ing. Tegan is the first to start begging for a load and Kurtis doesn't disappoint as he blasts an extra thick and creamy load inside Tegan's mouth. Tegan holds it on his tongue to taste every salty sweet drop before he lets it roll out past his big, full lips and onto his thick, dark beard. With the taste of Kurtis still on his palate, Tegan lets loose and explodes all over Kurtis' face. In their after-sex glow, the two lovers hold each other and kiss as Kurtis proclaims that he wants to take the relationship to the next level. Not sure where his life is going, Tegan takes Kurtis up on his offer to think about it on a solitary trip to the woods. Tegan feels 'TRAPPED'. What will he ultimately decide and will Kurtis accept Tegan's decision?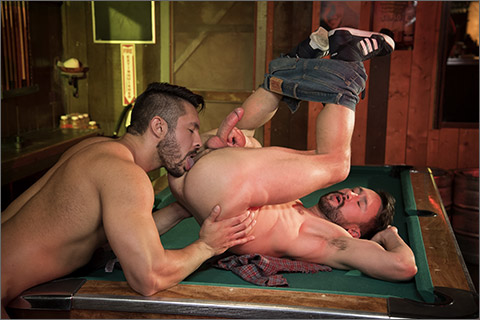 SCENE 2: Seth Santoro & Ryan Finch suck cock
Tegan Zayne heads north for the weekend to collect his thoughts and to sort out his life. After stopping in at a watering hole he finds himself in a less than ideal situation with a local stud who takes advantage of his distraught state of mind. Tegan is drugged and kidnapped right outside the bar in broad daylight. Meanwhile, inside the bar, Seth Santoro and Ryan Finch have their cocks out by the pool table. They jack their bushy rods and make out hard before the studs worship each other's musky pits and bulging muscles with plenty of licking, sniffing and spitting to go around. Seth caves to his cock huger and gets on his knees to take Ryan's throbbing dick down his throat. Seth is eager to please and gets Ryan as hard as he can get as he deepthroats and gags on the ripped jock's cock. After sucking on Ryan, Seth bends his buddy over the pool table to lick his tight, hairy hole. Ryan loves Seth's tongue in his ass and moans out as he begs Seth to go deeper. Seth wants some ass action too and mounts up to ride his buddy's face. Seth rubs his furry asshole all over Ryan's hungry mouth and shoves his cock down his throat to face fuck Ryan balls deep. All the ass eating gets Ryan ready to blow and Seth leans over to lick up Ryan's big wet load. The taste of Ryan on his tongue puts Seth over the edge and he drains his sack all over Ryan's panting, sweaty face. Seth and Ryan are fully satisfied, but Tegan on the other hand, is in a world of hurt when he wakes up on Monday morning in a strange bed in the middle of nowhere. It's time for Tegan to panic.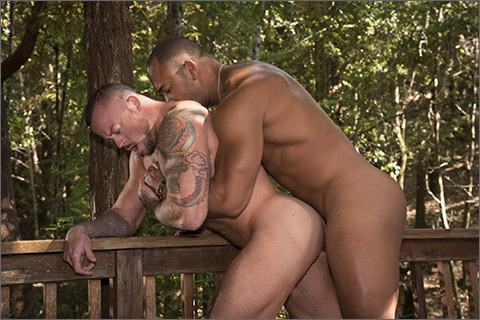 SCENE 3: Jason Vario fucks Sean Duran
Tegan Zayne has been missing for a week and the police are baffled by his disappearance. Jason Vario is a detective from the city who is forced to work with local officer, Sean Duran, on the case. The two disagree on how to tackle finding Tegan and when their words get heated, Sean tells Jason to prove that he has the bigger dick. Jason is cool as a cucumber when he whips out his big monster cock. Officer Sean can see that he's been outsized and gets on his knees to get the whopper down his throat. Sean does his duty and gets Jason's massive pole hard as a rock as he slobbers on the shaft and sucks his big sack. Jason doesn't want to be left out of the cock sucking fun and helps Sean out of his clothes. Jason takes his turn by getting Sean's thick dick in his mouth. He savors the flavor and works every inch of Sean's tatted and muscled up body. After getting his fill of dick, Jason wants a taste of Sean's hairy hole. He bends the stud over and opens him up with his tongue to make way for what he's about to get next. Jason slides his meat deep into Sean as he grunts with every thrust from the detective. Jason pounds away on his counterpart, literally fucking the cum right out of him. After Jason sees that Sean has gotten what he needs, he pulls out and drains his balls all over Sean's tight and toned ass. Now that their differences have been put aside, they'll need to pull together and get to work finding Tegan before it's too late.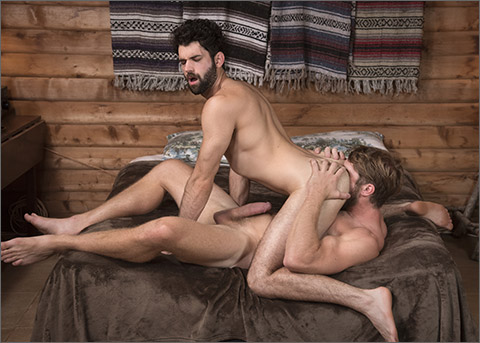 SCENE 4: Colby Keller fucks Tegan Zayne
Tegan is still with his captor, Colby Keller. After thanking Colby for taking such good care of him, Tegan gets on his knees between Colby's legs and starts servicing his giant cock. Is Tegan starting to really fall for his captor, or is it a classic case of Stockholm Syndrome? Perhaps Tegan has something else up his sleeve. Whatever the case, Colby is in for the time of his life with Tegan's tight muscled body. Wanting to provide the best service he can give, Tegan opens his mouth wide and takes Colby's massive junk all the way down his throat. Colby is hard as a rock and ready to explore Tegan from the inside. He spits on his hand and jams three fingers up Tegan's hairy ass to stretch it out and to make way for his big glistening cock. To prolong the fun for just a little bit longer, Colby pulls Tegan back to the bed and the studs 69 while Tegan keeps plugging away sucking Colby's big cock. Tegan is Colby's dream man, and he wants to please Tegan with a long and hole-widening rim job. Once Colby has succeeded in opening Tegan up as far as he'll go, he throws Tegan down on the bed to pile drive his prisoner. Colby pounds away as Tegan grunts with each plunge from Colby's big hard dick. Colby wants to be face to face with Tegan so he can kiss him and worship his hairy chest and pits. As the studs passionately make out and rub beards, Colby enters Tegan from behind and fucks him. The feel of a strong man holding him and fucking him from behind is enough for Tegan to blast his load. When Colby sees that his hostage has been satisfied, he pulls out and goes ass to mouth on Tegan's face. Colby blasts his thick sperm all over Tegan's big full lips and dark bushy beard. "Thank you, Sir," is all Tegan can muster to say after such a satisfying and unexpected experience.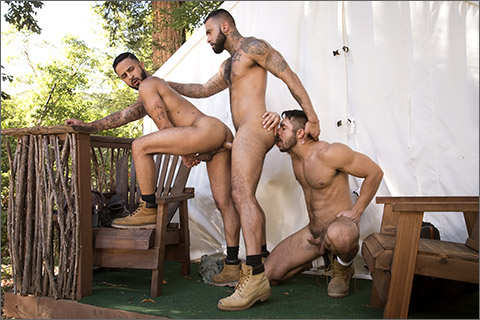 SCENE 5: Seth Santoro fucks Rikk York who fucks Damian Taylor
Rikk York has a dilemma. He's camping in the woods with Seth Santoro and Rikk York and he can't decide which one to fuck. Rather than make the decision himself, he lets the guys do their work to let the action play out naturally. Damian is hungry for dick and gets down on his knees in front of both Rick and Seth to suck their big hard cocks. Damian and Seth make out as they get their dicks serviced by the horny stud. Seth wants to play the cock sucking game too and soon joins Damian on his knees to share Rikk's throbbing dick. Each dude takes a side and opens his mouth wide to let Rikk take control and fuck their lips. All the attention feels amazing on Rikk's cock and he takes matters into his own hands. He bends Damian over a patio chair and slips his thick dick all the way into the tight ass in front of him. Seth cheers the guys on and jerks his own meat before getting down to lick Rikk's hairy ass. He gets the ass lubed up and then stands to slide his cock deep inside. Rikk takes the dick like a pro and sucks on Damian's pole as Seth pounds away. Rikk's asshole feels amazing enveloping his cock, and after a nice long fuck session, Seth pulls out and blows all over Rikk's fuzzy butt. Watching all the action around him is more than Damian can handle and he busts a load right into Rikk's open mouth. One taste of Damian's jizz is all it takes for Rikk to let loose and return the favor by blasting all over Damian's beard and in his mouth. After all the fun, Seth and Rick get lost on a hike and stumble across Tegan and Colby outside. Something doesn't sit right with Seth. Will he recognize Tegan and will he be able to help him before it's too late?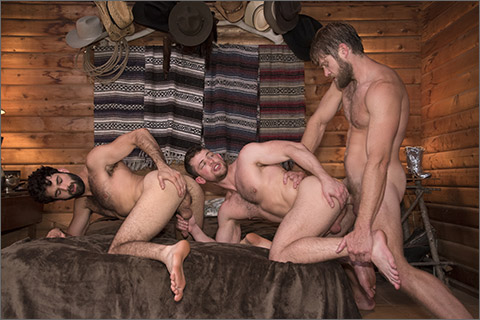 SCENE 6: Colby Keller fucks Tegan Zayne & Kurtis Wolfe
The local sheriff and his deputy get a tip on where kidnapping victim, Tegan Zayne, is being held. After investigating, the lead detective lets Kurtis Wolfe know where his boyfriend is staying. Kurtis needs to see Tegan and shows up at the cabin in the woods. After Tegan expresses his concern that he can no longer choose who he loves, Kurtis suggests that they all love each other. To show that he means what he says, Kurtis gets on his knees and sucks Colby's big veiny cock. Tegan follows along and the two studs service Colby together, taking turns slurping on his big pole. Tegan wants to pleasure both of his men and opens wide to get both Colby and Kurtis in his drooling mouth at the same time. Colby is revved up and gets Tegan and Kurtis to lie back on the bed with their legs in the air. He eats both of their tight hairy assholes, making sure to give each one plenty of attention. He loosens them up as he fingers both asses, then slips his cock into Tegan and starts pounding a steady rhythm. Kurtis wants to feel Colby inside him and assumes the position to eat Tegan out while Colby opens his hole with his giant dick. Colby is good at what he does and he pounds the cum right out of Kurtis, who drops his load on Tegan's face. After getting a fresh batch of cum in his mouth, Tegan can't help but to give into his instincts and let his own cock explode on both Colby and Kurtis. Once Colby gets his own mouth sprayed he's ready to reward his two lovers with milky ropes of pure white jizz. Tegan and Colby lap up the juice and kiss away any remnants that remain. Can the kidnapper, the victim, and the former lover live together in harmony or will there be trouble in paradise?

WATCH THE SCENES AT:
RAGING STALLION'S MEMBERS SITE
Members at RAGING STALLION"S MEMBERS SITE can watch these scenes and download extensive Photo Content from this production and get discounted pricing on all DVD and Print purchases.