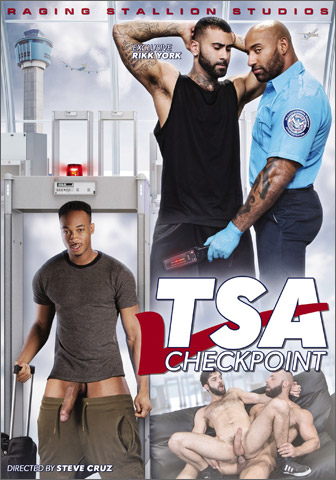 Studio: Raging Stallion
Directed by: Steve Cruz
Year of Production / Release: 2017
Country of Production: U.S.A.

CAST:
Derek Bolt
Aleks Buldocek
Eddy Ceetee
Lorenzo Flexx
Trent King
Alex Mecum
Buck Richards
Teddy Torres
Daymin Voss
Rikk York
Tegan Zayne
INFORMATION FROM RAGING STALLION:
Traveling no longer has be a drag at the airport. Forget the lines and the delays, because when you hit the 'TSA CHECKPOINT' you might just get a hunky agent making you hard in a pat-down or a cock up your ass in a cavity search. Sit back and let passengers, employees, and Federal Agents make sure that your loaded weapon is safe for travel! When Rikk York sets off the alarms at a TSA checkpoint, Officer Daymin Voss finds some contraband shoved up Rikk's fuzzy ass. Daymin probes the traveler until he sets off both of their explosive devices. Tegan Zayne is heading home for spring break and decides to take a nap in the air lounge. When hot daddy pilot, Eddy Ceetee, enters the lounge Tegan is no longer tired and goes straight for Eddy's cockpit before getting his hairy asshole filled with dick. Lorenzo Flexx and Aleks Buldocek are airline baggage handlers. After going through some luggage and trying out some sex toys, Aleks bends his co-worker over the inspection table and drills his throbbing hole. Buck Richards is a sexy first-class lounge barista who serves up more than a cup of coffee to passenger Trent King when he gets his ass pounded with an extra side of heavy cream. When baggage handler Lorenzo Flexx stumbles upon passenger Teddy Torres jacking his rod by the men's room, he gets on his knees and handles Teddy's bag until the two of them exchange facials and swap some cum. TSA Officer Alex Mecum catches Teddy lapping up the last of Lorenzo's public facial and brings him into custody where Alex and fellow officer Derek Bolt have some fun with the hung stranger that ends with Derek covered in jizz. The next time you're at a 'TSA CHECKPOINT' make sure to misbehave so that you, too, can get manhandled by the horny hunks of the airport.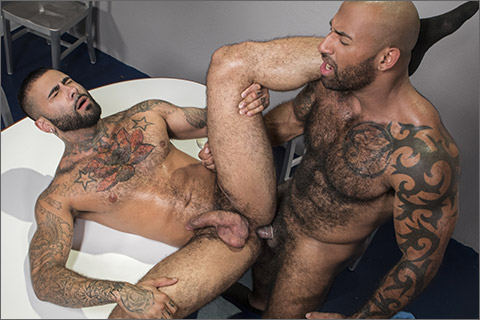 SCENE 1: Rikk York & Daymin Voss flip-fuck
Daymin Voss is a TSA agent and when Rikk York comes through security to get to his flight, he sets off the alarms several times. Daymin decides to subject Rikk to a full body search. It doesn't go well for the traveler when Daymin finds some contraband in Rikk's "loose sloppy hole". The agent decides to explore a little further because he wants to make sure there's nothing else up Rikk's big hairy ass and gets in deep with his gloved hands. To be absolutely sure, Daymin gets on his knees and sticks his tongue all the way into Rikk's hairy hole. When Daymin doesn't find any more unnatural objects shoved up Rikk's ass, he unbuckles his pants and has Rikk suck his way to freedom. Rikk's magic mouth gets Daymin horned up and soon the commuter is balls deep inside the TSA agent's tight muscle hole. Rikk pounds away until Daymin is ready to teach his suspect the final lesson of the day. Daymin mounts up and slams Rikk's fuzzy ass with his massive cock until he sets off Rikk's explosive device. Daymin takes his job seriously and won't let Rikk through security until he slathers the guilty traveler with some TSA approval.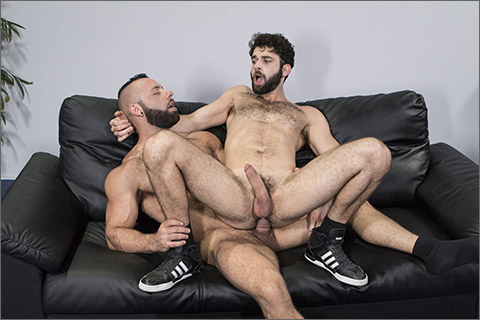 SCENE 2: Eddy Ceetee fucks Tegan Zayne
Tegan Zayne is traveling home to see some family for spring break when he decides to sneak into the air lounge to take a nap. Luckily for him, hot daddy pilot, Eddy Ceetee, is on his break and suddenly Tegan is no longer tired. The two studs make some frivolous small talk and then cut to the chase by making out and helping themselves out of their clothes. Tegan can't believe his luck and goes right for the cockpit when he gets the pilot's thick hairy rod down his open throat. Tegan gags and slobbers as the hairy muscle daddy fucks his face to get as stiff as he possibly can. Eddy is ready for the next step and bends Tegan over the lounge couch to eat his hairy ass. Eddy gets Tegan opened up and ready for dick and then slides his massive meat deep into the college dude. Tegan takes a long and frenzied pounding before he decides he wants to get fucked deeper. He hops on top of Eddy and goes balls deep riding the hung pilot as Tegan's big hairy cock and balls swing up and down. Eddy hits all the right spots and soon Tegan is spraying his massive load all over everything within a three-foot radius. Eddy can't control himself any longer and stands above the used-up ticket holder and dumps a thick load of jizz all over Tegan's beard and face. Does fucking the pilot in an airport now make Tegan a member of the Mile-High Club?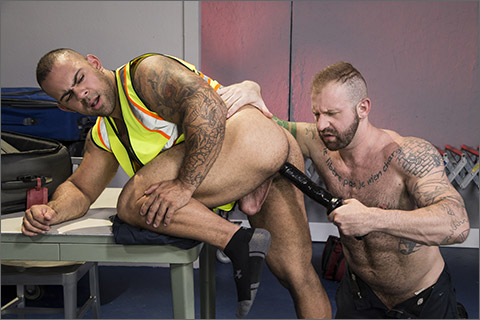 SCENE 3: Aleks Buldocek fucks & dildo-fucks Lorenzo Flexx
Lorenzo Flexx and Aleks Buldocek are airline baggage handlers and when they take it upon themselves to have a little fun going through some bags, they find a few things to make their day a little brighter. Lorenzo tries on some used underwear and Aleks finds a stash of sex toys that makes Lorenzo beg for his co-worker to shove one of the dildos up his ass. The small toy isn't enough for Lorenzo so Aleks pulls out a giant rubber dong and slips it all the way into Lorenzo's hairy bubble butt. Lorenzo wants the real thing so Aleks obliges him by standing up and slipping his extra-large cock into Lorenzo's fully stretched hole. Aleks' giant balls swing and slap on Lorenzo's fuzzy taint as Aleks drills away, keeping a steady pace to fill his buddy full. Aleks wants to see Lorenzo's face as he gets plowed, so he throws the stud on his back and keeps up his relentless fuck session. Lorenzo loves the feeling of Aleks deep inside of him and lets his inhibitions go to blow a load of spunk all over his hand. It's a thick mess and after watching Lorenzo gobble up every drop, the tatted muscle daddy sprays his giant cock all over the floor.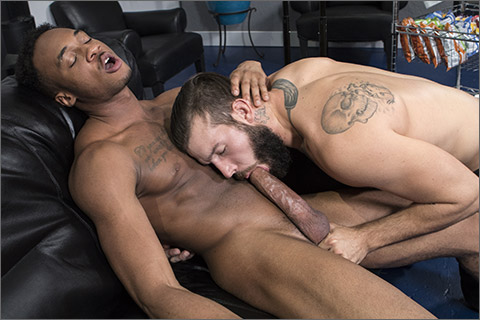 SCENE 4: Buck Richards & Trent King flip-fuck
Buck Richards is an airport barista who's new to the airport scene, and when he meets passenger Trent King checking out some porn in the first class lounge, he gets a little flustered. Buck only wants to keep the passengers happy and instead of serving up some coffee, Buck gets down on his knees and offers up his mouth. He gets the toned, uncut stud hard as a rock as the two slowly peel off their clothes to get a little more acquainted. Buck wants a taste of the barista's dick and trades places to service the hot young Buck. When Trent sees that Buck's thick hairy cock is at full mast, he bends over to offer up his toned ass. Buck doesn't waste a second getting inside the hot first-class. The bearded stud pounds away on the lucky hole until he decides to take a ride himself. He hops on Trent's uncut cock and bounces as he jacks his own thick rod. Buck gets his hole stretched to the absolute limits before Trent pulls out and the two studs rub their cocks together in a long and sexy session of sword play. Trent is the first to give in and relieves himself of his pent-up load on the lounge floor. The sight of Trent dousing the lounge makes Buck follow suit and the barista spills his cream to mix it with Trent's sticky pool.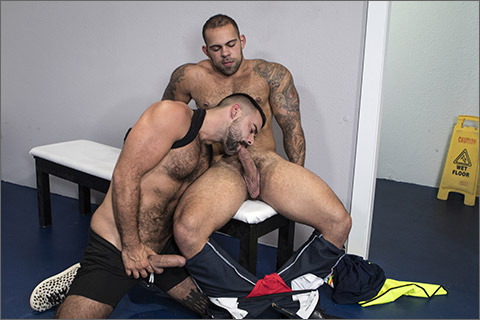 SCENE 5: Teddy Torres & Lorenzo Flexx all oral
Teddy Torres is a horny airline passenger who thinks that airports are boring so makes his own fun wherever he goes. Lorenzo Flexx is a baggage handler who comes across Teddy with his dick out by the men's room. Not wanting to pass up an opportunity, Lorenzo does as he's told and gets on his knees to suck the hairy, uncut cock in front of him. Teddy's big dick tastes great and feels good sliding down Lorenzo's open throat. Lorenzo takes care of the passenger, servicing every inch the furry muscle hunk has to offer while making sure to do his job and handle his bag. Teddy wants complete control over the cock-sucking airport employee and grabs his head to face fuck the submissive hairy hunk by going pubes deep in his gagging mouth. Teddy can see that all the dick sucking action has made Lorenzo throbbing hard and returns the sucking favor by getting on his knees in front of the stud. Teddy works Lorenzo until he's ready to blow and the two horny deviants exchange facials and swap cum right in the airport hallway where anyone could catch them in the act. What could possibly happen if the two spent hunks get caught with their dicks out and their faces slathered in cum?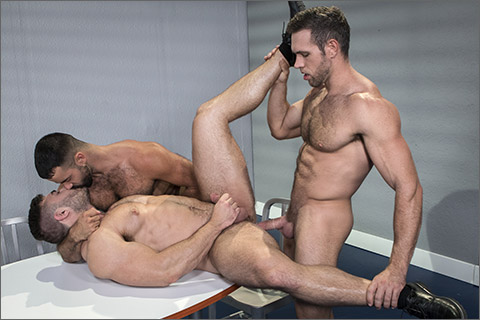 SCENE 6: Alex Mecum& Teddy Torres fuck Derek Bolt
TSA Officer Alex Mecum just caught passenger Teddy Torres swapping cum by the men's room and brings him into custody where fellow TSA Officer Derek Bolt grills Teddy on his dirty fun. When Teddy offers to suck both officer's cocks, Derek pulls out his dick and lets the horny and handcuffed Teddy give him a blow. After seeing how well Teddy can suck, Alex unzips his uniform so that Teddy can take turns sucking both hunky officers. Derek wants the hung stranger inside his ass and bends over to let him plug his hole. Alex is horned up and takes his turn fucking ass and gets what he needs by slipping his giant dick into Derek's stretched back door. The horny officer gets spit-roasted with Teddy pounding away on his mouth as Alex continues fucking him from behind. Derek takes a double plunging with a dick in each of his wide-open holes until all three studs use Derek's hunky body as a canvas to splatter his chest and pubes white.

WATCH THE SCENES AT:
RAGING STALLION'S MEMBERS SITE
Members at RAGING STALLION"S MEMBERS SITE can watch these scenes and download extensive Photo Content from this production and get discounted pricing on all DVD and Print purchases.