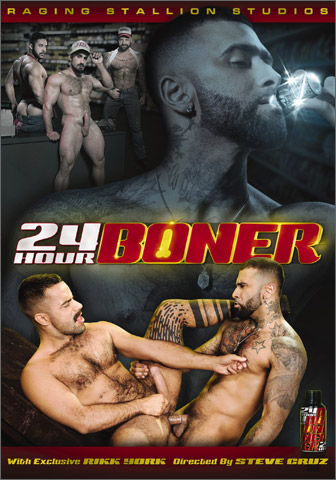 Studio: Raging Stallion
Directed by: Steve Cruz
Year of Production / Release: 2017
Country of Production: U.S.A.

CAST:
Aleks Buldocek
Lorenzo Flexx
Sergeant Miles
Jett Rink
Seth Santoro
Nate Stetson
Teddy Torres
Jaxton Wheeler
Rikk York
Tegan Zayne
INFORMATION FROM RAGING STALLION:
Welcome to the world's most fun and amazing 24-hour convenience store, where hot studs suck cock, fuck ass, and drink cum to pass the time. Step inside to do your shopping and you'll be sure to find all the '24 HOUR BONER' you can handle! Rikk York finds himself horny after accidentally drinking a boner elixir on the job. Luckily for Rikk, delivery guy Teddy Torres is there to help relieve him of his symptoms. When Sergeant Miles hits the bathroom to take a piss, he gets more than he bargained for when he sees Tegan Zayne's bearded lips inviting him to slip his cock through a glory hole. Jaxton Wheeler and Lorenzo Flexx are buying food when they realize no one is at the register. Jaxton takes full advantage of the situation and after getting a blowjob from his buddy while eating, he fucks the cum out of Lorenzo. Seth Santoro catches Sergeant Miles shoplifting and tries to stop the hunky stud from stealing. Instead of stopping the action, Seth finds himself getting railed as the hung shoplifter fucks his hairy asshole. Alek Buldocek finds Tegan Zayne with his cock out in the bathroom. Without words, Alek cracks a beer and lets Tegan suck him off before he fucks the load out of the horny bathroom pig. Rikk York is cleaning up the store when customer Nate Stetson enters to find Rikk rubbing his crotch. Nate takes his cue and the studs swap blowjobs until they both cum hard. Just as the two hunks finish up sucking each other off, Jett Rink enters the store. Nate and Rikk get to work on toned stud by spit roasting him. The three horny studs finish each other off as the cum flies into faces and on the floor. Whether you're at the store to buy food, take a piss, or admire the studs who work inside, '24 HOUR BONER' will deliver exactly what you need. The store never closes, and neither do the mouths and assholes inside!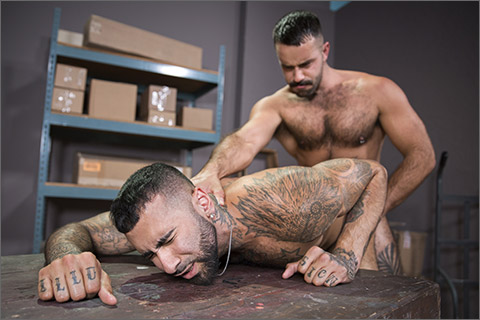 SCENE 1: Teddy Torres & Rikk York flip-fuck
Hunky Rikk York can barely keep his eyes open while working at the 24-hour convenience store. To stay awake, he guzzles down what he thinks is an energy drink. It turns out to be a boner elixir and it works instantly. In the meantime, delivery guy Teddy Torres is stacking boxes in the storage room when Rikk walks in with his dick in his hand. Teddy takes one look at the thick, uncut cock in Rikk's meaty fist and immediately gets on his knees to help relieve Rikk. Teddy is hungry for cock and wraps his warm lips around Rikk's big one to take it all the way down his throat. Rikk can see that Teddy has a raging hard-on and returns the favor. When Teddy can't get any harder, he bends Rikk over and after priming his hairy asshole with spit for lube, he rams his monster cock all the way into the muscle stud. Rikk gets railed deep and then realizes he still has a boner to reduce. He throws Teddy down on the table and slides his throbbing rod into the hairy hunk. Rikk pounds away until both of them let loose and dump their milky loads all over Teddy's furry stomach.

SCENE 2: Tegan Zayne blows Sergeant Miles
Sergeant Miles needs to piss really bad and runs into a convenience store to take care of business. As he's relieving himself at the urinal, he looks down to see Tegan Zayne peeking through a glory hole in the bathroom stall. Tegan invites Sergeant over with nothing but the motion of his tongue running across his bearded lips. Sergeant recognizes the opportunity and slides his big hard cock through the hole. Tegan happily gets to work sucking, taking it balls deep down his open throat. Sergeant wants to get even further into Tegan's face and brings the young stud around from behind the stall. "Lick my fucking sweaty balls," Sergeant commands Tegan. Sergeant grabs Tegan by the head to face fuck the eager cocksucker. The anticipation of getting the load he's worked so hard to take makes Tegan hard as a rock. He jacks his stiff dick until both studs are on the verge of blowing their loads. The sight of Tegan's hot hairy body, his swollen cock, and his lips wrapped around Sergeant's dick makes the hairy trucker be the first to blast into Tegan's wide open mouth. The taste of Sergeant on his tongue is all it takes for Tegan to polish the floor with his jizz.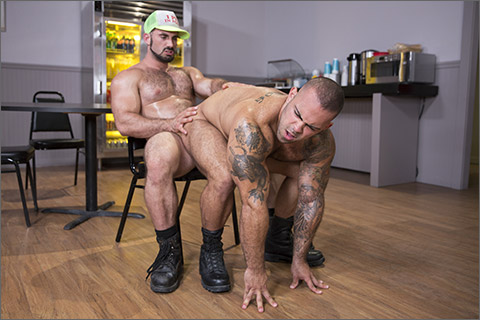 SCENE 3: Jaxton Wheeler fucks Lorenzo Flexx
Jaxton Wheeler and Lorenzo Flexx are buying food at the convenience store when they hear some guys fucking in the back room. They raid the place and take all the food they want when Jaxton gets an idea. With all the fucking going on around him, there's no reason he shouldn't be getting some action too. Lorenzo says he's down and gets between Jaxton's legs to suck his thick dick. Jaxton continues feeding Lorenzo as Lorenzo keeps sucking dick and licking off everything that Jaxton throws down between his legs. When Jaxton is at full capacity, both in stomach and cock size, he sits back and let's Lorenzo sit on his big hairy cock. The eager stud rides his buddy up and down and moans out the further the dick slides into his asshole. Jaxton wants more control and bends Lorenzo over a food wrack to fuck him even deeper. He pounds away, building to a frenzied pace as he spanks Lorenzo's bubble butt and drills as deep as he possibly can. Jaxton rolls him over onto the check-out counter to keep up the steady pace. Jaxton fucks the cum out of Lorenzo next to the cash register until he pulls out and blows his own massive load that leaves Lorenzo drenched with cum.

SCENE 4: Sergeant Miles fucks Seth Santoro
Seth Santoro is a clerk at a convenience store. When he comes into work early, he catches Sergeant Miles shoplifting and tries to get him on video. Sergeant isn't going to stand for any of that and pins Seth onto the checkout counter and pulls down the clerk's pants to reveal a big, hairy bubble butt. Sergeant goes in for a taste and gets Seth revved up and ready to forgive the shoplifting incident. Seth is afraid of getting caught in public and the unlikely couple moves their action to the stockroom where Sergeant continues his ass-eating endeavor. All the rimming gets Sergeant's meat throbbing hard and he sits back to let Seth choke on his cock. Seth goes to town on the shoplifter's hairy crotch until he can no longer take the anticipation of getting his asshole stuffed. He takes a squat on Sergeant's thick dick and rides it as his own hard cock flops back and forth. Sergeant isn't content with being passive and rolls Seth over onto his back so that he can plow him properly. Sergeant drills the hairy clerk with a deep and steady pace as they both grunt to the sound of their own slapping skin. The two studs fuck until they unleash their massive loads all over Seth's thick black pubes.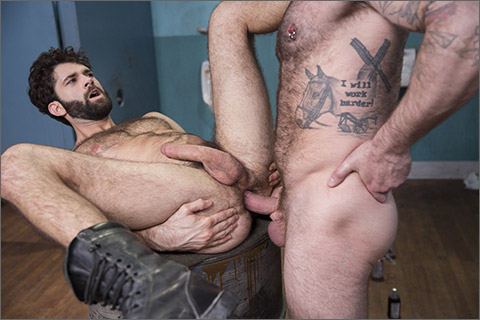 SCENE 5: Alek Buldocek fucks Tegan Zayne
Tegan Zayne is still hanging out on the bathroom floor playing with his dick through ripped jeans from his last cocksucking encounter when Alek Buldocek walks in and catches him in the act. No words are exchanged as Alek cracks a beer and lets Tegan suck his monster cock. Tegan takes it all the way down as he gags and slobbers all over Alek's curved shaft and giant balls. After getting nice and hard, Alek bends Tegan over the bathroom floor and spits his beer on Tegan's hairy asshole to lube it up for what's about to come. After licking the beer out of Tegan's fuzzy crack, Alek stands up and slides his big rod deep into the horny bathroom pig on the floor. Tegan moans out with every thrust from the tatted muscle daddy filling up his hole. Alek picks up the pace to make Tegan squirm even more as his hole gets stretched and used. Tegan begs for Alek to fuck him harder as he rolls over onto his back. "Fuck the load out of me," Tegan whispers as he drains his balls all over the dark fuzzy patch of hair crowning his spent cock. Alek sees the pleasure he's brought to Tegan and blasts a massive load to mix with Tegan's.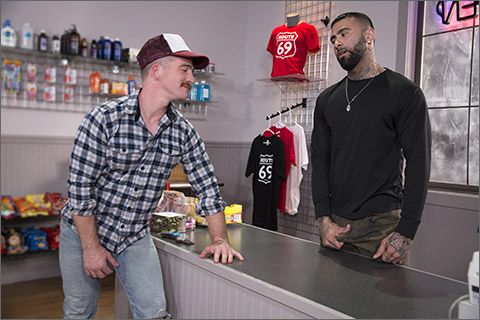 SCENE 6: Rikk York & Nate Stetson get it on
With all the action that's been going on in the store today, Rikk York finds the place a wreck and is trying to clean the place up. He's still horny from drinking a boner elixir earlier and customer Nate Stetson enters to catch him playing with his throbbing hard-on. Nate agrees to help Rikk out, and the two start making out on the store floor. Nate doesn't let the foreplay go on for long before he takes his position with his mouth open in front of Rikk's thick, uncut cock. Rikk loves the feeling of Nate's warm, giving mouth and face fucks the stranger as he grows harder inside Nate's throat. Rikk needs to take a taste of Nate and the two switch it up to let Nate get a feel for the inside of Rikk's hungry mouth. Rikk pays special attention to every inch of Nate's thick cock and big smooth balls as he licks, slobbers and sucks with all his might. All of Rikk's expertise pays off and he gets the payload he's been craving as Nate blows his load all over Rikk's beard. As Rikk laps it up, he can't help but let loose himself and dumps his balls all over the store floor.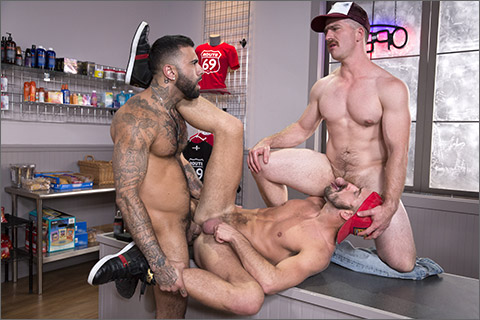 SCENE 7: Nate Stetson fucks Rikk York & Jett Rink
Just as Rikk York and Nate Stetson are finishing blowing each other, Jett Rink walks in. He's been waiting for his buddy Nate outside for 20 minutes. When Jett finds Rikk and Nate naked and full of cum, he's slightly annoyed. The two studs make it up to Jett by getting him out of his pants and shirt and licking his toned body and hung trimmed cock. Rikk works on Jett's meat as Nate pulls up the rear and rims Jett's tight ass. This trio doesn't waste a minute getting down to business and after lubing Jett up with his tongue, Nate bends him over and slides his big cock deep inside his buddy. Jett gets spit roasted with a dick in each hole. Rikk wants to feel the inside of Jett's asshole and takes his position over the hunk next to the cash register. Rikk plows away until he begs to get his own hole filled. Nate takes over and shoves his cock inside Rikk's big hairy ass. He pumps away with one goal in mind and gets what he wants when Rikk and Jett lick up his load and snowball the fresh load in their mouths. Rikk and Jett are soon to follow and with the taste of Nate still in their mouths, they swab the floor with buckets of cum that Rikk will most likely have to clean up later.

WATCH THE SCENES AT:
RAGING STALLION'S MEMBERS SITE
Members at RAGING STALLION"S MEMBERS SITE can watch these scenes and download extensive Photo Content from this production and get discounted pricing on all DVD and Print purchases.