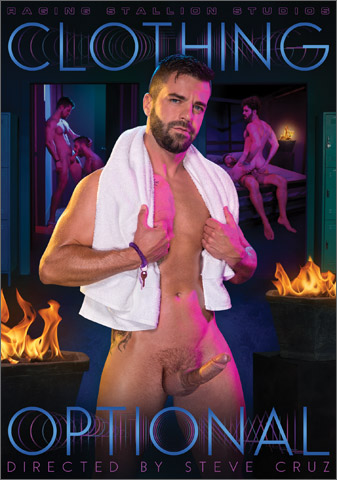 Studio: Raging Stallion
Directed by: Steve Cruz
Year of Production / Release: 2017
Country of Production: U.S.A.

CAST:
Hector de Silva
Fernando del Rio
Pierce Paris
Adam Ramzi
Arad Winwin
Kurtis Wolfe
Rikk York
Tegan Zayne
INFORMATION FROM RAGING STALLION:
Come on down to the club where it's always 'Clothing Optional' every day of the week. Take the tour with 8 hung and horny hunks that will do anything they can to get some cock or a tight piece of ass. Anything goes here, and everyone is guaranteed to leave with their balls completely drained. Tegan Zayne and Hector de Silva meet up in nothing but their towels. After the towels hit the floor, it isn't long before Hector mounts the hairy stud and pumps him until both their cocks explode on Tegan's fuzzy abs. Fernando Del Rio and Kurtis Wolfe hook up in the locker room at the bath house and Arad Winwin also joins in on the fun. Kurtis gets a dick in each hole before the guys double penetrate Fernando's tight ass and dump their loads on his hairy face and chest. Kurtis and Hector rendezvous in the hallway. Without hesitation, Hector services Kurtis' curved cock and gets his lips and beard covered in cum. Rikk York finds Pierce Paris in the dungeon room next to a sling. Pierce fucks Rikk's face hard, flogs his hairy ass, then throws him in the sling to use the stud like the hole he is. Adam Ramzi and Hector de Silva meet up in the sauna. The two hairy hunks lock eyes and soon Hector's cock is balls-deep inside Adam's ass. Hector fucks the cum out of his new sauna buddy before he sprays his own load on the sticky stud. At this club, it's 'Clothing Optional', but the amazing sex is a must!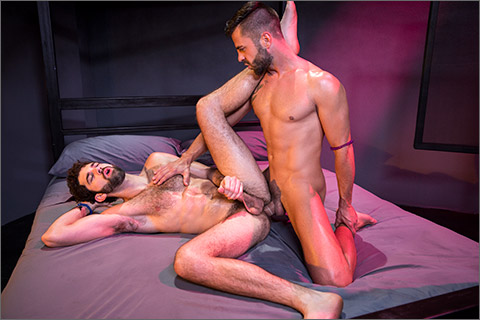 SCENE 1: Hector de Silva fucks Tegan Zayne
Tegan Zayne and Hector de Silva meet up in nothing but their bath towels at the clothing optional spa. Without wasting time, the hunks swap some quick spit, skip the foreplay and head right to the dick sucking. Tegan is the most cock-hungry of the two and gets on his knees to get his greedy face stuffed with Hector's super hard cock. As Hector gets harder, his instincts take over and he fingers Tegan's hairy hole until it's open and ready for more. Tegan can't wait to get Hector's monster up his ass and he mounts up on the stud to ride him hard. Tegan always needs it deeper and harder and after riding Hector's pole, he lets the hunky stud take control and fuck him on his back. Hector uses Tegan like a toy and pumps his hairy asshole until Tegan dumps his load all over his own fuzzy, toned abs. Hector isn't one to be left behind and squats over Tegan to get his asshole licked as he jacks his uncut rod all over Tegan's thick black body hair. Tegan needs one last taste and sucks the last few drops from Hector's swollen cock before the two kiss the taste of jizz away.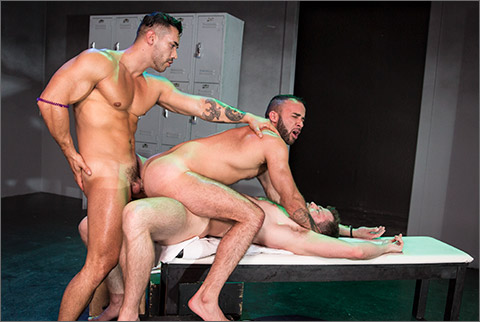 SCENE 2: Arad Winwin & Kurtis Wolfe DP Fernando Del Rio
Fernando Del Rio and Kurtis Wolfe hook up in the locker room at the bath house as Arad Winwin looks on jacking his pole. When Fernando and Kurtis lose their towels, their hard, hairy cocks pop out. Fernando is the first to take action and gets down between Kurtis' legs to suck his throbbing dick. As Fernando sucks, Arad makes his move and comes up behind Kurtis putting him in the middle. After both Fernando and Arad take turns servicing Kurtis' cock and fingering his ass, Kurtis decides to bend over to let the guys inside. He takes Fernando down his throat as Arad shoves a cock up his ass. The muscle hunks spit roast the stud, making Kurtis moan out for more cock. Kurtis finds out he's not the only hole in the group when Fernando bends over to take both Arad and Kurtis up his ass at the same time. It's a hardcore double penetration session that leaves Fernando's hairy ripped body covered in thick ropes of cum from tongue to torso.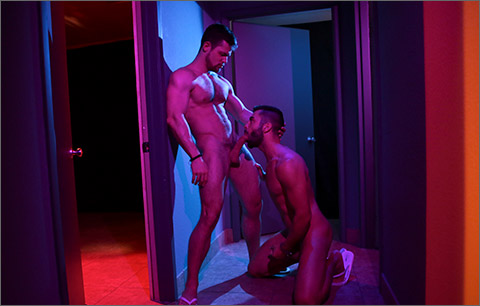 SCENE 3: Hector de Silva blows Kurtis Wolfe
Kurtis Wolfe is on the prowl skimming thru the studs at the spa when he bumps into Hector de Silva. The two lock eyes, give the universal tug to the crotch to say "I'm looking for dick", and immediately lock lips to get each other revved up. Kurtis' towel is the first to hit the floor as he releases his big hairy cock. It doesn't go unnoticed by Hector who grabs the big dick and lets his own towel fall to the floor. Hector can't take the anticipation of tasting Kurtis any longer and gets down on the floor to suck on Kurtis' throbbing dick and giant fuzzy balls. Hector isn't one to let any form of pleasure go undiscovered and bends Kurtis over to service his tight hole with his tongue. The sensation is amazing and makes Kurtis ready to bust. He turns back around and face fucks the muscle stud in front of him until his cock spits up and slathers Hector's lips and beard with a sticky white load. Kurtis likes to taste is own brand and stands Hector up so they can both savor the flavor of Kurtis' pleasure. They lap up every drop and kiss away the cum.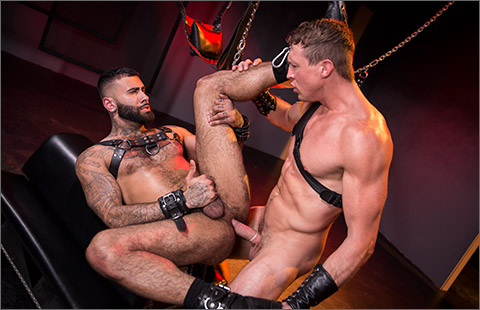 SCENE 4: Pierce Paris fucks Rikk York
Pierce Paris is waiting patiently in the dungeon next to the sling when Rikk York enters his lair. Pierce likes what he sees in the hairy stud and takes control as he cuffs Rikk's hands behind his back. Pierce can sense that Rikk wants things a little rough and grabs a riding crop and a flog to spank Rikk's round hairy ass. Rikk eats it up and loves the flogging as he moans out with each lash from Pierce's strong, muscled arms. All the action makes Pierce hard as hell and he uses Rikk's hungry face like a hole. Rikk gets face-fucked balls deep down his throat before Pierce throws him in the sling with his legs in the air. Pierce starts out slow with a dildo up Rikk's tight ass to open it up and builds to using his throbbing monster cock. "You're such a dirty little fucking slut," Pierce tells Rikk as his dick slams into the hole in front of him. Pierce keeps up a steady pace with his jumbo sized cock as Rikk rocks his world swinging back and forth in the sling. Pierce wants his cock serviced one last time and pulls Rikk out of the sling. After slamming his busted hole one last time, he fucks Rikks's face for the last time and busts a nut all over Rikk's wide-open mouth. The taste of Pierce on his lips puts Rikk over the edge and he lets loose to dump a massive load of jizz all over the floor.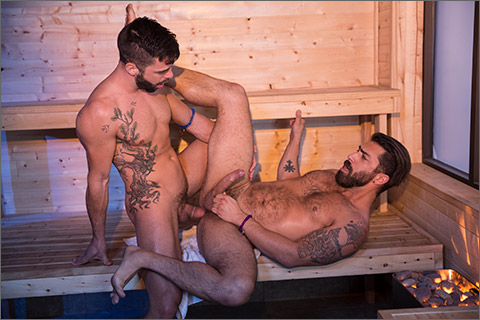 SCENE 5: Hector de Silva fucks Adam Ramzi
Adam Ramzi is relaxing in the sauna when Hector de Silva enters and drops his towel. Adam notices instantly and the hunks lock eyes. The studs get down to business and start making out as their dicks grow hard between their hairy legs. Adam can't go another second without Hector's cock in his mouth and opens wide to get every inch of meat he can cram down his throat. After enjoying all the attention, Hector needs a taste of Adam's big glistening hard-on and gets down to return the favor. Both hung hunks want to fuck but before they do, Adam needs his hole opened up. Hector takes his place in front of Adam's hairy hole and rims him until he's ready to receive. Adam begs for more than just a tongue up his ass and Hector is happy to oblige. Adam bends over to let Hector stretch his hole as Hector slides his cock deep inside and pounds him hard. After a nice long fuck session, Adam wants to be dominated and lies back on the sauna bench to let Hector do the heavy lifting. Hector fucks the cum out of Adam before he pulls out and mixes his own load with Adam's pool of jizz, leaving the hairy stud a sticky, cum-covered mess.

WATCH THE SCENES AT:
RAGING STALLION'S MEMBERS SITE
Members at RAGING STALLION"S MEMBERS SITE can watch these scenes and download extensive Photo Content from this production and get discounted pricing on all DVD and Print purchases.


Hot or Not? Let us know.
[Total:

1

Average:

4

]