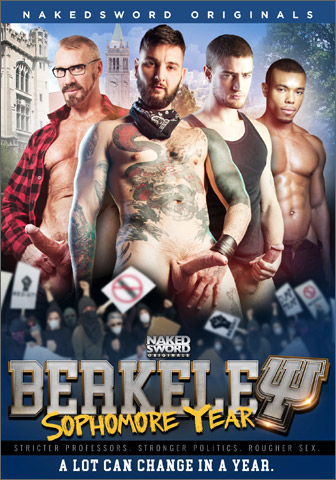 Studio: NakedSword Originals
Directed by: mr. Pam
Year of Production / Release: 2018
Country of Production: U.S.A.

CAST:
Timarrie Baker
Justin Brody
Teddy Bryce
Timothy Drake
David Emblem
Leo Forte
Dallas Steele
Wesley Woods
INFORMATION FROM NAKEDSWORD:
A lot can change in a year! Since the release of our smash hit "Berkeley" the world has turned upside down. The campus is plagued by protests and unrest that reflect the challenging social climate of today's politics. Campus Alumni recruiter Wesley Woods finds out how far potential Freshman Timothy Drake is willing to go for his admissions. World's collide while preparing for a campus rally when Berkeley's Republican Club President (Leo Forte) butts heads with Democratic Club president (Timarrie Baker). Their heated debate about "free speech" fuels a hot fuck between ex-boyfriends. Meanwhile two hardcore black-clad ANTIFA protestors (Justin Brody and Teddy Bryce) enjoy a post-protest fuck-fest fueled by a violent political clash on campus. Back on campus hung professor (Dallas Steele) fucks a horny student (David Emblem) in the infamous psych-building gay cruising bathroom, only to be shocked when the boy says "see ya in class professor!" Will it be a masturbatory memory or a #MeToo moment? Find out in BERKELEY: SOPHOMORE YEAR!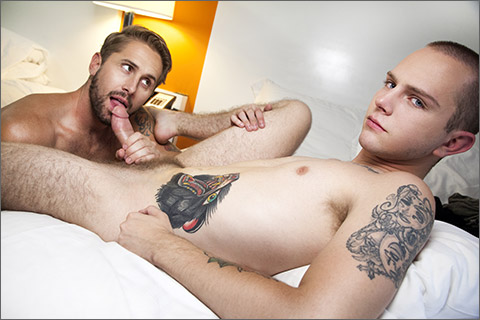 SCENE 1 – ALUMNI REVIEW: Wesley Woods fucks Timothy Drake
Alumni recruiter Wesley Woods has interviewed some interesting legacy applicants, but nothing could have prepared him for the scene at Timothy Drake's parent's house. Wesley barely sits down before Timothy's brother (Colton Grey) enters the room with a big bulge in his underwear and an even bigger fuck buddy (Brian Bonds) in tow. The two begin suggestively feeding each other bananas as Timothy makes overtures toward Wesley who decides to continue the interview in his private hotel room. Timothy walks in the door and Wesley begins his in-depth interview by probing Timothy's tight virgin hole with his tongue and two fingers while jerking and sucking on the young stud's giant cock. Wesley kicks back so Timothy can worship his cock before he sits down on it. Wesley fucks the young recruit fast, hard and deep until he pulls out and cuts on Timothy's fresh young ass. Welcome to Berkeley, Timothy!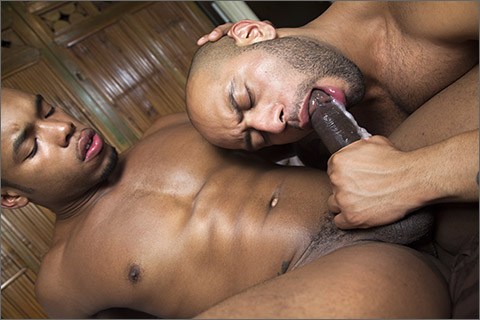 SCENE 2 – CROSSING PARTY LINES: Timarrie Baker fucks Leo Forte
The threat of violence from both sides forces Berkeley Republican Club President Leo Forte to cancel the appearance of a controversial right-wing talking head (cameo by Theo Ford) leaving Leo to address the crowd himself. Democratic Party Club President Tamarrie Baker stops by Leo's dorm room to express his regret that free-speech has been silenced on campus by violence. The two hot-headed student leaders begin sparring and it soon becomes clear they have more in common than politics. They share a love that crosses party lines. Shirts fly off to reveal chiseled torsos as they kiss and strip out of their jeans. Leo feasts on Tamarrie's enormous BBC, swallowing it to the base like a pro. Timarrie gets a good taste of Leo's cock before bending him over and fucking him harder than the Republican Party is fucking over America. Leo blows his load and eats it while Tamarrie pulls out and jerks off all over his rival's face. Maybe love really does trump hate.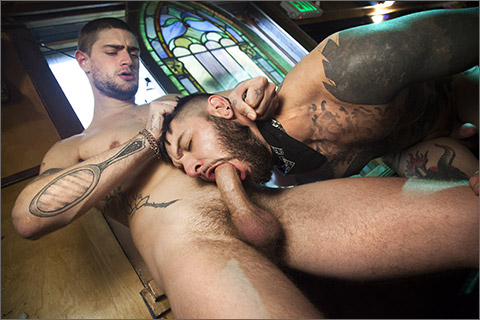 SCENE 3 – FUCKING ANARCHY: Justin Brody fucks Teddy Bryce
Activists Justin Brody and Teddy Bryce are making protest signs, getting pumped for tonight's big Antifa rally. They slip their black ski masks over their heads and bolt out the door headed for the Berkeley campus. By the time they get there it's a full-on riot. Protestors from both sides are shouting obscenities, throwing blows and dodging bottles – including Republican Club President Leo Forte. Justin and Teddy work the young republican over good and take off back to their headquarters. They crash through the door and immediately begin making out as they rip each other's clothes off in an adrenaline fueled rage. Justin's already engorged cock demands attention from Teddy's hot mouth before he shoves it in his tight hole and pounds him hard. Justin lies back, and Teddy bounces up and down his hard cock until he blows then Justin pulls out and beats his meaty cock directly into Teddy's open mouth.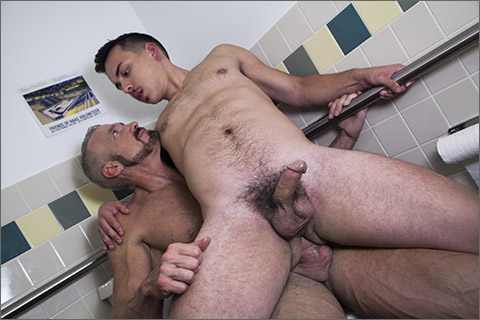 SCENE 4 – SURPRISE IN THE STALLS: Dallas Steele fucks David Emblem
Sophomore David Emblem knows all of the places to cruise for cock on campus and he's always looking for action. All it takes is for a guy to make eye contact and hold his stare for just a split-second longer than usual and he knows he's found his next fuck. Today he's found a sexy silver fox (Dallas Steele) and follows him to a well-known but discrete public mens' room. Sure, enough the stall door is ajar, signaling for David to open and find his prize and he's hit the jackpot. Dallas stands there half naked, his chiseled and hairy torso gleaming with sweat, jerking his huge rock-hard cock. Like a good boy, David falls to his knees and swallows the rod all the way to the balls. The public sex continues as both guys strip naked and Dallas turns his attention to David's giant bubble butt. Daddy Dallas takes a seat on with his staff in the air, giving David the perfect place to sit. He fucks him long and hard until pulls out and shoots all over the young stud's fat, hairless ass. On his way out of the now slippery bathroom stall, David tells the unwittingly complicit professor, "I'll see you in class in the morning." That's Berkeley,: Sophomore Year

WATCH THIS AND A HOST OF OTHER FILMS AT:
NAKEDSWORD
On-Line Presentation, exclusive to NAKEDSWORD
Members can watch this with a host of other films in the NakedSword Library.