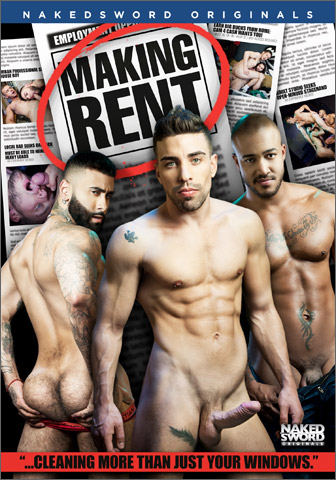 Studio: NakedSword Originals
Directed by: mr. Pam
Year of Production / Release: 2018
Country of Production: U.S.A.

CAST:
Brian Bonds
Teddy Bryce
Jackson Fillmore
Colton Grey
Josh Milk
Pierce Paris
Ashley Ryder
Jason Vario
Rikk York
INFORMATION FROM NAKEDSWORD:
You live in one of the most expensive cities in the world, you're broke and rent is due. So what's a handsome, well built bro with a huge cock, hungry hole and no money supposed to do? You need to get out there and start Making Rent! At first glance these jobs seem pretty much like a no-brainer. Cleaning houses, working as a grip on set at the Nob Hill Theatre, or being a bar back at the Powerhouse seems like an honest way to make a living. But when the opportunity comes to make even more money in exchange for sucking dick and fucking ass, who is going to say no? Not these guys! They will do whatever it takes when it comes to Making Rent.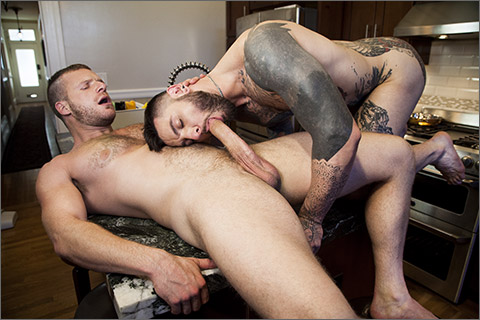 SCENE 1: Bryan Bonds fucks Teddy Bruce
Brian Bonds calls houseboy Teddy Bryce to come and give his kitchen a deep cleaning. While Teddy works up a sweat Brian spies on the young tattoo'd hunk and offers him 3x the money if he'll work naked. Before you can say "rent's due" Teddy is down on his knees deep-throating Brian's huge cock. Brian throws Teddy on the counter top and eats his ass then shoves his cock in deep for a hardcore ass-pounding. Teddy takes it all until he blows his load then gets down to drain Brian's cock, swallowing every drop.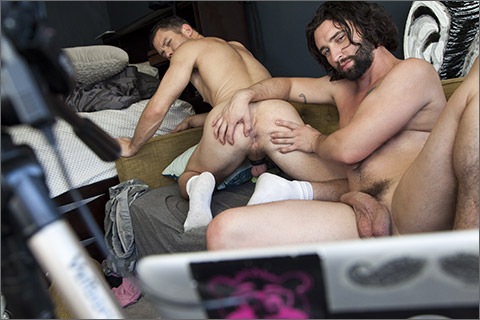 SCENE 2: Jackson Fillmore fucks Ashley Ryder
What's a horny hung couple with a web cam to do when rent is due? Put on a live cam show for tips from their SOMA flat aka "The Pig Pen." Luckily there's nothing Ashley Ryder and Jackson Fillmore won't do. Ashley starts the show by edging Jackson's uncut cock until he can't take it any more and the tokens start rolling in. Tickling earns the guys another 200 tokens. Jackson spanks Ashley's ass for 150 until both cheeks are on fire. A large dildo up Ashley's ass is worth another 500. But when Ashley opens his hole for Jackson's probing fist and thick cock it's clear the are making rent!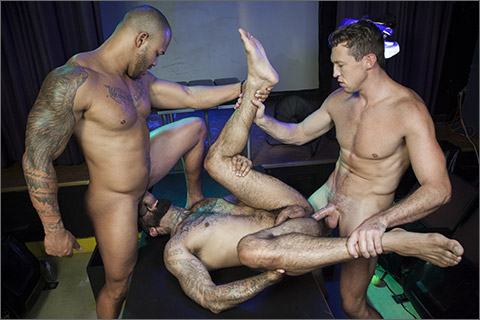 SCENE 3: Jason Vario & Pierce Paris spit-roast Rikk York; Jason Vario fucks Pierce Paris
Rikk York is having one of those days. He's broke, rent is due and he's fucked. Desperate for cash, he picks up the local paper to skim the classified ads and comes across "production assistant needed for gay porn shoot". Why not? When he shows up to the Nob Hill Adult Theatre, he's greeted by the director and gay porn stars Pierce Paris and Jason Vario, who are super horny but worried they're going to have to cancel the shoot because of a no-show. No scene = no pay! Rikk flashes his bubble butt and 6-pack abs and offers to be the replacement. The horse-hung superstars approve and within minutes he's got 2 dicks in his ass and choking on man meat. The Who says Making Rent can't be a load-full of fun?!?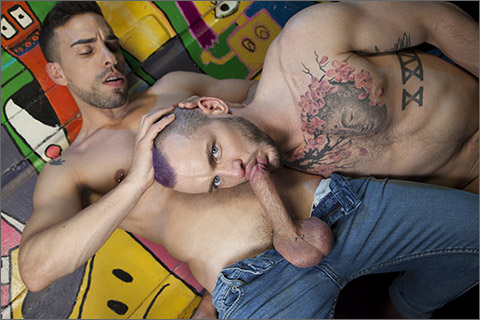 SCENE 4: Colton Grey & Josh Milk flip-fuck
The SOMA district of San Francisco brings its fair share of street trade. As Powerhouse bartender Colton Grey arrives to work to open the bar, he is greeted with a pleasant surprise: sexy euro boy Josh Milk passed out on the front door. Colton invites him in to help clean in exchange for some quick cash. After wiping down the bar, Josh goes to the backroom to wipe down his stinky armpits and catches the eye of Colton. Colton decides to take advantage of the prize left on his doorstep and jumps on Josh's big uncut cock. They hot young studs take turns sucking dick and fucking ass. After an epic flip-flop, Josh asks for his cash and leaves Colton with face-full of cum and a satisfied smile.

WATCH THIS AND A HOST OF OTHER FILMS AT:
NAKEDSWORD
On-Line Presentation, exclusive to NAKEDSWORD
Members can watch this with a host of other films in the NakedSword Library.