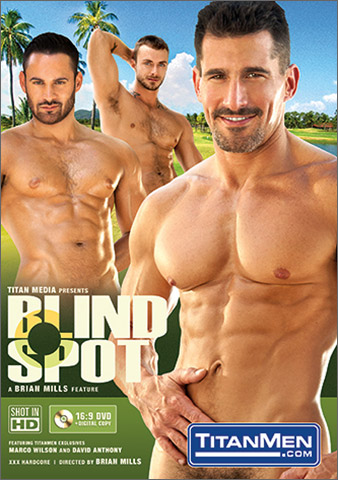 Studio: Titan Media
Directed by: Director: Brian Mills
Year of Production / Release: 2011
Country of Production: USA

CAST:
David Anthony
Jessie Colter
Jimmy Durano
Leo Forte
Jayden Grey
Adrian Long
Marco Wilson
FROM TITAN MEDIA WEB SITE:
You always play fast, smart and safe. But no matter how hard you try, sometimes you just don't see it coming. Get caught by surprise as TitanMen exclusives David Anthony and Marco Wilson strike without warning, leading a hung group of vacationers about to get trapped in the Blind Spot between life and lust. Brace yourselves…you won't know what hit you.
   Rookie golfer David Anthony fires his ball at unsuspecting sunbather Leo Forte—who soon has two more hard balls slamming against his spit-soaked face and ass. Resort workers Jimmy Durano and Jayden Grey heat up the night with their oral exchange, drawing Adrian Long into their encounter as Grey gets stuffed at both ends. Hung and ripped Marco Wilson gets struck by a pickup truck—and then gets payback by fucking the holes of jock driver Jessie Colter.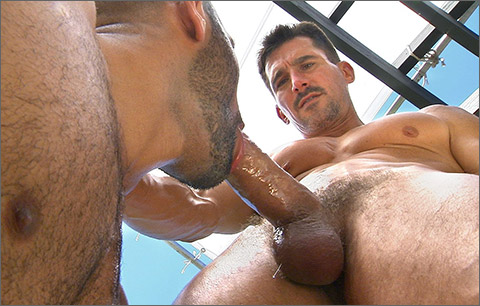 SCENE 1: David Anthony fucks Leo Forte
Rookie golfer David Anthony sends his ball into the drink of sunbather Leo Forte: "You gonna show me how sorry you really are?" asks the muscular vacationer. David deep throats the shaved-headed stud, gagging as he slurps. Leo returns the favor, worshipping David's huge meat. The sucker opens wide, his nose and lips buried at the base of the thick beast. The spit strands come fast and furious, clinging to David's cock and falling to the ground as the breathless sucker shows off his skill. The two squirt before Leo gets his hole munched, David warming it up as Leo strokes him. The chiseled top slides his dick in, the two staying stiff as low shots capture their banging balls. On his back, Leo gets pounded as his own boner gets stroked, the bottom beating it on David's abs. Leo grabs the top's pec as he gets fucked, two loads soon coating him.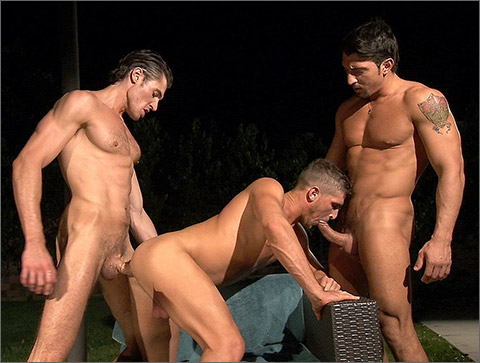 SCENE 2: Jimmy Durano and Adrian Long fuck Jayden Grey
Resort waiter Jimmy Durano tells co-worker Jayden Grey about the hot sex he witnessed. "You wanna show me what they were doing?" asks Grey, his big boner soon bobbing in dark-haired Jimmy's face. He teases the red-hot shaft with his tongue, smiling as he rubs Jayden's smooth body. Jimmy sucks his bud, reaching up to feed him fingers. Jayden unzips the tattooed hottie, sucking the thick throbber and teasing his foreskin ("Tastes so fucking good!"). Scruffy-haired Adrian Long approaches, soon feeding his big dick to Jayden. Adrian falls to his knees as the two kiss, a suck chain following as the three jack out their loads. Jimmy and Adrian take turns ramming Jayden, the bottom's dick staying solid. The hottest sequence has ripped Adrian pinning Jayden from behind, nibbling the bottom's ear as he inches closer—with Jayden licking Jimmy's chest. It all ends with an explosion of cum on Jayden, the three kissing to close it out.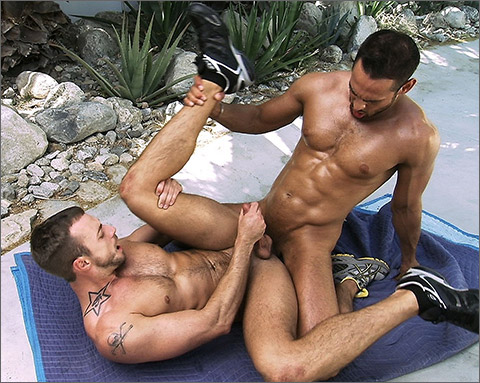 SCENE 3: Marco Wilson fucks Jessie Colter
As he backs up his pickup, shirtless Jessie Colter bumps into tan and tight-abbed Marco Wilson. The angry yet aroused victim pulls Jessie in for a kiss, guiding the jock down. Marco's big boner pops out of his shorts, Jessie sniffing it and rubbing it on his face before devouring it. The two switch positions, Jessie's cock soon soaked in spit. Marco stands up for a kiss, their two dicks caught in a hot battle of swordplay. In the back of the pickup, Jessie gets his ass eaten before they suck some more, their hands all over each other in a passionate display. "Dirty fuck!" yells Marco, whipping his dick on Jessie's face as the sucker grabs Marco's abs. The two kiss as they come, Jessie then getting on all fours as he gets it doggie style. Pinning the moaning bottom to the ground, Marco whispers in his ear and licks his back, their stubbly chins grazing as they kiss. The bottom gets on his back for more, shooting as he gets fingered before Marco sprays on him.

MORE INFO, PREVIEW OR WATCH RIGHT NOW:
TITAN MEDIA
Scenes Premier online prior to DVD release and are available to view anytime in the Member's Area.
Members can watch scenes from almost all Titan Media releases anytime online.

VIDEO ON-DEMAND: BLIND SPOT @ AEBN SMUTJUNKIES THEATER
DVDs & ON-DEMAND: BLIND SPOT @ TLA VIDEO