Studio: Titan Media
Directed by: Brian Mills
Year of Production / Release: 2011
Country of Production: U.S.A.

CAST:
Amir
Aymeric DeVille
Shay Michaels
Enzo Rimenez
Junior Stellano
Jeremy Tyler
Roman Wright
SCENE 1: Aymeric DeVille and Shay Michaels fuck Junior Stellano
SCENE 2: Roman Wright fucks Jeremy Tyler
SCENE 3: Amir fucks Enzo Rimenez
ADDITIONAL COMMENTS:
Members at Titan can watch this online anytime.
FROM TITAN MEDIA WEB SITE:
You think you're alone. You let your guard down, surrendering to that undeniable urge. But you're wrong — intense eyes are on you, and they want a lot more than just a glance. You've been Exposed, but don't be shy — embrace your inner exhibitionist. Need some help? TitanMen exclusive Aymeric DeVille is here to lead the way as a group of hung buds show off and get off as your sensual stare turns them on.
Assuming the position in the men's room, tattooed Aymeric DeVille has two admirers: hairy hunk Junior Stellano and muscle jock Shay Michaels. Before it's over, no mouth or hole is left unsatisfied. Beefy repairman Roman Wright gets a sniff of bud Jeremy Tyler's briefs, the two exchanging sucks before Jeremy gets a super-sized stick shift up the ass over the hood of his car. Turned on by the sight of a stroking Enzo Rimenez, tight and toned Amir unleashes his big cock on the eager bottom in a passionate encounter.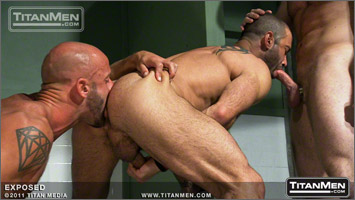 SCENE 1: Aymeric DeVille and Shay Michaels fuck Junior Stellano
In a dirty men's room, tattooed Aymeric DeVille approaches the urinal, his muscular back filling the frame. He pulls down his jeans, his jock butt exposed from his open-ass briefs as he strokes his uncut cock. Dark and hairy Junior Stellano makes his way to the open stall, sitting on the toilet and stroking his big dick as he eyes Aymeric through the glory hole. Aymeric shoves his cock through the wall as Junior starts to feast. Shay Michaels eyes the action from the sink mirror as the suck sounds turn him on. He's quickly on his knees, burying his bearded face inside Aymeric's hole as Junior continues to blow. Shay reaches underneath to stroke Junior's cock, then strips down to show off his built bod. He slides his hard dick inside Aymeric's hole, rubbing the groaning bottom's back. Shay kisses Aymeric's neck and ear, wrapping his arms around the stud to rub his pecs. Junior jacks Aymeric's load out before Shay squirts on Aymerric's ass. Junior comes, then offers his ass to Aymeric's tongue while wrapping his lips around the increasingly verbal Shay: "All the way…there you go!" As Junior deep throats Shay, Aymeric fucks the muscle man from behind — the bottom's monster quads clenching. The two rub Junior's bod as they double-team him, then switch positions. Shay's pecs bounce as he plows Junior deep , but the bottom soon turns the tables. Sitting on the toilet, he gets both studs to take turns riding his cock. Their bods tighten up as they shoot their loads while getting fucked, Junior then letting go of his second wad as the three kiss to end the steamy threesome.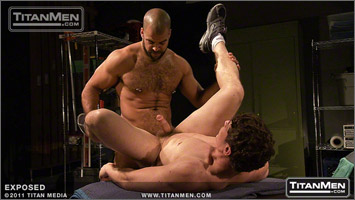 SCENE 2: Roman Wright fucks Jeremy Tyler
Finishing up repairs on his bud's car, beefy and bearded Roman Wright finds underwear in the glove compartment. A whiff is all it takes, the blue collar hunk taking out his beast of a cock as he strokes and sniffs. All-American Jeremy Tyler spots him, the bulge in his pants growing. Roman instructs the stud to show off as Jeremy inches closer. He's greeted by a kiss, Roman's cock grazing his package. Roman drops down and sucks like a pro, working Jeremy's cock into a shine as he rubs the smooth cutie's chest. Roman spits on it, the cock dripping wet as he teases Jeremy's balls. Roman takes another whiff, deep-throating again as gag sounds fill the garage. On his knees, Jeremy gulps Roman's monster cock. The alpha stud looks down, grapping hold of Jeremy's lush hair. The two fire their loads on each other's chests, Roman's dark and hairy pecs coated. Bent over the hood of his car, Jeremy gets his hole eaten before Roman shoves his meat inside. Roman slaps the bottom's ass, then fucks him on his back—varying the tempo from fast and hard to slow and deep. Jeremy stays stiff, the two soon squirting again as another giant Jeremy load impresses the smiling Roman, his stomach wet with white-hot jizz.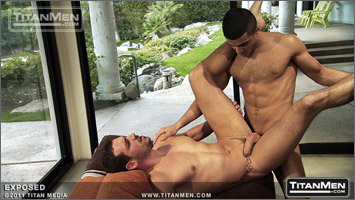 SCENE 3: Amir fucks Enzo Rimenez
Rubbing his smooth chest as his big dark nipples bask in the sun, dark-haired Enzo Rimenez works up the bulge in his jeans. His uncut cock released, he strokes and shows off his steel shaft, tugging his balls and whipping his dick around. A smiling Amir rounds the corner, the two locking eyes. The dark and handsome admirer comes in for a kiss, the two rubbing each other's toned and tight bods. Enzo drops down to feast on Amir's cock—a big, uncut beauty that grows harder inside his warm mouth. Amir wraps his hands around Enzo's head, the sucker's shaft pulsing as he pleases his bud. Amir whips his dick on Enzo's open mouth, shoving it in again for a fast face fuck. Amir sucks back, worshipping his bud's rock-hard dick as an enraptured Enzo looks down. The two squirt on each other, Amir rubbing his dick on Enzo's chest. In the living room, the two kiss before Enzo gets another face fuck. Bent over the couch, he also gets his ass fingered and licked. Amir works his boner in, grinding his groin nice and slow before picking up the pace as Enzo moans, his ass rippling. Amir kisses the bottom's back, later resting his hand on Enzo's neck as low shots catch the top's thick dick in action. On his back, Enzo gets rammed as Amir rests his hand on the bottom's pec in a memorable overhead shot. The two passionately kiss, stroking out two more loads as Amir's amazing abs tighten up, another kiss closing the action.
BONUS FEATURES
Photoshoot footage includes some fluffing action, while a cumshot compilation, trailers, digital copy instructions and a look at TitanMen Tools and Lube are also included.

MORE INFO, PREVIEW OR WATCH RIGHT NOW: TITAN MEDIA
GO TO: TITAN MEDIA STORE