Studio: Falcon Studios
Directed by: Tony DiMarco
Year of Production / Release: 2012
Country of Production: U.S.A.

CAST:
Brian Bonds
Jessie Colter
Landon Conrad
Trenton Ducati
Marc Dylan
Charlie Harding
Erik Rhodes
Chris Tyler
SCENE 1: Erik Rhodes and Trenton Ducati flip-fuck
SCENE 2: Chris Tyler and Brian Bonds flip-fuck
SCENE 3: Erik Rhodes, Landon Conrad and Trenton Ducati fuck Marc Dylan
SCENE 4: Charlie Harding fucks Jessie Colter
ADDITIONAL COMMENTS:
Falcon Members can watch scenes from this Release anytime online.
DVD Releases debut online prior to DVD Release.

THIS PREVIEW CONTAINS ADULT SEXUAL CONTENT
[jwplayer mediaid="40563″]

FROM FALCON STUDIOS:
At the Body Shop workers aren't only servicing cars and trucks! After putting in long sweaty hours working on hot rods all day, our revved up mechanics get down and dirty and the pistons start pumping. With Exclusives Landon Conrad, Charlie Harding and Erik Rhodes heading the eight man cast, the after work hours are filled with grease monkey sex like you have never seen before! Come on down to the Body Shop to get primed up and watch the hottest crew finish each other–and you–off!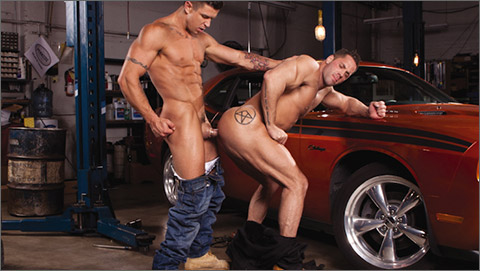 SCENE 1: Erik Rhodes and Trenton Ducati flip-fuck
Alone in the body shop, Erik Rhodes and Trenton Ducati can't wait to go at each other. Erik drapes his muscular body over the hood of a car and props his bubble butt up, exposing his tight puckered asshole. This is one open invitation Trenton will not pass up and he charges right in, driving his cock deep inside. Erik lifts one leg to stretch his asshole open more and Trenton digs in deeper, pumping faster and faster. These beefy versatile studs are so turned on, they want to switch it up. Trenton lays back nestled on a pile of tires and spreads his legs wide apart. Erik stands between Trenton's muscular thighs, drives his engorged cock into Trenton's twitching asshole, and fucks it hard with a series of deep thrusts. Trenton strokes his cock excitedly while he's getting pummeled, then Erik takes over jerking him off. The big man massages Trenton's swollen dick until he squeezes out beads of cum. And Erik finishes up, shooting his load all over his partner's crotch before he licks it all off.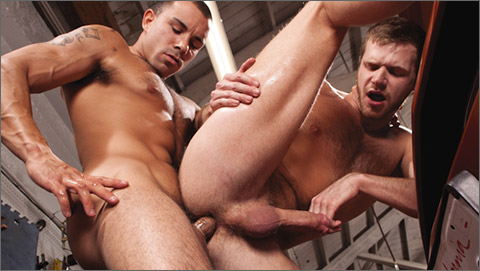 SCENE 2: Chris Tyler and Brian Bonds flip-fuck
Needing a break from the manual labor, horny and sexy Chris Tyler checks on his stunning buddy Brian Bonds. The sexy mechanic is finishing up when he turns around and sees Chris crankin' his big shaft. Pleasantly surprised and feeling pretty frisky himself, Brian is eager to get down on his knees to siphon Chris' hose. The muscled brunet is soon breathing deeply and reeling with pleasure as he enjoys the expert blowjob. Then anxious to feed as well, Chris buries his face in Brian's crotch and begins to service him. Fast and steady like a well-oiled piston, his head bobs up and down as he sucks his partner's cock. The action ramps up when the guys take turns fucking each other. Chris goes first and then Brian with both of them working so hard that their muscled bodies are soon glistening with sweat. Then balanced atop a stool with Brian still pounding him, Chris beats his meat until he cums. Brian quickly follows, finally pulling out to blast his creamy load.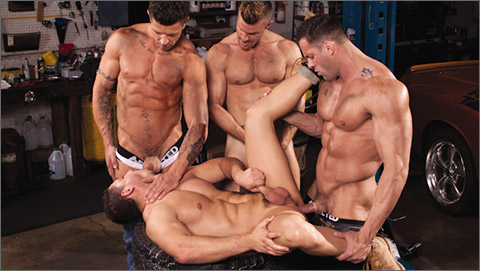 SCENE 3: Erik Rhodes, Landon Conrad and Trenton Ducati fuck Marc Dylan
Trenton Ducati sneaks off into the supply room and starts jacking off. But this hiding space isn't much of a secret because Erik Rhodes makes his way back there too with the same release in mind. Catching each other with their matching hard-ons, the big-muscled, studly giants crash into one another's embrace sucking face and then sucking cock. Meanwhile, down in the shop, Marc Dylan can't keep his eyes off Landon Conrad's hunky body. Marc is so distracted that he has to unzip his co-worker's pants, pull out Landon's thick cock and gobble it down. Landon returns the favor and nurses on Marc's dick. Then with Marc standing on a hydraulic jack and elevated, Landon rims his ass. Having primed his manhole, Landon fucks Marc, working feverishly until one after the other they shoot their loads. But before Marc and Landon can catch their breath, Trenton and Erik come in from the supply closet and continue the ass assault on Marc who quickly surprises everyone with a second spray of jizz.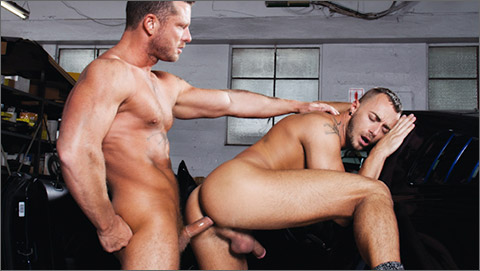 SCENE 4: Charlie Harding fucks Jessie Colter
Charlie Harding is one sexy hunk who wields his rugged handsomeness wherever he goes. In the body shop, he oozes a manly charisma that co-worker Jessie Colter is dying to sop up. The young grease monkey races to Charlie's big cock and sucks it down with gusto. He clamps the thick shaft with his lips and slides up and down the length; he circles the tasty knob with his tongue and swallows it whole. The guys then shift gears, and Charlie takes his turn throttling his partner's firm stick shift. He guzzles it down his throat and makes Jessie pant excitedly. Before long, the men start to fuck and Jessie gasps even harder. His eyes glaze over as Charlie drives his mighty tool deep inside him. Then laying back, Jessie begs for more. He jerks himself off until he explodes, splashing cum across his stomach. Charlie is quick to follow and he laughs smugly as he shoots his wad all over.

WATCH IT OR GET IT NOW AT: FALCON STUDIOS