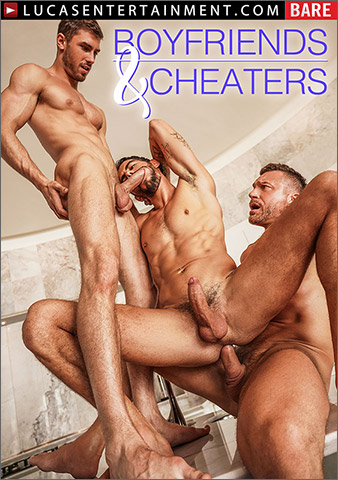 Studio: Lucas Entertainment
Directed by: Michael Lucas
Year of Production / Release: 2021
Country of Production: U.S.A.

CAST:
Valentin Amour
Steven Angel
Tomas Brand
Rudy Gram
Allen King
Craig Marks
Pol Prince
Sir Peter
Kosta Viking
INFORMATION FROM LUCAS ENTERTAINMENT:
Are you meant to be committed when you're as hot and ready to fuck as the Lucas Men, or is there no difference between BOYFRIENDS AND CHEATERS? Kosta Viking and Rudy Gram fuck Allen King bareback. Feeling guilty, Allen returns to his boyfriend Pol Prince for some deep and raw intimacy. Later on, Kosta steps out for a threesome with Sir Peter and Steven Angel. And Tomas Brand joins the romance between Craig Marks and Valentin Amour!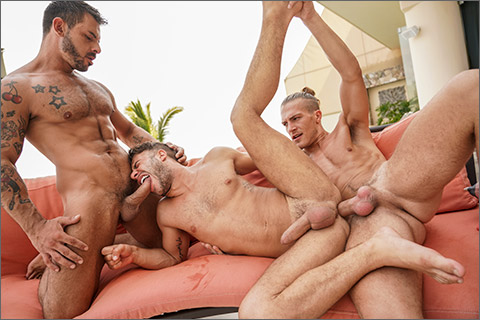 SCENE 1: Kosta Viking and Rudy Gram Spit-Roast Allen King
Kosta Viking and Rudy Gram are two sexy-as-hell Italian boyfriends who are vacationing in Puerto Vallarta, Mexico. Everywhere they went they were turning heads and drawing plenty of attention. Kosta Viking has runway-model good looks, and Rudy Gram is a rugged hunk with an incredible muscular body. Kosta and Rudy both enjoy having threesomes; they like to put a young bitch bottom's mouth and ass to work with their raw cocks. And when they are fucking, it's all about energy and going balls deep. They eventually meet up with Allen King, who is stepping out on his boyfriend, Pol Prince. Pol and Allen both had an argument earlier, and Allen is out for revenge. He loves his boyfriend deep down, but he soon turns into a cheater when his Italian suitors seduce him. Kosta Viking and Rudy Gram invite Allen King back to the villa they are vacationing at, and they hang out on the lanai. Allen makes his move, and before he knows it, Kosta and Rudy are stripped naked and ready to fuck. The Italians take turns in Allen's mouth and ass, fucking Allen as he gasps and begs for it harder and harder. Kosta Viking and Rudy Gram also get into some humiliation, and they hold Allen King down with their bare masculine feet!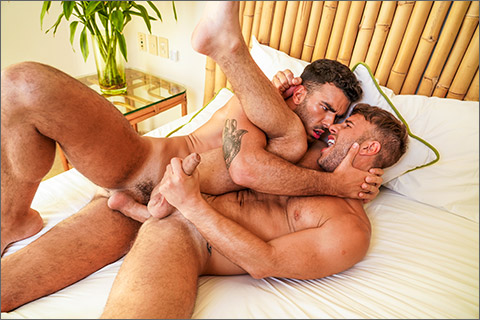 SCENE 2: Pol Prince Pounds Allen King's Ass
Allen King eventually returns to Pol Prince, who is none the wiser that his boyfriend was cheating on him not even 24 hours prior. But now Allen is feeling some strong pangs guilt over his indiscretion with the handsome Italian men, Rudy Gram and Kosta Viking. On top of Allen's guilt, Pol Prince is still upset with his boyfriend for neglecting him and his needs as a young man with a healthy sexual appetite. Allen King kisses up to Pol Prince, and they get naked together in bed where Allen services those needs that Pol requires some attention for. Allen sucks on Pol's cock and worships his feet. But it's ass Pol needs, and when he inserts his big Spanish dick into Allen's ass bareback, he does not take it easy. Pol Prince pounds Allen King's ass long and hard, getting out all of his relational frustration!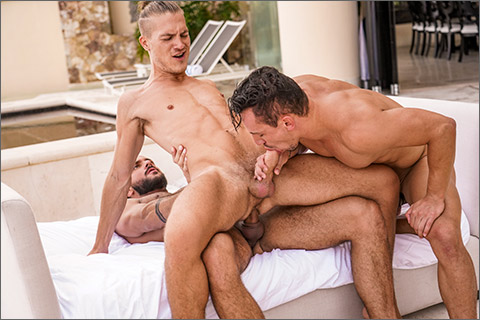 SCENE 3: Kosta Viking And Steven Angel Service Sir Peter
Ever since the threesome with Allen King and his boyfriend Rudy Gram, the handsome and virile Kosta Viking has had a wandering eye during his stay in Puerto Vallarta. While Rudy is spending a day with his friends outside of town, Kosta finds himself cruising until he strikes gold. He meets the sexy hunk Sir Peter and his fuck buddy Steven Angel. Kosta Viking invites Sir Peter and Steven Angel over to the villa to hang out, but Peter is not there to socialize. He pulls down his trunks and shows off his trademark fat, rock-hard uncut Portuguese cock; he displays his awesome manhood before Kosta and Steven with the attitude of, "start servicing." Sir Peter takes the mouth and ass of Kosta Viking and thoroughly sodomizes them both, fucking his deep and hard orally and anally. All the while, Kosta Viking is balls deep inside of Steven Angel's tight little ass!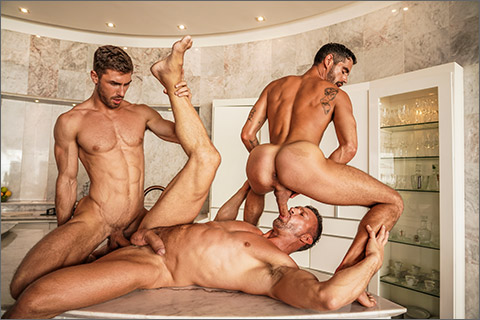 SCENE 4: Tomas Brand fucks Craigs Marks and Valentin Amour
Tomas Brand, the King of All Muscle Daddies, does not have to exert much effort into seducing the men he takes to bed. Guys throw themselves at Tomas, and it's no wonder why. After all, he is the King of All Muscle Daddies, and he only gets hotter and hotter as the years pass. Craig Marks and Valentin Amour, two young handsome men with lean muscular bodies, open up their relationship when they meet Tomas and they want to get frisky with the muscle-daddy stud. Valentin Amour gets his ass fucked on the kitchen counter of Tomas' home, but Craig Marks is in the mood to fuck, and he's after his daddy's ass. Tomas Brand gets on his back, spreads his legs, and gets fucked bareback from his young lover!

SEE THIS NOW / MORE INFO:
LUCAS ENTERTAINMENT
Scenes Premier online prior to DVD release and are available to view anytime in the Members Area.
Members can watch scenes from all Lucas Entertainment releases anytime online.

VIDEO ON-DEMAND: Lucas Entertainment @ AEBN SMUTJUNKIES THEATER
DVDs & ON-DEMAND: Lucas Entertainment @ TLA VIDEO