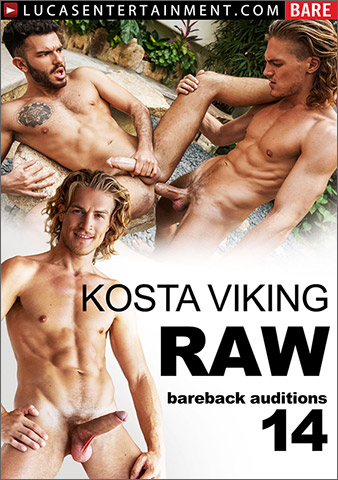 Studio: Lucas Entertainment
Directed by: Michael Lucas
Year of Production / Release: 2021
Country of Production: U.S.A.

CAST:
Rodrigo Amor
Marco Antonio
Charlie Cherry
Rudy Gram
Oliver Hunt
Igor Lucios
Pol Prince
Kosta Viking
INFORMATION FROM LUCAS ENTERTAINMENT:
BAREBACK AUDITIONS 14 is an absolute must see if you want to get to know KOSTA VIKING RAW! Kosta Viking teams up with Pol Prince, and they both take turns sucking and breeding until they are soaked with sweat. Later on, Rudy Gram submits and rides Igor Lucios' fat uncut cock. Total-top Charlie Cherry fucks Rodrigo Amor up the ass. And Oliver Hunt bottoms for Marco Antonio's nine-inch uncut cock!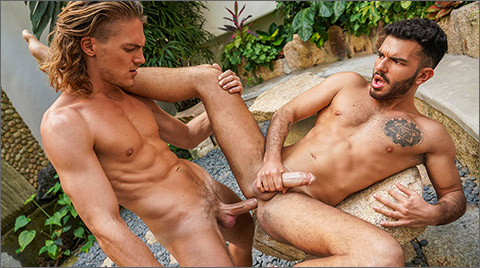 SCENE 1: Kosta Viking And Pol Prince Flip Fuck
When a model like Kosta Viking starts filming for Lucas Entertainment, it's important to get to know him with an interview in the "Bareback Auditions" style and tradition. We first saw Kosta Viking debut with his real-life boyfriend, Rudy Gram, where they took turns sharing Allen King. And once Pol Prince saw how hot Kosta Viking is, he wanted a piece of the blond Italian.
   He was cast to star with Kosta because Pol wanted to grab the handsome model by his long blond curls and give a good pull while he sodomized him deep in his ass. And guess what—that is exactly what he does! Pol Prince's muscles are trim and tight, and they flex with masculine beauty as he pumps his raw cock in and out of Kosta Viking.
   Pol prefers to top, but he's willing to spin around and give it up for the right guy. Well, there's no guy more right than Kosta Viking. Kosta takes his time as he fucks Pol Prince on his back, and as his uncut Italian cock slides pumps up a load, Kosta's long damp hair hangs around his face!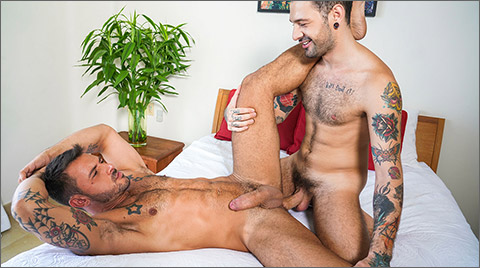 SCENE 2: Rudy Gram Rides Igor Lucios Fat Uncut Cock
Sometimes versatile sex between two men is the only way to go. Rudy Gram returns to star in front of the camera, and he brings all of his rugged good looks and masculine sex appeal with him. Rudy's muscular build is a testosterone-soaked work of art, and another newcomer wants to climb Rudy like a tree—and that newcomer is the adorable Igor Lucios. Igor is a handsome young Brazilian with a skater-punk presentation that makes him instantly hot. And his dark stubble and furry chest are the perfect accent to his toned body. But the real masterpiece is the fat eight-inch uncut cock he has between his legs. Rudy Gram loves guys smaller than him, and when he and Igor start fucking around, Rudy shows Igor just how strong he is and pumps Igor's hole. But all the while, Rudy's mouth is watering at the sight of the uncut meat Igor Lucios is showing off, and he commits to riding it. As Rudy Gram pumps his own ass up and down on Igor's manhood, you see his ass stretch wide open. Igor wants more control, so he gets Rudy on his back. There you see Rudy Gram throw his arms back in a display of masculine submission as Igor Lucios bangs him raw!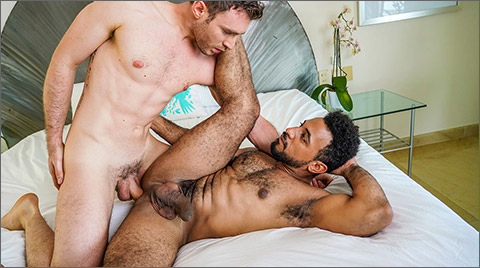 SCENE 3: Charlie Cherry Fucks Rodrigo Amor Up The Ass
The roster of "Bareback Auditions 14: Kosta Viking Raw" is shaping up to be one of the handsomest collaborations of men to ever star on Lucas Entertainment. Here we see the introduction of Charlie Cherry (who originally performed for the studio a few years ago as Philip Zyos). Charlie was one of the best looking guys to take off his clothes and fuck on camera then, and he still is today. Charlie Cherry is classically handsome, with a beautiful body with tight muscles. But it is his huge, fat uncut cock that is what everyone truly wants. It is almost 10 inches long and nearly as fat as a can. Charlie also has a fetish for fucking tops in the ass, as it's a sign of true submission to his huge cock. The sexy and hung Rodrigo Amor is a top, too, but when he met Charlie Cherry he was quickly seduced and agreed to be a total bottom for him in this particular encounter. It takes some time for Rodrigo to loosen up, but when he does he surrenders himself to the huge fat cock of Charlie Cherry!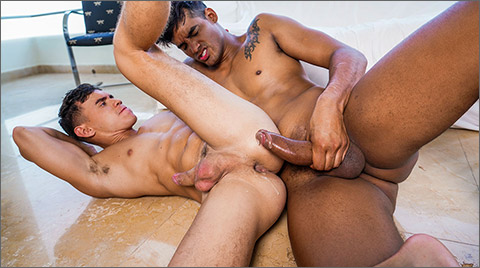 SCENE 4: Marco Antonio Tops Oliver Hunt
Marco Antonio is a true top for all of the size queens out there. This elite member of the Lucas Men has an enormous nine-inch uncut cock, and he knows how to use it. Marco's hot and sexually charged personality makes him a strong and powerful fuck buddy, and he has his sights set on Oliver Hunt. Oliver and Marco both signed as exclusives at the same time, and now it's time for them to unite orally and anally on camera to seal the deal. You've got to hand it to him: Oliver Hunt is a trooper when he gets fucked in his booty. He always takes his pounding and it ready for even more! Out on the lanai of the Puerto Vallarta villa, Oliver Hunt rides Marco Antonio's cock until they are both squirting seed!

SEE THIS NOW / MORE INFO:
LUCAS ENTERTAINMENT
Scenes Premier online prior to DVD release and are available to view anytime in the Members Area.
Members can watch scenes from all Lucas Entertainment releases anytime online.

VIDEO ON-DEMAND: Lucas Entertainment @ AEBN SMUTJUNKIES THEATER
DVDs & ON-DEMAND: Lucas Entertainment @ TLA VIDEO