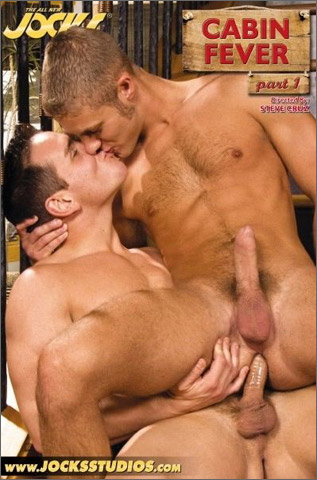 Studio: Falcon Studios / Jocks Studios
Directed by: Steve Cruz
Year of Production / Release: 2012
Country of Production: U.S.A.

CAST:
Micah Brandt
Spencer Fox
Andrew Jakk
Boston Miles
Dylan Roberts
Chris Tyler
Donny Wright
FROM FALCON STUDIOS:
What to do when you're stuck inside with nothing else to do — shoot some pool or play dominoes or cards? That's not enough to keep these sexy, All-American JOCKS occupied. They're horned up and burning up with Cabin Fever. The sexual tension and excitement they're feeling cannot be contained, and they're thinking about much naughtier games to play with their hot friends. Eventually, their Cabin Fever pushes them over the edge into heated exchanges that end in explosive action that will have you jerking right along with them.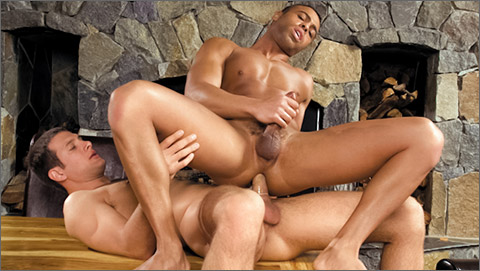 SCENE 1: Spencer Fox fucks Micah Brandt
Spencer Fox and Micah Brandt flirt shamelessly while playing cards, then wisely decide to ditch the game for a more rewarding past time. Spencer strips down and Micah latches onto his big fat cock mouth-first. He sucks the huge meat pole with an expertise that surprises them both even as Spencer towers over him face fucking his deep throat. The men then switch places so Spencer can work on Micah's stick, milking it with tight lips before he swabs his ball sac with a skilled tongue. Spencer's cock worms it way up Micah's ass and he fucks his horny partner fast and hard. The stud's balls swing madly back and forth as the two fuck nonstop in different configurations. Micah nears his threshold of excitement whimpering with ecstasy; it's just too good; it feels too good! Neither man wants to stop but every thrust, every poke pushes them farther over the edge until they both end up satisfied with strings of Spencer's spooge dripping off Micah's face.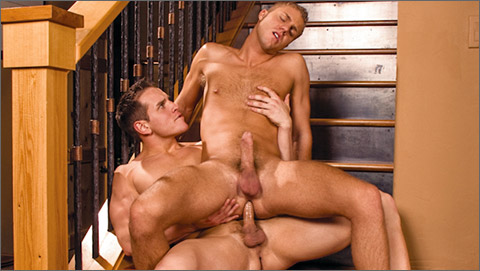 SCENE 2: Dylan Roberts fucks Andrew Jakk
Dylan Roberts and Andrew Jakk challenge each other in a game of dominoes when the sexy blond accuses his buddy of cheating. Dylan's smug response is "Suck my dick!" and Andrew grins and does just that. He works his mouth up and down the length of the uncut cock, savoring its slick and satisfying firmness. Dylan then removes Andrew's pants and presses his face against Andrew's butt cheeks. He begins to eat out the tasty ass, licking the hole thoroughly. Andrew sits on Dylan's lap and rides his cock. His moans and groans echo up and down the stairwell as Dylan fucks him hard. They continue screwing with Andrew down on his back and his legs up and open. He yanks his crank working his clenched fist fast until he cums in puddles across his stomach. Dylan pulls out and finishes himself off with vigorous strokes until he creams Andrew's face.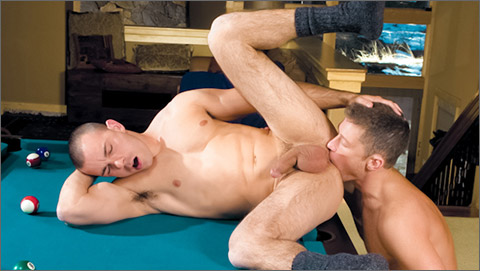 SCENE 3: Boston Miles fucks Chris Tyler
How can Boston Miles be serious about shooting a round of pool when Chris Tyler is being a tease playing with a different set of sticks and balls? Fed up with his buddy's horsing around, Boston challenges Chris to a more aggressive confrontation. Both studs are anxious to make sexual contact and they circle each other like hungry panthers. Boston gobbles up Chris's meaty uncut pole sliding it easily between his lips. Boston mouths the heavy ball sack, and rims Chris's hairy manhole. Chris pants excitedly and then makes his move to nurse on Boston's dick. It's not long before Chris leans against the pool table and lifts one leg up to expose his asshole. Chris's cheekiness draws the attention of Boston's big bat and the sexy bruiser fucks his partner aggressively, ramming in and out at a red-line pace. They gyrate into different positions still fucking until they finish laying side-by-side jerking off until each man produces a blast of juicy cum.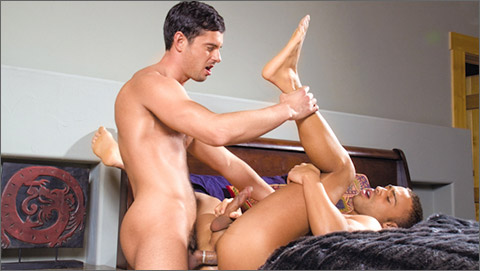 SCENE 4: Donny Wright fucks Micah Brandt
Micah Brandt and Donny Wright are happily wrapped up in each other's hot embrace as they kiss with manly passion. Micah's lips traverse the landscape of Donny's muscular body running from nipple to nipple, down along his treasure trail until he winds up hitting pay dirt as he swallows his partner's thick erect dick. He sucks on the meat pole greedily and the two continue their sexual floorshow as they twist around so Donny can dig in and rim Micah's ass. The big guy's tonguing skills have his buddy tingling with excitement and every lick is marked with a satisfied moan. Having prepped Micah's hole, Donny pierces through with his big cock. He charges right in moving in a steady rhythm, then pumps faster and faster. Micah's eyes roll back in his head as he gasps for air, grasps his cock and strokes it until he squeezes out a milky load. Donny is quick to answer as he finishes himself off by hand and blasts Micah's mug with his jizz.

WATCH THE SCENES NOW AT:
FALCON STUDIOS
Falcon Members can watch scenes from this Release anytime online.
DVD Releases debut online prior to DVD Release.

VIDEO ON-DEMAND: AEBN SMUTJUNKIES THEATER
DVDs & ON-DEMAND: TLA VIDEO