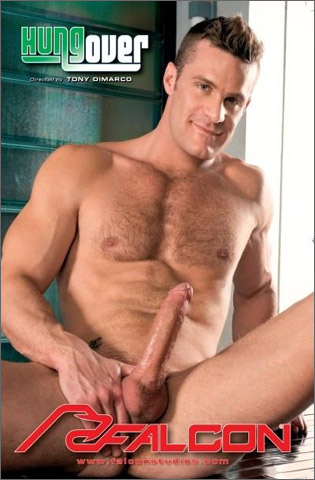 Studio: Falcon Studios
Directed by: Tony DiMarco
Year of Production / Release: 2012
Country of Production: U.S.A.

CAST:
Landon Conrad
Jimmy Durano
Spencer Fox
Dylan Hauser
Parker London
Connor Maguire
Chris Tyler
FROM FALCON STUDIOS:
Before being deployed for another year of serving his country, Chris Tyler's friends intend to give him a proper send off. But, when one of the guys decides to amp up the festivities with a special something, the gathering turns into an outrageous orgy, with all the guys gang-bangin' the guest of honor and wildly fucking with each other. The next morning they all wake up naked and sore. They may not remember what happened last night but they sure know something epic went down.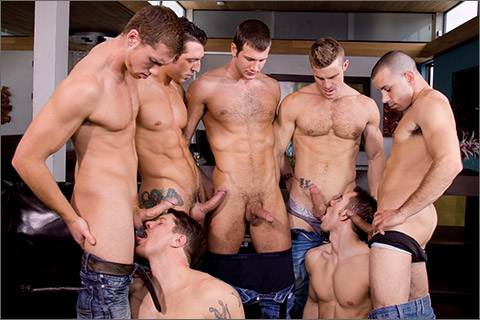 SCENE 1: Orgy Part 1: Oral
Landon Conrad, Spencer Fox Dylan Hauser, Jimmy Durano and Connor Maguire are all anxious to get down and party hearty before their service buddy, Chris Tyler, heads out on another deployment. With all the macho bravado and testosterone bouncing off the walls, no one, not even the pizza delivery man, is safe. Dylan is the first to sample the choice slabs of meat from the buffed-up buffet as he begins sucking on Jimmy's horsedick and Chris follows suit guzzling down Spencer's cock. And Landon and Parker London (the pizza guy) get busy quick as they trade off sucking down each other's big salamis. The man action rages on non-stop especially when Dylan adds Connor's cock to his happy meal.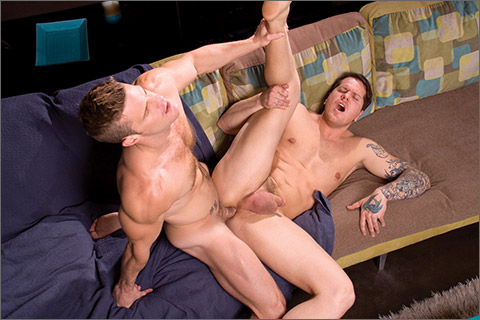 SCENE 2: Landon Conrad fucks Parker London
Neither Landon Conrad nor Parker London can keep their hands off the other as they quickly find themselves in another room fucking like madmen. Landon plows Parker's tight asshole fast and furious, fueled with lusty excitement as the pizza man gasps with every deep thrust. The ass assault is rugged and relentless as the two muscled studs twist into different positions ensuring that every plunge is felt and savored. Only after both men shoot their loads, do things calm down.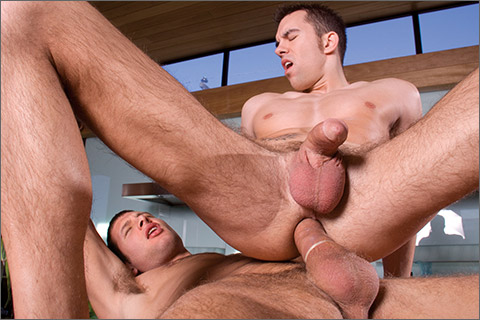 SCENE 3: Spencer Fox fucks Dylan Hauser
Horny Dylan Hauser skewers himself onto Spencer Fox's thick erect dick and rides him hard. The two buddies grunt and groan as Dylan bucks up and down the engorged pole and the thrills intensify when Spencer takes charge and pumps his hips up aggressively to plow ass even fiercer. The frisky pair continues screwing wildly, first on the barstool and finally with Dylan down on his back jacking himself off until he blows his load. Spencer is quick to follow up and he jerks out his own blast of cum.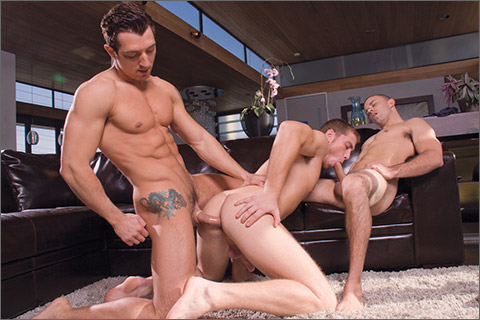 SCENE 4: Jimmy Durano & Chris Tyler spit-roast Connor Maguire; Chris Tyler gets fucked
Connor Maguire is the lucky middle of a triple decker manwich — just as he hungrily sucks on Chris Tyler's tool, Jimmy Durano is rimming his asshole. Chris bends forward to nurse on the randy redhead's cock while Jimmy is still licking, fingerfucking and juicing up his crack with spit. Soon, Connor is getting plugged at both ends with Chris' cock down his throat and Jimmy's pole in his hole. Then it's the brave marine's turn to get fucked and the durable Durano proves his determination as he screws Chris while sucking Connor off. The action escalates until the guys can no longer hold back and they squeeze out three explosive spasms of jizz.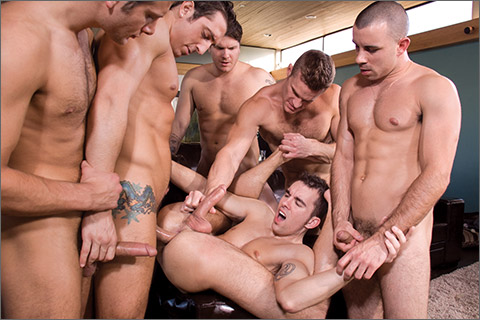 SCENE 5: Orgy Part 2: Fucking Dylan Hauser & Chris Tyler
There's a lot more man-on-man action for all the guys to gobble up from their self-made smorgasbord. It's bottoms up for Parker London and Chris Tyler as they yield their assholes to Spencer Fox and Connor Maguire respectively, while Dylan Hauser does double duty getting fucked by Jimmy Durano in his hole and Landon Conrad down his gullet. All the debauched sensations the men are experiencing can be measured by all their moaning and groaning. The louder it gets, the more pleasurable it is. There's no limit to their shared hedonism and things get real crazy when first Dylan and then Chris get gangbanged. And to make sure Chris gets the send-off he deserves, all his friends salute him with shots of cum.

WATCH IT OR GET IT NOW AT: FALCON STUDIOS