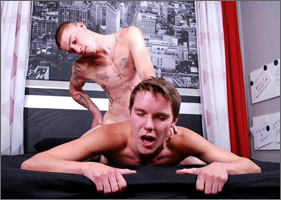 Studio: Blu Media / Broke Straight Boys
Directed by:
Year of Production / Release: 2013
Country of Production: U.S.A.

CAST:
Colby Jones
Cage Kafig


INFORMATION FROM BROKE STRAIGHT BOYS:
Colby Jones
Age: 18
Height: 6.0 (183cm)
Weight: 165 (75 kg)
Shoe: 12 US (46 EU)
Cock: 7.0 (18cm)
Cage Kafig
Age: 20
Height: 5.11 (180cm)
Weight: 135 (62 kg)
Shoe: 13 US (47 EU)
Cock: 6.5 (17cm)
The two Cs, Cage and Colby, are in the BSB studios today. When today's episode is over, there will be two firsts: Cage will have taken a guy's booty virginity, and Colby will not be able to say no dude has ever fucked his sweet ass.
   "A little bit nervous," Colby says when the cameraman wonders how he's feeling.
   "What made you do it," Cage asks.
   "I need the money," Colby replies.
   When the cameraman wonders about Colby's anxiety scale, one to ten, Cage answers.
   "He's a 20," Cage says with a chuckle.
   Colby puts the actual number at eight. 🙂
   Colby puts his arm around him and assures the about to be bottom not to worry.
   "I won't hurt you too bad." Cage promises.
   Have you seen Cage's cock, Colby? 🙂
   Clothes are tossed aside. We get a last view of Colby's pristine hole, and goodbyes are said to his virginity. 🙂
   Cage sucks first. Such a gentleman. 🙂 After a few moments, Colby's rod gets stiff. He pushes Cage down, making sure no meat is left unloved. Cage is treating that tool right, licking the shaft and jerking it with his hand. Cage pulls off.
   "You got my eyes all watery and shit," Cage says.
   Colby goes down on Cage, his mouth stretched by the sausage.
   "Go all the way down on that dick," Cage orders.
   Colby does so, slurping sounds echoing against the studio walls.
   The time has come for Colby to learn what it means to have a pleasurable ache in his ass.
   "How about face down, ass up," the cameraman wonders.
   Everyone likes this. As Colby gets on his stomach, Cage puts on a condom. He doesn't give Colby a chance to get used to the fucking. The hard pounding starts from the
   start. Cage pulls back those cheeks so he can get in. Even smacks one for good measure.
   "Like that dick," Cage asks.
   Colby is too busy moaning to answer. The bottom boy just holds on.
   "Oh, fuck," Colby whimpers.
   The boys change positions. This time one of Colby's legs is on the floor. Cage covers Colby's mouth to silence his bottom's loud breathing. Cage is going fast and deep,
   making that Colby man cunt his.
   Colby gets on his back for the final lap. Cage is spewing filth as each stroke is balls deep. Very few can keep from cumming after this type of stuffing. Colby shoots first, his
   load covering his hand and stomach. Cage keeps in the hole for a few more strokes, then pulls out. The first stream of his jizz hits Colby's ear. You read right. 🙂 Colby is all smiles when it's over, but can you blame him? Who wouldn't smiled after being fucked like that?!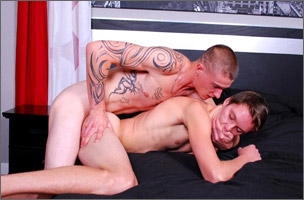 WATCH THIS OR DOWNLOAD THIS AT:
BROKE STRAIGHT BOYS