Studio: Titan Media
Directed by: Paul Wilde
Year of Production / Release: 2013
Country of Production: U.S.A.

CAST:
Felix Barca
J.R. Bronson
Aymeric DeVille
Topher DiMaggio
Tristan Jaxx
Kevin Lee


FROM TITAN MEDIA WEB SITE:
You've been waiting for the perfect opportunity— a knowing glance, a slight touch—to help you escape. You need to indulge in your growing excitement, a dirty Diversion to blow you away. Take a chance on TitanMen exclusive Aymeric DeVille, who lets loose with some sizable distractions.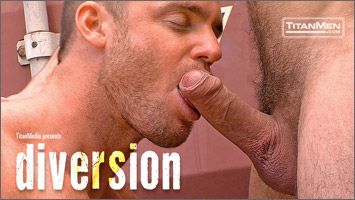 SCENE 1: Felix Barca fucks Kevin Lee
Out near the train tracks, scruffy faced Felix Barca is fixing his bike when he gets distracted by Kevin Lee—a smooth stud who flashes a smile, his muscles bursting out of his tank top. Kevin takes off his shirt, revealing his big pecs and drawing Felix closer as the two kiss. Kevin drops down as Felix's uncut missile pops out of his jeans. Kevin teases the thick, veiny shaft and big sac with his tongue while Felix tugs his own foreskin. Kevin delivers a sensual suck as the hairy Felix smiles, the two kissing before Kevin's rock-hard shaft is released in Felix's face. Kevin's balls twitch up in excitement, Felix soon devouring his dick. Felix reaches up to rub the hot bod as he sucks, soon turning Kevin around to bury his bearded chin in his hole. Felix fucks him from behind, a low shot capturing his full sac going deep in a hot rhythm as Kevin's dick head glistens. Felix goes faster, Kevin's cock bobbing up with each thrust. On his back, the bottom's pecs shake as he gets more—his bod soon covered in both of their big loads.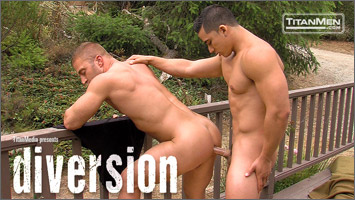 SCENE 2: Topher DiMaggio fucks JR Bronson
Out on a deck overlooking the great outdoors, JR Bronson and dark-haired Topher DiMaggio kiss as their jean bulges connect. They rub each other's jock bods, a hot vein bursting from JR's huge bicep. JR licks down Topher's smooth skin, working out the stud's rocket. JR sucks it deep, spitting on it as a strand of saliva drips from his chin. Topher's abs tighten, JR stroking his own big boner below as another hot strand of spit connects his chin to Topher's shaft. Topher sucks his bud back, then bends him over the railing to feast on his smooth hole. Topher slides his dick inside, JR arching his smooth, muscular back as he gets it doggie style—the top's balls banging his ass. The bottom sits down on Topher, his own cock smacking against the top's wet leg as he rides. JR shows off his arm and leg strength as he slides up and down, then gets on his back for more before they shoot—JR whipping his wet dick on his stomach before Topher douses him.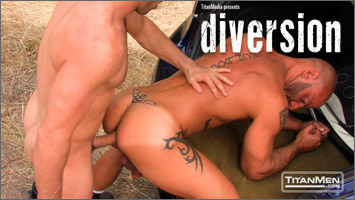 SCENE 3: Tristan Jaxx fucks Aymeric DeVille
After parking by the woods for a day of hiking, Tristan Jaxx goes to the trunk—and is quickly embraced from behind by the muscular arms of a distracted Aymeric DeVille, the two smiling before they smooch. They lick each other's bods, the shaved-headed Aymeric working his way to Tristan's groin. Aymeric opens the stud's jeans to reveal a huge bulge outlined in his underwear, the uncut throbber soon buried deep in Aymeric's mouth. "Suck that dick!" moans Tristan as Aymeric's face turns bright red, the veins popping under his skin. Tristan bends down to kiss the sucker, then fucks his face—Aymeric reaching up to grip Tristan's furry pec as he gulps. Aymeric sits in the trunk as Tristan wraps his lips around the thick uncut cock. Aymeric's insane abs and tanline shine on screen, his ass soon up in the air as he gets plowed from behind. He takes more on his back, rubbing the top's bod and grunting as he gets it—the two finally dumping their loads.

MORE INFO, PREVIEW OR WATCH RIGHT NOW:
TITAN MEDIA
Scenes Premier online prior to DVD release and are available to view anytime in the Member's Area.
Members can watch scenes from almost all Titan Media releases anytime online.
TO PURCHASE THIS, GO TO: TITAN MEDIA STORE