Studio: Cazzo Film Berlin
Directed by: Jörg Andreas
Year of Production / Release: 2012
Country of Production: Germany

CAST:
Alessandro
Danni Daniels
Harley Everett
Frank Pig
Joe Gunner
LeeRoy Lellek
Ruben Litzky
Sylvain Lyk
Geoffrey Paine
Michael Rybakov
Tyson Taylor
SCENE 1: Danni Daniels fucks Joe Gunner
SCENE 2: Geoffrey Paine fists & fucks Sylvain Lyk
SCENE 3: Harley Everett sounds/dildo fucks, pisses on & fucks Frank Pig
SCENE 4: Tyson Taylor fists Leeroy Lellek
SCENE 5: Alessandro & Ruben Litzky fist/dildo-fuck and fuck Michael Rybakov
ADDITIONAL COMMENTS:
Cazzo Club members can watch or download the scenes from this film anytime.
INFORMATION FROM CAZZO FILM BERLIN:
These guys are hardcore: Joe hits on a big-breasted lady. But this lady's got a cock and uses it to fuck him good and hard. Muscle stud Harley brings out the pig in Frank: punches, sounds stuck into his cock, piss, fucking, dildos, fisting. A tattooed skinhead masochist like Frank is happy to take it all. Sylvain is a cutie with a power ass. When Geoffrey rams his muscular arm deeper and deeper into his body, he goes nuts. Michael's been around the block a few times, too. He lets two guys plug his hole.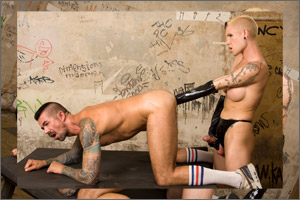 SCENE 1: Danni Daniels fucks Joe Gunner
Trans Sex at CazzoClub. Construction worker Joe hooks up with sleazy, girlish Danni. Unfortunately for Joe: during their date the horny slut turns into a dominant, fucking shemale and Joe gets it full steam up the ass.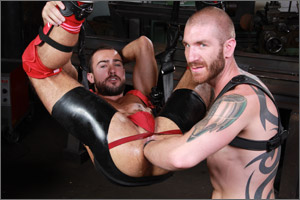 SCENE 2: Geoffrey Paine fists & fucks Sylvain Lyk
In an old factory, Sylvain has attached himself to a crane, the legs up and the ass wide open. Geoffrey has to push this living fuck toy into position only to stuff his fat cock in greedy and cock hungry holes. When Sylvain needs more then Geoffrey's huge tool, Geoffrey simply hammers his fist into Sylvain's ass and now both of them will get even more fun.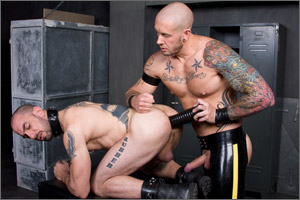 SCENE 3: Harley Everett sounds/dildo fucks, pisses on & fucks Frank Pig
Frank is a tough bloke, tattooed and really manly. Nevertheless, he is a fully submissive rubber pig. Macho fucker Harley Everett takes over these passive masochist and demotes him to brainless fuck-meat. Fucking, fisting, dildo treatment and urethral expansion: Frank gets the full gay fetish program – really crass!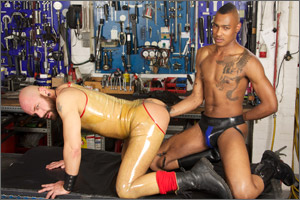 SCENE 4: Tyson Taylor fists Leeroy Lellek
Tyson looks stunning anyway – especially in his swanky blue rubber pants. And that is best appreciated when Tyson gets his long black tail out of this tight rubber pants. In a motorcycle repair garage he jacks his fuck-buddy Leeroy on an auto hoist. Leeroy is also dressed in rubber. Only the ass is not sealed, because this hole is needed.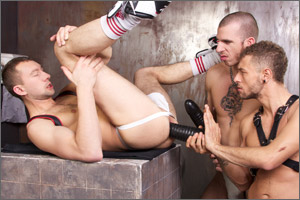 SCENE 5: Alessandro & Ruben Litzky fist/dildo-fuck and fuck Michael Rybakov

WATCH IT NOW OR DOWNLOAD IT AT: CAZZO FILM BERLIN