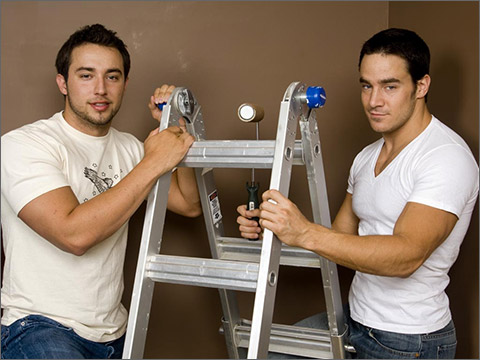 Studio: Randy Blue
Directed by: Randy Blue
Year of Production / Release: 2007
Country of Production: U.S.A.

CAST:
Alex Eden
Chris Rockway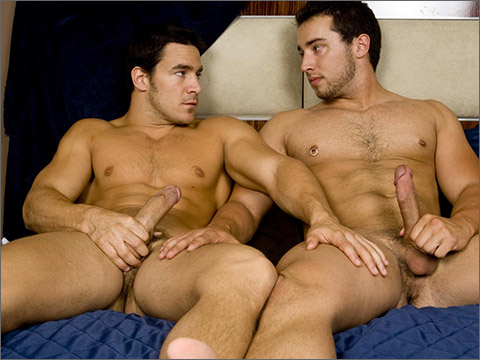 REMASTERED ON THE NEW RANDY BLUE PLATFORM:
I was out with some friends the other night having a few cocktails when someone asked me what I would do if I could have my ultimate fantasy with two of my models. Totally serious, I looked at them and answered, "I'd love to get two of the hottest, hunkiest guys… and have them pain my house". They all scoffed, but you know, I'm surrounded with beautiful, sexy men every day. I get a front row seat to all the jacking off and cocksucking anyone could want, so I thought something practical would be a nice change. Then the wheels starting rolling and I thought, how hot would it be to have two total hotties like Chris Rockway and Alex Eden painting a room and get to turned on by each other that they had to fuck. Now, Alex and Chris had worked together late last year when they did a three-way suckfest with Braden and then again recently when they tag teamed Dakota, but they've never actually fucked. I knew the time was right so I contacted both of them. They both jumped at the idea and I set things up. I've always liked Alex and thought he had such an all-american clean cut look, so I was not prepared for what walked through my door the day of the shoot. Not only had he bulked up even more, giving him an even hotter body (which I didn't think was possible), but he had let his facial hair grow in a bit so that he looked like the rough and tumble type you'd expect to see playing pool at the local dive bar while throwing back a pitcher with his buds. I knew this was gonna be one hot video. And since Chris has been with us for so long and is such a favorite among the members I felt it was time to up the ante. Today was going to be Chris Rockway's first man on man kiss. And as if that wasn't enough reason to watch this video, Alex and Chris try to outdo each other in the blowjob department, Chris fucks Alex like his life depends on it, and then they both cum at the same time. We're gonna have to work overtime to top this one.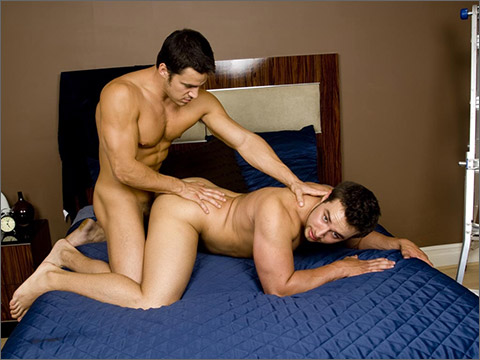 WATCH IT / DOWNLOAD IT NOW AT:
RANDY BLUE
Download or Streaming On-Line Presentations.
Extensive High Quality Photoshoots with each release.
Live Performances and Private Online Shows of your favorite performers.